Alkalizing Greens by Urban Monk Nutrition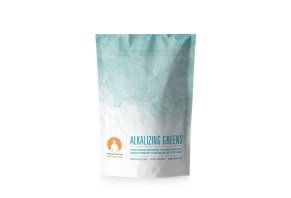 With more than 20 ingredients, including vitamins, minerals, and vegetables, Alkalizing Greens by Urban Monk Nutrition promises to reduce body acidity and boost overall health.
Alkalizing Greens by Urban Monk Nutrition Review
Alkalizing Greens by Urban Monk Nutrition features all-natural blends of grasses, greens, and vegetables they say will help your body maintain an optimal pH level.
Once your body's acidity has reduced, the company indicates you could experience improved digestion, decreased gassiness and bloating, boosted immune function, increased energy, improved health, and better-looking skin.
Together, the website advertises that Alkalizing Greens could provide "the balance and harmony your body needs" for "a happier, healthier life."
All you need to do is mix one scoop of the subtly flavored powder with eight ounces of water or any liquid you choose—including smoothies—and you'll experience incredible energy, nourishment, and overall wellbeing, they say.
The benefits of eating a balanced diet full of fruits and vegetables are well documented. But, what about the health effects of an overly acidic body? And can Alkalizing Greens deliver meaningful benefits for the money?
Let's kick things off by zooming in on the supplement's ingredients, along with their level of clinical support.
Will Alkalizing Greens' Ingredients Reduce Your Body's Acidity and Improve Overall Health?
Per the supplement facts label listed on the Urban Monk Nutrition website, Alkalizing Greens contains the following:
Calories: 20
Total Carbohydrate: 5 g
Dietary fiber: 4 g
Protein: 2 g
Calcium: 20 mg
Iron: 1.5 mg
Sodium: 15 mg
Potassium: 25 mg
Organic Grass & Greens Blend: 5 g – Grass blend (wheat grass, barley grass, alfalfa grass), green pea fiber, blue-green algae (spirulina), celery, chlorella
Organic Cruciferous Vegetable Blend: 1.25 g – Spinach, kale, broccoli, cabbage, cauliflower
Organic Nutrient Rich Alkalizing Green Leaf Blend: 1.25 g – Green matcha leaf, peppermint leaf, parsley leaf, dulse leaf, spearmint leaf, aloe leaf
There are several important subtleties to address when discussing the effectiveness of these ingredients. Let's quickly break them down.
Alkalizing Greens' Vitamins & Minerals
As mentioned earlier, mounds of scientific data exist showing that eating plenty of plant-based foods can help improve bodily health. This includes reducing risk factors related to obesity, heart disease, certain cancers, diabetes, and even cognitive decline as we age.
Furthermore, sites like the Natural Medicines Database, WebMD, and Examine.com report that essential vitamins and minerals like calcium, iron, sodium, and potassium can help address everything from osteoporosis and heart failure to swollen nasal passages and high blood pressure.
And since we've learned in our past research that 80% of Americans don't get their recommended daily value of fruits and vegetables, it might make sense that most of us are deficient in many of the vitamins provided by Alkalizing Greens.
However, because of the widespread availability of fortified foods, which contain most of the essential vitamins and minerals we need to maintain optimal health, the vast majority of us are not deficient.
This is a big reason why organizations like the American Academy of Family Physicians, the American Cancer Association, and the American Heart Association (to name just a few) advise that non-deficient individuals might not achieve much value when taking a dietary supplement or multivitamin.
Worried that you might be deficient? The only person who can provide science-backed guidance is your physician. While there, you can also speak with them about the health effects of an overly acidic body (more soon).
Alkalizing Greens' Blends
Natural Medicines Database, WebMD, and Examine.com indicate that the fiber found in ingredients like wheat, barley, and alfalfa grasses, along with green pea and celery, could help reduce constipation, high blood pressure, and symptoms related to irritable bowel syndrome (IBS).
On the other hand, while ingredients like chlorella, blue-green algae, spinach, kale, broccoli, cabbage, and cauliflower contain several critical vitamins and minerals, these same sites report insufficient clinical evidence for real-world health benefits related to their supplementation.
Finally, the green matcha leaf in Alkalizing Greens could help reduce cholesterol, peppermint might also help reduce IBS, and taking aloe by mouth might decrease blood sugar in those with type 2 diabetes, and relieve constipation.
The Ability for Alkalizing Greens' Ingredients to Reduce Body Acidity
Here's the bottom line. In an article about alkaline diets, WebMD states that, "nothing you eat is going to substantially change the pH of your blood. Your body works to keep that level constant."
Still, the site emphasizes that, along with drinking plenty of water, many popular alkaline foods can support healthy weight loss by helping individuals avoid sugar and processed foods.
Together, the level of clinical support seems to indicate that customers should remain realistic about Urban Monk Nutrition's advertising claims for Alkalizing Greens' ability to boost energy, immune function, digestion, and overall health for otherwise healthy individuals.
Could Alkalizing Greens' Ingredients Cause Side Effects?
WebMD and the Natural Medicines Database indicate that side effects are rare with the food-based ingredients found in Alkalizing Greens. And when they do occur, they typically aren't worse than mild, temporary digestive upset.
Still, it's vital that you speak with your doctor about any new dietary supplement you're considering, who—among other things—can help you avoid potential side effects and medication interactions.
How Much Does Alkalizing Greens Cost?
Urban Monk Nutrition offers Alkalizing Greens at the following prices:
1 Bag: $69.99
3 Bags: $199.97 ($65.66 per bag)
6 Bags: $356.94 ($59.44 per bag)
All orders come with a 90-day money back guarantee, which you can request by calling (855)295-8710 or sending an email to support@urbanmonknutrition.com.
Are There Other Supplements Like Alkalizing Greens?
Searching sites like Google Shopping and Amazon, we encountered dozens of powdered formulas competing with Urban Monk Nutrition's Alkalizing Greens, including several we've investigated in the past.
They also contained many of the same fruits and vegetables and claimed to deliver most of the same benefits related to improved digestion, energy, skin, and overall health. The most significant differences were price and the number of ingredients included in their formulas:
| Brand | Price | # of Ingredients |
| --- | --- | --- |
| Alkalizing Greens by Urban Monk Nutrition | $69.99 ($2.33 per serving) | 22 |
| Organifi Green Juice | $69.95 ($2.33 per serving) | 13 |
| Athletic Greens | $97 ($3.23 per serving) | 75 |
| SoTru Alkalizing Greens | $39.98 ($1.33 per serving) | 22 |
| Amazing Grass Green Superfood Alkalize & Detox | $21 ($0.70 per serving) | 39 |
| Progressive Labs Alkalizing Greens Blend | $39.25 ($1.31 per serving) | 35 |
| Morlife Alkalising Greens | $21 ($0.70 per serving) | 19 |
We can see that among these popular options, there's more than a 450% difference between what you'll pay for each serving of the lowest priced options (Amazing Grass or Morlife) and the highest (Athletic Greens). And when it comes to supplements, we've found that customers typically don't report meaningfully better results after paying more, whether for powdered greens or otherwise.
Granted, Athletic Greens contains a greater amount of ingredients than any of these other blends. But again, it's our experience that customers typically don't report meaningfully better results after taking a greens supplement that contains more ingredients.
Pulling all of these details together, we can see that while it's not the most expensive, Urban Monk Nutrition's Alkalizing Greens is one of the higher-priced options among popular competitors. Does this mean that it will necessarily deliver greater value?
Our View: Should You Consider Alkalizing Greens by Urban Monk Nutrition?
Urban Monk Nutrition manufactures a handful of other supplements, including Rising Energy, although there's currently little-to-no online customer feedback about the company or their products.
Furthermore, we learned from sources like WebMD and the Natural Medicines Database earlier that unless you're deficient, many of the vitamins and minerals found in Alkalizing Greens might not deliver meaningful results. And among their three different blends, the most noticeable benefits are related to digestion.
Obviously, digestion is a highly influential component of maintaining good overall health. Still, based on the available clinical support reported by these same sites, we think it's essential to:
Keep realistic expectations about what you'll achieve from taking a greens supplement
Remember that paying more for a supplement doesn't necessarily mean you'll experience more pronounced benefits.
With all of these details in mind, the company stands behind Alkalizing Greens with a 90-day money back guarantee, so you might not have much more to lose from giving it a try than your time, and returning shipping fees, if you're dissatisfied.
» Related: Best Foods for Healthy, Clear, Glowing Skin Recommended by Experts