Alliance Direct Benefits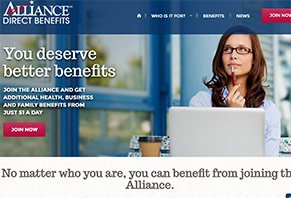 Alliance Direct Benefits claims to offer members a variety of different benefits, including medical and dental coverage, small business protection, and more.
Alliance Direct Benefits Review
Alliance Direct Benefits claims to provide their members with more than 60 different health, business, travel, and entertainment benefits that go above and beyond your existing insurance plan to help you save money. And Alliance Direct Benefits claims to provide all of this for about $1 per day (more about this in the Pricing section).
This includes (see Alliance's full benefits list for more details):
Nationwide 24/7 telephone access to doctors through Teladoc.
Save money on 90-day prescriptions ordered via mail.
24-hour emergency roadside assistance in the US and Canada.
Save 20%-80% on lab work and diagnostic imaging.
Free and discounted legal services.
Free online tax advice.
Save money on hotels, cruises, and rental cars.
But when it comes down to it, will the coverage you receive through Alliance Direct Benefits be worth the money? We'll answer this shortly, but let's first take a look at Alliance Direct Benefits's optional coverages.
Alliance Direct Benefits Optional Coverages
In addition to the basic coverages above, Alliance Direct Benefit offers the following optional coverage packages:
Health Superpack – Can help you save up to 65% on medications, provides up to $650 of in-hospital benefit if the result of an accidental injury, and $300 for accident emergency outpatient coverage.
Dental Savings Plan – Save 15%-60% on "virtually all dental procedures," in addition to unlimited access and number of benefits, all from dentists who meet "highly-selective credentialing standards."
Small Business Superpack – Protects your home office equipment damaged by fire, wind, and other perils, in addition to covering business overhead expenses in the event of a disabling injury.
What Exactly Is Alliance Direct Benefits?
As it turns out, this question isn't as easy to answer as it might seem.
This is because according to the Alliance Direct Benefits website, they are not an insurance company (although they offer some very similar coverages to an insurance provider), but are instead "an association that provides our members access to a wide range of business, personal and health-related benefits and discounts."
In addition, they explain that "Membership with Alliance for Affordable Services (Alliance) provides access to insured and non-insured benefits in exchange for payment of dues to the association." Also, according to the company's Terms, "Certain limitations, reductions and exclusions may apply."
In other words, not only does Alliance's website provide only brief descriptions for each of their benefits, you won't have any idea about what's not covered (in other words, excluded) until after you've paid your dues and received all of the associated paperwork.
Ultimately, this means that you'll be making an uninformed (or at best, under-informed) purchase, which in our opinion is never a good idea.
Alliance Direct Benefits Pricing and Fees
Alliance Direct Benefits individual memberships start at $30 per month, with additional options priced as follows:
Health Superpack: $20 per month
Dental Savings Plan: $8 per month
Small Business Superpack: $8 per month
Alliance Direct Benefits family memberships start at $45 per month, with additional options priced as follows:
Health Superpack: $30 per month
Dental Savings Plan: $12 per month
Small Business Superpack: $8 per month
After you've chosen your state and selected your membership package, you'll then need to enter all your personal information (as well as you dependent's information if you chose a family plan), enter your billing information, and complete the transaction.
In order to learn more about Alliance Direct Benefits or process your membership over the phone, you'll need to contact customer service at 800-733-2242.
We also learned that Alliance Direct Benefits is operated by the Alliance for Affordable Services based out of Dallas, TX. The company had an A+ rating with the Better Business Bureau (as of 7/15/19).
The Bottom Line: Is It Worth It?
Although the Alliance Direct Benefits website might make their benefits seem like a no-brainer, there's not a lot of information provided so that you can fully understand what you're buying, and what types of limitations are involved.
On top of this, there weren't any online customer reviews available for Alliance Direct Benefits at the time of our research that could be used to gauge overall satisfaction levels.
As such, we might recommend exploring other benefits-based companies with more entrenched reputations, such as AAA.
Pays for itself

By Doug Alan

,

New York

,

Jul 26, 2017
Verified Reviewer

I joined last year, and I'm on a plan that's only $10 a month that covers my whole family.

So far I've had my car towed twice free, and have used the doctors on call feature, once for me and once for my kids. This has totally paid for itself and even saved me money because the doctor calls had no copay.

Bottom Line: Yes, I would recommend this to a friend

---

Advertisement

---