Allswell Mattress Reviews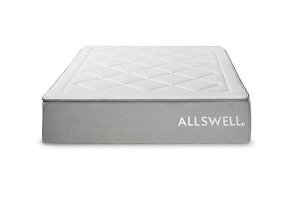 With two different models and firmnesses in their lineup, Allswell Mattress claims to deliver luxury quality, CertiPUR certified foams, and solid support for an ultra-competitive price.
About Allswell Mattress
As a design-centric home brand launched by Walmart, Allswell Mattress promises to combine innovative technology and luxury materials that deliver sleep perfection.
Specifically, their mattress lineup includes two models: one that's a little softer and another that's a little firmer. This way, the website advertises they can provide the support and comfort you're seeking, regardless of how you sleep.
Allswell's 12-inch tall mattresses also feature a plush topper, cool-to-the-touch woven fabric, CertiPUR certified foams, natural deodorizers like plant-derived oils, and are designed to work with a variety of sleeping setups.
There are a lot of online-only mattress companies vying for your business these days. But—other than the fact Walmart backs them—is there anything especially unique about Allswell's mattresses? Will they deliver more value for the money?
The HighYa team has spent years researching and writing about the top names in the direct-to-consumer mattress industry. In this article, we'll sum everything up for you in just a few minutes so that you can make a more empowered buying decision.
Taking a Closer Look at Allswell's Mattress Lineup
Allswell Mattress Similarities
Each mattress manufactured by Allswell shares more in common than not, including:
A 12-inch height
A built-in plush topper quilted with newly developed and breathable memory foam
The use of natural ingredients like plant-derived oils, charcoal, and green tea extract during construction
A specially designed fabric on the exterior that's designed to feel cool to the touch and keep you comfortable throughout each season
A strong, silver cording finish
All foams used in Allswell's mattresses are free from latex and are CertiPUR-US certified, which means they don't contain potentially harmful substances like mercury, lead, formaldehyde, phthalates, ozone depleters, PBDEs, and TDCPP or TCEP ("Tris") flame retardants. They're also low in volatile organic compound (VOC) emissions.
Neither Allswell mattress requires a specific platform, and the company emphasizes that "it's really a matter of personal preference, how high you like your bed to sit, and the type of bed frame you have."
Related: Does Your Bed-In-a-Box Mattress Need a Box Spring, Bunkie Board, or Foundation?
The Allswell website advertises that each mattress is easy to set up over the course of three steps:
Unbox and place at the end of your bed
Once properly placed, cut both plastic layers covering the mattress
The mattress will begin expanding and will mostly inflate within 30-60 minutes, although it can take up to 48 hours to reach its full 12 inches
Instead, they indicate the biggest differences between their mattresses largely come down to overall construction, as well as firmness.
Allswell Luxe Classic
Using four layers of 'innovative' memory foam (a top layer of memory foam, a second layer of air flow foam, a third layer of super soft foam, and a bottom layer of support foam), Allswell calls their Luxe Classic "perfect for everyone except those who know they prefer a firmer mattress."
The way these layers are arranged, the website indicates the Classic provides breathability and support, along with a medium-soft feel that falls somewhere between a 4.6 and a 6.5 on the firmness scale.
Allswell Luxe Classic, Firmer
The Classic Firmer version features five layers of foam (a top layer of memory foam, two layers underneath of super soft foam, air flow foam, and another bottom layer of super soft foam), and pairs it with several hundred individually wrapped 13-gauge coils to provide added support and a slightly firmer feel.
Specifically, Allswell indicates it's somewhere between a 6 and an 8 on the firmness scale.
Another difference between each of these models is weight, with the coils adding a meaningful amount of heft to the Classic Firmer version:
| | | |
| --- | --- | --- |
| Size | Luxe Classic | Luxe Classic, Firmer |
| Twin | 44 lb | 62 lb |
| Full | 61 lb | 79 lb |
| Queen | 71 lb | 90 lb |
| Supreme Queen | 89 lb | 113 lb |
Except for the stitching on the side, there isn't much to distinguish the Firmer model (above) from the Luxe Classic. Under the cover, however, you'll find hundreds of individually wrapped coils for a firmer feel.
How Much Do Allswell Mattresses Cost?
Despite their different construction methods, Allswell's Luxe Classic and Firmer versions are priced the same:
Twin (39" W x 75" L): $495
Full (54" W x 75" L): $720
Queen (60" W x 80" L): $855
Supreme Queen (FKA King – 76" W x 80" L): $1,035
Note: While ground shipping is free, the website emphasizes that mattresses shipped to California, Connecticut, and Rhode Island will incur a state-mandated Mattress Recycling Fee.
Allswell's Launch Collection also consists of a variety of bedding (blankets, throws, duvet covers, pillows, sheets, etc.) priced between $22 and $280.
Financing is available through Affirm for approved applicants.
All mattresses come with a 100-night free trial, as well as white glove service that will deliver on the best day for your schedule. During delivery, you'll have the option of waiving the 100-night trial in exchange for complimentary mattress removal.
Allswell mattresses also come with a 10-year warranty against defects, including deterioration greater than 1.5 inches, any physical flaw in the mattress that causes the foam material to split or crack, and any defect in the assembly of the mattress cover, as but a few examples.
To request a return or file a warranty claim, support can be reached via their site's contact form.
What Can We Learn From Allswell Mattress Customer Reviews?
On Allswell's website, more than 150 customers had given their mattresses an average combined rating of about 4.8 stars at the time of our research. There, common compliments referenced comfort, improved sleep, perfect firmness, and quality construction.
On the other hand, frequent complaints (as with most bedding products) were related to preference, such too soft or too firm.
Outside of these, we didn't encounter direct customer feedback for the mattresses on any third-party websites. However, popular sleep-related sites Sleepopolis and Sleep Sherpa received Allswell mattresses to try, both of which provided in-depth feedback about their experiences.
In the end, Sleepopolis reported they delivered a luxury feel at a value price, as well as solid pressure relief, and because of their ties to a national brand, might have more staying power than a direct-to-consumer startup. Sleep Sherpa admired the silkiness of Allswell's cover, as well as its ability to handle motion transfer and maintain coolness throughout the night.
As a company, Allswell Mattress is backed by Walmart and launched on February 28, 2018.
Allswell vs. Casper, Nectar, Saatva, & Other Direct-to-Consumer Mattress Companies
As we briefly mentioned at the beginning, the HighYa team has collectively written about most of the big name companies within the online-only mattress industry, which has grown in leaps and bounds over the past 5+ years.
Whereas Casper was the first to introduce the (now wildly successful) bed-in-a-box business model, dozens of companies are now competing amongst one another for a share of the market, including Tuft and Needle, Novosbed, Leesa, Saatva, and Nectar, to name just a few. Even retail giant Sealy recently entered the game with their Cocoon mattress.
Despite the sheer number of manufacturers and models, though, we've learned that the vast majority share more similarities than differences. For example, most fall between a 5 and an 8 on the firmness scale, use between three and five memory foam layers, promise to promote airflow, and come with lengthy in-home trials and robust warranties.
In fact, the biggest differences tend to come down to the actual number of layers, whether or not any supplementary materials are used (e.g., gel columns, individually wrapped coils, etc.), and overall price. Let's look at some of the above randomly chosen competitors through this lens:
| | | | |
| --- | --- | --- | --- |
| Brand | Price | No. of Layers | Materials Other Than Memory Foam? |
| Allswell Mattress | $495 - $1,035 | 4 - 6 | Individually wrapped coils in Firmer model |
| Casper | $350 - $2,395 | 3 - 5 | None |
| Tuft and Needle | $325 - $1,050 | 2 - 3 | Ceramic gel in Mint model |
| Novosbed | $799 - $1,199 | 4 | None, although there are 3 firmnesses available |
| Leesa | $525 - $1,195 | 3 | None |
| Saatva | $599 - $1,399 | 4 | Bottom layer of individually wrapped comfort coils, along with a steel coil base system, 3 firmnesses available |
| Nectar | $425 - $825 | 4 | None |
| Cocoon by Sealy | $399 - $999 | 3 | None; 2 firmnesses available |
How can you use data like this to make a more empowered mattress purchase?
If budget is your primary factor, then it appears that Tuft and Needle offer the lowest prices in the table above, followed closely by Casper's base model and Cocoon by Sealy. On the other hand, if you're primarily interested in the most layers (which doesn't necessarily mean that you'll achieve greater comfort), Allswell's Firmer model came in on top with six, with Casper's meaningfully more expensive Wave coming it at five.
Most interested in direct-to-consumer models that also feature individually wrapped coils, in addition to multiple layers of memory foam? Allswell and Saatva are the only two in the table above, although the latter is priced a couple of hundred dollars higher.
Where does all of this leave you when it comes to Allswell's mattress?
Our Final Thoughts About the Allswell Mattress
In our Best Bed-in-a-Box Mattress Buying Guide, we outline that compared to traditional retail options, purchasing a mattress online means that you won't get to try it before handing over your hard-earned money. On the other hand, cutting out all of the middlemen involved means that direct-to-consumer options are often up to 75% less than comparable retail options.
In addition to the significant cost savings, you can increase your likelihood of satisfaction by thoroughly reading online reviews for any mattress models you're thinking about purchasing. This can go a long way toward indicating what you might experience after becoming a customer.
The bottom line is that although Allswell is a new brand in the online-only industry with limited third-party feedback, it's back by Walmart so it might have a great deal of staying power, which means they should be able to stand behind their warranty for years to come. They also offer a 100-night trial and free returns, so you might not have much to lose by giving one a try.
Just remember that you'll have to decide during white glove delivery if you want to continue with your 100-night trial, or waive it a receive complimentary removal of your existing mattress.