AM1 Electric Bike Reviews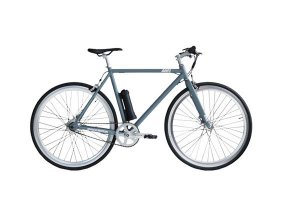 The soon-to-be-released AM1 Electric Bike claims to offer a lot of features for an ultra-competitive price tag, including lightweight, solid battery range, single-speed functionality, and four different versions.
What Is AM1 Electric Bike?
Designed by London-based Analog Motion, the AM1 Electric Bike combines a lightweight battery that boasts a 20-mile range, with the simple and ultra-reliable mechanics of a single-speed bike.
In addition to a lean, compact design that avoids unnecessary gears that can overcomplicate things, it's also advertised to feature a simple and straightforward interface, while all mechanical parts are compatible with standardized bike components.
And compared to some models that can tip the scales at 60+ pounds, the crowdfunding campaign indicates the AM1 Electric Bike comes in at 30lbs (13.5kg) including the battery. So light, in fact, that they claim you can turn the electric assist off whenever you like and simply pedal like a standard bike.
Together, the company claims the AM1 lineup represents "an industry first price-point for an e-bike of this design, weight, and capability." Is this actually the case, though? And even if it is, do these combined factors mean that the AM1 Electric Bike is right for you?
Buying an e-bike—especially one through a crowdfunding campaign like Kickstarter—can involve some unique considerations. This article will walk you through many of the nuances, starting with a closer look at the bike in question.
How Does the AM1 Electric Bike Work?
At a quick glance, most electric bikes don't look a whole lot different than a non-powered model: there's a frame, two wheels with tires, handlebars, pedals, and a chain.
Upon closer inspection, though, you'll find that electric bikes frequently have large batteries mounted somewhere—usually directly to the frame, or to a rack that's mounted over the rear wheel. Via various wires, this battery provides powered assistance to the rear wheel's hub, to the pedals, or to both.
Whichever method a specific model uses, the goal is to provide mild to moderate assistance to the rider, whether they need help getting over an exceptionally steep hill, hauling a heavy load, or just want to cruise for a while.
Because battery technology has recently advanced to a point where they're feasible to install on bicycles and not overly weigh them down, the industry has exploded over the last several years. In fact, the global e-bike market is expected to exceed $24 billion by 2025.
With these high-level details in mind, let's zoom in and take a closer look at the AM1 lineup, specifically.
Each model in the AM1 lineup comes in either a 50cm or 55cm aluminum frame (with 2-stage paint finish), and a single-speed drivetrain (there are no gears) that includes a single cog track crank. Finally, you'll find Kenda KWEST 28c directional tires mounted to 40mm deep alloy rims. The website doesn't mention any water bottle mounts.
According to their campaign, each bike can fit all normal aftermarket parts, including wheels, pedals, baskets, mudguards, racks, panniers, and so forth.
All models also feature a lightweight 200W motor, along with a 24V removable battery that has a water-resistant chassis (IP56). The website explains it comes with Samsung cells and industrial grade, 3-layer protection circuitry that makes it useful for more than 600 charges.
The AM1's battery is connected to the handlebar-mounted display, which allows you to adjust the amount of power delivered to the pedal sensor with the press of a button. Here's how the electric bike's website explains it:
"The pedal sensor detects when you're pedaling and assists you depending on how much effort you put in. Want to go faster with less effort? Turn the assist up. Want to get your heart rate up? Turn the assist down. With the assist off, the AM1 rides like a normal bike without the motor resistance often found on conventional electric bikes."
Together, they advertise the AM1's max assisted speed is 12.5 mph (25 kph), with a top speed of 30 mph (48 kph) and a range of 20 miles.
They emphasize that these numbers are based on a 75kg (165lb) rider weight, using mid-level assist and moderate pedaling. But, that "actual battery life will vary based on a number of factors including rider weight, effort contributed by rider, wind, elevation, and external temperature."
As soon as you apply the brakes, the AM1's battery will automatically shut off power to the motor even if you're still pedaling, which acts as a safety feature to help "prevent the motor from propelling the user at a time when they wish to stop."
Once you're parked, the battery is said to click out in seconds and take about three hours to fully recharge from empty.
AM1 Electric Bike Model Differences
Overall, there are two different models and four different versions in the AM1 lineup:
AM1 and AM1+ – This commuter-focused model features a track-inspired geometry, with 420 mm straight handlebars tipped with black lock-on MTB grips, a black lightweight sport seat, silver hardware, and deep-rimmed wheels. Stopping power on the AM1 is provided by Promax rim brakes (these can be retrofitted to disc brakes).
The AM1+ comes equipped standard with Tektro 180/160mm mechanical disc brakes, as well as a battery that delivers 30% more power. Wheels and hardware on this version are available in either silver or black.
The standard AM1 Electric Bike's track-inspired frame is focused on providing commuters with a durable vehicle that can withstand the daily grind. Credit: Analog Motion
AM1 STEP and AM1 STEP+ – Compared to their standard model, AM1's STEP utility e-bike model features an open frame—also known as a 'step-through'—design, café style 560mm handlebars, brown ergo grips, and a brown, super-plush sprung saddle, which combine to deliver additional comfort.
Similarly, the STEP+ model adds 30% more power, 160mm mechanical disc brakes, wheels and hardware finishes in either silver or black, and an LCD display with five assist levels.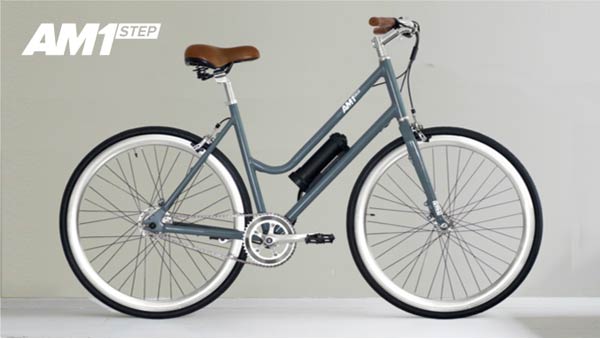 Comparatively, the AM1 Step's open design provides easier on-and-off access, which might be preferable for utility-oriented tasks. Credit: Analog Motion
How Much Does the AM1 Electric Bike Cost?
The AM1 Electric Bike is currently available through a Kickstarter crowdfunding campaign, with estimated shipping dates between December 2018 and January 2019, depending on the perk you choose:
AM1 E-bike (Early Bird): £549 (about $735)
AM1 E-bike: £599 (about $802)
AM1 STEP E-bike (Super Early Bird): £499 (about $668)
AM1 STEP E-bike (Early Bird): £549 (about $735)
AM1 STEP E-bike: £599 (about $802)
AM1+ E-bike (Early Bird): £699 (about $936)
AM1 STEP+ E-bike (Early Bird): £699 (about $936)
AM1+ E-bike (Full Price): £749 (about $1,003)
AM1 STEP+ E-bike (Full Price): £749 (about $1,003)
Couple Combo: AM1 and/or AM1 STEP: £949 (about $1,271)
5 x AM1 / AM1 STEP: £2,350 (about $3,147)
Once the Kickstarter campaign has ended, the company will send out a backer survey, at which point you can choose a color.
Each order comes with a partly assembled bike, battery, charger, user guide and instruction manual, and a toolkit. Extra batteries are available for £149 (about $200).
The website will offer written and video assembly instructions, which they emphasize will be easy enough for even a first-timer to handle within 20 to 30 minutes. The toolkit will include everything you need to assemble your AM1, including hex keys, Allen keys, and a screwdriver.
If you have any doubts, the company can also ship the bike directly to your local shop, and they can assemble it for an additional fee.
All AM1 Electric Bikes come with a unique "Built by" sticker that allows you to boast your skills, as well as a 12-month warranty.
Are There Other Electric Bikes Like the AM1?
Considering the substantial market projections for electric bikes in the upcoming decade, it might come as no surprise that dozens (perhaps even hundreds) of different companies have started offering their own versions—whether from worldwide brands like Trek, Specialized, and Giant, to startups like MOAR. Some models start under $500, while top-of-the-line offerings can exceed $5,000.
When it comes to choosing the right option for you, BikerRadar's in-depth Electric Bike Buying Guide emphasizes that it mostly begins by understanding some of their main pros and cons:
E-bikes can provide much-needed assistance when it counts, but they're often meaningfully heavier than non-electric models. This could be a big deal if you get a flat, run out of battery juice, or have to frequently heave the bike around, such as onto a bus rack or up and down flights of stairs.

Compared to standard versions, electric bikes are much more expensive to purchase—and if something goes wrong with the battery or motor, to repair.

Although many models like the AM1 can accommodate standard aftermarket parts, they indicate that most local dealers can't handle motor repairs. Meaning it will have to be sent off to the manufacturer, potentially leaving you without a bike for a bit.
Pro tip: Just keep in mind that when it comes to bikes, price and weight almost always have an inverse relationship. In other words, the less an electric bike weighs, the higher its price will typically be.
Once you've sorted out your weight and budgetary needs, BikeRadar reports that the next step is to try out different models to see which ones suit you. If this isn't a possibility, we'd also recommend visiting online cycling forums, narrowing down your choices to a couple of different options, and then checking out what online customers are saying about their experiences.
Other factors to consider include the length of the manufacturer's warranty for drivetrain parts, as well as for the battery; battery and motor mount placement, range/battery life, display/control types, and recharge times.
Summing up everything we've discussed, does your future have an AM1 Electric Bike in it?
Bottom Line
As someone who's been cycling for the better part of 20 years and has seen a lot of fads come and go, Analog Motion seems to have packed their AM1 Electric Bike with all the core features riders need, and none they don't.
It also comes with a lightweight, a super competitive price, a substantial battery range, and a pedal assist (also known as 'pedelec') feature that tends to be more popular than e-bikes that utilize motors mounted in the hub of their rear wheel.
It's important to balance these positives with the fact that AM1's bikes are only available in two frame sizes: 50cm and 55cm. While different factors can impact the right fit, this generally means they'll accommodate riders between about 5' 3" and 5' 10" in height. So, if you're shorter or taller than this, you're currently out of luck.
Unlike visiting your local bike shop, you also won't be able to test the AM1 before committing, and since it's currently undergoing crowdfunding on Kickstarter, there isn't any online customer feedback.
Finally, keep in mind that commuter and utility models like these are best suited for paved areas. If you plan to venture off-road frequently, they might not meet your needs.