American Addiction Centers Reviews
Claimed This company has claimed this profile, is getting alerted on any new customer reviews entering this page, and may engage in dialogue with its customers to address their matters.

Companies cannot pay money or provide goods in order to remove or alter customer reviews.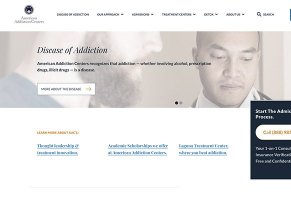 American Addiction Centers is a nationwide behavioral healthcare provider that helps adolescents and adults overcome their alcohol, drug, and other addictions through evidence-based techniques and counseling.
About American Addiction Centers
At American Addiction Centers, they claim to use a variety of evidence-based techniques to help those suffering from alcohol, drug, and other addictions to change their behaviors, and to achieve successful results.
According to the company's website, they have helped tens of thousands of individuals complete their programs, and to lead "clean and happy lives."
American Addiction Centers Facilities & Programs
American Addiction Centers offers a variety of evidence-based programs that are focused on helping patients to achieve success and break free from the cycle of addiction to alcohol and other drugs.
The company claims that their staff of "drug addiction specialists, seasoned physicians and licensed therapists" are "structured to handle virtually any addiction issues that enter our doors." In addition, all treatment programs are tailored to meet an individual's specific needs—mind, body and soul.
The treatment centers American Addictions Centers owns are CARF-accredited, Joint Commission-accredited, or both. Their techniques are rooted in scientific research, "according to data, observation, experimentation and other important, research-based factors."
The company believes that recovery is possible for anyone, and they want to help patients "find their own believable hope, and to live a life they love." Their primary goal is to bring hope to patients, and to give them the tools to make a "better life a lasting reality."
Although American Addiction Centers is headquartered in Brentwood, TN, they have more than 30 treatment, rehab and sober-living facilities across the country including:
Greenhouse: Dallas, TX – Built by Neiman Marcus, this large facility focuses primarily on co-occurring disorders, in addition to substance abuse and behavioral/mental health, through 4-week curriculum-based programs.
Desert Hope: Las Vegas, NV – A "12-step" facility that focuses on traditional therapies meant to address trauma and behavioral health problems.
Oxford Treatment Center: Etta, MS -- A residential treatment facility offering medical detoxification, Partial Hospitalization Programming (PHP), and Intensive Outpatient Programs (IOP).
Laguna Treatment Hospital: Aliso Viejo, CA -- Facility features EarlySense technology, which monitors patients during the critical detoxification process, sending real-time information to nurses for immediate response during crisis for a safe withdrawal period.
River Oaks: Tampa, FL – Focuses on pharmacogenetics, which, according to the facility's website, "which uses the knowledge of an individual's genetic makeup to inform what medications will be most effective for them in treatment."
Sunrise House: Lafayette, N.J. -- A multipurpose rehab facility that provides monitored detox, residential treatment care, partial hospitalization programs, two outpatient programs, 12-step meetings and more.
American Addiction Centers programs include:
Adolescent Care – Structured for the needs of younger individuals, and focused on complete wellness including education, family support, nutrition, and even aftercare.
Lifestyle Wellness – Helps engender a complete (mind, body, and spirit) transformation through clinical treatment, education, and lifestyle choices.
Behavioral Health Services – Helps address the needs of clients with dual diagnoses, including problem-solving strategies, recognizing destructive behaviors, and understanding the stages of change.
Medical Detox – Focused on providing a safe, comprehensive environment in which to remove drug residuals, and then to quickly follow up with residential treatment.
Employee Care – Provides adjunct support to help companies provide professional services to their employees, while also handling all the administrative duties behind the scenes.
Clinical Assessment – Through a careful evaluation, each patients' needs are assessed on an individual basis, and a customized treatment plan is formulated.
Residential Rehabilitation – 12-step programs that include intensive group and individual therapy sessions, structured activities, and educational support for live-in patients.
Aftercare – Provides support to help patients maintain success after they have left the facility.
A representative from AAC also noted that the organization works with Addiction Labs of America to "create customized treatment planning based on each patient's genetic makeup, in addition to blood work and urinalysis."
American Addiction Centers Pricing & Refund Policy
Because each American Addictions Centers program is individually customized, length of stay (if required) and pricing can vary a great deal. However, the company claims that most insurance is accepted.
Unlike many other treatment facilities, American Addiction Centers offers a treatment guarantee that states, "If you successfully complete our 90-day program, we guarantee you'll stay clean and sober, or you can return for a complimentary 30-days of treatment."
If you have questions about pricing and/or the American Addiction Centers treatment guarantee, they can be contacted at 888-300-3332 or contactaac@contactaac.com.
American Addiction Centers Customer Reviews
At the time of publishing, AAC had 24 reviews from HighYa readers, with 21% of them saying they'd recommend the facilities to a friend. The company received an average of 1.8 stars.
The company's most recent reviews were a mix of positive and negative reviews, with customers praising their experience and others criticizing the company's customer service reps and sales techniques.
American Addiction Centers holds an "A" rating with the Better Business Bureau, which is based on 26 closed complaints in the past 3 years. Of the 26 complaints listed on their BBB page, 13 were related to problems with products and services, eight for billing/collections and five for advertising/sales.
In each case, AAC responded to the complaint and the complaint was subsequently marked "resolved" or "answered," the latter being a scenario in which the person leaving the complaint was not satisfied with AAC's response.
As far as customer reviews about each facility, Google shows Greenhouse as having an average of 4.1 stars from more than 130 reviews at the time of publishing.
Recent reviews included praise about the program's effectiveness. Complaints focused on poor customer service but, among recent negative reviews, there weren't any claims that the program didn't work.
The company's Sunrise House facility received more than 80 reviews with a 3.7-star average at the time of publishing. Reviews were similar to what we saw for Greenhouse. Those who rated the facility highly praised the staff and the effectiveness of the program, while complaints focused on how the staff treated them or their loved ones.
The Bottom Line: Is American Addiction Centers the Right Choice?
Based on our research of this national chain of addiction centers, we believe consumers are relatively united in their perception that AAC provides effect rehab, treatment and counseling for those with addictions.
Many of those who've stayed at AAC facilities have praised the programs and staff and none of the reviews we read indicated the programs didn't work.
One piece of advice we can provide based on our analysis of the reviews is to take time to ask questions as you consider using an AAC facility. Talk with an AAC business outreach coordinator or admissions navigator and ask questions regarding the type of care you'll receive, the typical daily schedule and which guarantees the facility does and doesn't make.
Equipping yourself with this knowledge will help you make an informed decision as to whether or not AAC is right for you.
They care more about their bottom line

By Yvonne L.

,

Las Vegas, NV

,

Sep 15, 2018
Verified Reviewer

A client of Desert Hope in Las Vegas, Nevada. They care more about their bottom line than their clients. Clients entrust their well being in life and death situations and all AAC cares about is money. So sad.

Bottom Line: No, I would not recommend this to a friend

---

Still sober

I was at the greenhouse facility in Arlington, Texas. I was there in early 2016. My experience was a positive one. I was treated like a real person. The BHT's were great, and the staff (doctors and therapists) was awesome. They did everything for me. I had housekeeping for my room and laundry. The food was excellent. All I had to do was focus on getting better and cleaning myself up.

As with anything you want, you have to work for it. Recovery is a "me" situation. I could take care of what I needed to do while I was there. I was away from home (being from Minnesota), so no family could come and visit. I knew that when I went, and I was okay with that.

I went through detox inpatient and IOP. It was covered by my insurance and what was not covered was taken care of by scholarship. My out of pocket cost was nothing. They followed up with me after I came home, for the first 12 months. Looking back now, I made the right choice and would tell people to go.

Bottom Line: Yes, I would recommend this to a friend

---

Advertisement

---

Happy customer

By Wendy Foy

,

Baltimore, MD

,

Mar 20, 2018
Verified Reviewer

My experience with American Addiction Centers was as good as it gets. I owe everything to my Higher Power, AAC, and their staff! My stay at Desert Hope was a life-changing experience, and I will have 5 years in April 2018.

We don't live in a perfect world, so don't expect anything in this life to be perfect. Just consider what your life was like when it became so unmanageable and what risks were you willing to take.

Don't get discouraged by a few negative reviews. The fact that only 21 people out of the tens of thousands of people that AAC has served is a statement in itself. In my opinion, that should be an "A" with the Better Business Bureau. It's a shame that a few disgruntled people could potentially persuade hundreds of people with their negative comments.

Lives are being saved and improved at American Addiction Centers all across the USA. Don't miss out on an opportunity of a lifetime. The main focus is on RECOVERY. The founder and many of the staff are recovering addicts who want to give back, so they know firsthand the struggles and feelings of the suffering addict. They bring HOPE to all who have a desire and are willing to take the first step. There is no other place that I would have FAITH in to send a friend or family member

Learn to LOVE yourself again. If you need help just call. They check your insurance in my case and had me on a plane that night. The window of opportunity is small when someone hits rock bottom and/or admits they have a problem. Don't waste another minute.

Bottom Line: Yes, I would recommend this to a friend

---

Committed Fraud, Supplied Fictious Documents, and Committed Negligence, Fraud, and Broke their Fiduciary Responisbility!

By Matt

,

Tampa, FL

,

Apr 22, 2016
Verified Reviewer

They lied to me assuring they processed the necessary paper work and received permission from my probation officer to leave the state, to be told they are to that week after arriving and crossing state lines. They assured my mother that their legal department will and has done everything legally necessary for me to leave my state. They also provided a letter to my mom and my self claiming to have sent it to my probation officer, but my officer assured me she never received a letter from American Addiction Center. I showed the PO what I was provided with by American Addictions Center, they statute in Florida state requiring probation officer to accept and terminate probation if I were to complete program (though my issues are not drug related).

I only made first contact with probation officers after my arrival at the facility and I was making this situation a major issue with every employee I was supervised by. A week later my clinician and I spoke over the phone and I found that she received no letter, voicemail, email or any other form on correspondences.

At that time, I learned was violated due to American Addiction Center's misrepresentation, negligence, and attempt to deny and cover up attempt to intentionally cover up all wrong doing. They have destroyed my life as a result of their fraudulent statements, acts, documents, they provided or said , which appears was all done just to assure me everything was legal to enter their treatment facility. If someone would've just admitted the mistake, I could've handled it.

Bottom Line: No, I would not recommend this to a friend

---

Advertisement

---

The worst of the worst!

By Jeff S

,

FL

,

Jan 2, 2016
Verified Reviewer

American Addiction is the worst of the worst. Since they have taken over many prior centers, those centers became horrible. E.G. Singer Island. I went to many including Texas. I HIGHLY do not recommend any American Addiction facilities. They are corporately owned, do not have enough staff, all they care about is the money period.

If there is any other facility USE IT. Don't use ANY American Addiction, you don't get what you need. Ambrosia and FL House are MUCH better.

Bottom Line: No, I would not recommend this to a friend

---

Misleading new facility with poor administration

By Michelle

,

New Brunswick, NJ

,

Dec 12, 2015

I went to Sunrise House and my insurance covered me for about 2 weeks. The day my insurance was cut off, they told me. They gave me no preparation. I was devastated. My counselor was amazing, but the counselors were overworked and stressed - you could just tell. There was never enough time to meet with my counselor who had to squeeze me in once a week because they were understaffed. The counselors really do care about the patients but I think AAC is all about money. They even told me they have equine and music therapy there but they don't. Some people get special privileges and are allowed to stay a full 30 days. It's all about who you know, not about how sick you are and how much help you need. They need to start being honest with patients.

Bottom Line: No, I would not recommend this to a friend

---

Do no send your child to the academy.

By Raelynn

,

West Palm Beach, FL

,

Nov 27, 2015
Verified Reviewer

If you are considering sending your child to this facility please go check it out in person for yourself. NONE of what they tell you on the phone is true. The literally "sell" you on their facility and it is a sham.

The kids there know how to work their system and get their certificate of completion. Their therapists are a joke. The staff lies continually and when they are confronted about their falsification and double talk they push off onto other staff.

The techs provide the kids with contraband items and then kids are penalized. Set the kids up for failure.

Do your own investigations. This company is profit driven not patient driven. They are a sham.

Bottom Line: No, I would not recommend this to a friend

---

Dessert hope is bad

By Bob

,

Las Vegas

,

Oct 4, 2015

Just got back and my therapist was an idiot and he called my girlfriend to make me stay and he now is in charge of IOP. He just cared about the money, well that's all they care about. Said they would help me with therapy, ha what a joke. The BHT'S would do treatment and would put a movie on and they are not or should not be running a class, because they really don't know. I'm very surprised that they don't have lawsuit because when I was there I notice the sex, drugs and abuse they have. There also I saw a young woman get her behind grabbed and she wanted her parents and they did not let her call them. All they did was ship the guy to Florida. This place is nasty inside and out. If I was the owner I would show up with not saying anything, but then again he is all about the money because that's what my therapist made me think.

Bottom Line: Yes, I would recommend this to a friend

---

Didn't work for me

By CJ

,

Phoenix, AZ

,

Aug 8, 2015

I stayed only a short time, due to the neglect, violating my civil rights not allowing me to call my family, or 911, they had all my credit cards so I couldn't go any where, wounded up in ER a few days later just like a lot of other people while I was there. The only good thing I can say is that BHT's knew I was being neglected and told me they wish they could do some thing but really fear loosing their jobs or worse.

I went for help but did not have a chance, I will tell all when I can. I stress that you should please do your home work before going into this facility or any for that matter. I had Trauma and actually a lot of it and this place added to it. That's the the truth.

If you want a spa and just to relax and have the money do that, or really want sobriety, look somewhere else. Run from this place because all they want is your money.

Bottom Line: No, I would not recommend this to a friend

---

Rip off - do not use.

By Joanne

,

Ohio

,

Jun 30, 2015

Please do not use their facilities. They do not provide services they list. The California facility was basically a sober living house. Everything about this place is shameful. Do not send your loved ones here.

Bottom Line: No, I would not recommend this to a friend

---

The Greenhouse, Grand Prarie, TX

By Anonymous

,

Boston, MA

,

Jun 26, 2015

I was recently a client at The Greenhouse in Texas. Like many others, I arrived late in the evening (nearing midnight) and was greeted with a breathalyzer test and more forms than I signed to buy my house. The staff member who went through the forms with me seemed more interested in getting done with me than explaining what I was signing. In fact, I had no clue what I was signing. I still don't. Numerous efforts to get copies of these forms have failed.

Day 1 began with 6:30am blood draw. (A little early to be waking someone who is on drugs or alcohol if you ask me.) I received no orientation or tour of the facility so I had absolutely no idea where I had to go for groups, classes, meals, or to use the restroom. Fortunately, there were some very nice clients that gave me the tour later in the day.

Almost immediately the BHTs (Behavioral Health Therapists) were at my butt about going to groups, staying away from members of the opposite sex, where I could sit, and more. Okay, I thought, there are rules. But it kind of screws you up when you're expected to follow a set of rules that you are unaware of.

Meals are not too bad if you LOVE chicken and fish. It seemed like those were the only options for lunch and dinner for over a month. There were a couple of occasions where we could have lamb, a burger, or something other than chicken and fish. They do offer hot sauces if you like them.

Some of the BHTs were quite good and really do care about your progress. Others seemed to get off on having a bit of authority, and took full advantage of it. The case managers appeared to be completely overloaded and were occasionally impossible to see. The therapists seemed to be the same. Seeing the doctor was almost impossible even if you filled out a medical request form. I filled out a request form to see a doctor and never did get to see one before I left. The only doctor visit I had was on about the 3rd or 4th day, and it was somewhat brief.

The classes were okay, some better than others. Some of them were pretty much a waste of time for most everyone there. Group Therapy was somewhat of a unpleasant session, but it did prove helpful at times. It seemed like that was the only time your complaints were heard.

They also claim to have a massage therapist and acupuncturist available. Nope. Didn't get to see one the entire length of my stay.

The gym is not state of the art, but adequate for most people's use. A couple treadmills, exercise bikes and maybe a dozen weight machines. There were also some free weights, mostly dumb bells and a couple straight bars for curls. I wouldn't complain about it, but I certainly wouldn't rave about it either.

Some tips for you if you go: they will take your money, credit cards, cell phone, and any device that connects to Wi-Fi. They will not return them to you despite what the salespeople tell you. Your iPod Touch, they take it. They will offer to sell you a cheap MP3 player for $30-40. Of course you have to sign up for computer time to load music onto it. If you want to use the computer, you had better be an early riser so you can get signed up. The sign-up sheet is only available during breakfast and lunch, but it seemed to fill up by 8am at the latest. The phone sign-ups work the same. There are only a couple of times per day where the phones are turned on, and it seemed like they turned them on whenever they felt like it. One day they would be turned on at the right time, the next it could be 15 minutes late. That's not a whole lot of time, but when you only get 30-minute blocks of phone time, that is a lot.

There were rumors of staff sleeping with clients and clients sleeping with other clients. While I never personally saw it, I have little doubt in my mind these encounters happened quite often.

I'm sure other places have similar problems, and this one is not unique in that respect. I would encourage anyone thinking about going to an AAC facility to read as many reviews as possible and not make a snap decision because you or your loved one is suffering. There are plenty of good things that The Greenhouse offers, but just be sure you get what you were promised on the initial phone calls. My family fell for the pretty pictures and marketing on their website. I don't blame them. I probably would have, too. This is just a fact of life with any product or service.

If I were asked if I would go back, I would probably have to say no. The main reason is there were many people there who had been there multiple times. This tells me there is something fundamentally wrong with their program. I understand they can't hold your hand when you get back to the real world, but something is missing or just not right, and it shows with the number of return clients.

If you love your friend or family member enough to send them to an inpatient facility, do them the favor of learning as much as you can about where you send them, no matter where you send them.

Bottom Line: No, I would not recommend this to a friend

---