American Advisors Group Reviews
Claimed This company has claimed this profile, is getting alerted on any new customer reviews entering this page, and may engage in dialogue with its customers to address their matters.

Companies cannot pay money or provide goods in order to remove or alter customer reviews.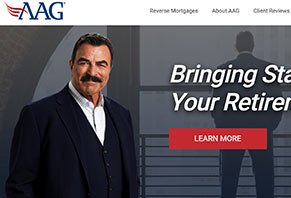 American Advisors Group offers reverse mortgages to seniors who own their home, have made it their primary residence and are at least 62 years old.
About American Advisors Group
American Advisors Group is a financial company who says their reverse mortgages are a way that you can inject some cash flow into your retirement and steady your finances if you're going through a rough time.
Let's face it; most Americans aren't ready for retirement.
In fact, a recent article from TIME pointed out that 1 out of 3 of us don't have a single penny stored up for our post-work life. It doesn't take an expert to realize those statistics are not good.
Like many websites who cater products to seniors, AAG is intent on providing a simple solution to getting money because they know you've probably gone to their site because you're in trouble. It can be tough to make clear, wise financial decisions when your emotions are driving your actions.
We get that, and that's why we've devoted some time to examining who American Advisors Group is, what type of reverse mortgages they offer, whether or not reverse mortgages are a good idea, what the company's reputation is with consumers and, finally, our overall thoughts.
Who is American Advisors Group?
The company is based in Orange, Calif., and is run by CEO Reza Jahangiri, who not only oversees the company but is co-chairman of the National Reverse Mortgage Lenders Association. Jahangiri graduated with a law degree from Loyola Law School in Los Angeles.
The company was started in 2004 and received considerable notoriety when it enlisted politician and former actor Fred Thompson to spearhead its marketing campaign (the current spokesperson is Tom Selleck). Why Thompson? The answer explains who AAG targets for their products. Here's what a New York Times article said:
"(AAG's) bread-and-butter clients are women in their late 60s or early 70s whose husbands have died or entered nursing homes. Now, they need money to stay in their homes or maintain their independence."
With that in mind, let's talk about what AAG offers: reverse mortgages.
What Does American Advisors Group Offer?
The reverse mortgages you get from AAG are home equity conversion mortgages (HECMs) backed by the Federal Housing Administration. Federal student loans work like this too; basically, a loan backed by the government is solid, in the sense that it will, one way or another, be paid back.
The "equity" in HEMC means the value of your home minus the balance of your mortgage.
For an HECM, a lender gives you money based on how much equity your home has. Usually, that money comes in a lump sum or in payments.
These financial products are called "reverse mortgages" because you are using the value of your home to get a loan, rather than using a loan to pay for the value of your home.
So why doesn't everyone get a reverse mortgage? There are a few reasons why:
You're basically putting your home in jeopardy. If you default on payments, the lender owns your home.
If you pass away or you move out of your home, the amount of your loan is due immediately.
Your heirs don't automatically inherit your home if you die. To do so, they need to pay off the remaining balance of your reverse mortgage.
You're still on the hook for property taxes, homeowners insurance and maintenance costs. If you fall behind on taxes or insurance, the Consumer Financial Protection Bureau says, the lender can "foreclose" on your reverse mortgage and kick you out of your house.
The fees can be pretty high.
You have to be at least 62 years old, own your home and the home must be your primary residence.
When you use AAG, you have to attend a Housing and Urban Development counseling seminar.
If there's anything we want to tell you in this review, it's that the choice to take out a reverse mortgage isn't an easy one. You'll need to consult your financial advisor or planner in order to get clear advice not driven by emotion or desperation.
If you do sign up for a reverse mortgage, remember that you're taking on risk. If for some terrible reason, you become sick and need to move into a skilled nursing or assisted living facility, the entire amount of the loan will be due.
The Fees Associated With Reverse Mortgages
Just like any loan, reverse mortgages come with their own set of fees.
AAG's website doesn't include any information about their fees. We called the contact number on their website and were informed that phone representatives weren't able to provide financial information.
We were then transferred to a customer service rep with the understanding the new person would be able to give us rates.
The new rep told us he couldn't give us rates until they were certain our financial situation was a match for their reverse mortgages.
When we expressed our concern that they were concealing their fees and rates until they had personal information, the rep told us it's their policy not to give out the information we requested unless they were certain we qualified and we spoke with a loan officer.
So, since we don't know what American Advisors Group 's specific fees are, we're going to give you a checklist of things you need to ask about whether you choose AAG or another reverse mortgage lender:
Origination fee: A percentage of your loan that goes toward the paperwork and requirements necessary to calculate your home's value and approve you for the loan. At the time of research, these fees were the greater of $2,500 or 2% on the first $200K of your home's value, then 1% of anything value over $200K. The fee is capped at $6,000.
Insurance fees: You pay these to the FHA just in case the government has to cover the cost of your loan (1.25%, according to the FHA).
Interest rates: You'll pay a certain amount of interest each month on your loan, as determined by a fixed- or variable-rate APR.
Closing costs: All the typical fees you'd pay if you were taking out a mortgage to pay for your home: an appraisal, pest inspections, and flood certification are included in this.
As we said, we don't know the specifics about these fees that AAG is offering. Know what they are up front, and don't wait until the last second to see them. Also, it's best to pay for these additional fees in cash rather than rolling them into your loan. Once they're integrated into your loan, they'll gather interest, and you pay more.
Are Reverse Mortgages Worth It?
Now that you've got a clear picture of the types of fees you'll have to pay and AAG's background, you're probably wondering about the golden question: Is it worth it to get a reverse mortgage?
You're basically going through the homebuying process all over again, but instead of buying a home, you're given cash based on the value of your house.
That process can be stressful, and, considering that AAG is trying to help the recently widowed or those who have a sick spouse, it can be too much to handle.
However, some of us find ourselves in a spot where it doesn't seem like there's any other option to pay our bills aside from getting a reverse mortgage. Is a reverse mortgage worth it? Should you get one? Here's what some of the most reliable finance sites say:
Investopedia says, "If you need money but a reverse mortgage seems like a bad idea, know that it's not your only option. Selling your home and downsizing to something more affordable is one alternative. It may not be emotionally appealing, but it might alleviate your financial stress."

The Consumer Financial Protection Bureau says, "There are a lot of factors to consider before you consider applying for a reverse mortgage. One factor is how much it will cost. Before tapping into your home equity, see if you can find a way to lower your expenses."

US News & World Report says, "The high costs, combined with the difficulties that can arise if you want to move out of the house or leave property to your heirs, can make a reverse mortgage more trouble than it's worth. A better solution if you're strapped for funds is to set your retirement number and then look for creative solutions to help you retire without the negative baggage of a reverse mortgage."

EP Wealth Advisors VP Michael McGrath says, "It is … a reasonable safety net, but not something one should generally consider until other sources of income, assets and potential family support are fully utilized, considered and exhausted."

United Capital Managing Director Cary Carbonaro says, "It is a big decision that will affect your finances for years and there may be other ways to get cash … Remember, you are essentially selling your house to the bank so they get it when you pass. It is a complex transaction that should not be considered lightly!"
As you can see, these top sites and sources all recommend that you try other methods of generating cash before you apply for a second mortgage.
What are Other People Saying About American Advisors Group?
American Advisors Group gets reviews on several different websites:
Most of the complaints about the company focused on high fees and a slow paperwork process. Several complained about the fact that American Advisors Group would get the home should the borrower default on payments or move out, but those are issues specific to reverse mortgages, not AAG.
We also had a HighYa reader email us about his experience with AAG. The reader told us one of the things that was most frustrating about his AAG experience is that, even though he didn't get a reverse mortgage from AAG, the company gave his information to third-parties who contacted him about various types of loans.
We read through the company's reviews on its BBB sites and, while we didn't find any complaints about contact from third-party companies, we did find consumers who repeatedly said AAG contacted them frequently to the point of being annoying.
CFPG Action Against AAG and Other Mortgage Sites
Our HighYa reader also pointed out that the Consumer Financial Protection Bureau took action against AAG and similar sites for false advertising.
According to the CFPB, starting in January 2012, AAG falsely claimed that its borrowers can't lose their homes, that they could stay in their home the rest of their life and that they "falsely told potential customers that they would have no monthly payments and that with a reverse mortgage they would be able to pay off all debts."
As the CFPB pointed out in their judgment against AAG, if you default on your reverse mortgage payments you can lose your home. Also, if you get a reverse mortgage you'll still have to pay your property taxes and homeowner's insurance.
Conclusions About American Advisors Group
Reverse mortgages are a last-resort financial product for seniors who are hurting for money. AAG offers reverse mortgages backed by the Federal Housing Administration to try and remedy that situation. The New York Times article we quoted earlier said AAG's customers are in some emotional distress.
Consumers tend to make poor decisions when they're emotionally vulnerable, so, if that's you, and you want to do a reverse mortgage with AAG, take a moment to talk with a trusted financial advisor or hire a financial planner to help you make sense of where you are now and what you want to do with your financial future.
As a company, AAG gets average reviews from consumers, with complaints coming about excessive phone calls. And, as one of our readers pointed out, your information may end up with other companies.
However, we know that AAG's reverse mortgages are backed by the federal government, which means they have to follow pretty strict compliance guidelines to hand out reverse mortgages.
Even though AAG has to comply with FHA rules, those rules don't dictate APR and other fees. Be sure you know exactly what you'll be paying and why.
Our advice? If you're interested in AAG as a reverse mortgage lender, be prepared to give some of your financial information to speak with a loan officer. Be prepared to resist a good sales pitch, get their fees and interest rates and then end the call.
Doing so protects you against making an irrational decision. You can then take those numbers back to your financial professional and discuss the next step.
Let the buyer beware!

By Jim W.

,

Crystal Falls, MI

,

Feb 7, 2020
Verified Reviewer

If you're thinking about taking out a HECM Reverse Mortgage with AAG (or with someone else; shop around and talk to a financial advisor or planner first) - be very, very careful (if you have an older house), it is risky - YOU CAN LOSE IT IF YOU DO NOT MAKE PAYMENTS. It may be good for some, but for me, it was a big mistake to consider it. Example:

First they required me to sign a stack of legal documents about one-half inch thick (I'm not exaggerating) late at night just before the cafe was to close with a notary public without reading over the documents which would have taken a few hours and the copy of documents I received, for some reason didn't exactly look like the ones I signed when I got home (I may be wrong on this there were so many); these documents were based on the value of my home from what a Zillow price was. A value AAG does not accept.

They do not tell you the fees associated with it upfront; you have to apply for the loan first. Fees are very high.

Second, I had to have a talk with a consultant for $125 as to what a HECM is, which was a waste of time and money because if one goes to https://www.newretirement.com/retirement/reverse-mortgage-interest-rates/ it explains it very nicely and in more detail.

Third, I had to have a HUD inspector come to the house for $450 to evaluate the house and bring it up to HUD's standards at my expense. Either she was incompetent or HUD's evaluation procedure needs fixing. The price she placed on my home was way below the value of the house by half or more by comparing it to "similar" homes within five miles that had been recently sold; this would work if the house was in a track home complex where every house looked the same but not all different types of houses as in my area that "may" or "may not" be similar based on square footage, acreage, and whatever else.

Fourth, AAG's fees are too high. Initiation fee and all the other fees (thousands of dollars) they stack on using a higher interest rate than the national mortgage rate, plus, if a Line of Credit is used, they can jack up the interest rate over the life of the loan; it's not a fixed rate, so when it comes time to sell, one doesn't know what the actual cost of the loan is.

Fifth, having to deal with someone over the telephone or email whose a thousand miles away.

Sixth, if one takes too long to accept all their paperwork, understand it, and terms, they (seems like) will pressure you to accept or have the application canceled.

Seventh, not deciding if I want to take the loan or not, AAG switched my homeowner's insurance to them, did not pay the bill, and I got a notice my house insurance was being canceled - they made a huge blundering mistake!

Eight, I sent them emails with questions only to get some questions answered, some partly or incomplete, and some not at all.

Ninth, I started on the premise I wanted a HECM (and still do), but after all of the above, I decided it wasn't worth it. Hope you have better luck - let the BUYER BEWARE!

Bottom Line: No, I would not recommend this to a friend

---

Failure to compensate Hurricane Michael loss

By Richard C.

,

Panama City, FL

,

Jul 30, 2019
Verified Reviewer

It has been several months since October loss. Contractor invoiced $62,000.00 for roof replaced. AAG paid $25,000.00 and withheld balance.

Contractor has not been able to continue work awaiting balance due. As it stands we have been deprived of our repair money. AAG has our $120,000.00 but will not pay the balance due to our contractor.

There are a lot of us that have no progress beyond roof repair.

If you have AAG between you and your insurance company don't look for any help.

Would like to see government intervene.

Bottom Line: No, I would not recommend this to a friend

---

Advertisement

---

Harassment by AAG

We took out a Reverse Mortgage with AAG in 2013. We have constantly been harassed by them for years over one thing or another.

A previous review listed frequent calls; had those. The problems have become so numerous over the years, I have sent complaints to the Texas Attorney General and the Consumer Protection agency.

They have charged us for property inspections to the tune of $1500, which includes only a drive-by photo of our mailbox. The last one was $500. Most of the property inspections are one picture of our mailbox and computer generated info on "like" properties in our area. The real estate appraiser never even sees the entire property. It clearly states in their information packets, they must notify you of an inspection, but that has only happened once, and I told them no (it was harassment, and there was absolutely no need for an inspection). We have "no trespassing" signs posted, and yet numerous people hired by AAG ignore the signs, and don't call or notify us prior to these so-called inspections. One man looked like he was a homeless bum!

We had a major hail storm in the spring. AAG has been withholding payment to the contractor since July. They would not even reimburse my husband and myself for out of pocket expenses covered by the insurance! Any time the insurance check is over $10,000, it has to go to the mortgage company. Even that requirement has been a hassle.

In Texas, we can pay quarterly property taxes if we have a homestead exemption. We did last year, but AAG jumped in, paid the balance of the taxes, and even paid the wrong amount! I spoke with them and explained how we play the taxes, and now they know so they won't interfere! Not so! Today I go to pay a quarterly payment, and AAG has paid them, even after they were specifically told that is how we pay the taxes and they said that was OK as long as they know. Now we will be harassed again.

My last resort is to notify the local media and do an interview to let them know of all the problems we have encountered with AAG. I will also update the Texas Attorney General.

My advice, the reverse mortgage has allowed us to make improvements and we enjoy our home, but the hassles encountered constantly are ridiculous!

My advice, don't use AAG.

Bottom Line: No, I would not recommend this to a friend

---

Stay away from this company!

By Steve Smith

,

Delray Beach, FL

,

Jan 31, 2018
Verified Reviewer

Please, I beg of you, if you have any other option for relieving your financial difficulties, do not use this company. Our process took nine months, and in that time we had to endure much aggravation with paperwork, time, and idiotic representatives. It cost us money and ended up lowering our credit scores because of several unnecessary credit checks.

I should have known what was to come during the very first phone call and having to deal with Sean, who is a very rude and condescending person. I refused to speak to him after that, leaving him to my wife. Finally it came time to close, and of course, they harassed us to hurry for the closing. It gave me great pleasure to call them and tell them to put their reverse mortgage where the "sun doesn't shine!"

Bottom Line: No, I would not recommend this to a friend

---

Advertisement

---

Appraisal scam

American Advisors Group ordered an appraisal of our home from an FHA approved appraiser. She did a very thorough job and actually came in lower than we thought our home was worth

Unfortunately, AAG tried to coerce her into including sales of a manufactured or mobile homes as comparables in order to drive the price of our home far lower than its value. Our home is not a manufactured home.

Also, they never contacted me about any issues with the appraisal. Every time I communicate with them, there is a new story why the appraisal is bad. Or the broker is wrong. Or I don't understand. Everyone has problems except them.

Simply put, they tried to lower our home value unethically and take advantage of the elderly population.

Please be warned.

Bottom Line: No, I would not recommend this to a friend

---

No one seems to know what they're doing at AAG

By Ann Schell

,

Tampa, FL

,

Jun 23, 2017
Verified Reviewer

No one seems to know what they're doing at American Advisors Group. I started the process to do a reverse mortgage. First, they required one whole page of paperwork including my accounts, social, bank accounts and so on. Then I had the appraisal done. I have gotten the same questions over and over and had to resend my driver's license, Medicare cards, and payoffs for home equity. On the average, I get one or two texts a day and a call or two every day. I wish they had people that would know in one call or text to tell me what they need, now I'm really skeptical about going through with this!

They told me I had a lien against my home for $6,500 (which was not true) and told me that my CPA could not see the same information that they could (which was a lie). A week later they said it was a mistake! Then I was told I had to raise my Homeowners Insurance by $50,000 and that is set up by the state, and my insurance company cannot do that. Somehow they texted me and said that they resolved it and that I do not have to do that. Really frustrated!

Bottom Line: No, I would not recommend this to a friend

---

AAG and Ron took care of me

By Chris M

,

Burbank, CA

,

Feb 28, 2017
Verified Reviewer

It is such a busy organization, but my loan originator, Ron, stood out and went the extra mile. From transaction coordinators to processors, there were several people involved, but Ron seemed to keep them in line and got me my check on time. I want to recommend them. Thank you.

Bottom Line: Yes, I would recommend this to a friend

---

Grateful

By Donald Lloyd

,

Doniphan, MO

,

Dec 8, 2016
Verified Reviewer

Thankfully the recent floods didn't get my house and I was able to get the reverse mortgage I wanted and secure a good amount for us to use as an emergency fund.

Tony the loan officer we worked with was diligent and responsive. I have zero complaints except for all the paperwork. You'd think with computers and smartphones that it would be less, but it was more paperwork than my original mortgage!

Bottom Line: Yes, I would recommend this to a friend

---