American Education Services (AES) Reviews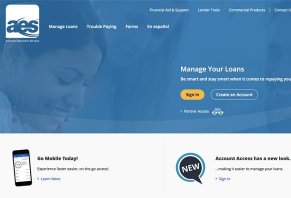 American Education Services (AES) is a student loan servicer who offers the standard set of help and repayment options with a customer service record that ranks as average among major loan servicers.
About American Education Services (AES)
AES is one of the four major student loan servicers who work with students to set up repayment plans for their federal student loans and provides information and help for choosing the right payment plan and navigating loan forgiveness.
The company's formal name is American Education Services – Pennsylvania Higher Education Assistance Agency. PHEAA came first, launching in 1963, adding AES to their business model in order to handle private as well as federal student loans.
According to a Mar. 6 article from MarketWatch, the most recent report at the time noted that AES-PHEAA oversaw the largest portion of the nation's student loan servicing: $318.7 billion. The same report noted that AES-PHEAA also serviced more borrowers than any other servicer in the country: 8.41 million.
As you prepare to enter into repayment for your student loans, it's important to know who you're dealing with, as you might have more than one student loan servicer.
In this review, we're going to help you understand what AES-PHEAA's role is in your student loans, what they offer and how their customer service record compares with its three main counterparts: Great Lakes, Nelnet, and Navient.
We'll also refer to AES-PHEAA as "AES" for the sake of simplicity.
The Role AES Plays in Your Student Loan Repayment
Whenever you apply for a student loan and are approved, the Federal Student Aid program will assign you a student loan servicer. You don't have control over who they pick.
However, you do have the option of consolidating all your loans as soon as you graduate, at which point you can choose your lender from a short list the government gives you.
Whichever situation you find yourself, your student loan servicer will contact you to let you know they're the ones who will be servicing the particular group of loans you received to pay for school.
"Servicing" describes all the things AES does to track your various loans (subsidized, unsubsidized, PLUS, etc.) and the balance of those loans, suggest a repayment plan that best fits your financial situation, calculate your monthly payment according to the eight different repayment plans the government offers, as well as process your payments and deal with your account if you go into default and stop paying your loans.
All of this information is available through AES website and their mobile app but you can't access it until you set up you're an online account.
Once you have that set up, you can access all the information you need to understand which repayment plans are available to you. This is an important step because, in most cases, you'll start out with a standard repayment, which is done in equal payments over the course of 10 years. In most cases, a standard repayment plan will result in the highest monthly payments.
If you can't afford the monthly payments available through the standard repayment plan, then you can work with AES to find a repayment plan that fits in your budget. Also, they can help you decide of an economic hardship deferment or a forbearance is a good choice. These two options allow you to cease payments for up to a total of three years.
In the case of the economic deferment you can get, AES will need proof that you're having a hard time paying your bills. Provided you can show proof, then your payments will cease for a period of time that AES determines (six months is popular) and your loans won't accrue interest during that time.
A forbearance works almost the same way, except that your loans will accrue interest.
If you choose one of the five income-driven repayment plans (plans whose monthly payment your servicer calibrates to your income), you'll work with your servicer to provide them with your income information every year.
AES will notify you as the deadline for that re-certification approaches, so because to check any messages they send you, even if they seem innocuous.
While missing the deadline for your re-certification doesn't have any long-term implications, your payments will jump to the standard repayment amount until AES approves your re-certification.
AES' Customer Service Record
It can be really hard to pin down exactly how borrowers feel about their student loan servicer. There are few tools for borrowers to be able to voice their opinions about a servicer and, if need be, file a complaint.
One such tool is the Consumer Financial Protection Bureau's (CFPB) consumer complaint database, through which consumers can file a complaint about AES and other student loan servicers.
We went into that database and researched how many complaints borrowers filed in the two months leading up to this review. We also researched complaint data for Great Lakes, Nelnet and Navient:
AES: 329 complaints
Great Lakes: 52 complaints
Nelnet: 130 complaints
Navient: 747 complaints
According to the MarketWatch data we mentioned earlier, Great Lakes and AES have roughly the same number of borrowers using their service, while Nelnet and Navient have similar customer bases, too.
Based on the data about complaints and customer sizes, we've observed that AES' complain rate is about six times the number of complaints about Great Lakes, a company with about 50,000 fewer customers.
All things considered, AES has the second highest complaint rate among the four student loan servicers we examined. Keep in mind though, that the complaints we analyzed were from the past two months.
According to the CFPB, the 329 complaints in the two months leading up to this review are divided up into the following specific categories of complaints:
Student-loan related: 246
Credit-related: 56
Related to debt collection: 24
Mortgage-related: 2
Non-student-loan related: 1
We wanted to get a sense of the types of complaints people were making in the student loan category, so we narrowed the results down and then took a look at some of the specific complaints related to student loans.
Here's a count of which specific topics popped up the most in the first 25 complaints we read:
Trouble with how payments are being handled: 10
Received bad information about their loan(s): 5
Account status incorrect: 3
Account information incorrect: 1
Don't agree with fees charged: 1
Information belongs to someone else: 1
Need more information about loans: 1
No other repayment options: 1
Problem lowering their monthly payments: 1
Problem with customer service: 1
As you can see, this small slice of reviews seems to indicate that how AES handles loan payments is the source of the most complaints.
Our advice, based on this data, is to make sure you are clear on how you make payments to AES, which forms of payment you can use to pay your bill each month and, when switching payment methods, confirming with AES that your payment via the new way has been processed.
Bottom Line: How to Find Success with AES
Based on our experience with student loan servicers as well as our conversations with student loan servicing companies, we believe that having a successful relationship with your servicer depends on your ability to understand your loans, your repayment plan and your familiarity with your servicer's website.
Your student loan servicer will provide you with their advice on which types of repayment plans you can use and, in some cases, which one is best, but, remember, these loans are your responsibility. So, read through the Federal Student Aid department's explanation of each type of repayment plans and which types of loans qualify for them.
Also, know the percentage rates on your loan, which is something you can see when you log into your AES account. There may come a time in the future when you want to refinance your loans and it will help you to understand the rate you're quote versus the rates you already have.
» See Also: A Beginner's Guide to Student Loan Servicers
As we mentioned in the introduction to hits review, the federal government assigns your student loan servicer to you, except in the case of consolidating your loans. If you consolidate through the government, you can pick your servicer.
And, of course, if you consolidate your loans with a private lender, you can pick the company you'll do business with.
Most borrowers fall into the first category – those whose servicer the government chose. And if AES is your servicer then, based on their complaint record, we believe that there's a good chance you're going to have a good experience. Their complaint rate isn't as good as Nelnet or Great Lakes, but, considering they have more than 8.5 million borrowers.
And, according to student loan expert Mark Kantrowitz, the student loan industry's consumer-complaint rate is still lower than the rate of complaints about banks.
As far as downsides go, we'd say that, if you have a complaint, then there's a good chance that, according to the CFPB's data, that complaint will focus on how AES handles your payments or bad information being given. Neither of these is guaranteed to happen to you, though.
However, as we talked about earlier, you can avoid a lot of confusion about your payments and your loans by becoming an expert in them yourself. Know the difference between subsidized and unsubsidized loans. Understand the pros and cons of federal student loans versus private student loans.
Doing so is going to save you a lot of surprises down the road as you repay your student loans.