Platinum Card from American Express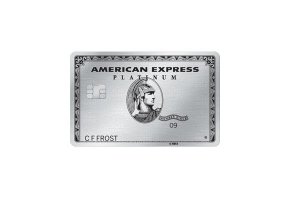 Few luxury cards offer the depth of travel rewards and perks that you'll get with the Platinum Card from American Express, a premium card with enough rewards to make up for its $550 annual fee.
Platinum Card from American Express Review: Is It Worth the Annual Fee?
The Platinum Card from American Express is a luxury rewards card with travel-specific benefits including a 60,000-point sign-up bonus and status upgrades at Hilton and Marriott hotels.
The card's annual fee of $550 is between $55 and $100 higher than other luxury cards but its long list of benefits and credits make a strong case that the premium you pay to own the Platinum Card is worth it.
In this review, we will provide you with an in-depth analysis of how the card's rewards work, what its extra benefits are, the Platinum Card's rates and fees, as well as how the card compares to other premium cards.
How the Platinum Card from American Express's Rewards Work
Quick Facts

Pros: Provides an incredible mosaic of travel rewards that includes two hotel loyalty program tier upgrades, monthly Uber credit and robust perks at luxury hotels.

Cons: Average yearly rewards points and higher-than-average annual fee.

Estimated Yearly Travel Rewards: 47,000 points

Sign-Up Bonus
Annual Fee
Regular APR
60,000 points
$550
N/A
Rewards Rate: 5x on flights and hotels booked with American Express, 1x on everything else

As far as premium credit cards go, the Platinum Card is perhaps the most generous in terms of the variety of rewards you can earn with it. In this section, we'll discuss the rewards you can earn along with the various credits and benefits you get that contribute to its overall generosity.
Like other rewards cards, the points you earn with this card go directly to a rewards balance you can access when you log in to your American Express account. AmEx calls the points "Membership Rewards points" because their rewards portal is called "Membership Rewards." It's within this portal that you can redeem your points.
Earning Membership Rewards points comes in two forms. First, you can earn 60,000 points if you can spend $5,000 in the first three months that you own the card.
American Express will automatically send these points to your account within 12 weeks of you spending $5,000. A quick reminder: balance transfers, interest payments, and credit card fees don't count toward the total. In other words, you can't hit the spending threshold simply by transferring $5,000 to the card.
The second method of earning points is a bit more complex. The Platinum Card earns points for every dollar you spend based on which types of things you buy. Here's a quick list of the rewards rates the card offers:
5 points for every dollar spent on flights booked with an airline or American Express Travel
5 points for every dollar spent on hotels you book through American Express Travel
1 point for every dollar spent on everything else
We believe that, as a premium credit card customer, you'll spend more money per year on travel and everything than the average person. Therefore, we believe that you'll spend around $3,000 a year on hotels and flights. This spending pattern will result in 15,000 Membership Rewards points for your hotel and travel purchases, along with 32,000 membership rewards points on everything else.
These various bonuses will result in 47,000 points per year. Our research shows that a credit card's points are only as good as the options you have for redemption. The Membership Rewards program gives you 21 different travel partners to which you can send you points, as well as a travel portal where you can redeem points for travel at a rate of $10 for every 100 points.
We like to focus on transfer partners because they tend to make your points more valuable than other redemption options. Here's a breakdown of the Membership Rewards program's transfer partners:
15 international airlines including British Airways and Singapore Airlines
Three domestic airlines: Hawaiian Airlines, JetBlue (1.25:1) and Delta
Three hotels: Hilton (1:2), Choice Hotels, Marriott
In our opinion, there are several excellent options here if you travel within the United States. We feel the best values lie with Delta, Hawaiian Airlines, Choice Hotels, and Marriott. In terms of the best luxury options, Delta and Marriott are the top choices here because of their 1:1 redemption rates and options.
Delta flies more routes and Hawaiian and has varying levels of premium seating on their planes. Marriott has multiple luxury properties under its name, including Ritz-Carlton, W Hotels and St. Regis. You'll also get upgraded status in Marriott's Bonvoy loyalty program, which we'll talk about in a few seconds.
The Platinum Card from America Express' Additional Travel Benefits and Perks
One of this card's greatest strengths is the variety of travel benefits it offers aside from the rewards you earn through the sign-up bonus and everyday spending:
$15 monthly Uber credit ($20 bonus in December)
$200 credit for airline incidentals
Global Entry/PreCheck fee credit
Average of a $550 credit at Fine Hotels & Resorts
Free entry into airport lounges (AmEx Centurion, Priority Pass Select, etc.)
Marriott Bonvoy Gold Elite status
Hilton Honors Platinum Elite status
As a general rule, all the "credit" perks in this list are based on American Express automatically crediting you for eligible purchases with your Platinum Card. So, the Uber credits will appear automatically as long as you use your Platinum Card to make the purchase. The airline incidentals credit covers baggage, in-flight food and drink as well as other non-ticketing charges.
Finally, the Fine Hotels & Resorts credit applies to luxury hotels you book through American Express Travel's Fine Hotels and Resorts site. This isn't a credit like the others, though, because the "credit" is actually a collection of free perks American Express values at around $550. Those perks include:
Room upgrade when available
Daily breakfast for two
12 p.m. check-in, 4 p.m. check-out
Spa, food or beverage credit (in most cases)
Aside from credits, you get free Gold Elite status in the Marriott Bonvoy program as well as free Gold status in the Hilton Honors. Both of these programs offer late checkout but the Hilton program is stronger, with complimentary upgrades and breakfast.
The final benefit on the list is a credit for the application fee you pay for the Global Entry or TSA PreCheck programs, both of which help you get expedited security check-ins at U.S. airports.
The Platinum Card from American Express' Rates and Fees
There's no denying that this card's rewards are plentiful and can save you more than $1,000 a year in free travel. However, you have to be careful about using the card (just like any rewards card) because its rates and fees can end up costing you hundreds of dollars a year if you aren't smart about how you handle your spending. Here's a quick list of those rates and fees:
Interest rate for purchases and balance transfers: None
Interest rate for cash advances: 27.49%
Penalty interest rate: None
Balance transfer fee: N/A
Cash advance fee: $10 or 5%, whichever is greater
Foreign transaction fee: None
Late/returned payment fee: Up to $39
Annual fee: $550
Authorized user fee: N/A
The Platinum Card is a bit of an anomaly because it's a charge card, which means you're required to pay off your balance in full every month in order to keep the card. As you'll see in our comparison section, it's the only card among the luxury options that is a charge card.
However, AmEx does offer a Pay Over Time feature in which you can spread out payments for certain purchases at an APR that AmEx determines. This interest rate is something American Express decides and is not published in the rates and fees fine print listed on their site.
Because of this, we believe that the Platinum Card may not cost you hundreds in rates and fees but American Express may close the card if you consistently fail to pay our balance in full or miss payments in your Pay Over Ti9me agreement.
The card doesn't allow balance transfers and we didn't see an option to add an authorized user.
Finally, the card's annual fee is high compared to similar cards whose fees are between $400 and $495.
How the Platinum Card from American Express Compares to Other Luxury Cards?
There are three main facets of a rewards credit card, in our opinion: rewards, rates and fees, and how it compares to other cards.
Understanding all three of these factors gives you a comprehensive understanding of the card's strengths and weakness that you'll need to make a smart choice. The following chart reveals how the Platinum Card's rewards stack up against other premium cards:
| | Platinum Card from American Express | Mastercard Black Card | Chase Sapphire Reserve | Citi Prestige Card | U.S. Bank Altitude Reserve Visa Infinite Card | Delta Reserve Credit Card | United MileagePlus Club Card |
| --- | --- | --- | --- | --- | --- | --- | --- |
| Sign-up bonus | 60,000 points | None | 50,000 points | 50,000 | 50,000 | 40K miles/10K Medallion Qualification Miles | 50,000 miles |
| Rewards rates | 5x/5x/1x | 1x on all purchases | 3x/3x/1x | 5x/5x/3x/3x/1x | 3x/3x/1x | 2x/1x | 2x/1.5x |
| Yearly points on $35K annual spending | 47,000 points | 70,000 for airfare, 52,500 for cash | 47,730 points | 60,136 points | 41,000 points | 36,500 miles | 53,250 miles |
| TSA/ Global Entry reimbursement | $100 | $100 | $100 | $100 | $100 | Free Sky Priority expedited security | Free Premier Access expedited security |
| Airline/ Travel credit | $200 | $100 | $300 | $250 | $325 | Priority boarding, first bag free, 20% savings on in-flight purchases | Priority boarding, first and second bag free |
| Travel partners | 21 (15 int'l, 3 domestic, 3 hotels) | None | 12 (6 int'l airlines, 3 domestic, 3 hotel) | 15 (14 int'l, 1 domestic) | None | 1 | 1 |
| Lounge access | AmEx Centurion, Delta SkyClub, Priority Pass Select, three others | Priority Pass Select | Priority Pass Select | Priority Pass Select | Priority Pass Select | DeltaSkyClub | United Club |
| APR | N/A | 17.24% | 19.24% to 26.24% | 17.99% to 25.99% | 17.99% | 17.99% to 26.99% | 18.24% to 25.24% |
| Annual fee/ Authorized user fee | $550/NA | $495/$195 | $450/$75 | $495/$75 | $400/$75 | $450/NA | $450/NA |
We believe this data points to the fact that the Platinum Card from American Express is worth every bit of its $550 annual fee, especially if you're a true luxury traveler who can take advantage of every perk and credit the card offers.
We don't think any of the other cards on this list provide quite the non-rewards perks that the Platinum does. For example, it's the only card in the chart that offers upgraded status in hotel loyalty programs. It's also the only card with systematic free perks at hotels you book through the card's travel portal.
The Mastercard Black Card, Citi Prestige Card, United MileagePlus Club Card, and the Chase Sapphire Reserve have better yearly rewards but they don't have a better sign-up bonus.
As for the most popular categories—a sign-up bonus and yearly rewards—the Platinum Card performs well. It has the biggest sign-up bonus. Its yearly rewards are average (four cards have a higher total) but the card's multiplicity of travel transfer partners makes up for the limitation of the yearly point.
Also, the card's yearly airfare incidentals credit is average in its dollar amount but is a bit restrictive compared to the Chase Sapphire Reserve and U.S. Bank Altitude Reserve Visa Infinite Card. Those two cards allow you to apply your credit to any travel purchases.
Another positive, in terms of comparison, is that the Platinum Card gives you access to American Express' Centurion lounges, which most credit card experts agree is the peak in airport lounge luxury. Access to these lounges is in addition to Priority Pass Select, which is a perk all other non-airline premium cards offer.
In general, we believe the overall rewards and perks profile of the Platinum Card make it a more valuable card than all other competitors.
The Bottom Line: Pros, Cons and Who Could Be a Good Fit for This Card
As we've mentioned a few times in this review, we think the Platinum Card's greatest strength is that it provides you with a wide range of travel-related rewards.
Because of this, we think it's a great fit if you embrace luxury travel and don't mind booking premium hotels through American Express Travel so that, among other things, you can take advantage of the free perks you get when you stay at Fine Hotels & Resorts.
At the same time, this is an excellent card for someone who flies often, as you'll most likely be able to take advantage of the card's $200 airline incidentals charges. You may run into a problem if you tend to book business class or first-class seats, as many of your amenities including food and drink could be free.
The lounge and credit perks (along with the yearly miles) are so good that it may even make sense for you to use this card over an airline-specific card like the Delta Reserve Credit Card, as the incidentals will cover the cost of baggage for at least a couple of domestic flights.
We'd say the card's greatest drawback is that it's a charge card. So, if you're someone who carries a balance on a regular basis, there's a really good chance this card isn't going to work out for you. One thing we've yet to mention is that the Platinum Card has no spending limit, per se, because it's a charge card. In other words, you could have a limitless spending cap and, if you can't pay back your balance, this is going to be a costly card for you.
Our research indicates that the Pay Over Time option American Express gives you has interest rates that, while not published in the Platinum Card's fine print, are higher than the average low-end interest rate for travel cards.
If you're concerned that the Platinum Card isn't the right fit for you, take a few minutes to read through our rankings of the best luxury cards of 2019. We do an in-depth examination of the cards listed in the comparison section of this review. We also specify which cards work best in specific situations since the best overall card isn't always the right fit for you.
Love my AMEX Platinum

By Ted Chan

,

Aug 30, 2017
Verified Reviewer

I've been really happy with the American Express Platinum Card, and I have had one for over ten years now. Love the perks and concierge service. Getting access to National Aisle service is huge.

I do wish it covered every airport lounge!

Bottom Line: Yes, I would recommend this to a friend

---

Love this card!

I love this credit card. Rewards are great, and you can use them for anything, even paying down your bill. Their concierge services are fantastic. And the card is full metal, which is awesome. I'd get one. Worth the fee.

Bottom Line: Yes, I would recommend this to a friend

---

Advertisement

---