American Home Shield Reviews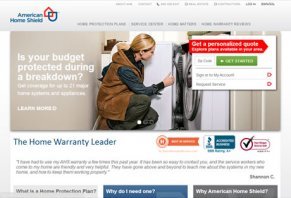 American Home Shield provides several protection plans intended to cover costly repairs or replacement of primary systems and appliances within your home.
About American Home Shield
Based out of Memphis, TN and in business for more than 40 years, American Home Shield provides home protections plans that cover some of the most frequently-occurring system breakdowns in your home. As a sub-company of The ServiceMaster Company—which also includes brands such as Terminix and Merry Maids—American Home Shield claims to cover more than 1.4 million homeowners across 49 states, and features more than 10,000 independent home-service contractors.
The company holds an A+ rating with the Better Business Bureau, even though they have a total of 3,777 closed complaints within the past three years. Despite this rating, customer satisfaction appears to be "acceptable" to "poor," based on the online reviews we found. The most common complaints appear to be unknowledgeable contractors with poor customer service skills, and multiple calls required in order to remedy a single problem.
American Home Shield Protection Plans, Pricing, & Refund Policy
American Home Shield offers four different protection plans, depending on your needs. Pricing for each plan appears to vary based on your location, so yours may be slightly different than the costs shown below:
Systems Plan – $32.00 per month – This plan covers repair/replacement of components within air conditioning/heating, electrical, and plumbing systems, and much more.
Appliance Plan – $22.00 per month – This plan covers repair/replacement of components in refrigerators, dishwashers, clothes washers/dryers, and many more household appliances.
Combo Plan – $42.00 per month – A combination of the Systems and Appliances plans, this is claimed to save you "an average of $14 per month" compared to purchasing the plans separately.
Build Your Own Plan – $36+ per month (depending on chosen coverages) – Pay for only the coverage you need by selecting at least 10 covered items.
You can also further adjust your monthly premium by choosing a different Trade Service Fee, which is the amount you'll pay each time a repairperson is called to your home. These deductible amounts are $75, $100, and $200.
If you decide to cancel your American Home Shield Protection Plan, you can receive a full refund, less any service or claims fess, within the first 30 days. After the first 30 days have passed, you'll be eligible for a pro-rated refund.
How American Home Shield Works
After choosing your protection plan and paying your first month's premium, your 12-month contract will be activated 15 days thereafter. Once this occurs, you can then make a claim for a covered system by contacting American Home Shield via phone or through their website, 24-hours per day, seven days a week.
Protection plans are transferrable, meaning they can cover your new home if you move during the policy period, and are "all risk"—meaning unless something is specifically excluded by the contract, it will likely be covered. For an example contract that includes most exclusions, please click here.
If a covered system breaks down during your policy period, you simply contact American Home Shield by phone or through their website, and speak with a 24/7 service representative, who will then schedule a contractor. Even though a service representative is available at all times, your contractor will only contact you during normal business hours.
Once your scheduled contractor arrives, you'll be required to pay your Trade Call Service Fee to them directly, which will allow them to begin diagnosing the problem. After this occurs, the contractor will contact American Home Shield to verify that the problem is covered under your plan. Then, once this is confirmed, your contractor will begin repairing or replacing your system.
While the process seems relatively straightforward, and despite the company's claim to use quality contractors, we came across hundreds of complaints during our research citing that American Home Shield often uses unprofessional (and often unqualified) contractors first. Then, if the problem isn't addressed satisfactorily, they'll call in more experienced and professional contractors to complete the job. With this said, there are hundreds of additional consumer complaints which state that their problems remain unresolved after as many as 5-6 service calls—and paying the associated Trade Call Service Fee each time, on top of their monthly premium.
Pros:
Several different home protection plans from which to choose, with reasonable monthly pricing.
In business since 1971, with more than 1.4 million covered homes.
24/7 customer support to file a claim.
Company claims to use only high-quality contractors that consistently maintain strong customer satisfaction rankings.
Cons:
Contractors who complete repairs are only available during normal business hours.
Have a tendency to send "sketchy" contractors to your home as a first resort, though they also contract with well-established companies like Sears.
Many customers have complained that contractors often show up just to collect their fee, and then quickly leave without adequately addressing the problem.
Do not use American Home Shield

By Sam Quinn

,

Tampa, FL

,

Feb 13, 2017
Verified Reviewer

It is always a long 20 to 30-minute wait to reach an overworked, rude customer service person. I was just on hold for 20 minutes and got a busy noise and a hang-up. The website does not work, for I tried to log on and it shows that I do not have a contract, even though I have been paying for one for over two years.

Do not waste your time or money with this wart of a company. Also, be aware that the Consumer Affairs website showing reviews is American Home Shield's own site. I tried leaving a negative review on that site, and it was deleted.

Bottom Line: No, I would not recommend this to a friend

---

Hot water heater issue

By Mary Daniel

,

Virginia

,

Jan 13, 2017
Verified Reviewer

These people are not a good company. They are rude and they send repair people out to patch up things which then stop working. They want you to keep paying service call fees of $75 for their mistakes.

My hot water heater is not working, so I called them on the 12/20/2016. Someone came out on 12/21/2016 to fix the problem, but on 12/27/2016 the problem got worse. I still don't have hot water, and they're telling me that they didn't send the company that came to fix it. I called that company, and they assured me the American Home Shield sent them. Now they want me to pay $75 more to send someone else out.

I don't think this is fair, and this company is horrible. They refuse to give you numbers to a supervisor or even give you their names. Something needs to be done.

Bottom Line: No, I would not recommend this to a friend

---

Advertisement

---

Don't waste your money!

By Brian

,

Virginia

,

Feb 23, 2017
Verified Reviewer

The $42-per-month fee seems like a deal for the peace of mind, but you're way better setting that money aside in savings and handling repairs using qualified professionals.

I had the plan for almost a year when my oven broke. I called American Home Shield, and they sent a technician out (there is a 7-hour window, so I had to work from home that day) and when I explained the issue, he collected his "service fee," and then set about "inspecting" my oven. For 30 minutes he tried to get the oven door off and finally had to look it up online on his phone. He then left and said he'd be back with me in 3-5 days.

Two weeks passed, and I didn't hear from anyone, so I called American Home Shield, and they told me that my repair has been denied. They told me that the repair guy reported that I was "missing a part" and when I called BS, they sent another technician out. When the second guy arrived, I told him the story, and he asked me if I happened to have a video of the stove breaking. WHAT?

I invited him to leave my property immediately and set about the long voyage of trying to cancel this awful contract. I sat on hold for 45 minutes longer than the usual 45-60 minute call, to be connected to someone in their "retention" office. This woman's attitude was awful, and she took a clear satisfaction in trying to avert my cancellation by assessing me an early cancellation fee.

This is a racket and a fleecing operation, to put it kindly. Stay far, far away!

Bottom Line: No, I would not recommend this to a friend

---

Never use these people

By Sheri Curtin

,

Bethlehem, PA

,

Aug 4, 2017
Verified Reviewer

On May 26, 2017, our upstairs air conditioning unit failed. We called, and they set up a service provider. They recharged it, and it lasted for three days. We called back they came out four days later and looked at it, and they determined that the upstairs air handler and the downstairs compressor were both unfixable and needed to be replaced.

American Home Shield argued and told us that our out-of-pocket would be $2800 to replace the condenser, which they were not covering. We went back-and-forth. I finally paid an independent service technician to come out and diagnose the entire system, who also agree that both the air handler and the condenser needed to be replaced. On June 10th we were told by American Home Shield that they approve the condenser, but our air handler was now not approved, which had previously been approved to be replaced.

After approximately six hours on hold and talking with people at American Home Shield in one department to another who didn't know what one division said or had agreed to, we were told that we would be receiving a new unit both upstairs and downstairs for replacement on July 18th, undulating a Payne condenser and air handler delivered and installed. After 12 hours of installation, the contractor installing the units had to come to me and tell me that the downstairs outside condenser unit did not work at all. I immediately called American Home Shield and explain the situation, and they were kind enough to tell me that it was no longer their problem, that it was a manufacturing issue, at which point I explained to them that they had not yet filled their contractual obligation to provide me with a working unit, and that unit turned on and produced air. It was still their issue and their responsibility. The customer service rep refused to discuss this with me, and in turn, the installer went to the distributor the next day and explained the situation and returned with a Lenix condenser on July 21st. The condenser was turned on and it worked only to find out that the upstairs air handler did not operate, and this was not evident until we can get the condenser to work.

I posted on Twitter of how absolutely disgusted I was and was tired of being on hold from anywhere between 59 and 83 minutes before I could talk to somebody who couldn't do anything but tell me that they would escalate this or get me a return call, which I never heard from anyone until I put something on social media then they wanted to smooth my feathers.

I've had two service calls now trying to get this thing to work. I finally had to call an independent contractor, which was Lowry Services, which I cannot say enough nice things about. A prompt and immediate response, and they do the work they say they're going to do right then and there. That service call cost me $1100 to wire the upstairs air handler correctly because installers managed to put the air handler on the 110 circuit instead of the 220 is required to run on.

Daryl from customer service and the media supervisor from American Home Shield calls me and now wants to do a second opinion. I've had second opinions, I've had 3rd opinions, and fourth opinions, and we have been going on with this since May 26th. My upstairs temperature during all this has been 93° and when I explain to these people that I have people coming and one of these people is on oxygen and cannot be in 93° temperatures and 90% humidity, they informed me that did not constitute a medical emergency to try to expedite this.

Since May 26th I have been on the phone, documented for 14+ hours with American Home Shield or the supplier trying to get this resolved. I lost 12 hours of billable time, and I have had no air conditioning upstairs in my house from May 26th through July 27th. I have been unable to utilize my office for work, which is upstairs.

My last conversation with American Home Shield was anything but pleasant, and my last statement was "see you in court." I have every intention of suing them for what I am out of pocket, and the time, energy and effort that I have had to spend to get them to abide by their own contract. Secondly, I would like to point out that they say comparable equipment replacing a Rheem air-conditioning system with a Payne air-conditioning system, which has one of the most horrific customer service reviews of failure rates and not comparable equipment.

They also say that they will repair or have diagnostics done within 24 to 48 hours and wants the issue diagnosed, and they should have service and repair within 24 to 48 hours, and this was not the case. We have been a customer with them since June 2005 because this warranty came when we bought the house.

From here on forward, I will tell you that if anybody asks, I will tell them first and foremost, do not use American Home Shield. Save your money and go to somebody who is reputable and actually cares about your business and will and takes care of you the way that they promised they will. And someone who when they say they will provide you with comparable service and comparable equipment will actually do so, instead of trying to get away with the lowest form of product that they can.

Bottom Line: No, I would not recommend this to a friend

---

Advertisement

---

Customer service non existent

By Jerry H.

,

Peoria, AZ

,

Jun 21, 2019
Verified Reviewer

May 22nd our KA fridge alarms went off. Contacted KA, was told control board is dying. Called AHS on May 24th, they emailed me at least 3 or 4 contractors until one could come out the 25th. I am still without a fridge and have been on the phone almost daily with the 30-60 minute hold phone calls. AHS even closed the work order until I called and finally someone listened and put the work order back to open on my account. On two other calls 2 different supposedly supervisors said they would call back within an hour which never happened. The contractor says they closed the order AHS says they sent parts (keep in mind they told me this happened twice before with different dates same part?). I am guessing I will not get my fridge fixed by AHS or this contractor.

Bottom Line: No, I would not recommend this to a friend

---

Class action lawsuit

I called American Home Shield on May 1, 2017, about my air conditioner not working. I am still without air conditioner five weeks later. When I've asked when it will be fixed, I was offered $500 to walk away from the claim. Bait and switch. Enough is enough. A class action lawsuit is what's needed against this company.

Bottom Line: No, I would not recommend this to a friend

---

AHS communications

By Jim Bar

,

Calabasas, CA

,

Jun 16, 2017
Verified Reviewer

I have three properties with American Home Shield (AHS) that I am canceling contracts for due to lack of and poor communications with AHS. There are no means to send an email to AHS to discuss issues such as vendors not showing or payment of service charge, etc. Each time I call AHS, the hold time is a minimum of 35 minutes, only to find out they transfer the call to a different department for another 35-minute hold. I called for "billing," and after a 40-minute hold, "service" answered and transferred me to "billing" for another 35-minute hold.

AHS owed me $130 for a service they could not provide. They agreed to send me a check. After five months of not receiving the check, I called to discover they changed their statement and said service was provided. I asked if they could provide the Work Order showing work completed and they could not. But, I ate the loss of service and paid another repairman directly. This was common with AHS to lie. Not such a big deal, but I hate their lies and arguments to avoid making any repairs. They will fight and attempt to intimidate to avoid warranty claims.

I have two other properties with Fidelity, and they are not the best but much better than AHS. I hope you save your frustrations and time by not using AHS.

Bottom Line: No, I would not recommend this to a friend

---

They sell contracts well, terrible customer service

Arizona

,

Aug 1, 2017
Verified Reviewer

These people have their website all set up to sell you a contract and request a service call. That is where it ends! Their repair people are terrible. Many times have to be re-repaired. Customer Service wait time is over an hour with each call.

They do not have enough people to service the contracts they sell! If you don't believe me, go read the posts on their Facebook page.

Bottom Line: No, I would not recommend this to a friend

---

American Home Shield is a ripoff

I have had a home warranty with American Home Shield (AHS) for 10 years. The main reason I have the warranty was to cover my air conditioner. I have struggled for four weeks with this company, waiting over one hour on the phone several times only to have to tell my story again and again.

The A/C started leaking into the house, and then it quit completely. AHS sent substandard contractors who did not repair anything and lied about what needed to be done to AHS. Two reputable contractors said the unit needed to be replaced as it was severely corroded after sitting atop a roof in super hot Phoenix, Arizona for 36 years. AHS wanted to pay me $300 to replace a pan when it costs $4300 to replace the unit.

I finally had to go ahead and pay for it myself. I pay almost $70 a month and have had it for 10 years. It is a useless "warranty." They do not follow up on my calls and have repeatedly ignored me and my pleas for help. They are a completely disreputable company.

Bottom Line: No, I would not recommend this to a friend

---

Do not use this company!

By Max Harris

,

Beavercreek, OH

,

Jan 12, 2017
Verified Reviewer

I've got a water pipe that is leaking in my basement. The leak is from the kitchen sink and dishwasher line and it is leaking into the unfinished portion of the basement. When I first discovered the leak, I called American Home Sheild and told them I needed a duct person because it looked like the water was dripping from a duct. The duct guy came and let me know that water is coming from a water line that is running above the duct. For my untrained eye, I didn't know that.

The duct guy calls American Home Shield and tells them to get a plumber out to the house. The plumber comes and says he needs the duct guy to come and take down the duct so he can repair it. Once it is repaired, the duct guy can hang the ducting back up. American Home Shield will not pay for the duct guy to come and remove the ducting, but they will pay if they had to tear down the drywall, concrete, or ceiling to get to leaking pipe!

Someone please help me understand why they would pay to destroy building materials, but not temp remove a duct?

Bottom Line: No, I would not recommend this to a friend

---

Terrible company, avoid at all costs.

By Josh Salas

,

Florida

,

Jun 1, 2017
Verified Reviewer

The first time was like pulling teeth to get my AC fixed. It obviously had a leak, and they did not want to troubleshoot it. They just wanted to fill it with Freon (of which they only cover $10 a pound).

I had to spend three days arguing with them to get it leak checked. They found an obvious leak in the coil and a second leak in the compressor. After much argument and over $600 additional (above and beyond the service call fee and warranty cost), they fixed it.

The second time I called, they told me their computers were down and they could not setup a service call. They had no ETA on having their systems back up. As I had water flowing everywhere, I asked if I could just hire someone, pay them and be reimbursed. They said no, I had to just wait. That cost me $300.

Lastly, last week our main house AC went out. We realized this on Friday when we got home. The house was 91 degrees. We put in a service ticket, and the contractor called and told us that they would not be out for 72 hours. I explained we had expected temps of 97 degrees over the next three days, and they informed me AHS would not pay for after hours or weekend calls. So once again I got my own AC person and paid out of pocket to fix it.

Bottom Line: No, I would not recommend this to a friend

---