AmeriSave Mortgage Corporation Reviews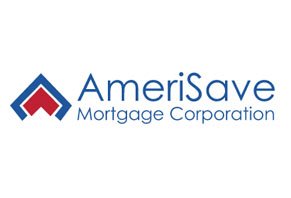 AmeriSave is one of many online mortgage lenders who offers conventional mortgages along with jumbo, FHA, VA, USDA and HARP loans.
About AmeriSave Mortgage Corporation
AmeriSave Mortgage Corporation is an online direct mortgage lender who offers several different types of mortgages for buying or refinancing a home. The loans you receive through the website are directly from AmeriSave and not a third-party lender.
The company's goal is to get you to shop the mortgages they offer, apply and then lock in your interest rate within a matter of minutes. The advantage to an online, in-house process like this is you don't have to waste time going to a bank or credit union; you can do everything from the comfort of your own home.
Now, the Atlanta-based company's promise that you can choose your loan and lock your rate within minutes isn't anything out of the ordinary. Competitors like Quicken Loans and Guaranteed Rate offer the same services.
The key to understanding why you may want to choose AmeriSave over the competition lies in what types of loans the company offers, what the application process is like and what other customers say about AmeriSave Mortgage Corporation.
We know choosing a mortgage lender is a big deal, so we're going to unpack each of the topics we just mentioned so you can have a clear picture of who AmeriSave is and why they are or are not a good fit for you.
What Types of Loans Does AmeriSave Offer?
Mortgage lenders have created various loans to meet the wide need and demand of consumers. Think of the mortgages you have to choose from as a financial menu, and the website you use to find the right mortgage is sort of like a waiter – they recommend a few loans that fit you well.
Each mortgage on AmeriSave's website has its own little nuances, so it's important to know those nuances as you read over AmeriSave's "menu" of products. As we describe the mortgages backed by the government, we'll include explanations of why some of these programs exist.
Conventional
Conventional mortgages are loans given to you directly from the lender and aren't associated with a government program. These loans can be fixed-rate mortgages of 15 and 30 years, or they can be adjustable-rate mortgages, which start off with a low percentage and then switch to an interest rate that rises and falls with the economy.
These loans can be used for purchases or refinances.
Jumbo Loans
Jumbo loans are exactly what they sound like – mortgages for homes with really big price tags. You see, the federal government keeps track of average home prices, and when someone comes along and wants to buy a home that's way beyond the average home price, they need a special loan to do it.
According to the current federal standards, "way beyond" means a home that costs more than $417,000 in 48 states. If you live in Alaska or Hawaii, cost of living is higher, so the threshold is $625,000 instead of $417,000.
Like many of the mortgages on this list, jumbo loans can be used for purchases or refinances.
FHA Loans
Giving a mortgage to someone is risky business. Think about it – a bank is giving hundreds of thousands of dollars to someone they hope will pay them back. But, what if the person doesn't follow through? What if they lose their job and can't make their mortgage payments anymore?
The Federal Housing Administration (FHA) realized this could be a problem for people like you and me.
Why? Well, what if banks decided one day they wanted to reduce the risk of people not paying their mortgages back by only handing out loans to people with credit scores above 800 and incomes above $100,000? It would be a disaster for most Americans.
To avoid that scenario, the FHA stepped in and said, "Okay banks, we know you're worried about homeowners flaking out on their payments, so we're going to promise you we'll pay a certain amount of the loan should the worst-case scenario happen and the borrower can't pay."
This promise is what's known as a "guaranteed" or "federally-backed" mortgage. The bank wins because they've got a super-reliable organization promising payment if all heck breaks loose, and the consumer wins because they've got the FHA backing them up.
The bank gives the loan, the homeowner gets the loan and the FHA is like, "Yeah, we like what's going on here."
That's the big picture, though. From a numbers point-of-view, FHA loans don't require a big down payment or high yearly income and often allow for grants and state/city programs to pay for closing costs.
FHA loans are available for buying a home or refinancing an existing mortgage.
VA Loans
Living the military life isn't easy. Families are constantly moving around the country and around the world. With all that moving around going on, there comes a point where the family may want to buy a home. But with tons of moving expenses and middle-of-the-road salaries, how can they afford to buy a home?
The Department of Veteran Affairs realized this unstable situation, so they created a mortgage program tailored for active-duty and retired service members.
Like the FHA mortgage, VA loans have a specific set of numbers-focused advantages. You don't have to pay private mortgage insurance (PMI), which can save you hundreds of dollars a month. Also, you may not have to make a down payment to get your loan.
VA loans can be used for purchases or refinancing.
USDA Loans
The United States Department of Agriculture loves agriculture – the name gives it away, doesn't it? But what does agriculture have to do with mortgages? Well, the USDA started a mortgage program to encourage people to move to rural areas and, as the logic goes, spend their money and boost the economy in those agricultural/rural communities.
The big difference between these loans and the Jumbo, FHA, and VA loans is that USDA loans are only available for homes outside of designated urban areas.
The easiest way to understand this is by checking out the USDA's mortgage maps. These maps block off urban areas to show you were you can't buy a home with their loan. Everything not in a shaded area, though, is fair game for a home purchase as long as you and the home you want to buy meet certain financial requirements.
The perks to these loans are that you can finance the cost of the home and closing costs, which is really cool because, in most cases, you have to pay out of pocket for closing costs. What are closing costs? All the things you have to pay for from the moment you make an offer on the house until you close on the house – home inspections, title insurance, escrow and a few other things.
HARP Loans
Remember back in 2008 when the mortgage crisis hit and homeownership entered an apocalyptic era?
People who bought homes just a year or two earlier saw their home values plummet. Neighbors who signed up for adjustable-rate mortgages couldn't afford their high payments, so they were moving out of their homes left and right.
Financial doom was raining down and people were running from their homes as fast as they could, kind of like in those end-of-the-world movies where motorists saw the aliens coming and fled from their cars for safer ground.
What was left? A bunch of empty cars getting pummeled by laser beams, or, in the context of mortgages, a bunch of empty homes getting hit with laser beams of foreclosure.
"Foreclosure" is what happens when a bank takes ownership of a house because the homeowners can't pay their mortgage and can't reasonably sell their home because it's worth much less than what they paid for it.
The federal government saw this happening and realized it wasn't good for anyone. Banks weren't getting paid, homeowners didn't have homes and those who still owned their homes were making mortgage payments on an original appraised value that was much higher than what their home was actually worth.
So, the government launched the Home Affordable Refinance Program (HARP) to prevent neighborhoods from becoming ghost towns of foreclosure. The program gives homeowners affordable mortgage rates that reflect the true value of the home, but only borrowers who are underwater on a mortgage from Fannie Mae originated before May 31, 2009.
All of these mortgages are available through AmeriSave and, in most cases, many other online mortgage lenders. How does the AmeriSave application process compare to other companies? That's what we'll cover next…
The AmeriSave Mortgage Corporation Application Process
Now that you're an expert in the different kinds of loans AmeriSave offers, you can go into the application process knowing what will and won't be available to you.
For example, if you aren't in the military or never have been, you won't get a VA loan. If you aren't refinancing, or you are refinancing but your loan isn't from Fannie Mae, you won't get a HARP loan. And, if the home you want is in an urban area or less than $417,000, USDA and Jumbo loans aren't possible.
With that in mind, we're going to give you a quick explanation of the AmeriSave mortgage-application process.
Pre-Qualification
If you think AmeriSave is the right fit for you but you also want to be a smart consumer, then you probably want to get an idea of what type of mortgage, loan amount and APR you can expect. But let's say you want to get all that information – or at least a general idea of it – without handing over your social security number.
This is what the pre-qualification phase is for – you give AmeriSave some basic information about income, where you live and what kind of home you want to buy, and they'll give you a series of mortgages you could qualify for.
The results you get aren't guarantees, so you have to keep that in mind. You could pre-qualify for a $250,000 FHA loan at 4.75%, but the site can't give you a legit offer until they run your credit and view your credit history.
That "legit" offer is what's known as pre-approval.
Pre-Approval
If you like the pre-qualification loans and rates AmeriSave gives you, then you'll fill out an application for a pre-approval. As we mentioned before, a pre-approval is a mortgage amount and rate based on your credit score, credit history, income and other factors.
Once you get your pre-approval amount, then you can start shopping for homes. However, you've got to remember that a pre-approval amount isn't a rock-solid promise.
When you find the home you want, AmeriSave's underwriting department (the people who do serious number-crunching to figure out if you deserve a loan for the house you want) goes to work; they make the real decision about how much they'll give you.
Why all the steps to figuring out your loan? Well, think about it from AmeriSave's side of things. They know you're shopping around and you probably aren't going to apply for pre-approval right away. So, they and pretty much every other mortgage site reel you in with pre-qualification.
If you like what you see, then they know the chances of you getting pre-approved through AmeriSave are high. But here's the thing – most consumers get pre-approved through several different lenders so they can compare offers.
AmeriSave also knows this, so they don't want to put their underwriters to work until they know for sure you're going to get a loan from them. If they didn't do it that way, they'd waste a lot of time and money.
Pro tip: Once you accept the approval, AmeriSave says the rates in your pre-approval are "locked", which means that's the rate you'll get on your mortgage when it's finalized.
The Purchase Process
Once you're pre-approved for a loan, you'll start uploading documents to the AmeriSave website. A loan officer assigned to your account will work with you during this process, telling you which documents are necessary and which bits of information they need.
This continues through the entire home buying process. In some cases, you may nail your paperwork in the first few weeks, but in other cases, AmeriSave will request documents all the way up until closing.
Meanwhile, you'll be shopping for homes. AmeriSave Mortgage Corporation connects you with a realtor who will show you homes and negotiate on your behalf when you find the house you want to buy.
Once you find the dwelling of your future, AmeriSave will send out a certified inspector who walks through the home and takes notes on which parts of the house are in good shape and which parts need a little work or serious repairs.
Assuming all is well with your paperwork and inspection, AmeriSave's underwriters will approve your loan, you'll pay for your house, escrow will close and you get the keys to your new home.
Pro tip: Even though the inspection happens later in the process, you'll have to pay for it once you're pre-approved. Reviews we've read from borrows say the inspection fee can cost as much as $585.
What Other People are Saying About AmeriSave Mortgage Corporation in Their Reviews
Everything we've described up to this point is pretty standard with online mortgage lenders. You fill out an application online and work with a loan officer (sometimes more than one person works on your account) until everything is finalized.
One of the ways you can sort out which companies are better than others is to read consumer reviews and complaints.
Lending Tree
AmeriSave gets positive ratings from the more than 1,000 people who reviewed the company on LendingTree.com. If you haven't heard of LendingTree, it's a website where you fill out one mortgage questionnaire and get mortgage offers from multiple lenders (click here for our review of the site). AmeriSave's average score was 4.6 stars.
The twenty most recent reviews gave AmeriSave and its loan officers (the people who work with you to get your loan approval) five stars. Many of the positive comments talked about how quickly the loan process went and how helpful AmeriSave's loan officers were. Several said their loan officers were knowledgeable and honest.
Consumer Affairs
AmeriSave gets stellar reviews on Consumer Affairs, too. Of more than 2,100 reviews at the time of publishing, 86% were 5 stars and 6% were 4 stars.
Many of the positive reviews we read pointed out how helpful AmeriSave loan officers were, with several saying their loan application process put to rest initial apprehensiveness about doing a loan online.
Credit Karma
The reviews we found on credit-focused website Credit Karma weren't as numerous as the other sites – just 13 – but they do show a higher proportion of negative reviews.
One reviewer said their experience started well – all requested documents were uploaded in 24 hours and an appraisal was scheduled and paid for.
The applicant then received a letter from the IRS because, according to the customer's side of the story, AmeriSave requested his or her tax filings with the wrong social security number. Eventually, the applicant said he or she dropped AmeriSave and went with another lender who offered lower closing costs and a lower APR on the mortgage.
Better Business Bureau
We found continuity between the Credit Karma reviews and the reviews we found on AmeriSave's Better Business Bureau page, just as we found continuity between the good reviews on LendingTree and Consumer Affairs.
The BBB page had 16 reviews – 14 of which were negative – and 120 complaints. We read through the negative reviews and found complaints about AmeriSave filing paperwork with inaccurate information, errors which prolonged the loan application process.
Several reviewers said they felt their home appraisals were too low, which can be a problem because it could, in certain situations, make people ineligible for a loan.
One applicant said the appraiser spent "all of 10 minutes" in their home, a suspect amount of time considering appraisals play such an important part of the loan process.
Our Final Thoughts About AmeriSave Mortgage Corporation
AmeriSave has been in business for 15 years, and over that time they've process hundreds of millions of dollars in mortgages. They offer a standard line-up of mortgages both conventional and tied to certain government programs.
Their application process is similar to what you'll find with other online lenders. You fill out an application and then you get pre-approved for a certain loan amount with a certain interest rate. Once you accept the pre-approval, your rate is locked and you go through the paperwork process.
In our opinion, there is nothing out of the ordinary about the AmeriSave application process because it's standard for today's non-bank lenders like Quicken Loans and Guaranteed Rate.
Shop Around
On that note, it's important to remember that, just because you get pre-approved for a mortgage and rate you like, that doesn't mean you're stuck with AmeriSave. It's important to get pre-approvals with several lenders. This method helps you compare rates and see which lender is giving you the best deal.
If you're worried all those credit checks are going to hurt your credit scores, you're in luck. In most cases, scoring models like FICO typically count the multiple pre-approval credit checks as one. They know you're searching for multiple quotes and they won't penalize you if your mortgage-related credit checks take place within a span of two weeks.
Don't Be Afraid to Jump Ship
When you read our reviews of Quicken Loans and Guaranteed Rate, you'll see similarities between the positive and negative reviews they feature and the ones you've read in this article. How do you handle those reviews? Take the positive ones with a grain of salt and make notes on the most frequent complaints so you can be prepared for any surprises or disappointments.
Should you find yourself in a position where you've started the mortgage process with AmeriSave or another lender and you don't like how they're treating you, don't be afraid to cancel your application. You may have already paid for an appraisal, but losing that money is worth all the headaches you could face if your application process continues to be frustrating.
Should you choose AmeriSave as your mortgage lender? Based on our research, we think there's a chance you'll be happy with your experience, but you could also be frustrated and disappointed. However, this is par for the course in the mortgage world.
Online vs. Brick-and-Mortar
If you don't mind doing your mortgage process through an online lender, AmeriSave Mortgage Corporation could be a great choice.
However, if you'd rather talk with someone face to face, we think it might be a good idea to stop by your bank or credit union to find out what their rates are.
You may discover that being able to talk with someone in person will give you more peace-of-mind than talking with someone over the phone, as you would with most online mortgage lenders.