Amica Auto Insurance Reviews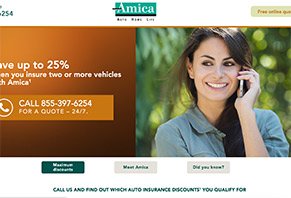 Amica Auto Insurance is the oldest mutual insurer in the US. In addition to their coverages and discounts, each policyholder receives a yearly dividend check.
About Amica Auto Insurance
Named as the oldest mutual insurer in the country, Amica Auto Insurance claims to provide an affordable auto (or motorcycle) policy that's customized to fit your needs.
Amica's auto insurance policies feature a variety of coverages, including a range of deductibles, coverage for you and your passengers, liability insurance for others, roadside assistance, glass coverage, and more.
Compared to other companies, Amica's Platinum Choice Auto program features the ability to earn Advantage points by referring others to the company, completing a year of good driving, taking out additional policies, and so forth. Then, the points can be applied toward accident forgiveness and reduced deductibles.
With Amica Auto Coverage, you'll also find ID fraud monitoring, rental coverage, and full glass coverage.
Sound like we're speaking a different language? Don't worry, we'll explain more about these coverages next.
Amica Auto Insurance Coverage
This can vary by state, but most auto insurance policies are divided into 4 sections, designated by letter:
Part A – Liability Coverage: Liability is what covers someone else if you cause an accident that leads to injury or property damage. Liability coverage can be in split limits (e.g. 250500/100) or combined single limits (CSL) (e.g. 300,000).
Part B – Medical Expenses: If someone in your vehicle is injured, medical expenses coverage provides money for immediate needs, such as ambulance rides, ER visits, etc. This will be a single limit, and usually for a lower amount (e.g. $5K, $10K, etc.).
Part C – Uninsured Motorist (UM) Coverage – Covers you in the event you're involved in an accident with someone who doesn't have insurance, or in a hit and run accident.
Part D – Comprehensive & Collision Coverage – Like the name implies, collision coverage takes effective whenever your vehicle has collided with a fixed object, such as another car or a building. Collision is typically the most expensive single section of an auto policy. On the other hand, comprehensive is "other than collision," and would cover specific instances such as striking an animal, falling objects (such as hail), and more. There are usually deductibles in $100, $250, $500, and $1000 increments.
These 4 sections, or coverages, make up the core of any auto policy, and will be offered regardless of the insurance company you choose. Most auto insurance companies also offer some form of rental car coverage, roadside assistance, glass coverage, etc, so there's nothing necessarily unique about Amica there.
What's going to differ between these companies, however, is how much money you'll pay for these coverages.
How Much Do Amica Auto Insurance Policies Cost?
Like Learning? Here's the detailed answer: Decades ago, auto insurance policies were simple to rate. So simple, that you could actually calculate them by hand.
Today, it's a completely different story. Nowadays, most insurance carriers have begun using something called multivariate rating. Before your eyes glaze over, this just means that anything that can be changed on your auto policy has the ability to affect its price; things that in the past had no bearing on premium.
A couple examples:
You obtain a new auto quote on 12/1, effective 12/31. However, you wait until 12/30 to contact your agent and start your policy, so your premium goes up as a result.
You obtain an auto quote on 6/15, but don't start the policy until 8/1. In that month and a half, your credit rating (a big component of your overall insurance score) increases, so your policy premium decreases.
You original auto premium is $750. However, you failed to tell your agent that you had a lapse in insurance 3 years ago. Your premium skyrockets to $1,500.
Of course, this is in addition to the usual rating factors like driving records (accidents and tickets), prior losses, age, type of vehicle you drive (and how you drive it; e.g. work, pleasure, annual miles, etc.), and more.
Although most insurance companies use multivariate rating systems, how each of these variables interacts with one another differs from company to company. This is based on their proprietary actuarial tables (the math behind their rates).
Too busy? Here's the quick answer: Even if you and your neighbor had the exact same vehicle, the same driving record, and you both obtained a quote through Amica, it's likely that you'd have very different premiums. Why? There are dozens of different factors (and hundreds of thousands of combinations for these factors) that alter what you pay.
As you can see, while most of the top insurance companies offer relatively similar coverages, how they calculate their premiums couldn't be more different.
Pricing aside, is Amica a Good Company?
The 411 On Amica Auto Coverage
Amica Mutual Company is based out of Lincoln, RI, and is somewhat different than many other direct writer insurance carriers in that they're also a mutual insurance company. This means they're owned by all of the policyholders, who receive a cut of the overall profits (known as a dividend) once per year.
Amica had an A+ BBB rating at the time of our research. There were 72 total complaints, which most commonly referenced price increases and poor claims experiences.
Amica also had an A++ (superior) financial strength rating with AM Best, which is good, since you always want to make sure your insurance carrier has enough money to pay for claims!
From a customer perspective, Amica Auto Insurance reviews seem to be mixed.
For example, on ConsumerAffairs.com, some former policyholders claim to have had good experiences with Amica, although many more claimed to have experienced poor customer service, difficulty/confusion with claims, and high premiums. Average rating of one star.
Based on 19 CreditKarma reviews, Amica Auto Insurance had an average rating of 3 stars. Again, some customers were pleased, although just as many seemed miffed about rate increases, poor customer service, and poor claims handling.
On Credio.com, Amica scored a 4.1 average rating. There, complaints also referenced poor customer service, claims problems, and insufficient cancellation notices.
Will you experience the same with Amica? There's no way to know, although it's certainly worth keeping in mind.
But enough about other people. Where does this leave you?
Should You Get Behind the Wheel of Amica Auto Coverage?
Most insurance professionals recommend never choosing coverage based on price alone. Just because an insurance company has low rates, this doesn't mean they'll provide solid customer support, an easy claims process, or even the money to help you in your time of need.
If you're new to shopping for insurance, this is where an independent agent can come in handy. They'll be able to shop all the companies they represent, not just for the cheapest rate, but also for a reputable company you'll be pleased with.
Because Amica doesn't work with agents (remember, they're a direct writer), you won't have this option. The good news is that most of the company's customers appear pleased (especially considering their overall volume)—not to mention their high BBB and AM Best ratings—so you probably will too.
---
Scam

By Thomas B.

,

Utah

,

Feb 15, 2020
Verified Reviewer

Jared Melendez is an insurance agent for Amica Insurance, he is a liar and a cheat. We switched from Liberty Mutual, Jared promised the word and signed us up, after paying just under $3000 for homeowners, auto, and an umbrella policy they came back and said we were not insurable because of my wife's part-time child care business. Please note that this was discussed upfront, before I went through the hassle of canceling existing policies.

Bottom Line: No, I would not recommend this to a friend

---

Total garbage

By Towfiq A.

,

Los Alamos, NM

,

Jan 11, 2020
Verified Reviewer

With an A+ driving record (no accidents or tickets in the last 15 years), and living in a National Lab town (with nearly two thousand PhDs), I felt I have been paying too much, ~ $2200 per year with Geico. So after receiving a cordial letter from Amica with an access number and a promise to lower my insurance by ~ $600, I naturally called them for a quote. And here you go...they quoted me $4400 per year for the exact same coverage I am getting from Geico. Just an integer factor of 2!? I asked for an explanation but the agent didn't have any. If that is how an auto insurance company is running a business in this country, good luck folks who are going with Amica at the moment. I am not promoting Geico here, and still feel they are ripping me off. I will keep searching for a reasonable insurance company.

Bottom Line: No, I would not recommend this to a friend

---

Advertisement

---

Lies

By James S.

,

Michigan

,

Oct 25, 2019
Verified Reviewer

They tell you that you have these coverages and then you don't, and then they don't have to pay for anything. Worst company ever, great at scamming customers. I went to put full coverage on one of my cars and they told me that I had it, then three weeks later I find out I don't. What? I called for a tow so I got screwed in the tow and I drove around illegally in a vehicle for 3 weeks. I would not trust this company.

Bottom Line: No, I would not recommend this to a friend

---

Amica - The absolute worst

By Jay B.

,

Connecticut

,

Jan 17, 2019
Verified Reviewer

I switched insurance companies when I was near the end of my term with Amica. They sent me a bill for me to renew. When I called them to explain that I switched (My new insurance company must not have contacted them), While I was waiting for them to get back to me, they put me in collections! I now owe them $41. I'm debating about paying it. If they already wrecked my credit rating, I may not. They have ruined any chance of having them as an insurance company again.

Bottom Line: No, I would not recommend this to a friend

---

Advertisement

---

Just awful

By Lauren C.

,

Ohio

,

Dec 13, 2018
Verified Reviewer

If I could give zero stars, I would.

We spoke with a representative (Michael Young) and he got us set up for a policy on a house we're planning to close on. We waited for confirmation on the policy, and waited, and waited. As the closing date approached, we received a call from him saying to give him a call back, no big deal. We did, no return call. We tried multiple times over the next four days. Nothing. Sent emails, called again. Find out through another call (again still can't get a hold of Michael) that they just need confirmation that we'll handle a small bit of leftover mold (which our inspector said was not a problem) within 30 days of closing. Sure thing! We'll handle that.

Meanwhile, our loan officer is trying to get a hold of them as well to finalize details. We finally get a call TWO DAYS before closing to hear they will not be able to insure us. Thanks, AMICA, for making home buying so stressful! We'll be sure to let everyone know how "helpful" you are.

Bottom Line: No, I would not recommend this to a friend

---

Scammers

By Jared Kolleh

,

Savannah, GA

,

Oct 13, 2017
Verified Reviewer

Amica is a disgrace to insurance companies. A person who has their insurance plan hit me back in December and was given a citation by the police for being at fault. The police report clearly states that the driver was rude and reckless, and should be held responsible. To get out of not paying my medical bills and other expenses, this company claimed their driver was not at fault. How disgusting and low can a company be by trying not to do handle its responsibility? Take hold of your responsibility and pay my bills! I still have the police report!

Bottom Line: No, I would not recommend this to a friend

---

Advertisement

---