Dutch Glow Cleaning Tonic Reviews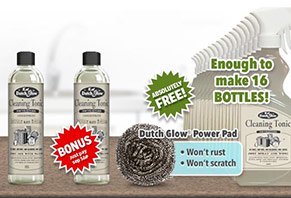 Dutch Glow Cleaning Tonic claims to quickly dissolve even the toughest burnt-on food and other messes, using a gentle, all-natural, non-toxic formula.
About Dutch Glow Cleaning Tonic
Dutch Blow Cleaning Tonic is allegedly a powerful, non-toxic, all-natural kitchen cleaner concentrate that tackles your worst messes while remaining gentle enough for granite and marble surfaces.
How? By quickly breaking down and dissolving your greasiest messes, wherever you find them, including ovens, cooktops, countertops, and more. In fact, you can even use non-abrasive Cleaning Tonic on your glass cooktop stove!
Despite its power, Cleaning Tonic is non-caustic and won't leave behind any fumes or chemical residue, making it an ideal solution for your whole family.
Life is messy, and you've probably tried dozens (or more) of kitchen cleaning products over the years. But you've probably found that these household cleaners are either non-toxic but ineffective, or work well but are loaded with harmful chemicals.
Does Cleaning Tonic strike a good balance between these two options? Can you really expect it to clean as well as the manufacturer claims?
To help you decide if Cleaning Tonic is right for you, let's start by looking at what it contains.
What Ingredients Does Cleaning Tonic Contain?
The short answer? Despite all the emphasis on Cleaning Tonic's "safe, non-toxic" formula, the company doesn't let us know even a single ingredient it contains.
As such, there's no way to know just how safe these ingredients are, or how effective they'll be for cleaning your home.
But the good news is that if you search online for "natural kitchen cleaner" or "non-toxic kitchen cleaner," you'll find that you have thousands of options to choose from. And it should come as no surprise that local big box retailer and grocery store shelves are chock full of products like these, which could help you save a boatload of money.
Cleaning Tonic's Price
Two bottles of Cleaning Tonic (enough to make 16 bottles of solution) are priced at $14.99, plus $15.90 S&H and a $2 web surcharge fee. This brings your total to $32.89 (probably a lot more than you were originally expecting to pay!).
With your order, you'll also receive one Dutch Glow Power Pad, made from one continuous strand of stainless steel, coiled over 30,000 times, so it won't scratch or rust.
Your Cleaning Tonic order will also come with a 2-year subscription (20 issues) of Rachael Ray Everyday. According to the company, this subscription is completely free, can be cancelled it at any time, and your credit card information will not be shared with anyone (although it will be 8 – 16 weeks before your first issue is delivered!).
Cleaning Tonic comes with a 30-day refund policy, less S&H charges. In order to request one, you'll need to call SAS Group's customer service line at 844-764-4362.
A Quick Note about Cleaning Tonic's Arbitration
What is an arbitration agreement? Basically, it limits your legal rights by preventing you from taking the manufacturer to court (e.g. a trial by jury) or becoming part of a related class action lawsuit.
In other words, if you experience any damages from using Cleaning Tonic, your legal recourse will be severely restricted, so keep this in mind before placing your order.
More about SAS Group
SAS Group manufactures a whole line of products under the Dutch Glow brand, including the Original Dutch Glow and the more recent Cleaning Tonic. There are even nearly identical products from other ASOTV manufacturers, like Secret.
Here on HighYa, hundreds of readers have given these products an average rating of 1.5 stars. Why?
Common complaints revolved around failure to work (didn't clean effectively, left behind a streaked or sticky finish), poor quality (pump sprayer didn't work), and high price compared to the competition.
In fact, we tested Dutch Glow ourselves and found that when comparing one kitchen cabinet cleaned with the formula and others simply wiped down with a cloth, there was no discernible difference. Ultimately, this led us to believe that the original formula is no more effective than water and that any results we achieved were due to good old-fashioned elbow grease.
Do we think you'll experience the same with this Cleaning Tonic? Since it's such a new product, there's no way to know for sure, although we think it's fair to say that it's definitely worth keeping in mind.
Now, let's bring it all together.
Is Cleaning Tonic Your Next Cleaner?
Granted, a price isn't everything (many times you get what you pay for), but when it comes to Cleaning Tonic, we think it's difficult to justify its steep cost. Why?
Because there are hundreds of non-toxic kitchen cleaners available through local retailers, where you won't have to worry about non-refundable S&H charges if you're not satisfied. Many of these choices are also priced much lower than Cleaning Tonic and might be more effective (considering customer feedback on the company's other cleaning products).
In the end, because we're focused on helping you get the most for your hard-earned money, we'd recommend exploring these local options before placing your Cleaning Tonic order.
Pro tip: In the meantime, why not try creating some of your own non-toxic kitchen cleaner using safe, natural ingredients you might already have on hand?
Best cleaner ever

By Anthony T.

,

Delphi, IN

,

Sep 30, 2018
Verified Reviewer

We moved into a house to rent. The stove was so dirty that I did not want to cook on or in it. I used the Dutch Glow on the top of the electric stove, thinking this will never work. Not only did it work, but the stove inside and out looks brand new. As for the pots, I really put the cleaning tonic to the test. It not only cleaned the bottom of the pan just perfectly, but it went back to looking brand new. I just love this cleaner and will never be without it again.

Bottom Line: Yes, I would recommend this to a friend

---

It works!

By Iris C.

,

Florida

,

Jul 27, 2018
Verified Reviewer

Incredible results! This product is fantastic. It works. My stove and oven shine again. There are no smells or it's not harsh on my skin. Im going to keep buying it. These products remove all the stains from my stainless steel pans. I strongly recommended.

Bottom Line: Yes, I would recommend this to a friend

---

Advertisement

---

Water is better than Dutch Glow for cleaning

By Ron Joyce

,

Winston Salem, NC

,

Mar 21, 2017
Verified Reviewer

We purchased Dutch Glow Cleaning Tonic concentrate and followed the directions with the product. We tried the product on pots and pans with not cleaning results; the product did not clean anything. We reduced the amount of water with the same result. Our last attempt was using the concentrate straight from the bottle, still no results.

When I called customer service about our poor results, their answer was to try it with hot water! Water alone is just as good as this product. Save your money!

Bottom Line: No, I would not recommend this to a friend

---

Not worth the money!

By Thonda

,

Ocean Springs, MS

,

Jan 17, 2017
Verified Reviewer

I purchased this Cleaning Tonic and was very dissatisfied with it. It doesn't really clean anything well. It didn't work on my oven or stovetop. I used it on my microwave vent filters, used diluted and then used full strength, and it cleaned maybe half of the filter out, using 3/4 the bottle (not diluted).

I wouldn't take it for free and pay for shipping. Fantastic, Simple green, or Pine-Sol all work better than this crap, and it's a lot cheaper. Beware!

Bottom Line: No, I would not recommend this to a friend

---

Advertisement

---

Best cleaner I've ever used

I bought this for my stove because I had baked-on food and grease. I sprayed it on, let it sit for two minutes, and scrubbed the grease right off, with no effort at all.

Now I use it on everything. I will always use this and have it on hand.

Bottom Line: Yes, I would recommend this to a friend

---

Fantastic stuff

By Rose

,

Michigan

,

Nov 7, 2016
Verified Reviewer

I have used this on a very old and dirty stove and it was a miracle. It is sparkling clean and looks brand new. I just used it on a bathtub I couldn't get clean. It had that black greasy stuff on it that, for me, is impossible to get out. It usually smears. It came right out. And the bathtub looks brand new, too.

Bottom Line: Yes, I would recommend this to a friend

---

It works

For years, I have been looking for something to clean the wax build-up on my Councill Mahogany BR and DR furniture. I was in Bed Bath & Beyond and noticed one Dutch Glow Amish Wood Cleaner on the clearance table for $7.00. The box had been opened, but the bottle still had the safety seal, so I bought it. Not knowing what to expect, I was very surprised when I could definitely see the difference.

I can understand the people having problems with ordering and shipping (and price) giving a bad review on as far as that goes, but the stuff DOES work. It may take several times to get the wax off, but I am thrilled with how much better my furniture looks!

---

Total scam

I found the ad for this product on line. The ad states Double Offer for just $14.99. I placed my order, was never provided the breakdown of costs. When I attempted to click on a link to find the costs, I got the following, "Thank You! Your order is complete". They charged my credit card $63.78, not $14.99. Also, this happened this Saturday morning, Their customer service is only available Monday through Friday.

Bottom Line: Yes, I would recommend this to a friend

---

Cleans your bank account

By Jo Jones

,

Feb 28, 2016

The only thing this cleans is your bank account based on my personal experience.

Bottom Line: No, I would not recommend this to a friend

---

$100 Fraud at Cleaningtonic.com, no customer service department, call answering service only

By Kristin

,

California

,

Feb 27, 2016
Verified Reviewer

Do NOT order online. The website is designed to force a purchase OVER $100, and you cannot confirm or review your order/invoice, so you cannot authorize your own purchase. Their customer service department, aka call-answering service, states that "the website does not have this, it is not a cart. If you choose the quantity as "1", the website inserts "3" instead, and if you click on "no", the website adds that item to your order instead. If you call to cancel the order immediately after, the call-answering service will tell you that your order has already shipped and they can do nothing. So then you must call your bank or credit card company to report it as fraud, and to cancel payment and/or credit card, and then return the shipment, unopened, with a tracking.

Do NOT order anything from a website that does not show you a "cart" to review in the end, and do NOT order any of these products by phone or online. This is cyber highway robber, and it is time that the cyber police shuts this fraud down.

Discovering cyber fraud may be slightly better than actually receiving and opening the product shipment, only to discover that it is no better than water, and then trying to return it for a "refund". It is best not to order by phone and accept even a shipment of an item that needs a refund, but best is NEVER to order online or by phone. This is clearly a TV scam, and much worse, since the website is designed to FORCE a purchase of over $100!

Bottom Line: No, I would not recommend this to a friend

---

Not a cleaner, more of a scam

I order the Dutch Glow cleaner with the buy one, get one for $7.00 shipping and processing. I got the order, and I was charged $14.99 for the first bottle, $7.99 for the shipping and handling on the second bottle, and a $2.00 processing fee for whatever. I mixed it up and guess what, the cheap cleaner I buy off the shelf cleaned better than their so called wonder cleaner, and the wonder is this, why the heck did I buy it in the first place. Sure, they have returns, but out of the $34 charged to my card, I would only get back $14.99. Then I would have pay to return it, and that would be the second screwing I would get from them. Bottom line is, don't waste your money, the product is NO GOOD as a cleaner.

Bottom Line: No, I would not recommend this to a friend

---