AncestryDNA Reviews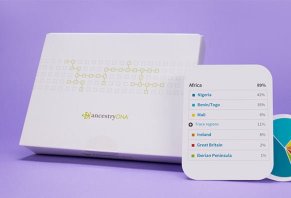 Ancestry is an online service that can help people connect with relatives all over the world and can lead to discoveries of family members through a simple DNA test.
What Is AncestryDNA?
DNA testing is on the rise, especially with online services like AncestryDNA that can connect living people with ancestors that they may have never known about in the past.
Ancestry has more than 3 million paying subscribers across all its family history websites, and has localized websites in nine countries that give access to its archive of online family history records to the United States, Canada, Germany, France, Italy, Sweden, Australia, Mexico, and the UK.
The Ancestry brand family includes the following:
Ancestry
AncestryDNA
AncestryProGenealogists
Archives
Fold3
Newspapers.com
Find A Grave
Ancestry hosts the world's largest online collection of family history records, and over the past two decades, more than 20 billion records have been added – with an average of two million records added to its website daily.
According to the company's website, Ancestry members have created 100 million family trees containing more than 11 billion ancestral profiles; additionally, they have uploaded and attached more than 330 million photographs, scanned documents, and written stories to their trees.
The Wirecutter, a New York Times Company publication that's considered one of the world's most respected review sites, named AncestryDNA "the best DNA testing service" in 2017 for most people who are curious about their ethnic roots – or individuals who are searching for contemporary relatives.
"Most people who are interested in genealogy are testing at more than one company, and not focusing so much on ethnicity as they are on actual relationships with actual living people who share a common ancestor," said Nancy Loe, who holds Master's degrees from the Catholic University of America in American History and in Library Science with a specialization in archives administration.
"It's useful for adoption or just being able to find other family members," she said. "It's really a link to other living people who share your genetic DNA to whatever percentage. It depends on the relationship. The closer you are, the more DNA you share."
Top Genealogist Discusses Ancestry
DNA testing is growing exponentially for two reasons, said Loe, a genealogist who has worked professionally in libraries and archives for more than four decades.
For one, "it's easy to do now," she said, and two, "it's so much less expensive than it used to be, and Ancestry is good at marketing and making this look fun, because it is."
In 2010, Loe started Sassy Jane Genealogy, a name that comes from a 1920's print advertisement for Sassy Jane Rayon Frocks, combining Loe's love for vintage ephemera and genealogy research.
Ancestry offers a basic DNA test, and it's especially advantageous if you have a lot of the United States and European ancestors, Loe noted.
"They're growing an impressive pool that have tested," she said. "You're submitting your DNA and testing against all living people's DNA, and from that, they can tell what kind of relationship it is. I think some people are under the impression that it somehow tests deceased ancestors – it doesn't. It tests other living people."
For those looking for their living relatives, Ancestry "is a great place to start," Loe advised.
"One of their true advantages is that they do a great job of making the results understandable," said Loe. "They use infographics to combine a visual representation of your DNA, and it's much more understandable when you look at it."
What Does the AncestryDNA Test Involve?
AncestryDNA offers a simple saliva test that comes in the form of a kit.
"They send you little plastic vials and they send you two to make sure they have enough of a sample," Loe explained. "And for most of the other companies I've tested with, it's done with a cotton swab inside your cheek. You put them in little baggies and off they go."
The kit offered through AncestryDNA costs $99, excluding taxes and shipping costs.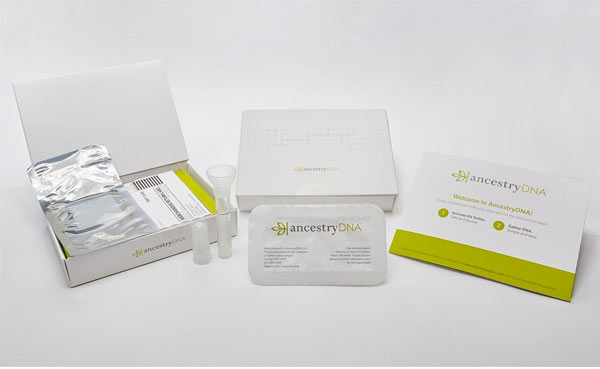 Image: Ancestry.com
This kit, which can be ordered online, includes a pre-paid return mailer to return the sample for DNA lab processing. Individuals later receive an email notification that their DNA results can be explored through AncestryDNA.com, with a link to view their findings.
For more information on how to activate and gather your AncestryDNA sample, view the video. You can also learn more about the process itself by clicking Ancestry's DNA lab processing.
Turnaround Time of AncestryDNA Test Results
As far as the turnaround time for a DNA test is concerned, "it's never going to be as fast as it is when you're watching police shows on T.V.," Loe hypothesized. In reality, "it can take six weeks at least for them to give you results."
AncestryDNA test results will normally take about 6 to 8 weeks to process from the time that the lab receives a person's DNA sample, according to the company's website, which also notes that due to high demand, results may take longer than 8 weeks. Individuals taking this test must also activate their personal DNA kit online to begin processing.
"Another important thing to keep in mind is that because you're testing against other living people, the database is always growing, and the results can change," Loe added. "So you need to check back more than once."
AncestryDNA Test Accuracy
Advanced scientific techniques are utilized to produce results at AncestryDNA, which measures and analyzes a person's entire genome at more than 700,000 locations.
During the DNA testing process, each sample is held to a quality standard of at least a 98% call rate, according to the company's website, which further noted that any results that don't meet that standard may require a new DNA sample to be collected.
Ancestry then compares an individual's DNA to one of the most comprehensive and unique collections of DNA samples from people around the world, to identify overlap. As the Ancestry database of DNA samples continues to rise, a person could receive updates with new information.
AncestryDNA's Map and Locations
For subscribers, AncestryDNA offers what is called an ethnicity map, which creates a fast and simple way for individuals to visualize and interact with their results. This map – which gives the user the ability to click around and zoom – shows fields of color that correspond to the colors in a person's ethnicity results pie chart.
This "Map and Locations" option might contain different colored pins that indicate the birth locations of the ancestors in a person's tree (up to about 10 generations of direct line ancestors), the birth locations of ancestors in an individual's DNA match's tree, and overlapping birth locations that appear in both family trees.
Some pins have a graphic with two people, which represent more than one person in that location. There is also a legend at the bottom of the map to help people understand what the different colors of pins refer to.
AncestryDNA Versus Other DNA Tests
According to the company's website, it's more comprehensive, further noting that unlike the Y-chromosome or mitochondrial DNA test, AncestryDNA uses an autosomal DNA test that surveys a person's entire genome at over 700,000 locations.
"It covers both the maternal and paternal sides of the family tree, so it covers all lineages," the company noted. "The Y-DNA test only reflects the direct father-to-son path in your family tree, and the mtDNA test only reflects the direct mother-to-child path in your family tree."
In other benefits, the AncestryDNA test is also gender neutral, meaning both males and females are tested in the same way for the same number of markers providing the same level of detail in the results.
Potential Results of AncestryDNA Testing
As far as potential results a person can obtain through DNA testing is concerned, "it's very hard to predict," Loe noted.
"These days, they are very careful about warning you that you might find out things that you had not wanted to know," she said.
"They refer to that in the industry as non-paternal events – such as finding out you have a different father from your brother. There's always a possibility you would stumble upon a family secret, because you had taken a test or had other family member test."
However, "most of us are going to find out the real value lies in contacting the people that match with you," Loe said. "You can share family trees with your common ancestor…you can share resources, so there's all kinds of benefits."
Woman Finds First Cousin through Ancestry
Virginia Hayward's experience with Ancestry began when her mom bought her family the DNA kit as a Christmas present so they could discover their ancestry.
Once Hayward's DNA results came back, which took about two months, she shared them publicly on Ancestry – and her DNA ended up being a match to a first cousin who she had never met.
"I learned that as a baby my first cousin was given up for adoption and that she was searching for her family," recalled Hayward, who lives in Southern California. "Her adopted parents were deceased, and unfortunately so was her birth mother, who she never got to meet."
It ended up that she had four siblings – two half brothers and two half sisters – who were Hayward's cousins that she never knew about.
"They also knew nothing about her as well," Hayward said.
At first, Hayward was skeptical, and not sure if it was a scam.
"But I wanted to get to the truth, so I called my aunt and she knew about her and the adoption, but never knew what happened to her," she noted.
After this confirmation, the cousins started communicating by phone.
"It opened up many conversations," Hayward remembered. "We talked for the first couple days pretty much non-stop trying to put all the pieces together."
Unfortunately, her father, who was Hayward's uncle, had already passed away, "but according to my aunt, he always wanted to find her. However, my two cousins, who were her half-sisters, wanted to meet her and we were able to put together a time to meet."
The reunion was beautiful and included tears, laughter, and joy.
"From the first time we saw her, we knew we were family," Hayward said. "Our one hour scheduled meeting quickly turned into four hours and we felt like we needed more time. So another get together the next day was planned and several other cousins joined in."
Since then, she has met many other family members, "and we are happily getting to know each other and acknowledging that we are family," Hayward said. "We plan on continuing to have a lifelong relationship. It was absolutely an amazing reunion and I was so happy Ancestry made the connection for us."
Final Thoughts
Looking back on her experience with Ancestry, Hayward said she is thankful to her mom for creating the opportunity to find her first cousin and encourages others to give it a try.
"It was so easy, simple and exciting; I am still enjoying the new discovery and connections that I continue to get," said Hayward, adding that her husband's four children did it as well.
"Anyone over 18 would not have any problems at all," Hayward said. "I say 18, because I don't think kids under 18 should do it without parental permission, because as you can see, you never know who it will bring into your life."
Finding her first cousin wasn't the only discovery Hayward made through Ancestry.
"We are filled with connections all over the world; 67% Great Britain, which included my Northern Irish roots, 13% Scandinavian and the rest a little bit of the world."
As a result of discovering her new-found Scandinavia heritage, "my husband and I are taking a cruise through the Baltic Sea this fall."
For those new to the process, Loe recommends Ancestry, "because they can explain the results to you in very relatable ways."
"There are people at the other end of the spectrum who are really into this and have lots of databases…so it also depends on how much you want to participate in the process," Loe added. "But if you're just starting out, Ancestry is a great way to do that."