Angee Home Security System Reviews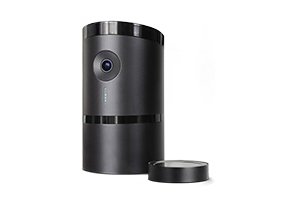 The Angee Home Security System is the world's first autonomous security system that's easy to set up, effortless to use, and that can help keep you safe.
About Angee Home Security System
Billed as "the world's first truly autonomous home security system," the Angee Home Security System claims to provide you with personalized, completely secure, effortlessly usable, and absolutely reliable service. How?
Angee can identify who you are, when you (and others) come and go, and can even understand what you say. The Angee Security System can also record, stream, and share videos of what's going on inside your home!
And because Angee is fully automated, you won't have to worry about tapping a keypad every time you enter or leave.
But does all of this mean that Angee is the right security system for you? It might sound cool, but there are a lot of considerations to keep in mind, which we'll discuss here.
First, let's take a look at Angee's many features.
Angee Security System's Features
Overall, Angee is about ease of use. Or, as the company calls it, autonomy.
So there aren't a lot of parts in the security system, and the company claims you can have it set up in as little as 30 seconds.
Angee's "Hub"
The "hub" of the Angee Security System is a 5.5" cylindrical unit that houses a camera and a variety of other sensors (e.g. humidity, temperature, etc.). This central unit is also responsible for monitoring different "tags" (small cylindrical devices that can be stuck to windows and doors), which it communicates with using boosted Bluetooth technology.
These tags can monitor motion (much like the base unit), but they also include an accelerometer that lets you know if a door or window is opened. You'll also be able to use Angee to connect to your home when you're out via your smartphone or tablet, where you can listen to audio message, read notifications (e.g. who's come and gone, where they went, etc.), and more.
The company claims they also offer a smart watch app for Apple, Android, and Pebble OS.
When You're Not Home
While you're away, the Angee Home Security System will watch the room it's in using a built-in camera with 360-degree rotation and motion tracking technology to follow any movement. You'll also be able to easily set up four different "activity zones" that Angee monitors specifically for activity, such as your back door, workstation, etc.
If it senses activity, Angee can alert your smartphone and record 1080p video at 30fps. It will store up to an hour of video on the base unit, although additional space is available via a cloud (more about this in the Pricing section).
Have pets? They won't interfere with Angee Home Security's performance, although you can set alerts if your pet jumps on furniture or anywhere else they're not supposed to.
What Happens When You Get Home?
When you or someone else enters your home, disarming is fully automated, as the Angee System will attempt to identify them by their smartphone. If this doesn't work, it will then use voice recognition, which will only work if the correct password is said by the correct voice.
When you're home, the Angee System can be programmed to go into privacy mode, which deactivates the camera and turns to face the wall. And when you leave, it will automatically turn back on.
You can even use the Angee Security System while you're home to watch kids playing in the other room, since the base unit features a 10-hour battery life.
That's how the Angee Home Security System works from the company's perspective, but how does it work in real life?
Angee Security System's … Security
The manufacturer claims that the communication between Angee and the cloud, as well as the data in the cloud, is encrypted using industry standard SSL technology (the same encryption framework as banks or the military).
What Does Angee Cost? What Are People Saying about It?
At the time of our research, Angee Home Security was in the midst of a Kickstarter crowdfunding campaign, where the company had already exceeded its goal by $75K. The expected ship date was October 2016.
In the campaign, there were pledge options available between $1 and $7,499, although the minimum you'd have to spend to get a system was $279. This included one Angee unit and one security tag for the main entrance door (we'll come back around to this in a moment).
After release, the estimated price for this package will be $429.
Outside of the purchase price, there aren't any mandatory monthly fees associated with the Angee Security System. You'll receive 1GB of free cloud storage for your recorded video, but if you need more, you can purchase an Amazon Web Services subscription.
Unfortunately, because it wasn't released yet, there weren't any hands-on reviews available at the time of our research. There were several writeups on popular sites like Gizmag, Tech Times, Slashgear, and more, although these were more high-level overviews than they were in-depth reviews.
Is there anything else out there quite like the Angee Security System?
Are There Similar Options To Angee Home Security?
Similar? Yes, there are several options, including Canary, Nest Cam (from the same company that brought you the Nest Learning Thermostat), Piper, and Netatmo Welcome.
Identical? Definitely not. When comparing themselves to the competition, here's how the folks at Angee Inc. put it:
"Our approach to security is much more thorough. We secure all entry points and use advanced proximity sensing of nearby phones. This makes Angee more automated and more reliable. Also, Angee is not just a home security system, it's an intelligent robot! Angee gives you a full 360° view of your home - with all of its functionality controlled by your voice - streaming, recording, automatic rotation to motion - and its portable so you can take it anywhere. Additionally, Angee has access to your favorite internet data and services to make your life more convenient."
Thinking about Purchasing Angee? Which Option Should You Buy?
Based on Angee Security's Kickstarter page, you have 5 different packages to choose from:
1 Angee base unit, 1 security tag
1 Angee base unit, 3 security tags
2 Angee base units, 4 security tags
3 Angee base units, 5 security tags
4 Angee base units, 6 security tags
The company did a great job of explaining the technology behind Angee and what separates it from the competition, we think they could have provided customers with a better understanding of how to choose the right package.
All we're told is some vague, high-level information:
"[One Angee Unit is] aimed at use in apartments, and with multiple Angee units it can cover large houses. Tests show perfect functionality in open space over 100 feet (30m). If your home has thick walls you will need multiple devices to cover that area.

For smaller homes [what size?], we'd recommend Angee + a sensor to cover the main door - it is often enough to give you fully automated full-perimeter security. That said, if you want to video monitor multiple areas (e.g. baby room, garage, etc.) Angee is great for accessing these places instantly from its awesome mobile application. For a larger home, we recommend purchasing the 3-pack so that you are able to monitor multiple locations at once. Please consider that for use in houses where wall material / thickness may be problematic for a wireless signal, more units, or more security tags are recommended to cover that area well."
We're also not informed how many tags can be paired with each base unit (do you really need 4 base units just to control 6 different tags?), although you can't currently purchase tags separately.
What's all of this mean for you?
Should You Back the Angee Home Security System?
The rate at which technology develops gets faster each and every day, so it's an exciting time to be alive. And it's also exciting that there are platforms like Kickstarter to help many technology startups get their ideas of the ground.
On the flip side, some technology startups have recently become legendary flops (many of which received their original funding through crowdfunding websites like Kickstarter).
The point? Yes, the technology behind Angee Home Security looks great, and it's not like anything else on the market.
But in a best-case scenario, you'll have to wait until October 2016 to receive yours. And if—like so many other tech startups lately—some glitches pop up along the way, it might take even longer as shipping times get pushed back.
In a worst-case scenario, you could lose your entire investment with nothing to show for it.
So, if you're passionate about the latest trends in gadgets and technology and are typically and early adopter, then the Angee Security System might be right up your alley.
On the other hand, if you want tried-and-true technology with no "hiccups," then you might want to wait until after its official release to purchase your own Angee Home Security System.
Cool gadget

By John B.

,

Prague, Czech Republic

,

Nov 6, 2018
Verified Reviewer

I feel safer with Angee at home. A surprisingly good product, especially since now it can speak to my Alexa, which is really fun to watch! I definitely recommend it.

I am looking forward to Angee 2!

Bottom Line: Yes, I would recommend this to a friend

---

Angee is working well!

By Michal K.

,

Missouri

,

Oct 18, 2018
Verified Reviewer

I have bought Angee on Kickstarter; it was delivered about a month ago. I am using Angee to check on my home whenever I need. My family loves that Angee rotates to face the wall when we are home so we don't have to worry about our privacy.

Bottom Line: Yes, I would recommend this to a friend

---

Advertisement

---

Terrible

By John C.

,

Cayucos, CA

,

Sep 5, 2018
Verified Reviewer

I bought this through Kickstarter. I received it and set it up without any problem. After two days, I lost connection to Wi-Fi and cannot get it to reconnect. Support is useless. I contacted them four times with one response. I provide info and have not received any further support. Do not waste your money. Absolutely no support.

Bottom Line: No, I would not recommend this to a friend

---