Anova Precision Cooker Reviews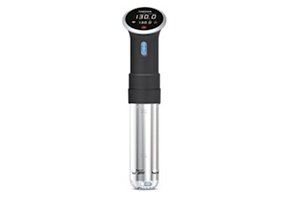 Using an iPhone app and Bluetooth connectivity, the inexpensive Anova Precision Cooker can help you make sous-vide dishes with ease, even if you're a beginner.
About Anova Precision Cooker
Anova Precision Cooker is an award-winning sous vide device that's lightweight, easy to use, and connects to your smartphone via Bluetooth, making it "super simple to cook like a pro."
All you need is a pot or large container to hold water, heavy duty plastic bags, and a few clips, and just about any meat will turn out tender, moist, and perfectly cooked from edge to edge. You'll also be able to cook vegetables, eggs, fruit infusions, and even desserts like brownies!
To do this, the Anova Precision Cooker works over 3 steps:
Using the adjustable clamp, attached the Anova Precision Cooker to the lip of a pot. Then, use Anova's iOS or Android app to find your settings and press 'Start'. Alternately, you can use the digital display to manually set time and temperature.
After preparing your food and placing it in a re-sealable bag, clip the bag to the side of the pot. Afterward, the Precision Cooker will let you know when it's finished.
If you prefer, you can sear, broil, or grill your food after it's finished for a crispy outer layer.
Whether you're an amateur chef or are just looking for an easy way to create delectable meals, we'll help you figure out if the Anova Precision Cooker is right for you. To start, let's quickly go over the device's specs.
How Does the Anova Precision Cooker Work?
The Anova Precision Cooker is 2.75" wide and 14.75" long, weighs about 2.5 pounds, and uses a 360 degree directional pump (1-1.2 GPM, with a capacity of 4-5 gallons) to circulate water around the pot.
This circulation means that your food is cooked at a very precise temperature (hence the device's name), so it never overcooks and turns out just like you prefer, each and every time. Meat will have moist edges, a perfectly cooked center, and juicy flavor, while vegetables will retain their bright color.
After you're finished cooking, all you have to do is drain the water from your pot, rinse it out, toss the plastic bag in the trash, and hand wash the Precision Cooker. Even this last part is made easy by Anova's removable stainless steel skirt, giving you access to "every nook and cranny."
The Precision Cooker's iPhone app contains the world's largest precision cooking recipe collection, which means that you simply need to tap a few buttons to get started. And if you need additional help, Anova's resources section on their website can provide even more assistance.
At this point it might seem obvious, but just what is sous vide cooking? And why has it recently become so popular?
What Is Sous Vide Cooking?
Commercially, sous vide cooking has been around since the 1960s, when it was developed as "an industrial food preservation method." Then, in the 1970s, it was used by Georges Pralus at his restaurant in France, while Bruno Goussault and food manufacturer Cuisine Solutions further outlined "the parameters of cooking times and temperatures for various foods."
However, it wasn't until the last several years that sous vide cooking made its way into the popular consciousness (according to the Precision Cooker video, this is due to exposure on reality chef TV shows). And today, if you search online for sous vide cooking, you'll be met with hundreds of thousands of results—from tutorials to recipes, and just about everything in between.
As we've already learned, this cooking style involves placing food in an airtight plastic bag in chilled water, which is then brought up to a specific temperature and maintained for several hours. This accomplishes two main things: flavor and moisture is retained, and food is evenly cooked throughout, leaving you with tender, juicy, flavorful food.
But given sous vide's rapid rise in popularity, is there anything else out there like the Anova Precision Cooker?
Anova Precision Cooker's Competition
If you're looking for a sous vide cooker, the good news is that you have a ton of options to choose from. To see for yourself, simply type the phrase into your favorite search engine, and watch how many products pull up.
This includes everything from self-contained smart devices like the Mellow Sous Vide Cooker (more about this in a moment), along with other "stick" devices that look (and operate) very similar to the Precision Cooker.
But perhaps the biggest difference between the Anova Cooker and the competition is price, which is what we'll talk about next.
How Does the Precision Cooker's Price Compare?
The standard Anova Precision Cooker costs $129 (120v for US and Canada) or $179 (220v international plug).
The Wi-Fi version (which can connect to your phone from anywhere, versus only within Bluetooth range) costs $199. Currently, this model is only available in the US, while international models will be available early 2016.
Along with your order, you'll receive free shipping within the US and Canada. But keep in mind that the Precision Cooker is also available through third-party retailers like Sur La Table and Amazon.
If purchased directly through Anova, your Precision Cooker will come with a 30-day refund policy, which even includes a prepaid shipping label from the company! You'll also have a 1-year warranty against defects in material and workmanship.
In order to request a refund or file a warranty claim, you'll need to call Anova's customer service department at 855-421-8282.
Other Sous Vide Devices
Overall, compared to models from other manufacturers, price is perhaps the Precision Cooker's biggest advantage. For example, the Mellow device mentioned above will set you back a whopping $599. And all-inclusive models like this from other manufacturers will still set you back anywhere between $300 to $450.
If you're just getting started and are more interested in stick models like the Precision Cooker, sous vide devices from other companies generally fall between $200 and $400, with the bulk at about the $200 mark, such as Nomiku, Sansaire, and more. Granted, most of the competition doesn't offer a companion app or Wi-Fi connectivity, so the Anova might offer more bang-for-your-buck.
Compared to these other models, what are Precision Cooker customers saying?
Customer Feedback for the Anova Precision Cooker
Overall, it appears that the Precision Cooker has a mostly positive online reputation.
CNET gave the Anova Precision Cooker a rating of 4 stars, noting that it costs less than previous versions (with more features), while still offering great results. However, they thought the "Bluetooth smarts don't add much of anything to the experience," and as a result they were underwhelmed.
Ultimately, they concluded it's "still one of the best sous vide purchases you can make."
Tech Hive also gave the Precision Cooker a 4-star rating, who appreciated its ease of use, Bluetooth connectivity, and the "phenomenal results" it delivered.
Digital Trends gave the Anova Precision Cooker a slightly lower rating of 3 stars, although this seemed primarily due to the fact that the app wasn't available at the time of their review (January 2015). Outside of this, they seemed pleased with its ease of use and results, stating, "the Precision Cooker still cooks like a dream."
From a company perspective, Anova Culinary based out of Stafford, TX, had only three closed complaints with the Better Business Bureau at the time of our research. One referenced long shipping times, another referenced difficulty obtaining a refund, and no details were available for the third.
Alright, let's bring everything together and help you make an informed decision.
Should the Anova Precision Cooker Be Your First Choice?
In our opinion, regardless whether you're just starting out or are a seasoned pro, we think it would be difficult to beat the Anova Precision Cooker. Not only does it come with a competitive price (in fact, it's among the lowest-priced "stick" sous vide devices out there), but with its iPhone app and Bluetooth (or Wi-Fi) connectivity, the Anova actually provides more features at a very competitive price.
Add to this the Precision Cooker's solid online customer reputation, and it's easy to see why it might offer the most bang-for-your-buck. And that's what we're all about here at HighYa.
Pro tip: Don't have an iPhone? This might not exclude you from the Anova Precision Cooker. Why? According to the Tech Hive article above, they found a $2 third-party app in the Google Play store that can help you operate the sous vide cooker from an Android device. Give it a try and let us know!
Overall, how'd your results turn out with the Anova Precision Cooker? Tell us more by writing a review below!