Anthony Robbins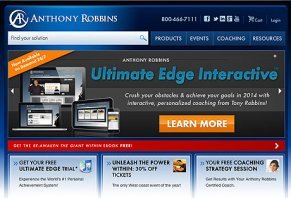 Tony Robbins is a world-class motivational speaker that claims to have helped more than 50 million people through his books, DVDs, and live seminars.
Review of Products and Programs Offered by Anthony Robbins
According to a 2013 Harris Interactive poll, only 1 in 3 Americans is "very happy" with their lives, which included factors such as positive relationships, financial outlook, fulfillment at work, enjoyable pastimes, and more. As a result, it's no surprise that self-help gurus such as Tony Robbins, who claims to have spent 30 years helping more than 50 million people create extraordinary lives, are more popular than ever.
But can life coaching services really help you achieve your dreams? Mr. Robbins claims to have built his brand by providing real results, so is this what you can expect? Let's take a closer look and find out.
Using a variety of DVDs, audio CDs, live events, and one-on-one coaching programs, Anthony Robbins focuses on five primary areas of personal development: personal achievement, fostering outstanding relationships, improving health and fitness, managing time and life demands, and clearing away career and money concerns. As such, these programs help you answer three main questions related to your personal development:
What do you really want? Turn your dreams into reality, and find fulfillment.

What's preventing you from having it? Gain a clearer understanding of your goals, learn proven strategies to help you achieve them, and rectify conflicts between emotions, desires, and beliefs.

How do you change your life now? Uses the unique, immersive benefits of Robbins's programs for an integrated approach.
Anthony Robbins currently offers dozens of products and programs, although we've included some of the most recent (and more popular) ones below:
The New Money Masters Series – A monthly series of DVDs, CDs and booklets that are claimed to help you achieve financial freedom through a step-by-step process.

The Ultimate Edge – Claims to be the world's #1 personal coaching program that addresses nearly all areas of your life, including health, relationships, emotions, finances, career, and more. Each of the program's three sections is experienced via audio CDs, which can be completed over the course of 17 days. More recently, Anthony Robbins has released a personal coaching version of the program titled Ultimate Edge Interactive.

Path to Permanent Weight Loss – A combination of DVDs, CDs, and other motivational material that are claimed to help you achieve a breakthrough in your struggle with weight loss.
In addition to his products, Tony Robbins also travels the globe conducting a variety of live events that are claimed to focus on unleashing your inner power, improving all major aspects of your life, improving your business' growth and productivity, and more.
Pricing and Refund Policy
Products: Range in price between $20 and $100 for single DVDs, and $200 to $429 for full programs.
Events: Prices range between $995 and $2,595.
Coaching: No prices were listed on the Tony Robbins website, and appear to be based on your specific needs.
All Tony Robbins products come with a 30-day money back guarantee, including shipping and handling charges. In order to request a refund, you'll need to contact customer service at 800-488-6040.
Public Perception of Anthony Robbins, His Programs, and Their Effectiveness
Anthony Robbins products, live events, and coaching programs are owned by Robbins Research International Inc. based out of San Diego, CA. The company holds an A+ rating with the Better Business Bureau based on 16 closed complaints over the past three years.
Online customer reviews regarding Tony Robbins products appear to be mostly positive, although there were some common, widespread concerns about his material, which we'll explore further in the next section.
What's the Bottom Line About Tony Robbins? Do His Programs Really Work?
A brief online search for Tony (or Anthony) Robbins will result in a wide range of opinions, most of which appear to be positive. In other words, it would seem that thousands (or millions, according to Tony) of people have used his products and live seminars to achieve positive changes in their lives. However, we came across some consistent complaints during our research that you should keep in mind:
First, similar to other programs like FortuneBuilders and Scott Yancey, we read countless reviews claiming that most of the information found in Tony Robbins products include a lot of high-level, feel-good "fluff," anecdotal evidence for success, and a general lack of constructive, actionable information. In short, you may hear about many of Robbins' success stories, although little (if any) of this will help you achieve your goals.
In fact, many of these same criticisms were used in regard to his live seminars, which often include high tech, high-energy atmosphere intended to get your emotions soaring, and primed to purchase additional Robbins products. And according to most of the negative reviews we encountered, you'll come across numerous high-pressure upsells throughout.
Whether you choose to purchase a product or a seminar, we also read countless reviews claiming that Robbins' material is recycled and presented in different ways, over and over again. As such, you may not feel you're getting full value on any additional products you purchase or seminars you attend.
So what's the bottom line? Ultimately, Tony Robbins products and seminars make the personal transformation process seem simple and straightforward, although the reality is that massive life changes rarely are. Because of this, if you don't immediately achieve the results you're after, you may feel like you've failed and will be more inclined to purchase additional products in a seemingly endless cycle.
So while Tony Robbins products and seminars might provide you with the exact "jump start" you need in order to achieve personal success—however you may define it—it may be the case that they won't. And with their high prices, you may want to think twice before handing over your hard-earned money.
Tony Robbins

By E T.

,

United Kingdom

,

Sep 19, 2019
Verified Reviewer

Just don't go - thanks to TR we lost substantial amounts of money. It's cult-like, and he even tells you he's not telling the truth. If you want to be manipulated, then go, if you want to find somethng honest, then keep searching for someone better. TR pretends to be Christian, Muslim-friendly and so on - he will say anything to get you spending. He thinks he's a great role model and that you should be like him. None of what he says is based on science - it's all psycho-babble. For instance, if you walk across hot coals, does that make you a successful person? No, all it means, is that you have gone with the herd and been told what to do, and then done it. Yes you may get a high going there, and doing that stuff, but you could get that skydiving. Above all, don't fall for his financial packages, or start trading, you might as well just go to the casino. As I said, substantial losses!

Bottom Line: No, I would not recommend this to a friend

---

Growth and contribution

By Yacoub A.

,

Florida

,

May 1, 2019
Verified Reviewer

I have attended the majority of Tony Robbins seminars to include UPW, Date with Destiny, Business Mastery, and Life and Wealth Mastery. I have played full out at the aforementioned Tony Robbins seminars and I gave it 100%. In addition, I have also purchased all of Tony Robbins CDs.

After attending the aforementioned TR seminars, and actively listening to the CDs, I am the opinion that if someone does not like to be in a rock-star concert freezing environment, then the CDs would suffice to completely learn the Tony Robbins technology and teaching. If you are interested in learning and applying the Tony Robbins technology, then the CDs, in my opinion, are all you need in order to progressively realize your worthy ideal and achieve your goals. I would highly recommend the Tony Robbins CDs to a friend.

Bottom Line: Yes, I would recommend this to a friend

---

Advertisement

---

To say this seminar is not for everyone is an understatement...they should be shutdown!

By Tom L.

,

Denver, CO

,

Feb 9, 2019
Verified Reviewer

I just returned from attending the Palm Beach Business Mastery that started 1/25/19.

Watching Tony is entertaining no matter what because of the energy, passion, and intensity. I find his use of the "F" word at least once in every sentence unprofessional and uncalled for. Although I understand he is trying to be intense, this is a bad example. No one can leave there and and get away with that in the real world...ridiculous.

His metaphors are sometimes childish and small, and he even showed YouTube videos that are well known fakes and used them as an example of intensity. Regardless, I would have stayed for the entertainment factor if it wasn't for the SHEEP in the crowd and other factors I'll discuss now.

First, the sheep are annoying as heck is an understatement, and I really wish they'd get a mind of their own. The people blindly follow anything that the leaders say...it's embarrassing really. One time they handed out small cups and I half expected it to be coolaid (was soup). In addition, the room is held at 50 degrees to physically tear you down so Tony can mind-meld you...60 degrees would have worked just as well...people left with hypothermia and I had a headache the entire time. This was one of my biggest problems, along with the noise.

So, the other mind trick to manipulate you is the LOUD speakers and the HUGE 4k screens. Although the screens were impressive, the music was just so loud that I wore earplugs throughout and still heard everything just fine. Between the very cold, LOUD music and video, they really hit all your senses, but in a BAD manipulative way...

Upselling is so over the top, that they even stop the conference so you can log in and buy more stuff. Also, booths everywhere constantly were sending you texts and other data to get you to buy, buy, buy! The whole seminar is to program you and you must buy other seminars and more material to stay in the intensity!

Also, they said "get in line early as we start at 9!" BS...the lines are long and they had good security, but if you arrived at 10 am you had no lines and they never started before 10:30 am...ever. This was an annoyance, but something to keep in mind if you are stupid enough to go to any of his seminars, as I was told by other students that all TR seminars are all like this.

If you complain to other members outside after the conference about the cold, loudness, etc., members actually run up to you and start screaming at you! They use memorized phrases that have "you" twice in each sentence...remember, it's not them, it's "YOU!" Don't believe me? Just go outside any TR seminar and start complaining and see what happens. They don't allow you to think or state your own feeling about TR seminars...I was dumb enough to do this twice thinking the first time was an anomaly, boy was I wrong. Understand that I wasn't "bitching" but just asking people if they were not liking the noice and extreme cold too.

If you didn't follow the program exactly, workers would come up to you, follow you, and ask why you aren't with the group. This is so CULT-like it's not even funny.

So, what is the group? The groups are large groups of about 200 people you are placed in, and there are about 10 large groups of these 200 people. Then they take that down to smaller groups within that group. In this particular seminar you had to create a business with 8-10 other people. That sounds fine on the outside, but once in this small group you just realized the mistake you made attending this seminar once and for all. The rest of the issues I mentioned are bad enough, but this finishes you off.

The "sheeple" that you are with are complete and udder morons that live in their mom's basement or not in any real-world scenario, and this becomes apparent real fast.

Understand that I told my sales people that I've been in business for more than a decade, and I didn't want beginning business 101. Well, that's all this seminar was, and the people in this group were just crazy that were like "let's make a belt that helps poor people in India" or "let's save a tree," or the best one: "let's make shoes that gives a pair to a poor person every time someone buy a pair!" Wow, haven't heard that one before...idiots. The idea is to make a profit, but heck no, not with these people...they live in fantasyland.

There is nothing wrong with helping the planet, people, etc., and I tried to explain that I make a profit with my business and pay employees who in turn take care of their family, and we all donate our time and money to causes, but you need to start with a profitable business first if you are going to sustain, and then help others. Would they do this? Heck no, no way, no how. And then ALL people in ALL groups just had businesses that said "let's create a 'cause' business that helps poor people!" No mention on how they were going to pay for it at all. Unbelievable, and TR just loved it. Horrible beyond horrible.

Not a single group created a viable business out of that whole seminar, no, not one...so what was the point?

Why would you want to go to a business seminar that does not teach you reality? Real life sucks, especially in business as everyone steals from you, etc. It's hard.

I needed help and this not only didn't provide it, their whole purpose was to only get more money out of you...they are the only real business in the place at the end of the day, and everyone else had less money. Period.

I left worse off than when I arrived and $10k poorer.

Bottom Line: No, I would not recommend this to a friend

---

Happy camper

By Wendy S.

,

Tumwater, WA

,

Jan 7, 2019
Verified Reviewer

I really needed help in getting my world organized. I really attribute some serious positive things happening in the last three months to the coaching. Being accountable was super helpful. I would recommend this to anyone who needs to get going and put their life in order. Just remember this is coaching, not counseling. If you are dealing with something serious like depression, it will not help in that area. My coach Andre is amazing and is a very positive person.

Try it, you won't be sorry!

Bottom Line: Yes, I would recommend this to a friend

---

Advertisement

---

Rip off

By Chris T.

,

United Kingdom

,

Oct 26, 2018
Verified Reviewer

Really poor experience. They took more money from my credit card than I agreed, and when I disputed this, they pulled to coaching despite me paying over £1000 for this. They only seem interested in the money, I would not recommend.

Bottom Line: No, I would not recommend this to a friend

---

Total money greed and scam

By Elyes M.

,

Los Angeles, CA

,

Aug 31, 2018
Verified Reviewer

They charged me $10k for what they call a Business Mastery Event. Everyone around me that I asked, had paid as low as $5000 for the same circus show! Most people who attend these events are followers and the type that has self-esteem issues. Stay away! Read books and watch videos on your own. Just do what Tony did! You don't have to go listen to him, watch him bang sticks and talk about how strong his rear end is.

Bottom Line: No, I would not recommend this to a friend

---

UPW was amazing

If you show up to UPW and really push through your stupid beliefs and give your all, it will be an amazing experience. It changed my life and many others I know. Yes, there was some sales pitch stuff, but who cares if you sit through a small portion of that and overall your life changes for the better.

Bottom Line: Yes, I would recommend this to a friend

---

UPW Worth every penny

I attended UPW in November of 2017 with a friend, and we both totally loved it. It far exceeded both of our expectations. I thought my son would really benefit from it (22 years old) so when I got home, I kept trying to convince him to go to the one in California. He gave me a hard time but finally said OK. He went and totally loved it. He actually said I had undersold it.

Tony is just an amazing communicator. On the two days that he presented, he walked around the entire floor constantly, no notes or anything and had the entire arena captivated. On those two days, Tony put in 12 to 16 hour days (both days didn't wrap up until 1:00 to 2:00 AM). Joseph McClendon presented on the other two days, and he was also excellent. Originally I was disappointed that Tony wasn't there, but I quickly grew to love Joseph. On the final day, Tony had a bunch of health specialists lined up to speak, and they were very informative.

I don't know a single person who has attended one of these events who did not totally love it. One thing though is that you have to go there and just "play all out." If you are closed-minded or judgmental, I can't imagine you would get much out of it, but thankfully, I didn't meet any people like that at the event.

Bottom Line: Yes, I would recommend this to a friend

---

A bunch of haters!

By Jarrett

,

Colorado

,

Sep 20, 2017
Verified Reviewer

UPW forever changed my life. I don't have time to contrast these depressing experiences with my own. That said, watch I Am Not Your Guru on Netflix and ask yourself if you believe he's got his heart and strategies in the right place. An absolutely unbelievable experience. Don't believe the haters. I promise you, they're in the 2%.

Bottom Line: Yes, I would recommend this to a friend

---

Terrible customer service, pushy salesman, 7th grade clichés

I had one phone call with a guy and thought why not, I'll do this. After I made the commitment over the phone and had my first session, I realized it was more than I could afford. I sent an email asking to cancel the subscription and to get a refund minus the one session. The point of contact agreed.

Four days after he agreed to cancel and refund, a payment of $1785 was automatically withdrawn from my bank account. Not only had I not yet been refunded the original payment amount, no action was taken to stop the second payment from pulling.

The point of contact said, "oh sorry, it will be in your account, but it may take up to one business day." To any observer, this would mean one business day, not more than that. At this point, because I was not expecting to have this amount withdrawn, had just over one dollar in my account. It has been three days, and the money still has not been refunded.

After calling and emailing, no one has seemed to take any responsibility for the series of errors apart from, "there is nothing we can do." This is a scam with charlatans out to make money like everyone else.

Don't fall for it.

Bottom Line: No, I would not recommend this to a friend

---

Greedy sales team

By Alex

,

Canada

,

Feb 10, 2017
Verified Reviewer

I love Anthony Robbins, and I think he has a great company. Considering the values that are taught by him, you would think the employees at his company would follow those values. However, this is not the case.

I ordered a large sum of Anthony Robbin's green drink for a huge sum of money (relative to my income). There were some problems with delivery, and the product was sent back to Anthony Robbins Institute. I then emailed them with potential solutions, and instead of working with me to resolve the problem, the greedy sales team chose to ignore me instead (probably to receive their commissions). I sent several emails and went to Customer Support online, but the sales team just continues to ignore ALL of my emails.

I was not refunded, I never received the product, and I did not get any compensation. I spent several months trying to resolve the issue since it's such a large sum of my income that was invested.

Bottom Line: No, I would not recommend this to a friend

---