Apple Card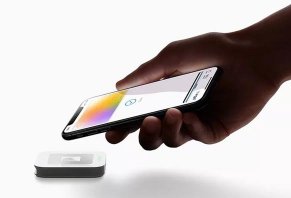 The Apple Card is a store credit card from Apple that provides rewards boosts for Apple purchases and no fees whatsoever, making it an intriguing choice for Apple fans.
Apple Card Review: Rewards, Features, Rates, Fees, Pros and Cons
The Apple Card is a new cash-back store credit card from Apple that has no fees and generous rewards structure for Apple devotees.
What makes this card unique is that, if you're approved for the card, Apple gives you a digital version of the card you can use within hours of being approved rather than having to wait days or weeks for the physical card to arrive.
We're going to examine how this card's rewards work, the features it provides, its rates and fees as well as how it compares to general rewards credit cards not related to the Apple brand.
The Apple Card's Rewards System
Like its other products, Apple has invested a lot of effort into marketing the Apple card as something innovative. However, it uses the same type of rewards structure you'll find with other cards but with one small, beneficial variation we'll talk about in a few minutes.
The rewards rates you'll read about below reflect the percentage of cash back you get for every dollar you spend via your Apple Wallet.
3% on Apple Purchases and 2% on Apple Pay Purchases
Like most store credit cards, Apple will give you extra bonuses for Apple-related purchases.
The 3% rewards rate kicks in whenever you make purchases at an Apple store, Apple.com, App Store or iTunes.
The card's website points out that the 33% rate also applies to "services like your Apple Music subscription and iCloud storage plan."
You'll also earn 3% back on Uber and Uber Eats purchases, too.
To give you an idea of how this works, we'll use an Apple Music subscription as an example.
Let's say you're a family so you pay for the Family option at $14.99 a month. If you link your Apple Card to your Apple Music payment, then every time Apple charges you $14.99, you'll earn around $0.45 in cash. Over the course of 12 months, those rewards add up to $5.40.
Now, when you use your card through Apple Pay, you'll earn 2% cash-back on your purchases. This is a great benefit for those who try to use Apple Pay as often as possible but, according to a 2018 report from Pymnts.com, very few people use Apple Pay in stores that accept it.
"Since October 2015, Apple Pay was used for between 1.8% and 3.0% of transactions from smartphone users when visiting a store that accepts Apple Pay," the site noted.
The site's data indicates that more people are adopting the payment method but, based on the numbers we saw, your normal spending habits may not take full advantage of the 2% Apple Pay rewards rate.
So, if you decide to get this card, try and be more conscious of retailers who accept Apple Pay and use it whenever you can.
All other purchases that aren't Apple or Apple Pay purchases will earn 1% rewards.
What makes this card different from most of the rewards cards we've reviewed is that Apple will deposit your rewards the day you earn them, whereas the majority of rewards cards deposit what you've earned at the end of each month.
It's hard to say the yearly rewards you can earn with this card because we couldn't quite pin down how much Apple customers spend each year. Assuming you spend $500 in the 3% category, $500 in the 2% category and $29,000 on everything else, this card can earn you $315 per year.
Apple Card Features
The main feature that makes this card unique is that it offers that makes this a unique credit card: a full-service app with metrics about your spending and rewards.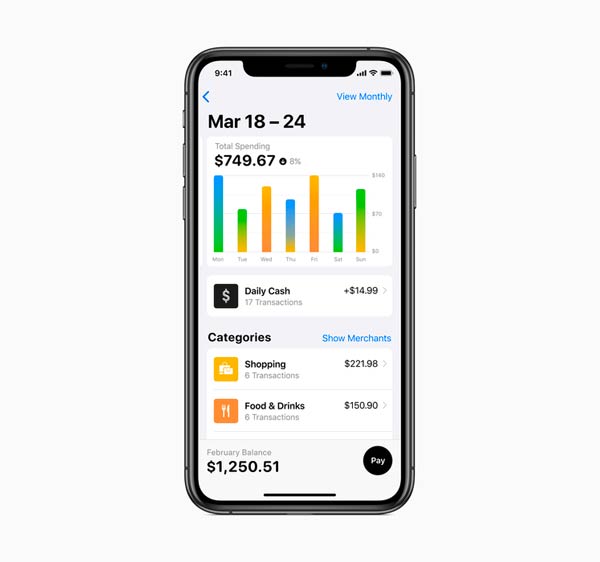 Some of these features include a tool you can use to see how much it would cost you in interest to pay back a balance over time; choosing monthly, every-two-weeks or weekly payments; generate reports for weekly and monthly spending habits; running summaries of how much you've spent on specific categories like shopping and entertainment; and a running total of how much you've spent for the day and month.
Also, Apple gives you a transaction summary of your rewards so that you can see how much cash you earned for every purchase you made.
Furthermore, the app offers individual pages for each transaction, a page that includes a pinned map location of where the transaction took place, the date on and city in which it was made, the reward amount it earned.
In this sense, the Apple Card exceeds the user-friendliness of other cards in that it combines the features of a budgeting app like Mint with the spending power of a credit card. Typically, rewards credit cards don't feature apps as robust as what you get with this card.
We think that the Apple Card is an innovative option for people who like to access interesting and valuable metrics without having to leave an app designed specifically for their credit card.
As for the physical credit card you get, innovation abounds. The card is made out of titanium and has no card number, CCV security number or any other information on it. Apple claims the card is "more secure than any other credit card."
It is unclear exactly how the card works but Apple noted you get a 1-percent rewards rate when you use the physical card to make purchases.
Apple Card Rates and Fees
At the time of publishing, the Apple Card's purchase interest rate was between 13.24% and 24.24%.
The card does not charge you any of the following fees:
Annual fee
Cash-advance fee
Foreign transaction fee
Returned payment fee
Penalty APR
Our initial observation of this list of fees is that there is no mention of a late fee or a balance transfer fee. The fine print indicates that late or missed payments "will result in additional interest accumulating toward your balance."
What this means is that the "fee" you're paying isn't a set dollar amount like you'd be charged with other cards but, rather, you'll just end up paying more interest on your balance.
How the Apple Card Compares to Cash Rewards Credit Cards
As we look at this card, we think it's important for anyone interested in signing up for it to take a moment to research other cards. In this section, we're going to compare the Apple Card to cash rewards credit cards, which, in our opinion, are most similar to this card because of their rewards potential and APR's.
When it comes to rewards, we think that the average Apple customer can earn anywhere from $250 to $300 a year based on average household spending numbers. This yearly total includes bonuses you get from Apple purchases.
Now, for a card like the Citi Double Cash, you can earn around $500 per year in cash back. We mentioned this card in particular because its lowest APR is reasonable at 15.74% and its rewards are more lucrative than the Apple Card.
The Discover It card is another option for a cash rewards card. What makes this card different than the Apple Card and the Citi Double Cash is that the Discover It offers a sign-up bonus in which they double the cash rewards you earn your first year.
The card has a 1.5x rewards rate, which means you can earn around $375 a year in cash. The first year, Discover will double that, which means in the first 12 months of using your card you could rack up $750 in rewards.
The Pros and Cons
Based on our research of this card, we believe its strengths lie in the fact that you get a 3% bonus for making Apple purchases and that it integrates all the features of a budgeting app into the Apple Card app, including how much interest you'd pay if you carried a balance for a certain amount of time.
We also think the card's lack of fees is a huge plus if you have a habit of making late payments. Most cards have late fees between $35 and $39, so even avoiding three late fees could save you more than $100 a year in fees.
The downside to the card is that, at the time of publishing, it did not have an upfront bonus. Also, the 2% rewards you get on Apple Pay purchases sounds great but the data we looked at indicates not that many people use Apple Pay for purchases at retail locations.
Also, it's a drawback that you only get 1% rewards when you use the physical Apple Card to pay for something.
The Bottom Line
In conclusion, we think this card is best for someone who spends more than the average person on Apple purchases.
For example, if you run a small business and you make frequent Apple computer and phone purchases, this card may have a special appeal to you because of the 3% rewards rate on Apple purchases.
If you don't spend a considerable amount of money each year at Apple online and in-person locations, we'd suggest trying other cash cards that have reasonable interest rates and provide more cash back per year.