Aprenita Reviews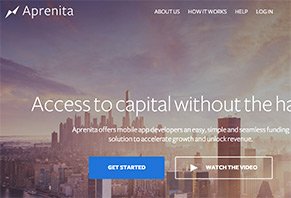 Aprenita is an online lender focused on providing mobile application developers with the money they need to acquire more customers and grow their businesses.
About Aprenita
Founded by a team of entrepreneurs and mobile application developers, Aprenita claims to offer funding solutions that can help mobile app developers grow their business and unlock unrealized revenue, without requiring them to tap into banks, venture capitalists, or credit cards.
In order to address the gap left between traditional funding models and modern, tech-oriented venture requirements, Aprenita claims to provide innovative solutions that can help fund your much-needed marketing and distribution, so that you can appropriately scale acquisition and growth. On top of this, Aprenita claims to provide quick and easy applications, without integrations, as well as straightforward loans with favorable terms.
According to Aprenita, the process works over 3 steps:
Submit an automated application in less than 10 minutes.
Link your iTunes or Google Play app store and analytics accounts, which allows the Aprenita team to analyze past performance and future potential. According to the company, this involves an "algorithmic-based credit rating system" that assesses risk and allows the company to make quick lending decisions.
In 1-2 days, you'll receive a loan proposal/funding offer.
App-based software isn't just the wave of the future; it's our modern reality. However, if you're finding that traditional lending methods just aren't keeping up with the times, can Aprenita's funding solutions really help "unlock your app's potential?"
We'll get to that in a moment, but let's first give you some important perspective on Aprenita's services by comparing them to traditional lenders.
How Does Aprenita Compare to Traditional Lenders?
Other than the fact that Aprenita is lending money to companies, they don't seem to have much in common with traditional lenders.
According to the company, this is because they offer lower fees, can provide loans for companies that earn less money, and can provide this money specifically for user acquisition and marketing needs, which isn't generally something traditional lenders are prepared to underwrite.
On top of this, Aprenita claims that app developers tend to work at a more accelerated pace, which means repayment terms are generally shorter (we'll talk more about this in the Pricing section).
Before we do though, let's discuss your lending options.
Are There Similar Lenders to Aprenita?
If you're running a traditional business, you might be able to take advantage of a variety of loan options through companies like Fundera and Fast Business Funding, or even invoice advance services like BlueVine and FundBox. But despite the immense popularity of applications for everything from smartphones to TVs, it's almost certain that if you're a mobile app development company, you probably won't qualify.
And other than Aprenita, there aren't any other companies that specialize in providing short-term loans specifically to app developers. Sure, there are traditional methods of using credit cards or seeking the help of venture capitalists, but nothing quite like Aprenita.
Despite their uniqueness though, is Aprenita any good? Let's take a look.
More about Aprenita, Inc.
Aprenita, Inc. is based out of New York, NY, and based on their registration data, have only been in business since late 2014. The company was listed with the Better Business Bureau, but wasn't rated, and there weren't any complaints filed as of 7/27/15.
With this in mind, let's get into the nitty-gritty of how much an Aprenita loan will cost you and your business.
Aprenita Pricing, Fees, & Guidelines
Submitting a loan application through Aprenita is completely free, and there's no commitment until you accept the loan's terms, at which point your exact fees will be disclosed.
Although Aprenita claims it's "not necessarily required," most of their qualifying customers have at least 3 full-time employees with $10K+ in monthly revenue, although you will need at least 6 months of revenue history for at least one active app.
According to the Aprenita website, loan sizes "are primarily dependent on your app portfolio's recent performance and your current marketing spend," although they typically range between $5K and $10 million. Interest rates can vary between 6% and 26%, with repayment terms lasting anywhere between 4 and 12 months.
For each loan offer you accept, Aprenita will charge a 1-time origination fee, typically less than 5% of the total loan amount, although the lender won't request collateral, a personal guarantee, or equity. And once your first loan is paid off, you'll be able to obtain a second, which may come with more favorable terms.
In order to ask any questions about Aprenita's loans and/or their requirements, you'll need to contact customer service at (917) 524-8021.
Before wrapping things up, it's important to briefly talk about why Aprenita requires that you show proof of revenue for loan approval. After all, aren't most business loans aimed at helping you get off the ground?
Why Does ​Aprenita Require Proof of Revenue?
If you're fresh out of the gate and are looking to launch your mobile app development company, Aprenita probably isn't your ideal solution. This is because, as mentioned in the previous section, you'll need to show about $10K in monthly revenue that has been steady for at least 6 months.
And as you've probably already realized, creating a hit mobile app as your first release can be a daunting task. This means that, before you get money from someone else (such as a loan or venture capital), you first have to prove that there's demand for your product.
Put bluntly, most companies willing to invest capital in your business are more interested in results than ideas. For more about this, we'd recommend reading Where to Get the Money to Build Your Mobile App.
Now, let's wrap everything up.
Can Aprenita Help Boost Your Mobile App Business?
They say that specialization is the hallmark of any successful business, and by creating a space where mobile app developers can obtain short-term financing for their marketing needs, Aprenita seems almost like a niche, within a niche, within a niche.
As a new business that's breaking new ground, it remains to be seen whether or not Aprenita's specialization is a profitable one, or whether their customers find their services beneficial.
For now though, if you already run a successful mobile app development company and are looking to expand your acquisition—without approaching a traditional lender, using credit cards, or seeking out venture capital—Aprenita really is the only game in town.
Have you used Aprenita before? If so, tell the world about your experience by writing a review below!