APVI Express Reviews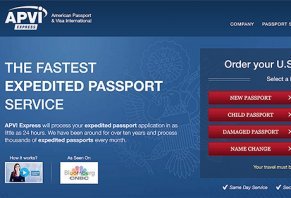 If you need your passport application processed as quickly as possible, APVI Express is claimed to provide turnaround times as fast as one business day.
About APVI Express
American Passport & Visa International, also known as APVI Express, claims that they can process your expedited passport application in as little as 24 hours. In fact, the APVI Express claims to be the fastest expedited passport service available.
But just because APVI Express is fast, does this necessarily mean that their services are worthwhile? In other words, will APVI Express provide a good value for your money? We'll get to that in a moment, but let's first take a look at how the process works.
How Does the APVI Express Process Work?
In order to begin using APVI Express's service, you'll need to choose the reason for your passport order, including:
New passport
Renewal passport
Lost or damaged passport
Name change
Second passport
Passport for your child
Then, you'll choose your preferred delivery option, which can range anywhere from standard service (8-12 business days) to next-business day service. Finally, you'll need to select your shipping method, all of which are overnight. At this same time, you'll also be able to choose additional options, such as including a passport card or passport replacement insurance with your order.
After you've submitted your application for your new passport through the APVI Express website and paid the associated fees (more about this in the Pricing section), you'll be able to track your passport's progress directly on the company's site by entering your email address and order ID. This includes information such as when your application materials are received, when these materials are submitted for processing, and when your passport is completed and has been shipped.
Submitting a passport application can admittedly be confusing, although if you're unsure where to begin, the APVI Express website provides a fairly in-depth Resources section, including detailed passport instructions.
Does APVI Express Actually Issue Your Passport?
In short, no. Instead, they just move the process along at an accelerated pace for an additional fee. The company is not affiliated with the US Government in any way.
But how does this work, exactly?
How Does APVI Express Turn Around Passports So Quickly?
According to APVI Express's FAQ, their location allows them to hand-deliver your documents to the Passport Office, which means that a passport agent will immediately handle your application, and your passport will be ready in the predetermined timeframe.
Without the APVI Express expedited process, your passport application is mailed to the National Processing Center, where it's handled on a "first-come, first served" basis. Using this method, your passport is typically ready in 8-12 weeks.
Important note: Although APVI Express can process your passport application in as little as one business day, the company recommends that you build in an extra cushion of 1-3 days to protect yourself from unexpected delays.
Can APVI Express Really Process Your Passport in One Day?
Yes, although you'll need to have your documents submitted to the company no later than 8:30a ET, and your passport could be ready by 4pm ET the following day. And of course, this represents a best-case scenario (we'll talk more about this next).
To put this in perspective, this means there would actually be four total days involved in the process:
The day you overnight your documents to APVI Express.
The day APVI Express processes your application.
Your passport will be ready the following day by 4pm.
The day that APVI Express overnights your passport back to you.
As such, if you selected a 24-hour turnaround and overnighted your documents to APVI Express on Monday, it would likely be Thursday before you received your passport.
Requirements for Obtaining a Passport Through APVI Express
With this process in mind, it's important to remember that all of APVI Express's advertised turnaround times are based on a best-case scenario. In other words, if the Passport Office requires additional documentation from you, such as your U.S. birth certificate or Certificate of Naturalization, the process may be delayed. Also, you'll be required to send in the originals of these documents—not photocopies—so you may want to have an extra on hand before submitting your passport application.
The good news is that after you click on the type of passport you're applying for, the APVI Express website will display a list of documents that can help expedite the process, as well as general guidelines for each passport type.
Do You Have Other Express Passport Options?
Finally, you have a lot of options when it comes to express passport application services, so you'll definitely want to do your research (you've started off right here at HighYa). In fact, you can find dozens of options simply by typing "express passport" into your favorite search engine.
Granted, their websites may not be as easy to use, and they may not be priced the same as APVI Express, but you should always have as much information available as possible in before making a decision.
Do Customers Want to Depart from APVI Express?
Overall, although there were a limited number of online customer reviews for APVI Express at the time of our research, the company appears to have an almost wholly positive reputation. Common compliments for APVI Express included fast turnaround times, attentive and responsive customer service, and that they consistently deliver on their promises.
From a company perspective, APVI Express is based out of Washington, DC, has been in business for more than 10 years, and claims to have processed more than 1.3 million expedited passports in that time. APVI Express has an A+ rating with the BBB, with no complaints filed within the past 3 years (as of 2/10/15).
APVI Express Pricing & Refund Policy
Regardless of the reason you need your passport application expedited, APVI Express's services are priced as follows:
Standard (8-12 business days): $99
Rush (5-7 business days): $149
Priority (3-4 business days): $199
Next Day (2 business days): $249
24-Hour (1 business day): $299
Rates for overnight shipping (there are no other options available) range between $19.95 and $39.95, depending on when the delivery will be made. Also, you'll need to pay for shipping to APVI Express, which will be either $19.95 or $29.95.
Finally, a passport card can be purchased for $24.95 and passport replacement insurance for an additional $19.95.
Important note: There may be additional government fees of up to $170, depending on the type of passport you're applying for. These fees are not included in the above prices.
No refunds are provided by APVI Express, except (per the company's Terms), "In the highly unlikely event APVI, Inc does not return your completed passport or visa to you in time for your trip, we will refund all service fees paid to us (excluding fees paid to the Department Of State or Foreign Embassies) unless such delay is caused by circumstances beyond our control."
In order to ask questions about APVI Express's services, you'll need to contact customer service at (877) 674-1167.
Is APVI Express a Good Value for Your Money?
APVI is a legitimate company with more than a decade in business, a strong online customer reputation, and a focus on quality customer service. Because of this, it seems likely that you'll have a positive experience when using them to expedite your passport application.
However, like most other expedited passport services, APVI Express isn't exactly cheap, so you'll definitely pay for their speed. So if you can help it, you'll definitely want to submit your passport application 2-3 months in advance in order to save a boatload of money.
Excellent service

By Edgar R.

,

The Villages, FL

,

Sep 28, 2019
Verified Reviewer

I lost my passport about a week before my family reunion in Vancouver, Canada. We had spent a considerable amount of money and time to make this happen. I must admit at first I thought there would be no way APVI could get my passport in time. However, I gave them a try and they kept me abreast of the status of my passport throughout the process. In addition, APVI was also able to get FedEx to resolve a delivery issue. I strongly recommend their service and I want to thank you from the bottom of my heart. I had a great time with my family and if it wasn't for APVI I would have missed a fantastic time. Thank you, thank you, thank you.

Bottom Line: Yes, I would recommend this to a friend

---

The best company ever

By Lori

,

Washington

,

Jun 30, 2017
Verified Reviewer

I just found out last week crossing the border to Canada on vacation that my passport had expired. I spent the night there and came back home USA to figure out how to renew my passport as quickly as possible since I am flying to Europe next week. I contacted APVI and within seven days (five business days) I got my new passport. APVI is the most wonderful company I have ever worked with. So professional and will pick up the phone right away and email right back. They are amazing! Thank you so much APVI!

Bottom Line: Yes, I would recommend this to a friend

---

Advertisement

---

Great individual attention

By Lana K

,

Doylestown, PA

,

Apr 24, 2016
Verified Reviewer

The experience with APVI was amazing. I've ordered the next day passport renewal and that's exactly what I received. I've got personalized call within half an hour of placing the order and email updates after every update.

Video instructions were very clear. Documents review process to make sure everything is in place was great. Got my passport in a day and ready to go book my trip. Big thanks to all the people who worked hard especially Sarah and Michael.

Bottom Line: Yes, I would recommend this to a friend

---

This service is vital

By Kevin Jordan

,

New York, New York

,

Jul 30, 2015
Verified Reviewer

I had an issue last month where I was preparing for a trip to Thailand and suddenly realized that my passport had expired. The passport process when done independently is tedious and slow, and the hours are awful. As a last ditch effort to get a travel document in time, I came across APVI Express and purchased their premium service. APVI got me a renewed passport within two weeks and my trip and arrangements were saved. They do all the work for you and fast forward it so that you can get it quick. Customer service was great too.

Bottom Line: Yes, I would recommend this to a friend

---

Advertisement

---

Great experience

By Brian

,

Jul 22, 2015
Verified Reviewer

APVI staff are very enthusiastic and passionate about their work. They helped me to get my passport real fast and they made it look so easy. Also very impressed by their customer service and instruction videos. I would like to thank them for their efforts.

Bottom Line: Yes, I would recommend this to a friend

---

Amazing

By Pete

,

San Francisco

,

Jul 22, 2015
Verified Reviewer

APVI is the Best. Was fortunate enough that one of my relative told me about APVI. Their staff was very friendly and they take good care of their clients. They had my passport ready in three days with no problems.

Bottom Line: Yes, I would recommend this to a friend

---

Great Service. Could not have asked for more.

By Ihab Ibrahim

,

Washington DC

,

Jul 20, 2015
Verified Reviewer

My passport arrived today and I'm off to the airport. Thanks to the APVI and specially to Kiaann. Thank you.

Bottom Line: Yes, I would recommend this to a friend

---

Do not use.

By Michael Williams

,

Canada

,

Jul 20, 2015

Lost over 700.00 U.S. funds and would not recommend service. Way to much back and forth for the price.

Not Recommended by American passport office, wound up getting passport from consulate in Toronto. APVI got paid, my fees were lost, they refunded only $100.00.

There is now recourse and I am out of funds and I don't know where my old passport is. It was an emergency situation and they did not help but got paid.

Bottom Line: No, I would not recommend this to a friend

---

Great service, great care and follow up service.

I am extremely satisfied with APVI's service, honesty and forthrightness to deal with my unique problems at a very sensitive time for me and my family.

APVI's response was positive from the top down, it was not about the money, it was about the service APVI promised and APVI delivered!

Yes, I would highly recommend APVI Passport services and will use it again. I'm a very satisfied customer.

Bottom Line: Yes, I would recommend this to a friend

---

APVI Express Extra Fast Performance

I tried getting a passport on my own and after months of waiting I found out it wasn't processed correctly. They let me go for months and I was waiting on something that was never going to arrive. I would've missed my trip if APVI didn't step in for me and quickly process my passport application. They stayed on top of the passport application and promised me not let anything happen like I had already been through. That's why I will always use these guys. Thanks.

Bottom Line: Yes, I would recommend this to a friend

---