AquaTru Countertop Water Filter Reviews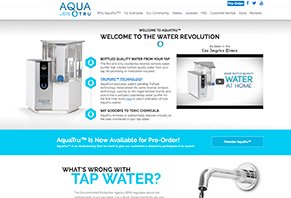 AquaTru Countertop Water Filter system uses three different kinds of filters to remove 128 chemicals and gasses from one gallon of water in 12-15 minutes.
About AquaTru Countertop Water Filter
AquaTru Countertop Water Filter is a patented, 4-stage reverse osmosis system that promises to remove (or substantially reduce) 128 toxic chemicals and gasses from your tap water—without installation or plumbing required.
AquaTru even claims their TruPure technology is identical to systems used by major bottled water brands, just smaller. Unlike these commercial systems though, AquaTru fits on your countertop.
To use your AquaTru Water Filter, simply fill the tank with a gallon of tap water, and you'll have bottled water-quality water in 12 to 15 minutes. This way, whether you're at work, at home, or on the go, AquaTru claims their countertop water filter can help you positively impact your health and that of your family; save thousands per year by not buying bottled water; and save the environment from over 40 billion discarded plastic water bottles annually.
After browsing the AquaTru website, you might be wondering if it's just an updated version of those old school filters that used to attach directly to your faucet, or those pitchers that took forever to do their job. Even if this countertop water filter works better, does it still mean it's a solid buy? We'll explore it all in this review.
AquaTru's Tech Specs
Overall, the AquaTru Filter is 14″ tall x 14″ deep x 12″ wide and consists of the following parts:
3 Different Filters:

Pre/Carbon filter – The pre-filter removes sediment, while the carbon filter removes chlorine and other unwanted flavors.
Reverse osmosis filter – AquaTru claims this is the filter that does all the "heavy lifting." We won't go into all the details, but this article can give you a basic primer on how reverse osmosis works.
VOC carbon filter – This filter removes any toxins that are in gas form.

A top water tank that holds tap water
A front water tank that holds clean, filtered water. Both tanks are manufactured from Tritan BPA and BPS-free, dishwasher safe plastic.
Base unit, where the electronics and filters are housed
Power cord (similar to what you'd have with a notebook computer)
How Does the AquaTru Water Filter Work?
Before using your AquaTru Filter, the manufacturer states you'll need to wash each tank with warm, soapy water and dry.
First, plug your power cord into AquaTru. Then, after lifting the side cover away from the base, you'll thread each of the 3 filters into their specific receptacle. Replace the cover.
Now, you'll secure the filtered water tank at the front of the base, fill the unfiltered water tank with tap water, and put it in place behind.
At the back of your AquaTru base, you'll flip the red on/off switch, at which point the device will start filtering. The company notes that you might notice some bubbles and cloudiness when you turn it on for the first time, although this is simply the trapped air escaping from the 3 filters.
Over the course of the next 12-15 minutes, the gallon of water in the tap water tank will turn into 3 quarts of water inside the filtered tank. The control panel will show each filter doing its job as the water circulates through them.
Finally, you'll just place your glass underneath the front of the filtered water tank, press the blue button, and water will dispense.
Important note: AquaTru advises that you'll need to clean 4 tanks of water before you drink anything.
How Often Do AquaTru's Filters Need to Be Replaced?
Back to those old-school filters: Remember how quickly they became clogged and needed to be replaced? Will you experience something similar with AquaTru?
AquaTru's website tells us the reverse osmosis and pre-filters last anywhere from 1.5 to 3 years (depending on water usage and local water quality), while the VOC filter needs to be replaced once per year.
Let's quickly carry these thoughts over to the next section.
What's the Difference Between Water Filtration & Purification?
In one of the videos on AquaTru's website, we see Peter Spiegel (more about him in a second) talking about outdated pitchers and other devices that only filter out a few basic chemicals, and therefore make your water taste better. Comparatively, he tells us that AquaTru can filter out 128 toxic chemicals and gasses, while dropping the word "purifier" on at least one occasion.
The terms "filter" and "purify" might seem similar, but they're not interchangeable, so it's important you understand the difference. As you might guess, filtration is the physical act of filtering something; i.e. to prevent something from making it into the water supply. In the case of AquaTru, this task is handled in a 4-stage process using its 3 different filters.
On the other hand, purification isn't necessarily a process like filtration; it's an end result intended to remove unwanted substances. But purification doesn't necessarily mean "pure." For example, if your goal was to remove just a handful of unhealthy chemicals from water, you could then claim that it was purified.
What's the takeaway? While AquaTru filters and purifies, so do many other devices on the market (more soon). Where AquaTru really differentiates itself is the number of contaminants it filters out of your water.
Important note: According to their website, AquaTru is "designed to filter municipal water. Although the RO membrane will filter out micro-organisms and pathogens, it is not recommended for lake, stream or well water."
How Much Does AquaTru Cost?
Currently, AquaTru is priced at $349, plus $19.95 S&H. However, it's also only available for preorder, with a anticipated delivery by the end of July 2016. You will be billed in full as soon as your order is placed.
An additional filtered water tank can be purchased for $50, plus $6.95 S&H. Perfect Minerals (drops that turn your AquaTru water into naturally alkaline mineral water) cost $15, plus free S&H.
Although the company claims your AquaTru Water Filter can save you anywhere from $100 to $2,800 over the course of 5 years, keep in mind you'll have some minor ongoing costs. The pre-filter and the final carbon VOC filter cost about $20 each, and the reverse osmosis filter costs about $40. If you choose, you can have replacement filters automatically shipped to your home.
Finally, AquaTru operates off a 120 volt AC wall plug and uses about $2.00 of electricity a year.
What's AquaTru's Refund Policy?
According to the company's Terms, "Once you place your order, your order is final, non-cancelable and non-refundable."
However, they go on to mention that if your device hasn't shipped by September 30th, then you'll be issued a full refund.
Have additional billing or refund questions? You can reach out to customer service at 800-220-6570 or cs@aquatruwater.com.
Enough with the details. Let's find out what AquaTru's customers are saying.
What We Learned From AquaTru Filter Reviews
As a company, AquaTru seems to have a fairly robust affiliate system in place, so we encountered a lot of paid websites that portrayed themselves as independent reviews, but were nothing of the sort.
We did come across an AquaTru review on NaturalNews.com, which admittedly doesn't exactly have a reputation for journalistic credibility. Nonetheless, they claimed to have tested the before and after results using clinical-grade equipment, so we thought it was important to highlight their results:
"To test AquaTru myself, I mixed up a concoction of extremely toxic heavy metals and chemicals in the lab. After analyzing the starting concentration of toxic elements via ICP-MS, I poured it into the AquaTru system and let it filter the water. (It filters very quickly ... far faster than gravity water filters.)

I then took the resulting "post-filtered" water and tested it in my lab using an Agilent 7700X ICP-MS instrument, which is a top-of-the-line laboratory instrument used by the FDA, universities and private commercial labs. It's sensitive to single parts per billion concentrations of most elements."

What did they find? Some pretty astonishing results. For example, 100% of cadmium, cesium, mercury, and uranium was removed; 99%+ of copper, arsenic, and lead; and 92% of aluminum.
AquaTruWater LLC was not listed with the Better Business Bureau at the time of our research. What about the man behind the company?
How Did Peter Spiegel Come Up with the Idea For AquaTru?
According to the AquaTru website, inventor Peter Siegel used an under-the-sink reverse osmosis filtration system for more than 2 decades. He enjoyed the quality it provided, but understood that it was much too bulky to purchase, install, and maintain for the average consumer.
Instead, he set out to build something that could be used right out of the box to provide pure drinking water, "without the financial expense or cost to the environment." Over the course of 5 years, working with engineers and industrial designers, the AquaTru Counter Water Filter was born.
Prior to founding AquaTru, Peter worked extensively within the direct response industry, having founded the Ideal Living group of companies, which manufactures products like Paint Zoom, Cebria, Prosvent, and more.
Before wrapping up, let's find out if AquaTru has any competition.
AquaTru Water Filter vs. Berkey
If you're in the market to achieve high-grade filtration and store your filtered water until it can be used, your two top choices are arguably AquaTru and Berkey. How do these compare?
One of the first things you'll notice is that Berkey manufactures a whole line of stainless steel filtration devices, ranging in holding capacities from 1.5 gallons to 6 gallons, while AquaTru's filtered water tank will hold about 3 quarts. Berkey's lowest priced model comes in at $228, compared to AquaTru's $349.
Each of Berkey's models also come with 2 or 4 Black Berkey filter elements, which work differently than AquaTru's 3-filter system. However, even the smallest Berkey model is 19" high, so it probably wouldn't be considered a countertop model like AquaTru.
Is an AquaTru Water Filtration System Right For You?
As Peter alluded on the AquaTru website, the basic idea behind this device's 3-filter reverse osmosis system is nothing new, as it's been used in under-the-counter systems for decades. As a matter of fact, I have one in my home that I've enjoyed for years.
If you're in the market for something that's portable and can easily fit under a countertop or squeeze in your fridge, though, the AquaTru Filter system really is the only game in town. While the Berkey might hold more water, calling it "portable" might be a bit of a stretch—not to mention that you might look like you're setting up for a banquet.
Is the AquaTru worth more than $350, though? With very little online feedback (not to mention the role that personal preferences play in overall satisfaction), it's difficult to say. But if you decide to give AquaTru a shot, just remember that as soon as you press the order button, you won't be able to get your money back unless there's a long delay in its release.
Awesome!

By

Donna J.

,

North Carolina

,

Feb 21, 2018
Verified Reviewer

Assembling the filtration system was easy. The machine runs very smartly and quiet. With the issues that we are having with our water, I started shopping for a system. I found that AquaTru met my requirements: RO system and portable. I would recommend this system and, so far, I am very pleased.

Bottom Line: Yes, I would recommend this to a friend

---

9 out 9 people found this review helpful

Updated review

Refunded

They ended up refunding the full amount plus the shipping for the new base. So although it took a long time, I'm satisfied with the final outcome. However, that does not change my review at all.

Bottom Line: No, I would not recommend this to a friend

View all 2 comments

Hide comments

Jan 4, 2018

Thank for the post. Ms. Donovan. Yes, the filters are tight as we do not want the unit to leak. We did send you a new base for just replacement shipping & processing of $19.95 in October under our warranty agreement. Since this time you contacted us and advised that the replacement base was leaking, and you were no longer were interested in the unit. We refunded you for the $19.95 s/p on the base in November as well as on the merchandise amount less shipping & processing of the initial unit from January 2017 as a courtesy and did not ask for the product back. We are sorry that the unit did not work out for you.

Jan 4, 2018

Yes, Chris, I should have come back and amended my review but, even though you finally ended up refunding me, it would not change the 1-star review.

Previous review
Nov 16, 2017

Don't waste your money

I bought this in February 2017, and it has been nothing but trouble.

1. I am disabled with little strength in my hands, and the filters are nearly impossible to take on and off for me, leading to #2.

2. It constantly airlocks and the only way to fix it is to remove and reset the filters.

3. Customer service is unable to figure it out, so basically said it's my fault.

4. The ON/OFF button broke so customer service did send me a new base (I HAD TO PAY SHIPPING).

5. The new base has leaked constantly and today the new unit totally quit working. Customer service is very very hard to get hold of; they will not help you via email so I am waiting until they open but I've had it with them.

(

read more

read less

...)

---

Advertisement

---

2 out 2 people found this review helpful

Works like a charm

We purchased the countertop system more than two years ago because we wanted cleaner and better-tasting water. What we got is water that is filtered with a PH factor of 7+.

My wife filters about two gallons a day, which equals about 60 gallons a month. We need to replace the #4 filter within a year and have done that again. Our water usage is for drinking and making coffee and tea.

I have called customer support and received excellent walk-through instructions. When the system stopped again at #4, I called customer support again and I realized I had not followed correctly all their instructions. Once I did, the system worked flawlessly.

Bottom Line: Yes, I would recommend this to a friend

View all 1 comments

Hide comments

Jan 4, 2018

Hi Phillip! Thank you for the comments. We are so happy that the unit is working out for you and that customer service was able to assist you.

---

1 out 1 people found this review helpful

Rip off! Beware!

I purchased two of these units from Natural News in December 2016. One was to be a back-up down the road. There was trouble from the very beginning. I sent the original unit back, and they sent a second. It started messing up at 10 months because it wouldn't cycle, so we spent over $100 for new filters. It still wouldn't cycle water! I got out the brand new unit, and it doesn't work at all.

They have lowered the price since I bought them, but we are more than $1000 out of pocket and two pieces of total crap! Save your money and move on!

Bottom Line: No, I would not recommend this to a friend

View all 1 comments

Hide comments

Jan 4, 2018

Hi Miriam,

Thanks for the post. So sorry that the unit is not working for you. We do show that the initial order was on 11/2/16 for two units. We reshipped a new unit in December 2016 and received one unit back from you in January 2017. We do show that you purchased filters in September 2017. However, we do not show that you contacted customer service since 1/6/17. If you had, we would have been happy to assist you. I have sent your comment above to customer service, and have asked them to reach out to you as we do not want you to be an unsatisfied customer.

---

Advertisement

---

6 out 6 people found this review helpful

Fatally flawed product

I purchased this filtration system and within 6 months of use, the unit began failing. After repeated attempts to call customer service with holding times of more than 45 minutes, my call was answered. I was walked through a "rebooting" process which successfully filtered one tank of water and promptly stopped working AGAIN. After waiting another 53 minutes on hold before my call was answered, I was told the company would under NO circumstances refund my money. They offered to send me a new base at the cost of $19.95 to me. Who in their right mind would pay $19.95 for ANOTHER design flawed product?

Good in theory but it DOES NOT WORK, and customer service is among the worst I've ever experienced.

Bottom Line: No, I would not recommend this to a friend

View all 1 comments

Hide comments

Jan 4, 2018

Hi Jodi,

This is AquaTru Company. Thank you for the review and we are sorry that your unit is not working and your experience was frustrating. We experienced a longer than acceptable hold time when you called on Monday (12/4) as we had some agents out sick. We have asked customer service to contact you again to further assist you with the hope of working towards the best resolution. Thank you.

UPDATE: Customer Service called on 12/8. We sent a FedEx label on 12/13 and processed a full refund as well.

---

7 out 7 people found this review helpful

Find a better option

Perhaps it is the area we live in. But for the waiting, as we did the preorder with a well know website (with the HealthRanger) in May of 2015, and it took one year and few months to get the unit.

Sadly, we have had the product just over a year (2.5 months over a year), rendering the warranty null and void. Convenient hey? And we have already had to replace all the filters. Certainly not holding up to the "every two" deal, but I'm sure it's the area and my water, not AquaTru! AND when the replacement filters were received and placed on the unit, it was not working (the #4 filter).

Calling three times and getting a return call from a restricted number (like who answers those) with a message left on how to troubleshoot. WHAT? You don't think we tried the simple options you suggest?! If a company is true and sincere, call back on the regular visible number. BUT WAIT! For only the cost of shipping and handling of $19.95, a new base will be sent out to you. WOW, how fabulous!

Do your homework, learn from those of us that believed. Ask Santa for what truly works for the water in your area; he should know, right? He travels all over the world.

Bottom Line: No, I would not recommend this to a friend

View all 1 comments

Hide comments

Jan 4, 2018

Hi Sally,

Thank for the post and for being one of our initial supporters. We were unable to locate an order under the name of Sally Jeans as we wanted to review your account and reach out to you. Can you please send the name and zip code used when placing your order to marmstrong@idealliving.com? Thank you!

---

6 out 7 people found this review helpful

Two months of use

I am enjoying the AquaTru System and find it easy to use. I did have to find a space near the sink on the counter where no sun will hit the device. The new arrangement worked so well it actually 'de-cluttered' my counter!

The water tastes good (Austin has pretty good water), and I feel good using the filter to limit the toxins (thanks EWG for your new listing by area) my visitors and family drink. I'm as organic as I can be, so it fits into my lifestyle. This product is easy to use, and it fits between my counter and the cabinets above.

I bought replacement filters but have not needed to use them yet. The machine signals when a cartridge needs to be replaced. It gives me peace of mind to know I have taken another step towards healthier living. I want to buy another for my daughter in New Jersey! They have pretty bad water up there!

Bottom Line: Yes, I would recommend this to a friend

---

11 out 12 people found this review helpful

Terrible customer service!

By

Joe Cascio

,

Florida

,

Oct 24, 2017
Verified Reviewer

We bought the water filter system and just after a year there were problems with the two metal pins in front of the water holding tank that rusted. We called customer service, and they say, "Sorry, but you have to buy a new one at $50 plus shipping and handling." They also said you are to clean the unit with a Q-tip, but there are no instructions that came with the unit to tell you about cleaning these pins from rusting. There was no other helpful thoughts or ideas except to purchase a new one.

Would we recommend this unit with such helpful customer service? NO WAY. When you pay top dollar for a water filtration system, you want to have a unit that provides clean and good working parts that don't rust. Sorry, but they get an "F" for marks.

Bottom Line: No, I would not recommend this to a friend

View all 1 comments

Hide comments

Jan 4, 2018

Mr. Cascio,

Thank you for the comments. We reviewed your account and saw that you contacted us on 10/23 regarding your filter orders, as you forgot to enter your coupon code. The agent honored the code and manually processed the discount for you. However, there is no mention of your front tank sensor having rust on it. Customer Service will reach out to you and we will have a new tank shipped to you at no charge.

---

15 out 15 people found this review helpful

Hard water causes reverse Osmosis Membrane to fail prematurely

As I have said repeatedly and directly to Mr. Spiegel, promotor of the AquaTru Filter, this is a satisfactorily functioning device to clean and purify badly contaminated water in the many ways consumers encounter such poor quality water.

What Mr. Spiegel will not acknowledge, however, is that the following paraphrase of a statement taken from his Site and literature is scientifically flawed.

Taken from THIS review site:

"AquaTru's website tells us the reverse osmosis and pre-filters last anywhere from 1.5 to 3 years (depending on water usage and local water quality), while the VOC filter needs to be replaced once per year."

It is scientifically well known that more than slightly hard water rather quickly renders ANY reverse osmosis membrane (such as the one in AquaTru Filter Canister #3) useless in much faster than the advertised two years as it, in that case, finally (after as little as four months in my case) increases the time for three quarts of water to be filtered, as to render a wait to complete tap-water filtering to over ten hours untenable, unacceptable, and the result of intended incomplete advertising information verging on deliberate misrepresentation.

AquaTru makes no direct mention of the well-known effects of hard water on its system, leaving that deleterious effect to be discovered by the unknowledgeable consumers who have hard water to filter and make safe.

Make no mistake; the reverse osmosis membrane in AquaTru's Canister #3 will NOT last the AquaTru-advertised length of time of two years when used in the presence of more than slightly hard water. Replacing the membrane more frequently than advertised is certainly possible at the cost per Filter Canister #3 of about $55 including shipping to maintain the excellent cleaning function of the AquaTru Filter, but at an increased double to triple to quadruple or more membrane-cost to achieve the advertised Canister #3 two-year life. I am of the opinion that such a usage cost cannot compete with commercially available equivalently clean water.

If you intend to use this AquaTru Filter, test your water hardness and then try to judge how the level of your hard water will affect your cost of operation. My experience with Mr. Spiegel is that he will provide NO SUCH advice.

Using the AquaTru Filter with hard water may not be cost-effective.

Bottom Line: No, I would not recommend this to a friend

View all 1 comments

Hide comments

Jan 4, 2018

Thank you Mr. Curtis for your comments. We are sorry that the unit did not meet your needs. Our records show that we refunded you in full on June 6, 2017.

We have the following information on our FAQ page regarding hard water, "AquaTru is intended for water with hardness below 10 gpg (grain per gallon). If the hardness is higher, the limescale will buildup on the membrane inside the RO filter. Scale build up will plug the RO filter and increase filtering time requiring RO filter replacement more often. We do not recommend that AquaTru is used with water in excess of 10 gpg hardness unless the water is softened prior to filtering in AquaTru."

---

5 out 5 people found this review helpful

Love my AquaTru!

By

Marr. Nealon

,

Los Angeles, CA

,

Sep 23, 2017
Verified Reviewer

I ordered mine after reading about it on a health blog almost a year ago. One of the filters wouldn't go in right it, it didn't turn fully, so I called customer service and they couldn't have been nicer! I thought maybe I had done something wrong, but they immediately said no it's probably a fault with that machine, they will send me a shipping label to return it and they will send me another. And they did all this very quickly!

The next one worked fine, and I've been using it ever since. I love how quickly it filters water, and the water tastes great. A friend who's really picky about water taste tried it and really liked it. It's so convenient and takes up so little space in my kitchen. I had just moved, and my very old under the counter unit wouldn't fit in my new place and I was sick of its bulkiness anyway.

If I'm making tea or something and realize I need more water, I just fill the tank from my sink faucet and turn the unit on and I have more filtered water in about 10 to 15 minutes! I couldn't be happier!

Bottom Line: Yes, I would recommend this to a friend

---

6 out 6 people found this review helpful

AquaTru Water Filter unreliable

By

Maria Duncan

,

San Jose, CA

,

Sep 14, 2017
Verified Reviewer

I purchased this filter over a year ago, and when it finally arrived, I could not wait to try it out. It worked okay for a couple of weeks and then just stopped working. I ordered new filters, a new power cord; nothing worked. I requested a new water filter which I got a few months later. That did not work at all. I finally got someone in the corporate office who sent me out a new filter, and that one worked for about six months and then it stopped working also.

I am beyond frustrated with this water filter whose output is so small (when it does work) that one has to continuously filter water all day long. If I had known in the beginning, I would not have bothered to order this product as I feel it is a complete ripoff.

Bottom Line: No, I would not recommend this to a friend

View all 1 comments

Hide comments

Jan 4, 2018

Thank you Maria for your comments. Yes, we have been in contact with Maria regarding her unit and made all attempts to resolve the issues she was having. We ultimately refunded her all her money for the unit, as well as the filter that she purchased and sent her a FedEx label to return the unit to us. We received the unit back in December. We are really sorry that we were unable to resolve the issue.

---