AquaTru Countertop Water Filter Reviews
Claimed This company has claimed this profile, is getting alerted on any new customer reviews entering this page, and may engage in dialogue with its customers to address their matters.

Companies cannot pay money or provide goods in order to remove or alter customer reviews.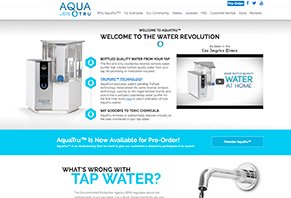 AquaTru Countertop Water Filter system uses three different kinds of filters to remove 128 chemicals and gasses from one gallon of water in 12-15 minutes.
About AquaTru Countertop Water Filter
AquaTru Countertop Water Filter is a patented, 4-stage reverse osmosis system that promises to remove (or substantially reduce) all of the toxic chemicals from your tap water, including lead, chromium-6, herbicides and pesticides, and many other dangerous cancer-causing contaminants — without installation or plumbing required. AquaTru also removes 15 times more contaminants than the best-selling water pitcher filter.
AquaTru even claims their Ultra Reverse Osmosis technology is identical to systems used by major bottled water brands, just smaller (and without the potential microplastic contamination). Unlike these commercial systems though, AquaTru fits on your countertop.
To use your AquaTru, simply fill the tank with a gallon of tap water, and you'll have bottled-quality water in 12 to 15 minutes.
This way, whether you're at work, at home, or on the go, AquaTru provided us with strong certification to support their claims that their countertop water purifier can help positively impact your health and that of your family, as well as potentially save you over a thousand dollars per year by not buying bottled water. Not to mention the positive environmental impact, considering over 40 billion plastic water bottles are discarded annually into our landfills and other dumping sites.
After browsing the AquaTru website, you might be wondering if it's just an updated version of those old-school filters that used to attach directly to your faucet, or those pitchers that took forever to do their job. We can tell you upfront that it's quite different. But even if this countertop water filter works better, does it still mean it's a solid buy? We'll explore it all in this review.
AquaTru's Tech Specs
Overall, the AquaTru Filter is 14″ tall x 14″ deep x 12″ wide and consists of the following parts:
4 Different Stages of Filtration (in 3 replaceable filters) :
Stage 1: Mechanical Pre-Filter
The pre-filter removes sediment and cloudiness (turbidity) from the water.
Stage 2: Activated Carbon Pre-Filter
The carbon filter removes 99 percent of chlorine and chloramines.
Stage 3: Ultra Reverse Osmosis Filter
Removes toxic inorganic contaminants, including lead, chromium-6, and drug residue. AquaTru claims this is the filter that does all the "heavy lifting." We won't go into detail, but this article can give you a basic primer on how reverse osmosis works.
Stage 4: Activated Coconut Shell Carbon VOC filter
Removes toxic organic chemicals and ensures great tasting water.
A back water tank that holds tap water and contaminated wastewater after the unit has completed a filtering cycle (this wastewater is then discarded from the tank and refilled with tap water)
A front water tank that holds the clean, filtered water. Both tanks are manufactured from Tritan BPA and BPS-free, dishwasher safe plastic.
Base unit, where the electronics and filters are housed
Power cord (similar to what you'd have with a notebook computer)
How Does the AquaTru Water Filter Work?
Before using your AquaTru Filter, the manufacturer states you'll need to wash each tank with warm, soapy water and dry.
First, plug your power cord into AquaTru. Then, after lifting the side cover away from the base, you'll thread each of the three filters into their specific color-coded receptacles. Replace the cover.
Next, place the filtered water tank into the front of the base, remove the back unfiltered water tank, fill it with tap water, and then put it back in place on the base.
At the back of your AquaTru base, you'll flip the red on/off switch, at which point the device will start filtering. The company notes that you might notice some bubbles and cloudiness when you turn it on for the first time, although this is simply the trapped air escaping from the three filters.
Over the course of the next 12-15 minutes, the gallon of water in the tap water tank will turn into 3 quarts of water inside the filtered tank. The control panel will show each filter doing its job as the water circulates through them.
Finally, you'll just place your glass underneath the front of the filtered water tank, press the blue button, and water will dispense. The clean water tank can also be placed directly into the refrigerator for cold water at the touch of a button.
Important note: AquaTru advises that the first time you use the unit, you'll need to cycle four tanks of water before you drink anything.
How Often Do AquaTru's Filters Need to Be Replaced?
Back to those old-school filters: Remember how quickly they became clogged and needed to be replaced? Will you experience something similar with AquaTru?
AquaTru's website tells us the pre-filter and the VOC filter will last 600 gallons (depending on water usage and local water quality), while the RO filter will last 1,200 gallons. The unit will tell you when it's time to replace the filters.
Let's quickly carry these thoughts over to the next section.
What's the Difference Between Water Filtration & Purification?
In one of the videos on AquaTru's website, we see Peter Spiegel (more about him in a second) talking about outdated pitcher filters and other devices that only filter out a few basic chemicals, and therefore make your water taste better. Comparatively, he tells us that AquaTru can filter out 128 toxic chemicals and gasses, while dropping the word "purifier" on at least one occasion.
The terms "filter" and "purify" might seem similar, but they're not interchangeable, so it's important you understand the difference. As you might guess, filtration is the physical act of filtering something; i.e., to prevent something from making it into the water supply. In the case of AquaTru, this task is handled in a 4-stage process using its three different filters.
On the other hand, purification isn't necessarily a process like filtration; it's an end result intended to remove unwanted substances. But purification doesn't necessarily mean "pure." For example, if your goal was to remove just a handful of unhealthy chemicals from water, you could then claim that it was purified.
What's the takeaway? While AquaTru filters and purifies, so do many other devices on the market (more soon). Where AquaTru really differentiates itself is the number of contaminants it filters out of your water and the fact that it can be done with a unit that requires no plumbing or installation.
Important note: According to their website, AquaTru is "designed to filter municipal water. Although the RO membrane will filter out micro-organisms and pathogens, it is not recommended for lake, stream or well water."
How Much Does AquaTru Cost?
Currently, AquaTru is priced at $349, plus $19.95 S&H.
An additional filtered water tank that can be left in the refrigerator can be purchased for $50, plus $6.95 S&H. Perfect Minerals (drops that turn your AquaTru water into naturally alkaline mineral water) cost $15, plus free S&H.
Although the company claims that AquaTru can save you anywhere from $100 to $2,800 over the course of 5 years, when compared to the cost of purchased bottled water, keep in mind you'll have some minor ongoing costs. The pre-filter and the final carbon VOC filter cost about $20 each to replace, and the reverse osmosis filter costs about $40. If you choose, you can save money by purchasing one or two-year filter replacement bundles in advance through their website store.
Finally, AquaTru operates off a 120 volt AC wall plug and uses about $2.00 of electricity a year.
What's AquaTru's Refund Policy?
On their website, AquaTru offers a full 30-day money-back guarantee and a one-year limited warranty.
Have additional billing or refund questions? You can reach out to customer service at 800-220-6570 or cs@aquatruwater.com.
Enough with the details. Let's find out what AquaTru's customers are saying.
What We Learned From AquaTru Filter Reviews
On Amazon, 83 percent of customer ratings (more than 40 as of 4/2018) were either 4 or 5 stars (4-star average). Most compliments appeared to reference fast processing, quality manufacturing, great taste, and excellent customer support.
The relatively few complaints frequently related to high price and results that didn't meet expectations.
We did also come across an AquaTru review on NaturalNews.com, which admittedly doesn't exactly have a reputation for journalistic credibility. Nonetheless, they claimed to have tested the before and after results using clinical-grade equipment, so we thought it was important to highlight their results:
"To test AquaTru myself, I mixed up a concoction of extremely toxic heavy metals and chemicals in the lab. After analyzing the starting concentration of toxic elements via ICP-MS, I poured it into the AquaTru system and let it filter the water. (It filters very quickly; far faster than gravity water filters.)

I then took the resulting "post-filtered" water and tested it in my lab using an Agilent 7700X ICP-MS instrument, which is a top-of-the-line laboratory instrument used by the FDA, universities and private commercial labs. It's sensitive to single parts per billion concentrations of most elements."
What did they find? Some pretty astonishing results. For example, 100% of cadmium, cesium, mercury, and uranium was removed; 99%+ of copper, arsenic, and lead; and 92% of aluminum.
At the time of our research, AquaTru Water LLC was not currently listed with the Better Business Bureau.
How Did Peter Spiegel Come Up with the Idea For AquaTru?
So, what about the man behind the company?
According to the AquaTru website, inventor Peter Siegel used an under-the-sink reverse osmosis filtration system for more than two decades. He enjoyed the quality it provided, but understood that it was much too bulky to purchase, install, and maintain for the average consumer.
Instead, he set out to build something that could be used right out of the box to provide pure drinking water, "without the financial expense or cost to the environment." Over the course of 5 years, working with engineers and industrial designers, the AquaTru Countertop Water Filter was born.
Prior to founding AquaTru, Peter worked extensively within the direct response industry, having founded the Ideal Living group of companies, which manufactures products like Paint Zoom, Cebria, Prosvent, and more.
Before wrapping up, let's find out if AquaTru has any competition.
AquaTru Water Filter vs. Berkey
If you're in the market to achieve high-grade filtration and store your filtered water until it can be used, your two top choices are arguably AquaTru and Berkey. How do these compare?
One of the first things you'll notice is that Berkey is a gravity fed water purifier that is good for emergency situations. It typically takes hours to filter a gallon of water from the Big Berkey (up to 6 gallons) while AquaTru (3 quarts) filters a similar amount of water to a higher degree of purification in under 15 minutes. Berkey's lowest priced model (1.5 gallons) comes in at $228, compared to AquaTru's $349.
Each of Berkey's models also come with 2 or 4 Black Berkey filter elements, which work differently than AquaTru's 3-filter (4 Stage Reverse Osmosis) system. However, even the smallest Berkey model is 19" high, so it probably wouldn't be considered a countertop model like AquaTru.
Is an AquaTru Water Filtration System Right For You?
As Peter alluded on the AquaTru website, the basic idea behind this device's 4-stage reverse osmosis system is nothing new, as it's been used in under-the-counter systems for decades. As a matter of fact, I have one in my home that I've enjoyed for years.
But, if you're in the market for something that's portable, that can easily fit on a countertop, and with a pitcher that can fit nicely inside your fridge, the AquaTru Filter system really is the only game in town. While some Berkey models might hold more water, calling them "portable" might be a bit of a stretch—not to mention that you might look like you're setting up for a banquet.
Is the AquaTru worth more than $350, though? Based on online feedback and reviews, it appears that the majority of those who have purchased Aquatru seem pleased by its performance and quality.
Yes, it is more expensive than those carbon-filter water pitchers, but if you want to remove the majority of contaminants (as certified by the IAMPO according to NSF standards) and achieve better-tasting water, an RO (reverse osmosis) system is frequently recommended by professionals.
But if you're not interested in the cost and hassle of installing (and maintaining) a built-in RO system, this might be a good option to consider.
Awesome filtration system

By Dennis P.

,

Battle Creek, MI

,

Apr 1, 2020
Verified Reviewer

I have owned one since December and love it and it has already paid for itself in me not having to buy bottled water and is recommended by Erin Brokovich! Water activist. it is almost April and it is working very well! Really cleans my well water up very well! Totally satisfied after about 4 months now. Thank you!

Bottom Line: Yes, I would recommend this to a friend

---

No warranty at all on pitchers, will not replace leaking pitchers

By Beverly R.

,

Oklahoma

,

Dec 11, 2019
Verified Reviewer

Have purchased two of these. Have replaced clean water pitcher on both multiple times for leaking between the front base of the pitcher and the gray handle. Pitchers also leak at the valve on the bottom. Was told by AquaTru customer service that pitcher is NOT WARRANTIED at all, and they would not replace a leaking pitcher at no charge - I would have to purchase a new pitcher each time. Poorly functioning product, and poor support for product. Would not recommend for that reason.

Bottom Line: No, I would not recommend this to a friend

Dec 11, 2019

Thanks Beverly for the review. We show that you received two tanks at no charge within your one-year warranty timeframe. Your recent order is outside of the one year warranty which is why you were charged for it. Per our response to your Amazon review, we refunded you a portion of your payment-$29.00. Thank you.

---

Advertisement

---

Love this

By Christina B.

,

Seattle, WA

,

Nov 11, 2019
Verified Reviewer

We replaced our water delivery with this system. We have had it for about 18 months and it has been perfect. We notice a better taste and my blood lab results have remained healthy with it. I cannot think of a single criticism. Buying the unit new equaled the cost of water delivery in the first year, and now it is a huge savings.

Bottom Line: Yes, I would recommend this to a friend

---

Great filter

By Karen J.

,

New York City, NY

,

Oct 16, 2019
Verified Reviewer

This has been a great filter overall and has saved me the hassle and environmental waster of water bottles. I had a problem with the unit leaking in the first year of use and the company emplaced the reservoir tank for free. That stopped the leaking for me. The only issue I have with the filter is that the alerts to change the filters don't work. My filter is a newer unit that is supposed to let me know when the filters should be changed but they have never lit up and I have been using the filter for almost 3 years now. I called the company about it a while ago and they said it was because my water quality was good. Not sure I believe that. I will be sending some water off soon to an independent lab for testing.

Bottom Line: Yes, I would recommend this to a friend

Oct 17, 2019

Hi Karen,

Thanks for the review. It's good to hear that you are happy with your AquaTru. :-)

The older units will alert you to change the filters; filter 4-VOC after approximately 600 gallons of use; filter 1/2 Pre after approximately 1200 gallons of use; and your filter 3- RO after approximately 1200 gallons of use. A good rule of thumb to follow is when filtering a tank of water takes longer than 30 minutes you need to replace the RO filter.

---

Advertisement

---

Great water, terrible service

By Iris G.

,

New York

,

Oct 13, 2019
Verified Reviewer

I have had the unit for 2 years now and up until earlier this year, it worked well and the water is great. Then, the unit started leaking, but more importantly, it starts filtering and then stops, requiring you to remove the full water tank and put it back in several times, which with a full tank causes a mess every time. Sometimes it will then work, sometimes - repeat. I called customer service and the lady had the audacity to laugh about the fact that I had not changed filters yet, advising me that the "earlier units" did not have the digital alert system when filters needed to be changed. So, I spent the money on a new set of filters, even though at least one of them is supposed to last over 2 years, and only 2 months later I am now facing the same problem - the unit stops filtering after a few seconds and will not work. Reading these reviews I expect I will be schooled on how to clean, handle, or operate the machine but I will say that for the price I paid I expected better.

Bottom Line: No, I would not recommend this to a friend

Oct 14, 2019

Hi Iris,

Thanks for the review. We show that you contacted us on 8/1 and due to the issues you were having at that time it was suggested to change your filters as the unit was from 2017 and to call back if needed. The earlier units do alert you when the filters need to be changed. We will have the call pulled to find out what happened-we are sorry it was less than stellar. You then contacted on 10/14 and that the current issue was taken care of. Per the notes in your account, the filters were not installed properly and your tap tank wasn't filled all the way and the unit is now working properly. If you run into an issue again, please contact Customer Service again.

---

Love this unit

By Kathleen A.

,

Michigan

,

Oct 12, 2019
Verified Reviewer

I'm surprised to read the number of negative reviews. I've had the same unit for about 3 years now and couldn't be happier. I've not experienced any leaks or other reported problems. I've only had to replace the filters once. I use it daily for drinking water (taste great) and for all cooking that calls for water.

Bottom Line: Yes, I would recommend this to a friend

---

Product leaks

By Leslie R.

,

Boca Raton, FL

,

Oct 5, 2019
Verified Reviewer

I loved this unit for the first year and a half using it, but after that time, the unit started leaking water all over the counter. When I contacted customer service I was told to replace the clean water tank, which I did. It continued to leak and was told to change the filters, which I also did, however, the unit continued to leak. I then called back and was told I needed to change the base at an additional charge of $150.00. At this time, I am considering if it's worth continuing to invest more money in a unit that did not even last 2 years. Not sure I would recommend this product given all the problems over a short period of time.

Bottom Line: No, I would not recommend this to a friend

Oct 10, 2019

Hi Leslie,

Thank you for the review. We are here to help and need to get a better idea of why your unit is leaking as we show initially it was leaking from the front tank. You've replaced the front tank and filters and the unit is still leaking. We will have a supervisor call you to get more information as to how it is leaking and how you are using the unit and resolve this for you.

---

Works really well for two years

By Wilbert C.

,

Pennsylvania

,

Sep 26, 2019
Verified Reviewer

I see a lot of negative reviews here so I wanted to help out since I know most people don't take the time to give positive feedback when things are going well.

I've had some concerns about this unit breaking since I read about people having problems with it early on. I hope that AquaTru considers at least a three-year warranty so that people can relax knowing the expensive purchase is worth it. I've had my unit for two years now and I still haven't had to replace the filters since the filter replacement lights haven't turned on yet. I'm amazed by how long the filters last.

The water tastes amazing, especially when using EM drops in it. Using drops also lowers my the fear of drinking water with no minerals in it. I've been really happy ever since with the water quality.

I had a problem with the tank leaking because of the capillary action of a plastic piece near the front water level sensor. When I called AquaTru to explain, she had no clue what I was talking about. I just asked for a replacement to see if there were any updates to the design of the clean water tank. I was surprised. it's like the engineers heard me since they removed the plastic pieces causing the issue and I haven't had my tank leak at all now.

Overall, I highly recommend this system vs. buying water bottles.

Bottom Line: Yes, I would recommend this to a friend

---

Seems to be the best portable product I have seen!

By Annie A.

,

Lihue, HI

,

Aug 22, 2019
Verified Reviewer

Living on an island where hurricanes hit and sometimes water can be compromised, we couldn't be more happy. It seems to me after reading all the complaints it's not so bad because if you're happy about a product you seldom need to write about it. I only came on this site because it has been so flawless I was wondering when to change filters. We love our AquaTru, the company is awesome and we thank you!

Bottom Line: Yes, I would recommend this to a friend

Aug 23, 2019

Hi Annie,

It's great to hear that you are enjoying your AquaTru.

Yes, it seems to be a fact of human psychology that people who have had a problem with a product are highly motivated to go online and write a review, whereas the tens of thousands of customers for whom AquaTru performed perfectly don't necessarily feel the need to go online and tell people that all went well. That being said, we are grateful for customers like you who are thoughtful enough to post about their positive experiences.

When it's time to change a filter, the front display will notify you by illuminating a light that shows the filter number that needs changing. The light will remain illuminated until the filter has been changed and reset.

Once you've changed the filter(s), press the filter reset button located on the back of the unit and hold it for 5 seconds. The lights will resume cycling through the filter numbers.

You can find more information on page 11 of the manual. You can find the manual online here: https://www.aquatruwater.com/support.

---

Easy to use. Never seen a better countertop unit.

By Sondra T.

,

Pocatello, ID

,

Jun 28, 2019
Verified Reviewer

Have had two in my house for more than two years. Replaced the filters on one unit a few months ago. They were a gift. They supply all of our drinking water. Someday I will get an under the sink unit when I own a home, but for now, I really like the units. Apparently, AquaTru has significantly less wastewater than other countertop units and filters the maximum toxic elements from the water. I have made the mistake of letting water get into the area under the first tank and had to wait a day for it to dry out and run again. My unit is older so I don't know if this glitch is corrected or not, but now I am careful so it is no longer a problem. I also have to take the first tank of so I can easily lift the back water-filled tank into place. (My husband and son are stronger-not necessary for them.) I love the way it all fits together. And its handsome appearance. I have never seen a better countertop unit.

Bottom Line: Yes, I would recommend this to a friend

---

Poor quality design; wish we had never bought it

By Gary L.

,

Springville, IN

,

Jun 22, 2019
Verified Reviewer

We purchased an AquaTru water purifier on 3/18/2018 and have had repeated problems with it ever since. The freshwater tank failed and was replaced, the base unit failed and was replaced, and recently both the fresh water tank and the base unit failed again.

All this in a little over a year, during which time we've had the inconvenience and hassle of being unable to use it, plus making calls, troubleshooting, etc. Now we're told that because the warranty has expired, we would have to pay $50.00 for another freshwater tank, and we haven't even asked about the cost of replacing the base unit. With the track record we've experienced, spending more on their product is out of the question.

We have already invested more than $450 in this purifier, including the initial purchase, shipping charges for replacement parts, and new filters (which are useless to us now). While the quality of the water filtered by the AquaTru purifier is outstanding, the design and quality control of the unit are absolutely unacceptable.

Bottom Line: No, I would not recommend this to a friend

Jun 22, 2019

Hi Gary,

Thank you for the review. We are sorry that the unit has had some issues. The last time we heard from you was via email on 5/20/19 regarding the unit not working after washing out the front tank. We replied letting you know that you might have gotten some water in the handle of the tank which can cause the unit not to work. We asked you to shake out and air dry the tank and try it again. We are not sure if you tried it or not. We are assuming at this point the tank/unit have had more than enough time to dry out so you should try the unit again. Either way, when received your BBB complaint we advised the same, that we heard from you in May and have not heard from you since. We also refunded all the money that you have spent on your unit and we are still happy to help you get the current unit up and running again. Feel free to email marmstrong@idealliving.com if you would like assistance.

---