AquaTru Water Purifier Reviews
Claimed This company has claimed this profile, is getting alerted on any new customer reviews entering this page, and may engage in dialogue with its customers to address their matters.

Companies cannot pay money or provide goods in order to remove or alter customer reviews.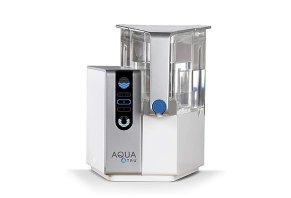 AquaTru Water Purifier is a patented, 4-stage reverse osmosis system that promises to remove (or substantially reduce) all of the toxic chemicals from your tap water. Learn how customers are reviewing this water purifier.
---
Updated review

Update

By Hal F.

,

Las Vegas, NV

,

Sep 21, 2020
Verified Reviewer

Overall Experience:

We did end up purchasing a new lower base unit as it continued to short cycle. Super good price on the replacement. No problem contacting them on the phone, new based arrived quickly with all new filters included. I would have to say my contact with them about the issue was excellent.

Bottom Line: Yes, I would recommend this to a friend

Previous review
Sep 13, 2020

Four more years. We purchased when they first came out.

Was beginning to have some short cycle problems, when I replaced the last of the 3 filters (expensive one was the last and it has been in there since 8/8/16), it would run 10-15 seconds and shut off. Finally found the instruction manual and saw the reset button, darn forgot all about that, wish there was a mention of it with the new filters, but not sure I just missed it. Four years and just replaced the front tank, button getting sticky and could drip at times but not a big deal, just kept a glass under it until they were available to purchase again.

(

read more

read less

...)

---

Updated review

Water is good!

By Steven G.

,

New York

,

Sep 16, 2020
Verified Reviewer

Length of Use: Less than 3 months

Overall Experience:

After cleaning and using the new filters water is testing clean, low TDS, and tastes great.

Pros and Cons:

No "pros" were specified in this review
I would feel more comfortable if filters where made in the USA

Bottom Line: Yes, I would recommend this to a friend

Previous review
Sep 2, 2020

Produced E. coli

As I stated on their Facebook page, which was immediately deleted, I will repost it here.

We all got the runs after drinking this water from this filter as well as my dog. To try to isolate the problem we tested our municipal tapwater as well as the water coming from the AquaTru. Turns out that the water produced from the AquaTru tested positive for E. coli. The municipal water from the tap was negative as well as it first going through a UV sterilizer before it comes out of the tap. I'm sure this could've been a one-off type of situation considering that the filters are made in China as it states on the box of the filters "MADE IN CHINA", not just assembled in China as they would like you to believe. Everybody should be very concerned considering China has very relaxed production requirements for anything that is consumed so it is understandable that along the process of manufacturing and handling this could've been contaminated during assembly.

Personally I'm not taking the chance of having to test the water for bacteria every time I change the filters so it's going back ASAP. I also bought many extra filters along with my purchase which are also going to be returned.

It's a shame because it's very well-designed product but of course, it's only as good as its filters, and if the company chooses a more reliable production assembly than the one that they have chosen, maybe, but as of now, no way!

Sep 4, 2020

Hi Steven,

We're sorry to hear that AquaTru did not work out for you. I see that you already reached out to our customer service for a return. Please let us know if we can be of any further assistance in that regard.

We take our manufacturing process and quality control very seriously. In the entire history of AquaTru, we have never received a report of anything like this, so we will pass this information along to our internal team.

AquaTru is designed in the USA and assembled in China using high-quality components from around the world. The RO membrane is made by GE. The pre-filter and the final VOC charcoal filters are made using high quality activated coconut charcoal by Filtrex, a Berkshire Hathaway company.

All components have been independently tested and certified to NSF standards by the US laboratory IAPMO, and all the internal parts that come in touch with water are made by materials approved by the U.S. FDA. Prior to shipment, every product has been 100% tested and sanitized before it is packaged and sent to the US.

Every lot is tested by a third-party inspection. The factory cannot make a shipment without passing this inspection. The inspection is done in accordance with an AQL (Acceptable Quality Limit) sampling plan. The inspection includes both cosmetic features as well as performance testing.

We take filter quality very seriously and as the filters are the engine room of a water purifier, we have full control of the supply chain of the filters. We have over 30 full-time people who work for us in China. We work with a reputable factory to set up an entirely new facility with a clean room to assemble the product. We keep our own quality control people in the factory. We control the supply chain from A-Z.

As we instruct all AquaTru customers: Always maintain sanitized working surfaces and wash your hands before handling the tanks to avoid any contamination. Before placing the tanks on the base, wipe the surface where the tank sits with a dry clean cloth.

We're sorry AquaTru did not work out for you.

(

read more

read less

...)

---

Advertisement

---

Already no trust

By Carlos C.

,

Scranton, PA

,

Aug 23, 2020
Verified Reviewer

Overall Experience:

First of all, forget about anyone answering the 800-220-6570 alleged number for AquaTru. Ordered with Affirm through website. Received filters only. No email confirmation of purchase until I reached out to Affirm for costly product. The address looks as though this is from a third party seller, they will not take returns without prior authorization. Are you kidding me? Found the same system on another site, same model, $100 cheaper, red flag! Now I cannot cancel the base, why, you ask? Because no one picks up the phone. Will be filing a BBB complaint.

Pros and Cons:

No "pros" were specified in this review
Not made in USA, do not trust independent 3rd party results
Price fluctuates from different sites
Customer service, there is none, on phone 2 hours

Bottom Line: No, I would not recommend this to a friend

Aug 23, 2020

Hi Carlos,

Thank you for the review. Per the UPS tracking number the unit was delivered on 8/19 and was left at the front door. We are sorry that you did not receive it. The address on the package is our warehouse. We do request that you contact us before returning an order so we can give you information that needs to be included. We have asked that a supervisor call you tomorrow and assist you. We are sorry for the inconvenience.

---

Happy customer

By Beatrice B.

,

New York

,

Apr 9, 2020
Verified Reviewer

Overall Experience:

I have had my AquaTru for about 9 months, and I'm very happy with it. It's been working great, never any problems with it. The water tastes very clean, no taste to it, really. It's such a relief to not have to haul bottles from the store, especially now during the pandemic, when stores limit the number of water bottles you're allowed to buy. Also, I love that I'm not contributing to plastic trash in landfills and the ocean. I have changed the first filter once, and it was as easy as can be. The only thing I wish it had was a bigger tank. But then it wouldn't be so light and portable, so I might just buy another pitcher. I have moved with it once, it was easy, just some air bubbles at first when I plugged it in my new home. Overall, it's been very reliable and functioning great.

Bottom Line: Yes, I would recommend this to a friend

---

Awesome filtration system

By Dennis P.

,

Battle Creek, MI

,

Apr 1, 2020
Verified Reviewer

Overall Experience:

I have owned one since December and love it and it has already paid for itself in me not having to buy bottled water and is recommended by Erin Brokovich! Water activist. it is almost April and it is working very well! Really cleans my well water up very well! Totally satisfied after about 4 months now. Thank you!

Bottom Line: Yes, I would recommend this to a friend

---

No warranty at all on pitchers, will not replace leaking pitchers

By Beverly R.

,

Oklahoma

,

Dec 11, 2019
Verified Reviewer

Overall Experience:

Have purchased two of these. Have replaced clean water pitcher on both multiple times for leaking between the front base of the pitcher and the gray handle. Pitchers also leak at the valve on the bottom. Was told by AquaTru customer service that pitcher is NOT WARRANTIED at all, and they would not replace a leaking pitcher at no charge - I would have to purchase a new pitcher each time. Poorly functioning product, and poor support for product. Would not recommend for that reason.

Bottom Line: No, I would not recommend this to a friend

Dec 11, 2019

Thanks Beverly for the review. We show that you received two tanks at no charge within your one-year warranty timeframe. Your recent order is outside of the one year warranty which is why you were charged for it. Per our response to your Amazon review, we refunded you a portion of your payment-$29.00. Thank you.

---

Love this

By Christina B.

,

Seattle, WA

,

Nov 11, 2019
Verified Reviewer

Overall Experience:

We replaced our water delivery with this system. We have had it for about 18 months and it has been perfect. We notice a better taste and my blood lab results have remained healthy with it. I cannot think of a single criticism. Buying the unit new equaled the cost of water delivery in the first year, and now it is a huge savings.

Bottom Line: Yes, I would recommend this to a friend

---

Advertisement

---

Great filter

By Karen J.

,

New York City, NY

,

Oct 16, 2019
Verified Reviewer

Overall Experience:

This has been a great filter overall and has saved me the hassle and environmental waster of water bottles. I had a problem with the unit leaking in the first year of use and the company emplaced the reservoir tank for free. That stopped the leaking for me. The only issue I have with the filter is that the alerts to change the filters don't work. My filter is a newer unit that is supposed to let me know when the filters should be changed but they have never lit up and I have been using the filter for almost 3 years now. I called the company about it a while ago and they said it was because my water quality was good. Not sure I believe that. I will be sending some water off soon to an independent lab for testing.

Bottom Line: Yes, I would recommend this to a friend

Oct 17, 2019

Hi Karen,

Thanks for the review. It's good to hear that you are happy with your AquaTru. :-)

The older units will alert you to change the filters; filter 4-VOC after approximately 600 gallons of use; filter 1/2 Pre after approximately 1200 gallons of use; and your filter 3- RO after approximately 1200 gallons of use. A good rule of thumb to follow is when filtering a tank of water takes longer than 30 minutes you need to replace the RO filter.

---

Great water, terrible service

By Iris G.

,

New York

,

Oct 13, 2019
Verified Reviewer

Overall Experience:

I have had the unit for 2 years now and up until earlier this year, it worked well and the water is great. Then, the unit started leaking, but more importantly, it starts filtering and then stops, requiring you to remove the full water tank and put it back in several times, which with a full tank causes a mess every time. Sometimes it will then work, sometimes - repeat. I called customer service and the lady had the audacity to laugh about the fact that I had not changed filters yet, advising me that the "earlier units" did not have the digital alert system when filters needed to be changed. So, I spent the money on a new set of filters, even though at least one of them is supposed to last over 2 years, and only 2 months later I am now facing the same problem - the unit stops filtering after a few seconds and will not work. Reading these reviews I expect I will be schooled on how to clean, handle, or operate the machine but I will say that for the price I paid I expected better.

Bottom Line: No, I would not recommend this to a friend

Oct 14, 2019

Hi Iris,

Thanks for the review. We show that you contacted us on 8/1 and due to the issues you were having at that time it was suggested to change your filters as the unit was from 2017 and to call back if needed. The earlier units do alert you when the filters need to be changed. We will have the call pulled to find out what happened-we are sorry it was less than stellar. You then contacted on 10/14 and that the current issue was taken care of. Per the notes in your account, the filters were not installed properly and your tap tank wasn't filled all the way and the unit is now working properly. If you run into an issue again, please contact Customer Service again.

---

Love this unit

By Kathleen A.

,

Michigan

,

Oct 12, 2019
Verified Reviewer

Overall Experience:

I'm surprised to read the number of negative reviews. I've had the same unit for about 3 years now and couldn't be happier. I've not experienced any leaks or other reported problems. I've only had to replace the filters once. I use it daily for drinking water (taste great) and for all cooking that calls for water.

Bottom Line: Yes, I would recommend this to a friend

---

Product leaks

By Leslie R.

,

Boca Raton, FL

,

Oct 5, 2019
Verified Reviewer

Overall Experience:

I loved this unit for the first year and a half using it, but after that time, the unit started leaking water all over the counter. When I contacted customer service I was told to replace the clean water tank, which I did. It continued to leak and was told to change the filters, which I also did, however, the unit continued to leak. I then called back and was told I needed to change the base at an additional charge of $150.00. At this time, I am considering if it's worth continuing to invest more money in a unit that did not even last 2 years. Not sure I would recommend this product given all the problems over a short period of time.

Bottom Line: No, I would not recommend this to a friend

Oct 10, 2019

Hi Leslie,

Thank you for the review. We are here to help and need to get a better idea of why your unit is leaking as we show initially it was leaking from the front tank. You've replaced the front tank and filters and the unit is still leaking. We will have a supervisor call you to get more information as to how it is leaking and how you are using the unit and resolve this for you.

---

Works really well for two years

By Wilbert C.

,

Pennsylvania

,

Sep 26, 2019
Verified Reviewer

Overall Experience:

I see a lot of negative reviews here so I wanted to help out since I know most people don't take the time to give positive feedback when things are going well.

I've had some concerns about this unit breaking since I read about people having problems with it early on. I hope that AquaTru considers at least a three-year warranty so that people can relax knowing the expensive purchase is worth it. I've had my unit for two years now and I still haven't had to replace the filters since the filter replacement lights haven't turned on yet. I'm amazed by how long the filters last.

The water tastes amazing, especially when using EM drops in it. Using drops also lowers my the fear of drinking water with no minerals in it. I've been really happy ever since with the water quality.

I had a problem with the tank leaking because of the capillary action of a plastic piece near the front water level sensor. When I called AquaTru to explain, she had no clue what I was talking about. I just asked for a replacement to see if there were any updates to the design of the clean water tank. I was surprised. it's like the engineers heard me since they removed the plastic pieces causing the issue and I haven't had my tank leak at all now.

Overall, I highly recommend this system vs. buying water bottles.

Bottom Line: Yes, I would recommend this to a friend

---

Advertisement

---

Seems to be the best portable product I have seen!

By Annie A.

,

Lihue, HI

,

Aug 22, 2019
Verified Reviewer

Overall Experience:

Living on an island where hurricanes hit and sometimes water can be compromised, we couldn't be more happy. It seems to me after reading all the complaints it's not so bad because if you're happy about a product you seldom need to write about it. I only came on this site because it has been so flawless I was wondering when to change filters. We love our AquaTru, the company is awesome and we thank you!

Bottom Line: Yes, I would recommend this to a friend

Aug 23, 2019

Hi Annie,

It's great to hear that you are enjoying your AquaTru.

Yes, it seems to be a fact of human psychology that people who have had a problem with a product are highly motivated to go online and write a review, whereas the tens of thousands of customers for whom AquaTru performed perfectly don't necessarily feel the need to go online and tell people that all went well. That being said, we are grateful for customers like you who are thoughtful enough to post about their positive experiences.

When it's time to change a filter, the front display will notify you by illuminating a light that shows the filter number that needs changing. The light will remain illuminated until the filter has been changed and reset.

Once you've changed the filter(s), press the filter reset button located on the back of the unit and hold it for 5 seconds. The lights will resume cycling through the filter numbers.

You can find more information on page 11 of the manual. You can find the manual online here: https://www.aquatruwater.com/support.

---

Easy to use. Never seen a better countertop unit.

By Sondra T.

,

Pocatello, ID

,

Jun 28, 2019
Verified Reviewer

Overall Experience:

Have had two in my house for more than two years. Replaced the filters on one unit a few months ago. They were a gift. They supply all of our drinking water. Someday I will get an under the sink unit when I own a home, but for now, I really like the units. Apparently, AquaTru has significantly less wastewater than other countertop units and filters the maximum toxic elements from the water. I have made the mistake of letting water get into the area under the first tank and had to wait a day for it to dry out and run again. My unit is older so I don't know if this glitch is corrected or not, but now I am careful so it is no longer a problem. I also have to take the first tank of so I can easily lift the back water-filled tank into place. (My husband and son are stronger-not necessary for them.) I love the way it all fits together. And its handsome appearance. I have never seen a better countertop unit.

Bottom Line: Yes, I would recommend this to a friend

---

Poor quality design; wish we had never bought it

By Gary L.

,

Springville, IN

,

Jun 22, 2019
Verified Reviewer

Overall Experience:

We purchased an AquaTru water purifier on 3/18/2018 and have had repeated problems with it ever since. The freshwater tank failed and was replaced, the base unit failed and was replaced, and recently both the fresh water tank and the base unit failed again.

All this in a little over a year, during which time we've had the inconvenience and hassle of being unable to use it, plus making calls, troubleshooting, etc. Now we're told that because the warranty has expired, we would have to pay $50.00 for another freshwater tank, and we haven't even asked about the cost of replacing the base unit. With the track record we've experienced, spending more on their product is out of the question.

We have already invested more than $450 in this purifier, including the initial purchase, shipping charges for replacement parts, and new filters (which are useless to us now). While the quality of the water filtered by the AquaTru purifier is outstanding, the design and quality control of the unit are absolutely unacceptable.

Bottom Line: No, I would not recommend this to a friend

Jun 22, 2019

Hi Gary,

Thank you for the review. We are sorry that the unit has had some issues. The last time we heard from you was via email on 5/20/19 regarding the unit not working after washing out the front tank. We replied letting you know that you might have gotten some water in the handle of the tank which can cause the unit not to work. We asked you to shake out and air dry the tank and try it again. We are not sure if you tried it or not. We are assuming at this point the tank/unit have had more than enough time to dry out so you should try the unit again. Either way, when received your BBB complaint we advised the same, that we heard from you in May and have not heard from you since. We also refunded all the money that you have spent on your unit and we are still happy to help you get the current unit up and running again. Feel free to email marmstrong@idealliving.com if you would like assistance.

---

Started leaking uncontrollably

By Ken G.

,

Bronxville, NY

,

Jun 18, 2019
Verified Reviewer

Overall Experience:

This was our second unit. We purchased the first in May 2017 but it disappeared during the move to our new home in October 2018. The first unit worked perfectly, never a problem. We purchased the second on April 27, 2019, and began using it shortly thereafter. In early June 2019, the unit, while operating, began to leak water from the bottom of the base. We read the owner's manual, checked and washed the "O-rings" of the three filters, twice, reset the filters, twice, but the filters did not appear to be the problem. Similarly, the pins at the bottom of both tanks were fully operational. I called customer service. They listened to the description. Without hesitation, the representative agreed to send a new base unit without charge of any kind. I was told to hold the defective unit for 30 days. If I did not hear from the manufacturer, I could discard it. I am concerned about what I am reading on this website. Let's see what happens after the replacement arrives.

Bottom Line: No, I would not recommend this to a friend

Jun 18, 2019

Thanks for the review, Ken. Very odd that the leak just popped up out of nowhere.

Keep us posted regarding the new base, you know where to find us! :-)

---

Only lasted a year, sent in a second. Lasted less than a year. Now the warranty is up.

By Hayli N.

,

Reinbeck, IA

,

May 21, 2019
Verified Reviewer

Overall Experience:

I am very disappointed with AquaTru. We purchased one just under 2 years ago. Less than a year after paying $300 for the machine it just stopped working. It would not filter water. They sent us a new one, but less than a year later that also stopped working. Their troubleshooting did nothing. We clean our machine and change our filters. In fact, we've changed our filters sooner because that was a troubleshooting step.

Now they are asking for $150 for us to purchase a new base because the original warranty is up even though we have not had the second machine over a year. I am NOT going to pay $150 for only a year's worth of use when this product is made to sound like it lasts a long time. Purchasing Reverse Osmosis water from the store has proven cheaper since we only got less than two years plus paid multiple times to have new filters shipped. Rip off. We will try another system and cut our losses. The effort put into this machine and limited time it worked was such a waste.

Bottom Line: No, I would not recommend this to a friend

May 29, 2019

Hi Hayli,

Thank you for the review. We are sorry that your unit is no longer working. We are here to help. We saw your Facebook post and Customer Service brought your account to our attention as well. We reviewed your call and have submitted your information to our engineer for his input. We are curious if you have hard water in your area. We should have the feedback from the engineer next week so we will know the best route to take to assist you in resolving this for you.

UPDATE: Thank you again for the review Hayli. We received feedback from our engineer. He believes that you may have hard water. You need to be given the hard water instructions (clean with citric acid, filtering time over 30 mins--need to replace the RO etc.) We have asked Customer Service to contact you regarding your unit.

---

Advertisement

---

Tracking filter expiration - poor customer service

By Chris N.

,

New York, NY

,

Apr 2, 2019
Verified Reviewer

Overall Experience:

We received an alert for our AquaTru model (AT 3000) that the (1-2) Pre-Filter change filter lights do not stay on with some units. I called and wrote customer service several times for clarification, only to receive copy-and-pasted pre-canned messages already on the FAQ, which added to the confusion. The problem is that neither the manual nor FAQ page provides a proper explanation on how to track filter expiration other than the filter lights tracking, which get reset every time there is a disconnect or power loss.

In addition, the AquaTru unit has started flooding our countertop and we've resulted to elevating the front base by 1-2 inches and filling the reservoir only 3/4 full with cold water which stopped the leak. Currently, we're sticking to changing the filters to 1/2- Prefilter in 6 months, 4-VOC filter in 12 months, and the filter 3 -Reverse Osmosis filter in 24 months.

We're not happy with the customer service of AquaTru. It seems only a few representatives are knowledgeable on the care and technical aspects of this the product. This is concerning as we rely heavily on clean water from this filter. Also, why are the filter replacement time different between the newer and older models? Are these different quality of filters? We would like to recommend this unit to friends. However, we feel hesistant based on the customer service, and technical issues we've experienced.

Bottom Line: No, I would not recommend this to a friend

Apr 3, 2019

Hi Chris N.

Thank you for the review. We are here to help and answer any questions. Please email marmstrong@idealliving.com the name and zip code used when placing the order and she will be able to supply you with the filter information that you need.

---

My best purchase of 2019

By Larry T.

,

Birmingham, AL

,

Mar 29, 2019
Verified Reviewer

Overall Experience:

This purifier is worth its weight in gold. I put it in my home gym to encourage myself to drink more water and stay hydrated throughout my workout. I used to just drink a little at the start of my work out and then power through, then drink more afterwards. But now I find myself drinking water throughout my workout I'm happy to report! I actually work out a lot longer because I seem to have more energy. I'm a pretty big guy, so I drink about a pitcher and a half during my workout. I have to save room for my protein shake but I definitely drink more water. And it tastes good!

Bottom Line: Yes, I would recommend this to a friend

---

Horrible product

By Sue M.

,

Cincinnati, OH

,

Feb 13, 2019
Verified Reviewer

Overall Experience:

This has to be one of the worst purchases I have made. Throughout the year that I have owned it, I have had to replace the base two times, the tank and the pitcher more than once. It works for a month then stops working. I replace a part and it works a week. I replace another part and it still doesn't work for more than a month at a time. Usually not even that long. I have spent more time on the phone with customer service than I care to think about. It isn't worth $30, much less the price they are charging. It also isn't worth the aggravation. I'm tired of fighting with it. It's obvious they have a quality control problem.

Bottom Line: No, I would not recommend this to a friend

Feb 14, 2019

Hi Sue,

Thank you for the review. We are so sorry that you have had so many issues. Good news, we are here to help! We would like to review your account to get a better idea of what is going on. Can you please email marmstrong@idealliving.com with the name and zip code used when placing the order? She will be able to assist you. Thank you.

---

Very disappointed

By J F.

,

Virginia

,

Jan 5, 2019
Verified Reviewer

Overall Experience:

I just received the AquaTru water purification system. First time out of the box, it completely flooded the countertop. I went through the instructions, checked everything, tried it two or three times and it still flooded my countertop. This is right out of the box, brand new, first time using it. So I have to contact the company to return it and get my money back. It never even pumped the water into the second tank, it poured out of the bottom of the unit.

Bottom Line: No, I would not recommend this to a friend

Jan 5, 2019

Hi JF,

Thank you for the review. We are sorry that you had an issue using the unit. Our immediate thought is that the filters are not installed all the way. They are very tight to prevent leaking. It would be great if you were open to some troubleshooting as we believe it will be an easy fix. Please email marmstrong@idealliving.com the name and zip code used when placing your order so she can locate it and ask Customer Service to contact you.

---

Customer service for overseas customers

By Chris R.

,

Australia

,

Dec 7, 2018
Verified Reviewer

Overall Experience:

I am very happy with my AquaTru benchtop system as well as two water filtration jugs. However, it has not been possible despite three emails to get any response from the company about ordering another one or how to get new filters or how often to change them. I just need some advice about a product I am otherwise very happy with. It would also encourage me to buy some for others. I receive emails about Black Friday specials, for example, but when I went to order on the website, you can only a product if you live in the US or Canada apparently. I would be prepared to pay postage, which is how I got my first one.

I am unable to call an 800 number from Australia or to find an alternative phone number I can call. I did try calling a company listed with a web address ending in .au, but this is misleading as the phone number is American again although the address is an Australian one (but I could not find an Aussie number) so I don't think there are any Australian companies selling this product I can call.

Bottom Line: No, I would not recommend this to a friend

Dec 7, 2018

Hi Chris,

Thank you for the review. We are so glad that you are happy with your AquaTru unit. I am sorry that customer service has not replied to your emails. We no longer ship units to Australia and we are looking for a distributor there. However, we do have a special link for you to buy filters: https://www.aquatruwater.com/store/order.html?country=AU. We are sorry that you received a Black Friday email from us that you could not use. We will be sure to tell our email team to remove Australian addresses. The unit is designed to let you know when the filters need to be changed. You can find the manual online: http://www.aquatruwater.com/aquatru-manual.html.

---

Advertisement

---

AquaTru filters made in China. Intentionally obscured info.

By Tom T.

,

Los Angeles, CA

,

Sep 18, 2018
Verified Reviewer

Overall Experience:

AquaTru filters are made in China. Yes, China. Avoid if you care about your life. There's very little information about this, and the company goes into great effort in hiding this information publicly, unless you ask customer service SPECIFICALLY about the filters after you purchase the product.

They initially will tell you that is was designed in California, etc. They will even go into lengths to mislead you to think it was manufactured here as well (circa 2016 when I purchased mine).

They then give you a pre-canned response about the filters having Berkshire Hathaway components, etc. But in the end, it's made in China, so there's a pretty good chance that those Chinese companies mess with the filter components. This considering the vaccine and food scandals in China nowadays, be wary about this product as well.

Customer service has done nothing but spew the same rhetoric. Shaken former customer.

Bottom Line: No, I would not recommend this to a friend

Sep 18, 2018

Hi Tom. AquaTru is not made in China. Just like an Apple product, AquaTru is designed in the USA and assembled in China using high-quality components from around the world. All components have been tested and certified to NSF standards by the US laboratory IAPMO. I'm sorry if someone gave you incorrect information. In the past few years that I have been answering questions about AquaTru, I have never seen anyone say that it is made in California. We have never had a policy of hiding where different components come from or where the final assembly is done for AquaTru. I have posted countless times online the list of components and from which countries they originate. If you were told otherwise, it was by someone who was misinformed or didn't understand the true situation correctly. We apologize for this miscommunication.

We have 35 full-time people who work for us in China. We worked with a reputable factory to set up an entirely new facility with a clean room to assemble the product. We are purchasing the RO membranes from American suppliers. We keep our own quality control people in the factory. We control the supply chain from A-Z.

---

Works great, filters last a long time

By E. I.

,

Wisconsin

,

Sep 3, 2018
Verified Reviewer

Overall Experience:

We've had this for almost two years. We have great water here, but I've only had to change the filters once, and the one that needs changing the most still goes longer than the 6-8 months. They recommend it. It works well, is easy to clean and we are very happy with it.

Bottom Line: Yes, I would recommend this to a friend

Sep 11, 2018

Thank you so much for sharing your experience. Great to hear that you are happy with AquaTru.

---

Works great

By Wayne T.

,

Washington, DC

,

Aug 6, 2018
Verified Reviewer

Overall Experience:

So I purchased three units. I am very impressed with the filtration process. I actually tested the quality of the water via several test procedures which included: Hardness, Lead, Bacteria, Chlorine, and Particulates. Part of my Navy training! Test the hell out of the water! LOL. The test samples where much better water quality than the tap water. I was even shocked that a major bottled water company's sample had a higher level of particulates than the AquaTru system. DC water has extremely high amounts of chlorine due to a much older water supply system. Now, the unit does not have a UV system, but I was glad overall that traces of bacteria was not an issue.

I have not had any operational issues with the devices. I have read other reviews and I wonder if the reviewers are following the directions, especially cleaning the units out weekly. Overall I am impressed with the product and will recommend them to others. Strong work.

Bottom Line: Yes, I would recommend this to a friend

---

Do not buy this

By Barbara G.

,

California

,

Jul 13, 2018
Verified Reviewer

Overall Experience:

I am very disappointed in this unit. For this extremely high price, including the unit and the filters, this unit should work. I have had it just over a year, and it is completely dead. The first one they sent me was used. The bottom is rusted, and now, in the heat of the summer, it will not filter any water. Prior to failing completely, the water tasted chemical like. This price is just too high to justify this poor quality product. I just spent over $100 on filters a few months ago. Why are companies allowed to sell defective products like this?

Bottom Line: No, I would not recommend this to a friend

Jul 13, 2018

Hi Barbara,

Thank you for the post. We are sorry that your unit from May 2017 is no longer working. We reviewed your account and can see that your original unit was shipped with the filters installed as we had some customer state they were hard/tight to install so we did it for them! We are sorry that you felt it was used and that Customer Service did not explain this to you. We did send you a new unit and a return label at that time. You did email customer service on 7/9/18 and they asked you to call customer service. You did on 7/10 and after troubleshooting the unit, we are now sending you a new unit for just replacement s/p as a courtesy as you are past the one year warranty and emailed a label to return the old unit to us.

The rust you are seeing in the tank is on the underside by the magnet that is at the bottom of the tank and not making contact with your water at all. We are glad we resolved this for you, and hope you have no issues with the replacement unit. If you do, please be sure to contact customer service immediately as we are here to help you!

---

Great when it works, but...

By Donna B.

,

New Bern, NC

,

Jul 6, 2018
Verified Reviewer

Overall Experience:

My issues are similar to a few others. The unit worked great for the first few months I had it. Then it began to have issues. The filters, although newly installed, had to be unscrewed then reinstalled, reset button held, and turned on again. This happened a lot and two of the filters are not easy to remove.

It got to the point that even this routine wouldn't help anymore. I have to say that even though my unit was just out of warranty, AquaTru Customer Service did send a new unit...the first time.

Now the replacement unit is out of warranty, and the trouble begins again. The same issues as the first one but this time, even though I use it a lot and religiously clean it every week, I noticed a bit of green algae forming in the corners of the clean water tank.

I removed the tanks and flushed with vinegar/water, dried them and put them back in place. I turned the unit on and got one click then nothing. No lights came on, no bubbles from the tank, just one click.

I went through the entire troubleshooting guide, did more troubleshooting with customer service to no avail. I was told that the unit was now out of warranty and there was nothing they could do.

I have four extra unopened filters which are now useless to me, so I called back to ask for a refund if I sent the filters back. I was told that since I had them since January (six months) I could not return them. I bought three of them as the "One Year Combo" pack. I now have four brand new unused filters valued at $80 (plus the shipping) which are of no use to me, and an expensive machine which died prematurely.

While this filter does an awesome job when it works, it is not worth the money when you have to replace the entire unit every two years. I will go with an under-sink RO unit from another company from here on in. Very disappointed.

Bottom Line: No, I would not recommend this to a friend

Jul 6, 2018

Hi Donna,

Thanks for the message. We believe you might have some water in the handle of your front tank causing it to turn on and off, as there are unit components in the handle. It is salvageable for sure! Please do the following: clean out the handle by placing the clean water tank in the sink and let the cold water fill the tank and overflow for 5 minutes. Remove tank, empty it out and shake it vigorously for a couple of minutes holding the tank upside down and right-side up. Dry the outside of the clean tank and place it on the base. If this did not help, remove the tank and the lid, let it stand and dry at least 3 hours on the kitchen counter before reinstalling. Please email marmstrong@idealliving.com and if this does not work for you.

---