Arctic Air Cooler Reviews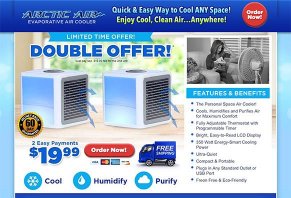 The Arctic Air Cooler utilizes the principle of evaporative cooling to help keep you comfortable, while the 350W motor remains quiet and the soothing LED nightlight helps you sleep.
About Arctic Air Cooler
Using Hydro-Chill technology, Arctic Air Cooler draws in dry, hot air, while the evaporative water filter instantly transforms it into humid, refreshing air and removes dust particles in the process.
All you have to do is pour water into the 750ml reservoir, plug the compact device into any standard outlet or USB port, and the whisper-quiet, two-speed fan will start blowing. From there, you can adjust the digital display to the temperature you like, change the direction of the air vents, set the programmable timer, and even use the built-in LED as a nightlight.
The company tells us Arctic Air will continue cooling, humidifying, and purifying any space for up to eight hours on just one fill-up, while its 350W motor only uses the power consumption of a small fan.
Although we didn't test Arctic Air ourselves, its compact size certainly makes it seem portable, and its evaporative cooling functionality seems like it would be more eco-friendly than using a toxic coolant like Freon.
But once you've handed over your money, will you find that it really does deliver maximum comfort, as claimed on the website? Is it great for any room? Are there other portable evaporative coolers you should browse?
Let's kick things off by taking a look at the underlying concept.
How Do Devices Like Arctic Air Cooler Work?
Regardless of their size, evaporative coolers (also referred to as 'swamp coolers' in some parts of the country) work based on a fairly simple law of nature. HowStuffWorks explains it this way:
"Liquid evaporates by shedding molecules into the air, changing from a liquid state to a gas. As they become suspended in the air, the molecules draw some of the heat from the hotter air, cooling it down as the water and air find equilibrium. The process also cools the remaining liquid, as hotter, faster-moving molecules are the most likely to escape into the air."
To accomplish this, these coolers use a fan to draw in hot air and pass it over water, whether in a reservoir or a filter. After the molecules have become airborne and cool down, the same fan then blows them out the other side of the device.
While this can certainly represent an efficient and eco-friendly method of cooling, as mentioned in the Arctic Air commercial, HowStuffWorks emphasizes that evaporative units come with a couple of potential drawbacks.
First and foremost, because swamp coolers work by increasing humidity, they typically perform best in hot, dry climates, such as the American southwest (ideally between 30 and 60 percent humidity, according to the EPA). As a perfect example of this, HowStuffWorks indicates that as of 2001, "only three percent of U.S. households had swamp coolers, but in the states along the Rocky Mountain Range, they could be found in 26 percent of the homes."
You'll also have to replace the evaporative cooler's filter on a regular basis (depending on how often it's used), and if you live in an area with hard tap water, the minerals it contains could eventually clog the cooler. And it goes without saying that evaporative coolers are a more eco-friendly option than standard air conditioners, but they still use plenty of water.
Let's find out how much you'll pay for this evaporative cooling functionality when it comes to Arctic Air.
How Much Does the Arctic Air Cooler Cost?
Arctic Air is priced at two payments of $19.99, plus free shipping and a $1 web service fee, bringing your total to $40.98. You can purchase a second device during checkout for an additional $19.99 fee.
We contacted several OnTel Products Corp customer service reps at 844-260-1487 to find out if replacement filters were available (and if so, how much they cost), although none could provide any additional information beyond what was available on the website.
With this said, all Arctic Air Coolers come with a 60-day money back guarantee, less S&H.
What Do We Know About Arctic Air Cooler's Manufacturer?
OnTel Products Corp is no newbie to the As Seen on TV industry, having been in business since 1994 and creating hundreds of hits, including recent examples like Handy Heater, Miracle Teeth Whitener, Breathe Easy Humidifier, and the Air Hawk Compressor.
They held a B rating with the Better Business Bureau, based on 30 negative customer reviews and more than 380 closed complaints, as of 2/19/18. Most of these revolved around lower quality than expected and difficulty obtaining refunds, although a representative responded with a solution in each instance.
Are There Other Tabletop Indoor Evaporative Coolers Like Arctic Air?
When choosing an indoor cooling device, The Home Depot emphasizes that—outside of climate—one of the most important factors to consider isn't watts, but cubic feet per minute (CFM), which represents the volume of air moved by a fan blower. How to know how much you need?
They note you'll take the square footage of the space you want to cool, and multiply it by the height of your ceilings. Then, divide this number by two, and you'll have the appropriate CFM rating.
For example, if you need to cool a 150 square foot room with nine-foot ceilings (150 x 9 = 1,350), this means you'd need an evaporative cooler that outputs at least 675 CFM (1,350 / 2 = 675).
With this important detail in mind, here's how Arctic Air Cooler matched up to some of its close competitors (tabletop evaporative coolers priced under $200) compared at the time of our research:
| Model | Price | CFM | Special Features |
| --- | --- | --- | --- |
| Arctic Air Cooler | $41 | Unknown | Uses power cord (any standard outlet or USB), timer, adjustable vents |
| Kool-Down Evaporative Cooler | $22 | Unknown | 32 oz water tank, adjustable air vents, powered by four C batteries |
| Honeywell Indoor Portable Evaporative Cooler | $139 - $199 | 300-470 CFM | Detachable tank, activated carbon filter, 50-60 dBA, 3 fan speeds |
| Evapolar Personal Air Cooler + Humidifier | $175 | Unknown (can be used in areas up to 45 sq. ft.) | 750ml water tank, refill cycle 6-8 hours, lighted front |
| Vornado Whole Room Evaporative Humidifier | $90 | Unknown (can be used in areas up to 500 sq. ft.) | Electronic Automatic humidity control, 1-gallon tank, corded |
The Home Depot reports other factors you should consider when purchasing an indoor evaporative cooler include construction material (galvanized steel might offer both ruggedness and rust-proof capability), along with maintenance requirements (How often do the filters need to be replaced? How much do they cost? How easy is it to remove the water reservoir and clean the entire unit?).
Also, does the company sell their evaporative cooler at a competitive price? Do they support it with at least a 30-day refund policy, with no restocking fees? Do customers have mostly positive things to say about the company and their products?
Let's take everything we've learned in this article, add it up, and come to an informed conclusion about the Arctic Air Cooler.
Our Final Thoughts About the Arctic Air Cooler
In the end, we're left with a lot of important unanswered questions about the Arctic Air Cooler, none of which customer service was able to assist with. For example:
What's its CFM rating? Will this rating really allow it really to cool any space, as claimed on the website? How long would it reasonably take?
What is the device's sound level?
We're told that it's powered by any standard outlet or USB port, but can it be used while unplugged? If so, how long will it last per charge? How long will it take to recharge fully?
What are the parameters of the timer (increments, total length, etc.)?
How often does the filter have to be replaced? How much do they cost? Can they be purchased through the manufacturer, or through a third party?
Despite this lack of information, as we can see above, Arctic Air is one of the least expensive tabletop evaporative coolers currently on the market, and the company stands behind it with a 60-day refund policy in case it doesn't meet your needs.
With these positives in mind, it's important to point out that you'll be responsible for return shipping, and you'll also lose any fees associated with the BOGO offer.
1 out 1 people found this review helpful

Bought buy one get one, but didn't

By Suzanne M.

,

Ohio

,

Nov 11, 2019
Verified Reviewer

I bought the buy one get one offer, ordering two so I would get four. That was more than three months ago. The company, an affiliate, took my money then closed shop. The main company told too bad (not in those words but that is what she said). The main company won't do a thing about it. They got their share. Affiliate got his. I GOT NOTHING BUT A RECEIPT. Be very careful who you deal with. They DO NOT CARE ABOUT YOU, JUST ABOUT YOUR MONEY!

Bottom Line: No, I would not recommend this to a friend

---

2 out 2 people found this review helpful

Junk!

By Kelly D.

,

Dayton, OH

,

Jul 31, 2019
Verified Reviewer

I bought Arctic Air at Walmart, I was disappointed with what I got. When I opened the box and saw how small the thing was and it wasn't worth how much it cost. The air it puts out is not cold.

Bottom Line: No, I would not recommend this to a friend

---

Advertisement

---

2 out 2 people found this review helpful

RIP OFF

By Sydney W.

,

Brampton, Ontario, Canada

,

Jul 30, 2019
Verified Reviewer

This is totally false advertising. I purchased this product at my local Showcase store, no one mentioned the final sale until I went to return it. The water evaporates very quickly, like 5-10 minutes and then just blows hot air. I bought a 6-inch fan for around $10.00 and it works better, not the $67.79. I can't believe I fell for this gimmick. No one will stand behind this product because it doesn't do what they claim.

Bottom Line: No, I would not recommend this to a friend

---

1 out 1 people found this review helpful

Completely disappointed in product

By Michele M.

,

Sacramento, CA

,

Jul 16, 2019
Verified Reviewer

I purchased this product to relieve the heat and humidity problems for my elderly parents.

First, the product lasts for 3 hours, not 8 as advertised.

Second, cool air only blows as long as the air is cool but once the heat and humidity set in the air is no longer cool. It performed to the equivalent of a personal fan which would not cost $100.

Third, after only 2 weeks, the motor stopped working lending the product completely useless.

Bottom Line: No, I would not recommend this to a friend

---

Advertisement

---

2 out 5 people found this review helpful

Works great!

By Connie V.

,

New York

,

Jun 28, 2019
Verified Reviewer

I purchased three of these and they work great. Exactly like advertised. Inside there is a booklet that tells you, DO NOT MOVE THE UNIT WHEN FULL - IT WILL LEAK. Put it where you want in then fill it up. The water DOES last all night. The directions ALSO state to take the filter out and let it dry when you are not using it. I take it out every day when I go to work and put it back in at night. No problem with mold. As for cleaning - it says to CLEAN WITH WATER AND VINEGAR. NOT BLEACH. Bleach covers up mold - it does not get rid of it. It just bleaches it white or clear so you can't see it. READ THE DIRECTIONS/FOLLOW THE DIRECTIONS and it works as is stated.

Bottom Line: Yes, I would recommend this to a friend

---

10 out 10 people found this review helpful

Air cooler had come broken

By Yukrant P.

,

Dindori, India

,

May 21, 2019
Verified Reviewer

I had ordered this product on the 10th of May 2019, invoice no WC140020, and it had come BROKEN and NOT WORKING. The product is very cheap quality, a waste of money! Plastic is of very bad quality.

Bottom Line: No, I would not recommend this to a friend

---

13 out 13 people found this review helpful

So unhappy

By Margaret C.

,

Nowra, New South Wales, Australia

,

Jan 24, 2019
Verified Reviewer

Two Arctic Airs arrived 1/21/2019, and if I sit with my face three inches away, it works. What a joke. I am nearly 80 years old and I really am quite shocked I fell for this. Living on a pension, I can't even afford to send it back.

Bottom Line: No, I would not recommend this to a friend

---

16 out 16 people found this review helpful

Air Cooler

By Crystal G.

,

Riverside, CA

,

Oct 17, 2018
Verified Reviewer

So I got the "2fer" deal, ordered right before I left on vacation. They arrived while I was gone. What a waste of money. Total false advertising. The advertising says to fill it and it's good for 8 hours, but it's more like 20 minutes. I would have rated this product a zero, but it was not an option.

I had missed the 60-day return date, so they will be donated to the Goodwill instead.

Bottom Line: No, I would not recommend this to a friend

---

20 out 20 people found this review helpful

Arctic Air - waste of money

By Denise W.

,

Atlanta, GA

,

Sep 13, 2018
Verified Reviewer

I purchased Arctic Air from Bed Bath & Beyond on August 6, 2018. From the beginning, the fan only produced cool air. After only three weeks it starting blinking and it stopped blowing cool air. I checked the filter and it was filled with mold. Instead of paying $17 for a replacement, I went back to Bed Bath & Beyond and purchased a fan.

Bottom Line: No, I would not recommend this to a friend

---

13 out 26 people found this review helpful

Don't buy this cheap Chinese piece of crap!

By Ali A.

,

Frederick County, VA

,

Sep 12, 2018
Verified Reviewer

I bought it at my local Rite Aid closing sale. It cost $10.00. It cools well for about two days and then it needs to be cleaned. I have seen the very same unit selling for $39.99 at Walgreens. It lists for as high as $89.99 online, lol. I have no complaints because I paid only $10.00 for the darn thing, but it leaks so bad that I had to put it in a large Corning Ware Bowl to catch the water. Another example of fine Chinese craftsmanship. I don't care because we'll be at war with those slant eyes within a decade anyway.

Bottom Line: No, I would not recommend this to a friend

---

20 out 20 people found this review helpful

Don't buy this product!

By Sarah B.

,

San Diego, CA

,

Sep 10, 2018
Verified Reviewer

I ordered this online and was excited to receive it. I plugged it in and it would NOT stay ON! I tried a few more times and it kept turning off. My friend said it seems the SWITCH is FAULTY.

I immediately packed it up and sent it back in the original box to the address on the box. I spent $9.90 for postage. The customer service folks first said that I was to take a video of the unit NOT WORKING. I explained I sent it back already and would like a FULL REFUND. They then asked for the RECEIPT, which I gladly provided. Now they are telling me that I sent it back to the wrong address. They are yanking me and their product sucks. It is made in China and is plastic. Their customer service is awful. Why would I pay for a FAULTY PRODUCT? I just want a refund.

Bottom Line: No, I would not recommend this to a friend

---