Arctic Air Reviews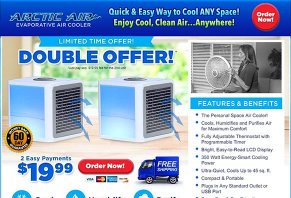 Arctic Air is a tabletop evaporative cooler that promises to deliver 250 watts of power that can help cool your personal space for up to eight hours, without using any refrigerant.
About Arctic Air
The compact, eco-friendly Arctic Air device utilizes Hydro-Chill evaporative cooling technology to draw in hot air and pass it through a wet filter, which then exits the other side as cool, refreshing, dehumidified air.
The website indicates that all you have to do is add water to the 650ml reservoir and press the button, and the device will quickly and efficiently cool any personal space in your home for as long as eight hours.
Its whisper-quiet two-speed fan with programmable digital thermostat—which can be adjusted using the bright, easy-to-read display—is said to give you precise control over your climate, and the nightlight can provide soothing comfort. Just plug Arctic Air into any standard outlet or USB port and the 350W device will go to work.
Based on its size and cooling method, it's clear that Arctic Air won't provide the same cooling power as a traditional air conditioner, whether central or a window unit. But will it still help you "humidify and purify air for maximum comfort," as claimed on the product's website?
Furthermore, does it have any competition? And if so, how can you make a more informed decision about which might be the most appropriate option?
Let's start answering your questions by taking a quick look at the underlying principle at work.
Evaporative Cooling vs. Traditional Air Conditioning
Evaporative cooling is pretty much what it sounds like. As HowStuffWorks' Chris Landers explains, when hot, dry air passes over (or through) water, it cools off. This is the same principle at work that causes your skin to feel cooler when it's wet, such as after stepping out of a pool or shower.
Modern air conditioners utilize much of the same concept. But instead of water, hot air is passed over chiller pipes that are cooled to a much lower temperature using a refrigerant like Freon or Puron. As a result, these devices can generally provide much more robust cooling capability than evaporative cooling units (often referred to as 'swamp coolers').
Another important distinction to keep in mind is that according to Chris, "In order to work, [evaporative coolers like Arctic Air] need a hot, dry climate" to deliver maximum results, such as "in the arid southwest." In fact, he emphasizes that while only three percent of the U.S. population owns a swamp cooler, this number skyrockets to 26 percent along the Rocky Mountain Range. But why?
Without going into unnecessary detail, when water evaporates, it must have somewhere to go. In an arid, low humidity environment, this is easy. But at higher humidity levels, the air is already saturated with water and can't take anymore. Therefore, the evaporation rate—and the subsequent cooling it provides—is slower.
Small, traditional window air conditioners can cost hundreds of dollars, while central systems can cost thousands. Even larger swamp coolers can run you well into triple digits. Let's find out how Arctic Air's price compares next.
How Much Does Arctic Air Cost and Where Can You Buy?
If purchased directly from OnTel in the US (or JML in the UK), One Arctic Air device is priced at two payments of $19.99, or single payment of $39.98 (or £39.99). You can also purchase a second device during checkout for an additional $19.99 fee.
While nothing was noted on their website, we spoke with a customer service representative who advised that replacement filters are available for $10 each.
The manufacturer provides a 60-day money-back guarantee and warranty on all Arctic Air purchases, less S&H charges. In order to request one, their customer support department can be reached at 800-205-3001.
We also found the Arctic Air personal cooler available on sites like Amazon, Walmart, Bed Bath and Beyond, and HSN (to name just a handful) at about the same prices.
Are There Other Personal Evaporative Coolers Like Arctic Air?
If you're looking for something designed exactly like Arctic Air, it looks like it's currently your only option. However, searching online for terms like "portable evaporative cooler" and "tabletop swamp cooler" returned a handful of potential competitors, such as:
NanoTech Portable Evaporative Cooler: $140-$180. Cools, humidifies, and cleans the air. Uses "evaporative cartridges" instead of moistened filters. 750ml water tank (7-8 hrs) w/350 watts.

Ideaworks Kool-Down: $30. Cools air using 32oz water tank (up to 10 hrs), although only covers 7 square feet. Adjustable air vents. Uses 4 C batteries.

Aircare Companion: $75. Cools and filters air. Features auto shut-off and humidistat and check filter/water indicators. Covers up to 1,000 square feet and runs for up to 48 hours. Meaningfully larger at 14" x 12" x 12".
How can you decide which option is right for you?
Sylvane recommends that you start by making sure you live in a climate that will allow you to benefit from the use of an evaporative cooler. As we discussed earlier, they work best when surrounded by hot, dry air, so unless you live in the southwestern U.S., it might not deliver optimal cooling.
Next, you'll want to make sure the evaporative cooler is sufficient for your space. While the Ideaworks Kool-Down features a competitive price with Arctic Air, based on our usage, it doesn't appear to cover a large room.
Previous advertisements from OnTel reported 45 sq. ft. On the flip side, while Aircare's model is the most expensive on our list, it also promises to cool up to 1,000 square feet of space.
To determine how many cubic feet per minute (CFM) you need for optimal cooling, Sylvane advises using this formula: "Square feet needing to be cooled, multiplied by ceiling height (in feet). Then, divide this number by 2. For example, if your room is 450 square feet with 8-foot ceilings: 450 X 8 / 2 = 1,800 CFM."
Finally, consider these factors for the manufacturer:
Have they been in business for a long time?
Do they come with a mostly positive online customer reputation? Do you encounter any common complaints?
Are their products priced competitively?
Do their products come with clear refund policies and warranties?
Our Final Thoughts About Arctic Air
There seems to be a lot to like about Arctic Air. It's compact and portable, very competitively priced, backed by a 30-day refund policy, and comes from a company with nearly two decades in business.
With this said, using only evaporative cooling and designed just to cool a small personal space, we think you might get the most value out of Arctic Air by maintaining realistic expectations.
After all, while it seems reasonable that it might help you cool off, you could be disappointed if you're actually expecting it to deliver Arctic-like results, or to deliver a significant cooling effect in anything but the smallest of rooms (with enough time).
One final point to keep in mind is that if you're not satisfied with Arctic Air's performance, you'll lose any fees associated with the BOGO offer, as well as whatever it will cost to ship it back to the manufacturer.
» See Also: The Best Budget-Friendly Ways to Keep Your House Cool
---
Not too bad

By Kelvin

,

Christchurch, New Zealand

,

Mar 22, 2018
Verified Reviewer

Overall Experience:

I bought two units to help with close up cooling and to save running the bigger heat pump. I followed the instructions and after the time frame of waiting let it run and it is pretty efficient. My main concern is being able to get new filters.

Bottom Line: Yes, I would recommend this to a friend

---

Works like it said

By Robert Smith

,

Ocean City, NJ

,

Mar 31, 2018
Verified Reviewer

Overall Experience:

I'm using this in my work office. It's nice and cool. I haven't put water in it yet so I'll try that later, but it works fine. The led on the side is cool and the loudness of it is perfect for sleeping (at least for me).

Bottom Line: Yes, I would recommend this to a friend

---

Advertisement

---

Worth the money

By Barb Skiba

,

Arizona

,

Apr 5, 2018
Verified Reviewer

Overall Experience:

I'm very pleased with Arctic Air. It cools a small area very well and is very quiet. I placed an oscillating fan in front of it to move the cool air further into the room, and it works very well. I would buy another one.

Bottom Line: Yes, I would recommend this to a friend

---

I love my Arctic Air

By Minnie Henry

,

Greenback, TN

,

Apr 30, 2018
Verified Reviewer

Overall Experience:

I am thinking about getting another one. It cools my entire bedroom. I love it. I tried it beside my bed and it was too cold so I moved it eight feet away. I would recommend it to anyone. Great size, quiet sound, love the light, it is very soothing.

Bottom Line: Yes, I would recommend this to a friend

---

Advertisement

---

Life saver

By Pat Baisey

,

Arizona

,

May 6, 2018
Verified Reviewer

Overall Experience:

I have two of these. They are a true life saver, I love them! I live in the Phoenix, Arizona area and summer is here. The summer heat is somewhat unbearable when it's over 100° for weeks on end! I highly recommend this product to everyone!

Bottom Line: Yes, I would recommend this to a friend

---

Overall Experience:

Love it! Beyond my expectations. I didn't expect it to work so well. Silent as well. The other will go to my daughter. She has limited space. She'll love it as well. Prevents me from having to put the larger unit in the window soon.

Bottom Line: Yes, I would recommend this to a friend

---

Arctic Air is perfect! Not fake - it is the real deal.

By Julie M.

,

Running Springs, CA

,

Jun 6, 2018
Verified Reviewer

Overall Experience:

We purchased two, one for each side of our bed. It cools down so quickly we found one was efficient for our bedroom. I wanted to purchase more and they were back ordered through Amazon. We are considering purchasing more for our guest rooms as we do not have air conditioning.

Bottom Line: Yes, I would recommend this to a friend

---

Arctic Air

By Exeline V.

,

Cahokia, IL

,

Jun 29, 2018
Verified Reviewer

Overall Experience:

I cannot go outside when the temperature is over 80. This Arctic Air has allowed me to be outside a little more. I bought it at Walmart and I am satisfied for now.

Using the product bedside at night is wonderful. Just enough air for me. After all, I did buy it for personal use. Arctic Air works just like the box said it would.

Bottom Line: Yes, I would recommend this to a friend

---

Love it!

By Robin G.

,

Louisiana

,

Jun 30, 2018
Verified Reviewer

Overall Experience:

My air conditioner broke, so I bought an Arctic Air to buy some time. I love it! I went back and bought another.

I put the water for the reservoir in the refrigerator. And I found ice trays that make stick ice. I initially fill the reservoir with the cool water from the refrigerator. Then replenish it with ice. My living room is nice and cool.

Thank you, Arctic Air.

Bottom Line: Yes, I would recommend this to a friend

---

Overall Experience:

I was very skeptical about this. I heard negative reviews, I heard positive reviews, so I decided to try the product for myself. I don't have air conditioning in my room since it is small, the AC usually works in the house everywhere else, but my bedroom was always hot. Ceiling fans barely worked so I got this Arctic Air, filled it with ice cold water, turned it on, and a few minutes after that, my room is nice and cool, and comfortable to sleep. So you negative people out there, you're not using it right because it works.

Bottom Line: Yes, I would recommend this to a friend

---

Before buying, check your humidity level

By Alana J.

,

Phoenix, AZ

,

Jul 10, 2018
Verified Reviewer

Overall Experience:

I bought a humidifier at Walmart for twice as much as these. I am going to order them promptly. I know they work because of where I live, in a very arid desert. If you live anywhere near water, even lakes like where I used to live in Kansas, these will not work. Since they run on moisture and cool accordingly, but if you live where it is high humidity and dew point, NO, they will not work. Out here most people have swamp coolers (maxi humidifiers) and only use A/C during Monsoon season.

New Orleans, Miami, California, WOW. Nope, not for you.

Bottom Line: Yes, I would recommend this to a friend

---