Arctic Air Ultra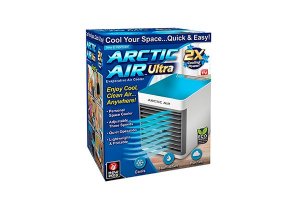 Using evaporation to cool air, the Arctic Air Ultra claims it can cool down spaces in your home for up to 10 hours a day. Our analysis will help you decide if this device is right for you.
Arctic Air Ultra Review
The Arctic Air Ultra is a portable evaporating air cooler that can cool space for up to 10 hours a day via a water tank that turns hot air into cold air.
The device uses a well-known method of cooling in which it sucks in hot air on one side, runs that air through moisture, thereby cooling the air as the water evaporates.
In this analysis, we'll discuss how the Arctic Air Ultra works, provide expert insight into how effective evaporative coolers are and then discuss the device's pricing and return policy.
How the Arctic Air Ultra Works
This device is what's known as an evaporating air cooler. Another name for it is a swamp cooler. Basically, it sucks in hot air through the back and then passes that hot air through a moisture chamber.
As the air comes out the other side, it evaporates and thereby dissipates the heat, leaving cool air to blow about the room.
Using the Arctic Air Ultra requires filling its water tank, then plugging it into either a wall outlet or a USB charger.
According to the product's website, it can run for up to 10 hours on one tank of water.
To get an idea of how effective an evaporative cooler can be, we reached out to Dave Miller, an HVAC technician with Heat Talk.
Miller told us that evaporators like the Arctic Air Ultra are good in small spaces but shouldn't be expected to cool a bigger space.
"Desk evaporative coolers are good for personal cooling and travel but are not as effective at cooling a whole room," Miller said.
He also noted that these devices work best in "arid/dry" climates, although that can still provide relief in a more humid place.
"Given that evaporative coolers work so well in arid-dry climates, they still work fine in humid environments such as Florida but may not be as effective due to the ambient humidity already present in the air," he said.
One important tip he gave us is that you need to clean out your evaporator often.
"It's also important to ensure that the water reservoir is cleaned frequently to prevent pathogenic build-up, in a similar way you would for a humidifier, as you don't want nasty microorganisms to propagate in the water tank and be released into the room air," he said.
Pricing and Return Policy
The company sells these evaporative coolers for $59.99 with free shipping, or you could buy two for $79.98 with free shipping.
You have 60 days to test out your cooler and, if you decide you don't like it and want to return it, you'll have to contact OneTel's customer service department at (800) 205-3001 to start your return.
Something to keep in mind is that your refund won't cover the money you paid to ship the item back to OneTel, nor will it cover any fees you pay. Fees would include the $19.99 fee you pay for a second Arctic Air.
So, if you buy the second device, realize that you're keeping it because it won't be eligible for a refund.
Additionally, this cooler is available on Amazon for $39.88 and Walmart for $39.88.
The Bottom Line
This device, even if you have two of them going at once, isn't designed to cool an entire room. As our HVAC expert pointed out, it's good for a small space.
The downside to the Arctic Air is that there's limited information about the cubic feet it can cool. Therefore, we'd recommend this product for someone who spends a lot of time in one spot in their house and lives in a dry area like California or Arizona.
Remember, too, that it's important to clean out your device on a regular basis.
---
It's a Chinese piece of crap

By Don S.

,

Phoenix, AZ

,

Sep 14, 2020
Verified Reviewer

Length of Use: Less than 3 months

Overall Experience:

It arrived broken. I used the support line provided. Told them it arrived broken and I wanted my money back. They offered $5 to keep it. This went on for weeks. I told them I wanted a full refund. They told me they do not pay for return shipping and that I had to send to China but is very expensive so I should just keep it.

Do not buy this Chinese piece of crap!

Pros and Cons:

No "pros" were specified in this review
Broken
Pice of crap
No prepaid return shipping

Bottom Line: No, I would not recommend this to a friend

---

Very disappointing

By Larry T.

,

Tacoma, WA

,

Jul 30, 2020
Verified Reviewer

Length of Use: Less than 3 months

Overall Experience:

Nothing more than a tiny wanna-be swamp cooler. Doesn't cool six inches away and most certainly would not cool even a tiny room. I'd be amazed if it cooled inside the little box it came in.

New technology? Hah! The same swamp cooler technology that's been around for almost 100 years but too small to be effective! You're better off with two $20 fans! You'll be cooler with two 20" box fans. You'll be cooler with one 20 inch box fan.

Pros and Cons:

No "pros" were specified in this review
They lied!

Bottom Line: No, I would not recommend this to a friend

---

Advertisement

---

Don't waste your money!

By Cynthia R.

,

Michigan

,

Jul 14, 2020
Verified Reviewer

Length of Use: Less than 3 months

Overall Experience:

Poor product, poor customer service, no truth in the advertisement. If I can prevent another senior from wasting their money on a scam like this. DON'T PURCHASE THIS PRODUCT. Scamming people during the environment we are living in right now is unconscionable. I have reported Primeply to BBB in my state of Michigan hoping to prevent them from continuing to rip seniors off with this crap they push as a product.

Bottom Line: No, I would not recommend this to a friend

---

Last about an hour...if you're lucky!

By T G.

,

Baltimore, MD

,

Jul 5, 2020
Verified Reviewer

Overall Experience:

I must admit, it does blow out cool air. But it does not last anywhere near 8 hours. You also have to have it close to you and pointed at you for it to do any real good at cooling you off. The only way it will work over an hour is if it is on low. The advertised hype is not to be believed.

Bottom Line: No, I would not recommend this to a friend

---

Advertisement

---

I like it?‍

By Mark S.

,

Oklahoma City, OK

,

May 9, 2020
Verified Reviewer

Overall Experience:

I bought it when walking by it at Home Depot. My office has no AC duct and a sole ceiling fan. I put the filter in the freezer before I leave every night and fill it in the morning. It lasts all day (on medium) and really makes work in my office much more enjoyable. It gets to 115+ in Oklahoma and I couldn't live without this.

Y'all gotta remember this thing needs a dry climate to be effective. Maybe stop using them in coastal cities thinking it's gonna do jack? Some angry reviews here but I'm pretty happy with how this works. Sure it's not the most quality build but I paid $25 for it. I'm not expecting some sleek hand-bent aircraft-grade aluminum. It's a simple design that doesn't need to cost $100 to do what it does.

Bottom Line: Yes, I would recommend this to a friend

---

More TV hype

By Maurice A.

,

Melbourne, Australia

,

Mar 1, 2020
Verified Reviewer

Overall Experience:

Arctic Air Ultra is yet another product I have been misled into buying because of grandiose TV advertising. In practice, this product gives out very little cool air. It runs out of water sooner than expected and, when the water reservoir has been refilled, the slightest movement of the device can spill water all over the carpet. The latest problem I have found with it is the fact that the louvers drop out easily and are very hard to put back. A close examination of its construction shows that it is of very poor quality and badly designed. It is really not worth buying and would be better taken off the market.

Bottom Line: No, I would not recommend this to a friend

---

Extremely dissatisfied

By Susan F.

,

Rochester, NY

,

Oct 7, 2019
Verified Reviewer

Overall Experience:

Ordered Arctic Air Ultra from BestGadgets.co, based on their internet description. Paid $89. First unit did not work. At all. Plugged it in. Pressed the buttons. Nothing. Also, it was very cheap plastic; no instructions. Returned it, $9.25 postage. Second unit arrived with the instruction guide, but no wall plug. I have nothing to plug in the USB cord, so this was of no use. Customer Service said she'd send a plug. Two weeks, nothing. A rep from the distribution center in New Jersey said they tell people to buy their own plug. But, the warning section of the instruction guide says to ONLY use the plug provided! Plus, it states on the box that the wall plug is included. I am returning this tomorrow. I sent a message yesterday to customer service requesting a return number. No response. I'm returning it with or without the number. I will go through my credit card company to issue a complaint and get a refund if BestGadgets refuses. Do NOT buy this product!

Bottom Line: No, I would not recommend this to a friend

---

Works as expected!

By Brad C.

,

North Carolina

,

Sep 22, 2019
Verified Reviewer

Overall Experience:

This isn't a whole room air conditioner, it needs to be felt directly. I have the Ultra and it sits on my desk about two feet away from me. Even with just normal temperature water and the device on low, it definitely cools me more than the fan it replaced.

Bottom Line: Yes, I would recommend this to a friend

---

A scam

By Hilma B.

,

Girard, PA

,

Aug 29, 2019
Verified Reviewer

Overall Experience:

These do not work at all. They said I could return them and pay $50 shipping to AZ. Or keep them and they would credit me $25. They are not even a good fan. I want people to know NOT TO BUY THEM. This is deliberate FRAUD.

Bottom Line: No, I would not recommend this to a friend

---

The unit is complete garbage

By Constance M.

,

Jacksonville, FL

,

Aug 8, 2019
Verified Reviewer

Overall Experience:

False advertising...says you pay $19.99 for a unit, second one free. Well, I was charged 70 bucks, and not only that, it's trash, doesn't cool or work like advertised. SIMPLY full of crap!

Bottom Line: No, I would not recommend this to a friend

---

Absolute rubbish

By Valerie H.

,

East Sussex, United Kingdom

,

Aug 2, 2019
Verified Reviewer

Overall Experience:

Bought this item from Trendy Gadgets. Took ages to arrive. Very cheap, flimsy plastic, not at all like it looked in the advert. Supposed to be able to decrease the temperature by 12 degrees, but it hardly made any difference whatsoever. A small fan would be more effective. It was sold as "half price" at £59.99. We have since found them for less than £20 on Amazon. Feel really conned. Please don't waste your money folks!

Bottom Line: No, I would not recommend this to a friend

---