Arctic Hat Reviews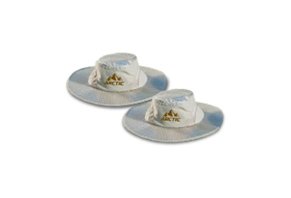 Made by OnTel Products, the one-size-fits-most Arctic Hat promises to help cool your head up to 20 degrees using evaporation, while its silver lining protects your skin from potentially harmful UV rays.
About Arctic Hat
Arctic Hat features a built-in evaporative cooling liner, along with UV ray reflective technology, to help provide you with instant relief from the heat and protection from the sun's rays.
In fact, the website and commercial advertise that Arctic Hat repels up to 99% of the sun's ultraviolet rays, 80% of its heat, and keeps your head 20°F cooler than the outside temperature.
All you have to do, they say, is wet the evaporative cooling inner liner with cold water, wring out the excess, and put the hat or cap on your head, without worrying about dripping.
From there, its durable, breathable, and lightweight performance fabric will provide instant relief and keep you cool and comfortable throughout the day, whether you're at the beach, camping, in the pool, or working in the yard. And when the time comes, you can hand wash your hat in cold water with gentle soap.
But, will Arctic Hat work as well as the website and commercial advertise, and will it deliver substantial value for your money? We'll take a look at the hat's underlying technology, pricing, and competition so that you can find actionable answers to this crucial question.
How Does Arctic Hat's Evaporative Cooling Technology Work?
Arctic Hat is made from a blend of nylon and cotton, as well as polyurethane and aluminum films, that manually block the sun's ultraviolet rays, which can lead to premature aging and cancer (as but a couple of examples) after repeated, excessive exposure.
Related: Best Face Sunscreen Buying Guide
It also features a built-in liner at the forehead and crown, which you activate by soaking the cap in water, wringing it out, and then putting it on. How does this help keep you cool?
Arctic Hat's core functionality operates based on the premise of evaporative cooling. Although this is a technical-sounding term, it merely references the process whereby water turns from a liquid into a gas (i.e., evaporates) and takes a small amount of heat with it as it does so. This is how sweating works.
The catch is that air can only hold so much moisture (known as humidity), so evaporative cooling works best in arid climates such as desert regions, where it can reliably drop room temperatures up to 20 degrees. On the flip side, this evaporation might provide little-to-no cooling effect for homes located in areas like the Gulf Coast, where humidity levels can regularly reach 100%.
Furthermore, residential evaporative cooling systems are most efficient when you leave windows open, which draws the cool air through your house, discharges it outside, and then immediately replaces it with hot air that's been freshly cooled.
While Arctic Hat's brimmed version offers ventilation holes, their cap version does not. Even then, based on the natural heat generated from the top of your head, along with the small, enclosed space dictated by the hat, we don't think it will deliver a 20-degree drop in temperature as advertised.
Given these details, Arctic Hat might not be "like having a personal air conditioner with you wherever you go," depending on the climate in which you live. Furthermore, while the commercial doesn't show it, there's a good chance that although Arctic Hat promises not to drip, it could still wet your hair.
How Much Does Arctic Hat Cost?
Arctic Hat is available in your choice of brimmed hat or cap, and in one-size-fits-most sizing between 6 5/8 (XS, 53 cm) and 7 5/8 (XL, 61 cm), for $19.99 plus free shipping and a $1 web service fee.
During checkout, you can purchase a second hat for an additional $9.99 fee. You can also upgrade to the Deluxe model for an additional $10 per cap, which features 25% more Silver Material Technology for better, longer-lasting cooling, an upgraded evaporative liner, and double stitching for added durability.
OnTel Products offers a 60-day money back guarantee on all Arctic Hat orders, less return shipping and fees associated with the BOGO offer. You can reach customer support at (800)838-7719 or arctichat@rephelpdesk.com.
Are There Other Evaporative Cooling Hats Competing With Arctic Hat?
There are dozens of evaporative cooling hats in the same marketplace as Arctic Hat, and which advertise many of the same features and benefits, including cooling panels that you wet to activate, one-size-fits-most designs, no-drip construction from ultra-wicking fabric, and chemical-free functionality.
Here are some of the top-rated options on Amazon and how some of their critical criteria compare:
| | | | |
| --- | --- | --- | --- |
| Brand | Price | Average Amazon Rating | Notes |
| Arctic Hat | $19.99 (add $10 for Deluxe model) | N/A | Uses silver foil lining to reflect sun's heat and maintain 20° cooler temps |
| Mission Enduracool Cooling Performance Hat | $24.99 | 3.9 stars, 333 reviews | UPF 50 sun protection, only available as a cap, offered in Black/High Vis Green, Coral, Navy, RealTree, and White colors |
| Mission Cooling Bucket Hat | $29.97 | 3.9 stars, 281 reviews | UPF 50 sun protection, available in Navy, RealTree, and Sand colors. Made from 100% polyester, only available as bucket hat |
When choosing the best option, what should you do? As with most consumer purchases, it's going to depend on which details you consider your focal point.
For example, if you want to spend the least amount of money, Arctic Hat's single option comes in almost $10 lower than Mission's Cooling Bucket Hat, and $5 less than their Enduracool Hat. You can also purchase a second Arctic Hat for an additional $9.99 fee, and it's the only option in our table above available in cap or bucket hat versions, and that advertises a built-in foil liner to reduce heat up to 20 degrees.
On the other hand, if customer feedback is at the top of your list, Arctic Hat is brand new, whereas Mission's hats both come with 3.9-star average ratings on Amazon and more than 600 combined customer reviews. The latter options are also available in a variety of colors schemes, although Arctic Hat only comes in sand color, depending on your design preferences.
With the lowest price, availability in cap or bucket hat designs, and built-in no-drip liners and heat-reflecting materials, let's come to a conclusion about your future with Arctic Hat.
Our View: Should You Buy Arctic Hat?
As long as you don't mind its Sand color or the fact it's so new that no online customer feedback yet exists, Arctic Hat seems to offer a lot of value for the money compared to competing evaporative cooling hats.
Just keep in mind that while the $9.99 fee for the second hat is unique among the evaporative cooling hat competition, and could help you further increase value, you'll immediately lose it if you're dissatisfied and decide to request a refund. And in this scenario, its value lands most in line with the competition.
To this extent, if you want to test evaporative cooling and learn if it meets your needs and works well in your climate, you could simply wet a hat you already own, wring it out, and wear it as intended.
Granted, this avenue won't deliver Arctic Hat's no-drip technology, silver reflective lining, or UV or heat protection, but it could help you discern if its basic functionality is right for you, before handing over any of your hard-earned money.
>> Continue reading: Best Budget-Friendly Ways to Keep Your House Cool