Argosy University Reviews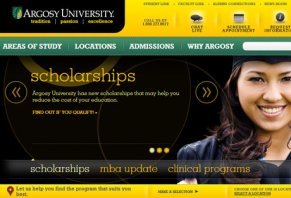 About Argosy University
Founded in 2001 through the merging of three separate academic institutions, Argosy University offers undergraduate and graduate degree programs across its 23 nationwide campuses, as well as online. Argosy University's goal is to provide opportunity, professional growth, and increase interpersonal skills for their students through six associate's, bachelor's, master's, and doctorate degree programs, including:
Psychology & Behavioral Sciences
Business
Creative Arts & Design
Education
Law
Health Sciences
The University is focused on a "learner-centered environment of mutual respect and academic excellence," and states that they help students succeed through positive support and engagement.
What Argosy University Offers Online Students
Argosy University's online degree programs provide you with a customized learning environment, which means that courses are tailored to your individual needs, so that you have the flexibility to choose when and where you'll log in. This means that you'll have 24/7 access to classes, lectures, course media, readings, grades, discussions (with other students and instructors), tutoring services, and online libraries.
When compared to other online universities, Argosy claims that students will notice a significant difference in their programs, due to the school's unique blend of traditional higher education and the Socrates Distance Learning Technologies Group's® online learning strategies. By doing this, Argosy University claims that their instructors are equipped with the necessary skills and knowledge to help online learners succeed. Because of this, only Socrates Qualified instructors are permitted to lead courses.
In addition to instruction, Argosy University provides each student with an Admissions Representative, Student Financial Counselor, Academic Counselor, and Mentor Professor, so that your needs are fully represented from the time you enroll until the time you graduate.
Argosy University Online Tuition & Fees
Argosy University allows students the flexibility of retaining their full-time status by paying for one course at a time, or by taking as many classes as they can, based on their other commitments. Here is a brief overview of Argosy's programs, and their associated costs:
Doctoral Programs
Business: $894 per credit hour
Psychology: $930 per credit hour
Education: $859 per credit hour
Master's Programs
Arts in Education, Public Health, and Human Services: $618 per credit hour
All Other Programs: $731 per credit hour
Undergraduate Programs
All Undergraduate Programs: $561 per credit hour
Miscellaneous Fees
Application Fee (non-refundable): $50
Graduation Fee: $175
Returned Check Fee: $35
Doctoral Residency Fee: $1,100
Master Online Digital Resource Fee: $85
Doctoral Online Digital Resource Fee: $95
» Read Next: Is It Still Worth It to Go to College? The Experts Say, Yes!