Armando Montelongo Reviews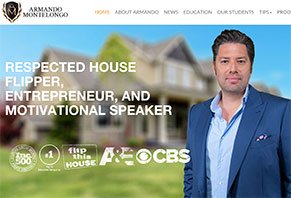 As former star of A&E's Flip this House TV show, Armando Montelongo claims that his real estate seminars and products can help you achieve financial stability.
About Armando Montelongo
You might have first been introduced to Armando Montelongo when he and his family starred on A&E's hit TV show Flip this House, where we watched him purchase homes, fix them up, and sell them for big profits. More recently, he appeared on Season 6, episode 10 of CBS's Undercover Boss.
But according to Armando, before he appeared on television, he made $3 million during his first 3 years of flipping houses, which helped him become the celebrity entrepreneur and motivational speaker he is today. And through his seminars, bus tours, and mentorship programs, Armando Montelongo claims that he can help you achieve financial stability as well.
But is this the truth? In other words, will Armando Montelongo's seminars help your achieve your financial goals? And if so, are they worth the hefty price? We'll answer these important questions in a moment, but let's first take a look at what you'll learn in one of his seminars.
About Armando Montelongo's Seminars
After searching through all of Armando Montelongo's different websites, here's what we learned about his seminars: At his free live event, you'll learn about his system, including how to find deals, how to fund deals, how to fix up properties, and how to sell them for a "healthy profit."
That's it.
However, after taking a look at hundreds of online reviews and complaints for Armando's events on websites such as ConsumerAffairs, PissedConsumer, Ripoff Report, and many others, it appears that these free events are basically "gateways" to convince attendees to pay for the 3-day event. So what will you learn at the 3-day seminar?
Again, much of it appears to be a mystery, although hundreds of consumers have complained that the information was only surface-level, and that the big push was to convince them to sign up for the much more expensive "bus tour."
Regardless of which even you choose though, keep in mind that Armando will not necessarily be the one presenting information, and may instead be one of his "coaches."
Similar Real Estate Courses to Armando Montelongo Seminars
If you've been a HighYa reader for long, you may have a feeling of déjà vu at this point, since this is almost the exact same business model used by other seminar-based real estate "gurus" such as The Flipping Formula, Scott Yancey, and FortuneBuilders.
As you'll see from most of these reviews, consumers don't seem to think too highly of what they learned at these seminars, or the prices they paid to attend. And as we'll see in a moment, this may very well be your experience with Armando Montelongo's seminars as well.
Are Armando Montelongo's Customers Happy?
If you're looking to get a good handle on what you can expect, simply type "Armando Montelongo seminars" in your favorite search engine, and you'll encounter dozens and dozens of consumer complaints, most of which tell the same stories. With this said, here's an overview of what most of them—as well as industry professionals—have to say:
Real-Estate-Made-Easy.com notes:
"We enjoyed the show (and still do). But do not let that lull you into a belief that his real estate course will make you money, or that the cost will not drain your bank account (see below). Of the 22 methods of real estate investing, Armando Montelongo only seems to teach one - fixing & flipping foreclosures, which has very limited applications. That's like a carpenter trying to build a house with nothing more than a hammer. But if this is the only strategy you are interested in, Armando Montelongo is good at it. But his price for teaching you is incredibly high."
Armando Montelongo Seminars LLC (which also includes Armando Montelongo's Mega Millionaire Event and Armando Montelongo VIP Bus Tour) held a A+ rating with the Better Business Bureau, despite having more than 20 closed complaints as of 7/3/19. Interestingly, it appears Mr. Montelongo's company had an F rating with the Better Business Bureau in February 2015.
Regardless, according to the BBB:
"Based on BBB files, Armando Montelongo Seminars LLC has a pattern of disputes. Specifically, complainants allege during a free seminar hosted by this business, they are encouraged to attend an additional three-day seminar costing $1,497 and, at times, are offered a tax lien seminar for $795. Complainants who attend the three-day seminar allege they were misled regarding what information or services would be provided. Consumers further express dissatisfaction that the seminar encouraged them to purchase additional real estate investment education packages starting at $12,000 and/or they were dissatisfied with the education received. Some complainants allege that they cancelled their purchase with the business and requested a refund. Complainants generally seek a refund."
In fact, a BBB blog post from 2013 noted, "While Armando is doing nothing explicitly illegal or false, his business model can easily suck funds from people who are desperate for a quick income but are not familiar with complex real estate investments."
Finally, a fairly scathing 2013 Forbes article notes (we would strongly recommend reading this entire article):
"Montelongo, the onetime star of A&E's Flip This House, offers scant proof the formula has turned his "students" into plutocrats. Asked to provide successful seminar alums, Montelongo serves up two–neither has made millions. Billy Godsey declines to detail his finances. Jake Leicht claims he's made about $180,000 in 16 months buying 18 homes.
"The one certain multimillionaire to emerge from Montelongo's seminars? Montelongo himself. His formula is simple: First, expose people to his system through a 90-minute free seminar. Then funnel them into a second (cost: $1,497 per couple) and, finally, a third: a three-day extravaganza like the one I attended that runs $40,000 for two. Montelongo claims his San Antonio, Tex. company will rake in an estimated $100 million in revenue this year from 350,000 people attending one of 3,580 events."
Armando Montelongo Product Pricing
While there weren't any seminar prices listed on Armando Montelongo's website, as noted in the Forbes article in the previous section, the introductory seminar is free, the follow-up 3-day seminar usually hovers somewhere around $1,500, and the bus tour/personal coaching somewhere around $40K.
In addition, Armando's company offers additional products such as:
Investing in Foreclosures book: $49.97
Negotiations CD: $129.97
Flip for Success home study course: $49.97
Flip & Grow Rich book: $29.97
Assessing Properties book: $129.97
According to the Refund Policy listed on ArmandoLive.com, "Refunds are only given if purchase is properly cancelled within 3 days of purchase not including Holiday and Sundays. You may be required to return materials or sign additional documentation. To initiate a cancellation you may call 877-217-2124 and asked to speak to an empowerment agent."
Do Armando Montelongo's Real Estate Seminars Work?
Will Armando Montelongo's seminars give you better insight into the world of buying, fixing up, and selling real estate? Perhaps. Will they help you decide if this field is right for you? Maybe. Will they give you all the information you need to immediately step out on your own and execute a successful deal? According to the vast majority of online reviews, it appears that most consumers think not.
As we've mentioned in many of our other real estate product reviews, the general consensus among most industry professionals is that the information you'll pay a great deal of money for in these seminars can often be found for the cost of a book, or even for free by joining real estate-related online forums.
If you do decide to attend one of Armando Montelongo's seminars though, be sure to read our 5 Rock Solid Ways to Avoid Hard Selling Tactics article before you go, because it will almost certainly be a very high-pressure environment that likely won't provide you with a solid return on investment.