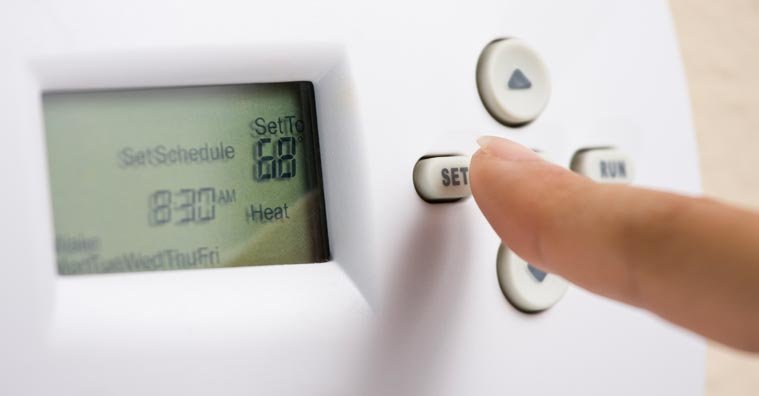 As temperatures drop, do you get nervous about turning up your thermostat?
Surprisingly, winter is a great time to save money on utilities. Unlike summer when, depending on where you live, air conditioning is practically mandatory, there are a few ways to stay warm at home without cranking up your heater.
Here are our 11 ways to save on heating costs this winter.
1. Switch Your Energy Supplier
In some states, the production and delivery of energy are regulated, and consumers don't need to shop around for better prices. Wisconsin, Tennessee, the Carolinas, and Nevada are just a few—view a complete list here.
However, if you live in a deregulated state and have been with the same energy provider for a long period, there's a good chance that you aren't getting the most bang for your buck. Check out the nationwide review of electric suppliers at HouseLogic to find the best deal possible in your area. Then, give your provider a call to see if they can match or beat the better price.
2. Maximize Oil Radiators & Wall-Mounted Heaters
If your rooms are set up so that a sofa, or any large furniture, is positioned in front of a radiator, you are most certainly wasting money.
As the days and weeks become colder, rearrange each room so that furniture is far enough away from wall-mounted heaters and the flow of warm air isn't obstructed.
Also, remember that radiators put out heat on both sides! Consider making a radiator reflector out of high-quality kitchen foil. (Or radiator foil, if you're feeling fancy).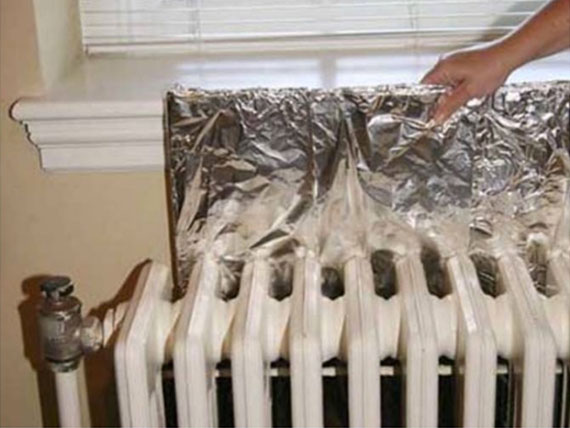 Image: Inspiredcenter.com
To make one, simply tape tinfoil to the wall with duct tape or two-sided tape. Make sure that the dull side of the foil faces the wall—the reflective side should face out.
The tin foil reflects heat back into a room. This trick reduces energy costs since you won't need as much heat to stay warm. Doing so also helps maintain the temperature, keeping your home warmer, longer.
3. Use Your Programmable Thermostat
The goal is to never manually adjust your thermostat. According to Energy.gov, thermostats should be programmed for 56 degrees at night and during the day when no one is home.
Then, program your thermostat to about 68 degrees during the times when you'll be at home. This one small action can save 5% to 15% on your heating bill each year!
4. Know Which Doors to Open, and Which to Shut
When you take a steamy shower or bath during winter months, leave the door open to allow the warm, humid air to travel through your home.
If you have roommates (or an awkwardly placed window), at least be sure to leave the kitchen door open while cooking. As if you needed another excuse to bake, using your oven can heat up your whole home! For an extra boost of heat, leave the oven door open until it cools—unless you have children or pets, of course.
When to keep a door shut? If you're not using a room for everyday living, then take care to turn off any in-room heating and close the door.
5. Draft-Proof Your Doors
Draft-proofing is a surefire way to save money on energy costs and keep warm for less. The worst culprits are gaps under doors and windows that don't shut properly.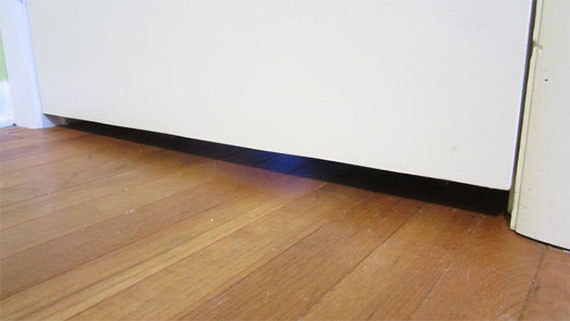 Image: Instructables.com
To fix, you can either buy draft excluder strips from your local hardware store or make some yourself. Popular DIY draft-proofing materials include a pillowcase stuffed with old socks or tights, slid under the door.
Two other DIY draft-stopper alternatives are using pipe insulation, as pictured above, or reusing a pool noodle wrapped in fabric. Just cut the pool noodle to the appropriate length, slip into a spare pillowcase, and it's ready to nestle right beneath your draftiest doorways.
6. Know How to Work Your Curtains
Using windows to your best advantage is an important step in efficiently heating your home. While most of us might think to keep curtains shut tight all day, doing so denies your home some free heat!
In the morning, open curtains and raise blinds so that light can flow in. Window glass permits light to enter a space but doesn't let it back out. As light infiltrates a room, it bounces off walls and furniture, warming your space at no extra cost.
Once light disappears, windows become a weak point. Heat escapes quickly, especially through single pane glass.
Consider investing in thermal curtains for the rooms you use the most. If you already have drapes that you love, you can just purchase the thermal lining and attach to the back of your existing window dressing. This trick alone can reduce your heat loss up to 25%!
If you don't want to invest in thermal curtains, you can make your own!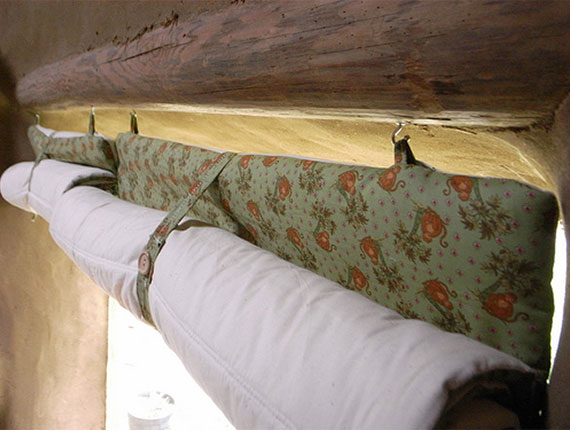 Image: Sustainablog.org
This tutorial shares how to upcycle some old sheets, or even a comforter, into great roll-up curtains that can keep you cozy at minimal cost.
Finally, don't forget to fortify any drafty window frames with caulk. Doing so only costs a few dollars and can be done in minutes. It's a small job that adds up to significant savings, especially in older, drafty houses.
7. Insulate Large Panes of Glass with Bubble Wrap
If your home features large panes of glass, such as French or sliding doors, you may have noticed that the adjoining area becomes extra chilly. Well, bubble wrap can reduce that heat loss by up to 50%!
Totally inexpensive and easy to apply to windows, bubble wrap is also light-friendly. Meaning that daylight can still enter your home, offering free heat and saving energy costs. Additionally, when viewed from the outside it only looks like frosted glass.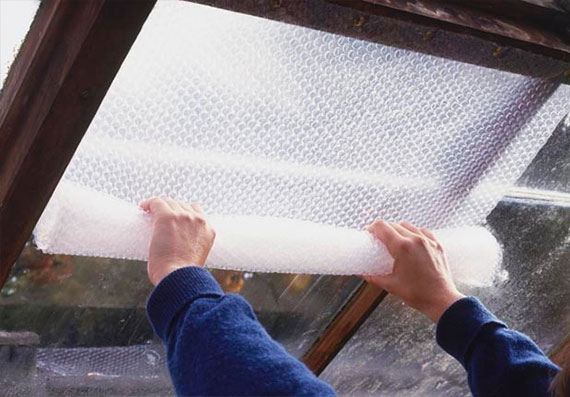 Image: AARP.org
How to insulate your windows with bubble wrap? It takes less than five minutes per window, and all you need is bubble wrap (or course), an Exacto knife or scissors, and a spray bottle with water.
Mist the water onto your window, and then push the bubble side of the wrap against the window. The water will hold the bubble wrap to the window all winter, without any tape or glue. Use the Exacto knife to cut away any excess, and you're set.
8. Reverse Your Ceiling Fan
And make sure to turn it on anytime you're using heat. Doing so helps to recirculate warm air near the ceiling back down to the floor where you can feel it. The less hot air that's wasted, the less demand there is on heating systems and the more you save.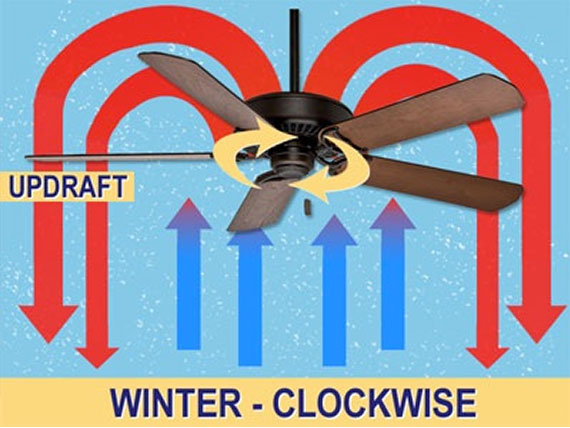 Image: ForestGlenConstruction.com
9. Give Your Water Heater a Blanket
Insulating your water tank can reduce standby heat losses by 25–45%, saving you about 4%–9% in water heating costs each year. You can even find pre-cut water heater jackets or blankets starting at $20.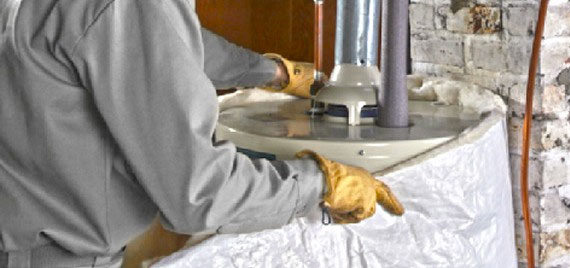 Image: OneTorontoPlumbing.com
10. Make a Tea Candle Space Heater
Did you know that using only a couple of ceramic flower pots and a tea candle, you can DIY a space heater that will keep a small room warm for about 12 cents a day?
Image: PearlTrees.com
If you're feeling crafty, you'll find a quick video tutorial below. A similar candle heater can also be purchased online for around $35.
11. Cover Up From Head to Toe
Bundling up indoors doesn't have to mean wearing giant sweaters. Instead, layering with a thin, natural fiber fabric next to your skin will allow you to move comfortably while trapping air warmed by your body heat next to your skin. A set of runner's tights and a down vest are great investments to stay cozy without wearing your favorite blanket around like a cape.
And finally, don't forget to move around! Staying sedentary for prolonged periods can lower your heart rate. Even occasional stretching can help improve your circulation, making you feel warmer.
Finally, Don't Forget These Important Pre-Winter Checks
Make sure everything is in tip-top shape before braving the worst weather. If possible, have your heating system serviced, and chimney swept annually. Cover cracks and gaps—even keyholes can let in a breeze!
And if you find that your home's energy efficiency is too poor to bear, check out the federal tax credits available for some improvements at www.energystar.gov.
Do you have any tricks for staying warm without spending out the nose, come winter? Let us know in the comments below.