11 Ways to Save on Heating Costs This Winter
With fall right around the corner, we'll soon be shutting windows and turning on the heat. Here are 11 simple tips and projects that'll keep you warm for cheap.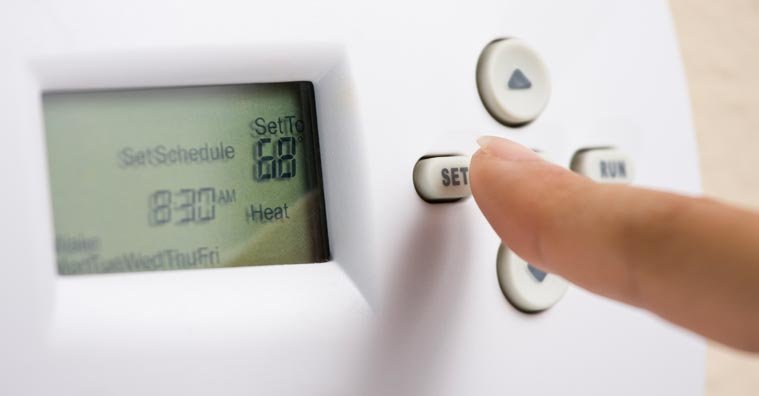 As temperatures drop, do you get nervous about turning up your thermostat?
For many Americans, winter brings the magic of cooler weather but it also tends to be the most expensive season of the year for utility bills. In fact, the U.S. Department of Energy estimates that heating your home accounts for 45% of your energy bills and is the largest energy expense you have.
Thankfully, there are simple, cost-effective ways to reduce your heating bills, some of which may take some time to work out and some that you can solve in minutes.
The following 11 tips for saving on heating costs this winter are ideas we dug up through research and through interviews with experts.
1. Switch Your Energy Supplier
In some states, the production and delivery of energy are regulated, and consumers don't need to shop around for better prices. Wisconsin, Tennessee, the Carolinas, and Nevada are just a few—view a complete list here.
However, if you live in a deregulated state and have been with the same energy provider for a long period, you may have the chance to switch to a different provider who can give you better rates.
Check out the nationwide review of electric suppliers at HouseLogic to find the best deal possible in your area. If you find a better deal but you aren't quite comfortable making a switch, then call your current provider and see if you can leverage the better deal to lower your current rate.
2. Maximize Oil Radiators and Wall-Mounted Heaters
If your rooms are set up so that a sofa, or any large furniture, is positioned in front of a radiator, you are most certainly wasting money.
As the days and weeks become colder, rearrange each room so that furniture is far enough away from wall-mounted heaters and the flow of warm air isn't obstructed.
Also, remember that radiators put out heat on both sides! Consider making a radiator reflector out of high-quality kitchen foil. (Or radiator foil, if you're feeling fancy).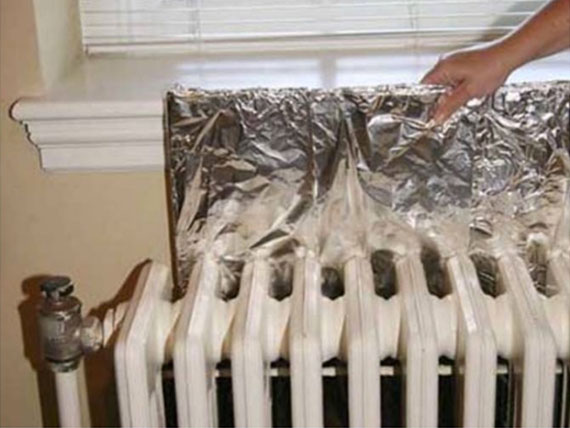 Making one is as simple as wrapping radiator tape or tin foil around a thin piece of wood. Or, if you want to save time, you can buy pre-made radiator reflectors from Amazon.
The tin foil reflects heat back into a room. This trick reduces energy costs since you won't need as much heat to stay warm. Doing so also helps maintain the temperature, keeping your home warmer, longer.
3. Use Your Programmable Thermostat
The U.S. Department of Energy recommends having a plan for your thermostat when you're at home and when you're away.
When you're in your home, it's best to keep your thermostat set to 68 degrees. If you need to warm up a bit, you can add a layer or have a hot cup of coffee.
When you leave your house, the Department of Energy says you should drop your thermostat to 56 degrees.
"By turning their thermostat back 10° to 15° for 8 hours, the family can save 5% to 15% a year on their heating bill – a savings of as much as 1% for each degree if the setback period is eight hours long," their website notes.
Insight from Sophie Kaemmerle, a home improvement expert at NeighborWho.com:
"If you don't already have a programmable thermostat, they are inexpensive, easy to install and will help you keep some control over your heating bills. This is particularly useful if you're going to be away over the holidays, as you can lower the heat (without risking any freezing of pipes) and save money. If you want to turn the heat down in your home but don't feel like wearing two sweaters, a portable heater in one room where you are spending a lot of time can make all the difference."
4. Know Which Doors to Open and Which to Shut
When you take a steamy shower or bath during winter months, leave the door open to allow the warm, humid air to travel through your home.
If you have roommates (or an awkwardly placed window), at least be sure to leave the kitchen door open while cooking. As if you needed another excuse to bake, using your oven can heat up your whole home! For an extra boost of heat, leave the oven door open until it cools—unless you have children or pets, of course.
When to keep a door shut? If you're not using a room for everyday living, then take care to turn off any in-room heating and close the door.
5. Draft-Proof Your Doors
The solution to some of your home-heating problems may be right at your feet. The gap between the bottom of your doors and the floor is an energy waster.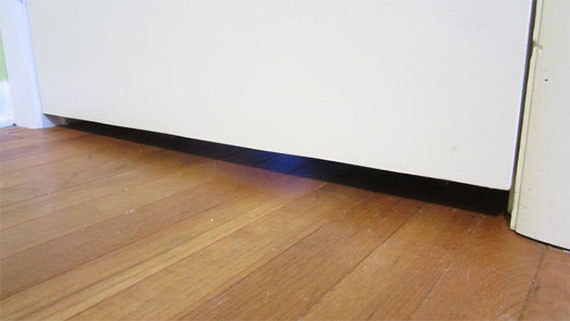 Image: Instructables.com
To combat this and contain the heat in each room, you can buy pre-made "draft excluder strips" that seal off the bottom of your doors. At the time of publishing, Walmart sold some draft stoppers for less than $10.
You also have the option of making your own strips out of cloth and pool noodles. Simply cut the pool noodle to fit the length of your door as well as the height of the gap, then wrap it in cloth. This easy fix only takes a few dollars and will have a significant impact on each room's warmth.
Insight from sustainability consultant Josh Prigge:
"Reduce heat loss through the bottom of doors by using something to block the air. This could be as simple as a towel, or you could install door thresholds that hang below the crack under the door to block air."
6. Know How to Work Your Curtains
Sunlight is a free resource for heating your home but it's one that we often forget about. During daylight hours, open the curtains in front of windows that provide sunlight. Even if it's cold outside, that light will serve as a heat source.
On days where there is no sun and at night and the early morning, keep your curtains closed, as your windows are notorious for transferring cold into your home. Unfortunately, the average set of curtains aren't efficient in blocking the cold air creeping through your windows.
To stop this heat loss, you can buy thermal curtains that act as a barrier against the cold air passing through the window. You also have the option of buying thermal insulation and fixing it to the back of your existing curtains.
If you don't want to invest in thermal curtains, you can make your own by adding thermal lining to your existing curtains.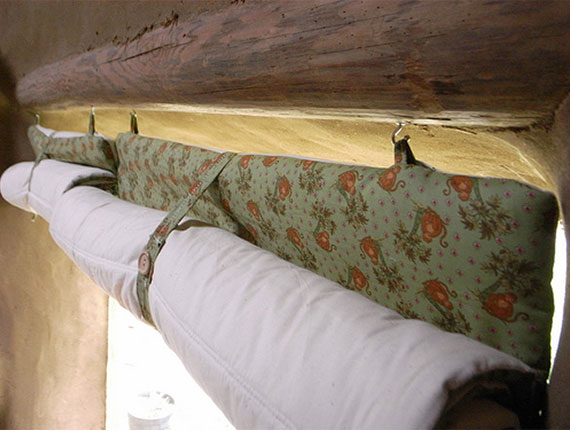 Image: Sustainablog.org
This tutorial shares how to upcycle some old sheets, or even a comforter, into great roll-up curtains that can keep you cozy at minimal cost.
Finally, don't forget to fortify any drafty window frames with caulk. Doing so only costs a few dollars and can be done in minutes. It's a small job that adds up to significant savings, especially in older, drafty houses.
Insight from Georgia-based Billy Butler Heating and Air Conditioning:
"So much warm air is lost due to poor window insulation and ends up costing you a lot of money in energy bills. Investing in heavy curtains and checking for any air leaks around your house are both good ideas as well."
7. Insulate Large Panes of Glass with Bubble Wrap
If your home features large panes of glass, such as French or sliding doors, you may have noticed that the adjoining area becomes extra chilly. Well, bubble wrap can reduce that heat loss by up to 50%.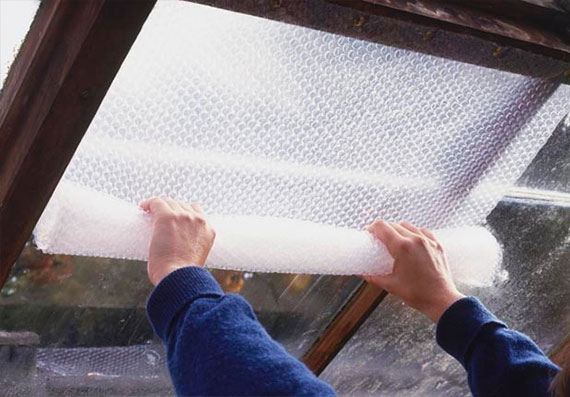 Image: AARP.org
According to HowStuffWorks, it takes less than five minutes per window to apply bubble wrap. All you need is bubble wrap (of course), an Exacto knife or scissors, and a spray bottle with water.
"Mist the water onto your window, and then push the bubble side of the wrap against the window. The water will hold the bubble wrap to the window all winter, without any tape or glue," the site says. "Use the Exacto knife to cut away any excess, and you're set."
8. Reverse Your Ceiling Fan
And make sure to turn it on anytime you're using heat. Doing so helps to recirculate warm air near the ceiling back down to the floor where you can feel it. The less hot air that's wasted, the less demand there is on heating systems and the more you save.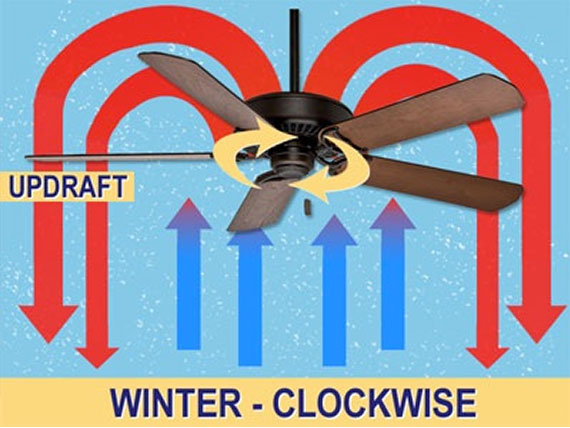 Image: ForestGlenConstruction.com
9. Give Your Water Heater a Blanket
Out of the box, your water heater may be great at supplying hot water to your home but, as temperatures drop, it does a poor job of retaining its heat while it's not in use. And, when it loses heat as it's on standby, it has to work harder to heat the water when you want to use it, which ends up costing you more money.
One trick to curbing heat loss, the U.S. Green Building Council notes (USGBC), is to wrap your water heater with insulation.
"Insulating your water tank can reduce standby heat losses by 25–45%, saving you about 4%–9% in water heating costs each year," the USGBC says.
You can cut the insulation and fit it on your own, or, the USGBC notes, you can buy a pre-cut water heater jacket for as little as $20.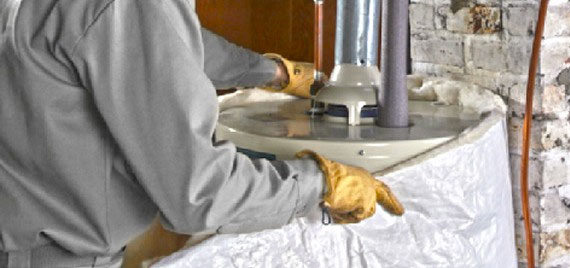 Image: OneTorontoPlumbing.com
Also, take a few minutes to locate the temperature knob on your water heater. If you can't figure it out just by looking at your water heater, Google it to find the location. Once you know where it's at, experts recommend turning the temperature down to 120 degrees.
Insight from Iowa-based Lozier Heating and Air:
"Save money this winter by making sure your water heater is in top shape and not working harder than it needs to. Most water heating systems will be set to maintain a temperature of 140 degrees, however, homes that change the settings to 120 degrees run more efficiently. Lowering your temperature settings by 20 degrees can lower water heater energy consumption by up to 10%."
10. Have Your Furnace Inspected Before the Winter Starts
If your home has a furnace, it usually sits idle during the spring. Dust and other debris that collects in the off months can gum up your furnace and reduce its efficiency. A less efficient furnace means it works harder to heat your home and will cost you more money to run.
A sure sign of excess dust is a burning smell the first few times you start up the furnace.
Make a call to your local heating and air company and set up a tune-up visit. If your furnace does need a repair, HomeAdvisor estimates that the average national repair cost is around $284.
Near the end of summer and through the fall local heating and air companies like to run tune-up specials, so keep an eye out for deals in the ads that show up in your mailbox.
Insight from Nate Burlando, owner of Canadian heating and air company Distinct Heating and Cooling:
"Unusual noises coming from with your system is a tell-tale sign of an issue and should be inspected immediately before turning it on again. It's also possible that your furnace starts to smell at first. This is actually typical as dust would have accumulated throughout the summer.
But, if you've run the system a few times and the smell persists, then you should call a technician to come take a look and make sure everything is running fine. An improper or busted furnace can use up a lot of energy that ends up getting wasted."
11. Cover Up from Head to Toe
Bundling up indoors doesn't have to mean wearing giant sweaters. Instead, layering with a thin, natural fiber fabric next to your skin will allow you to move comfortably while trapping air warmed by your body heat next to your skin. A set of runner's tights and a down vest are great investments to stay cozy without wearing your favorite blanket around like a cape.
And finally, don't forget to move around! Staying sedentary for prolonged periods can lower your heart rate. Even occasional stretching can help improve your circulation, making you feel warmer.
Some Final Thoughts About Saving Money on Winter Heating Costs
Preserving the warmth in your home isn't really a matter of doing one big thing. It's an effort that combines a lot of small, affordable adjustments that, together, provide a warmer home and considerable savings on your utility bill.
A few other ideas you might want to consider would be using your fireplace more frequently this winter. Hardware stores and gas stations sell firewood but the best deals can be found on sites like Craigslist where private sellers give you far better bargains.
Be sure to ask them how long the wood has been seasoned, as wet wood tends to gum up your fireplace far more than wood that's had the chance to dry out for more than a year.
Also, consider buying a small room heater if you spend most of your time in one part of your apartment or house and don't want to use your A/C or furnace. Walmart, Target, Home Depot and Lowe's offers various heating options for under $50.
» See Also: 6 Ways to Prevent Winter Mold and Mildew in Your House