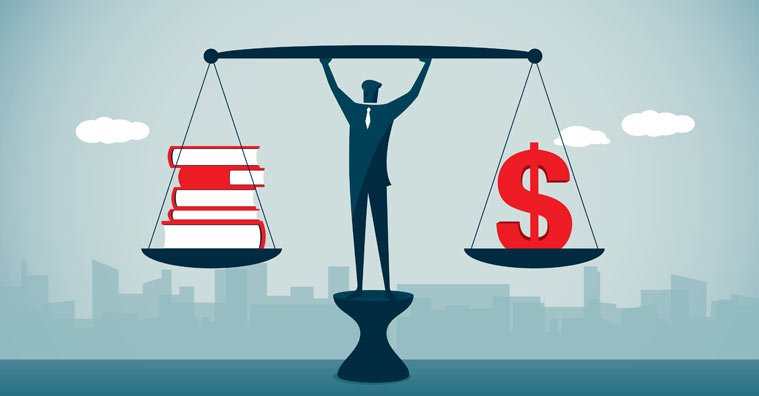 Being an expert in online financial aid opportunities is a necessity in an age when the average college education costs around $25,000 per year for public university and around $50,000 per year for a private university.
At the end of a four-year education, you're looking at a bill of between $100,000 and $200,00, depending on where you go to school.
Those numbers are intimidating, which is why it's important to do the right research and exhaust all possibilities for funding your education.
In this guide, we've dug up 11 different ways you can apply for and/or obtain financial aid for your education. The suggestions range from scholarships that Microsoft and Google provide to websites like FastWeb and loans from private and federal lenders.
In addition to researching various financial aid options, we also spoke with Kristina Ellis, a financial aid expert and author of "Confessions of a Scholarship Winner" and "How to Graduate Debt Free".
"As I've been out speaking to students and continuing my research, it's amazing how many different methods there are for paying for college," Ellis said. "If you're willing to be strategic and do the work you can find tools, strategies and options to eliminate college costs."
Scholarships
College students can potentially find scholarships through the following sources:
Microsoft Scholarships
Microsoft focuses their scholarships on diversity. Their main scholarship program is the Blacks at Microsoft scholarship (BAM), which is, according to their site, available to high-school seniors "of African descent (for example, African American, African, or Ethiopian)."
Deadline: February 15, 2019
United Negro College Fund
The UNCF offers 22 different scholarships at the time of publishing. Based on our research of these different scholarships, we found that most of them have a two-month window for applying, so it's important to know when the various scholarship application periods are open and when they end.
In most cases, UNCF scholarships are closed by the second week of November, with one scholarship (Walton-UNCF Education Fellows) and March (UNCF General Scholarship).
Application deadline: Varies from 9/28 to 3/29
Coca-Cola Scholars Foundation
Coca-Cola Scholars Foundation is another great resource for students searching for financial assistance, as the company offers $3 million worth of scholarships; 1,500 awards of $20,000. On an individual basis, you can receive up to $20,000 for your studies.
According to Coke's data, they've awarded $73,800,000 since their program started in 1989. Fifty-six percent of recipients are female, and the top-five colleges to which recipients attend are, Coke says:
Harvard
Stanford
Duke
Yale
Princeton
Other data from Coke indicates that they've awarded scholarships to students at 3,861 high schools.
Applications for the Coca-Cola scholarships open on Aug. 1, according to information available at the time of publishing.
As a side note, Coke promotes the #cokescholars hashtag, through which you can go to Facebook and Instagram and see photos and posts about the program.
Deadline: Oct. 31, 2018
Scholarships from Google
Google provides five scholarships and two grant programs. Here's a list of those scholarships:
Google Europe Students With Disabilities Scholarship: $7,000
Venkat Panchapakesan Memorial Scholarship: $750
Google Lime Scholarship: $10,000
Generation Google Scholarship: $10,000
Google Student Veterans of America Scholarship: $10,000
Google has specific standards and evaluation procedures for each program. We'll review their selection process for the Google Europe scholarship. Here are a few of the important bits of information from the scholarship's terms and conditions:
Applications are scored based on three areas: "Demonstration of passion to computer science, academic merit, and Demonstration of leadership skills"
Google chooses the 10 best applications
Winners are notified in June
According to the fine print, the scholarship has to be spent on "tuition, fees, books, supplies and equipment required for the applicants' classes at their primary university.
Deadlines: One in July, the rest in December.
Tips for Applying for Scholarships
Ellis told us that scholarships aren't a magical thing where all you have to do is apply and you'll get the money you need.
Many scholarship programs have limited funds disbursed on a first-come, first-served basis for those whose applications are accepted. This is true not only for scholarships from organizations like Microsoft and the United Negro College Fund but also for scholarships that colleges and universities offer.
So, as you approach the various scholarships you find, be smart about which ones you apply to. Read through their qualifications, their deadlines and match the right scholarship for your "resume" of activities, awards and college aspirations.
"A lot of students also hit scholarship application time and they just apply and they're not super-strategic about it," Ellis said. "A scholarship is not a lottery ticket where you scratch it off with no real effort and hope luck will come your way."
Some of the tips that Kristina offered were to involve yourself in extracurricular activities and to focus on writing excellent essays for the scholarships to which you apply.
"Every dollar adds up. If you can make that extra effort in high school it will pay off your entire life," she said.
Special Grants
These are special grants (money you don't have to pay back) that you can obtain in order to continue your studies:
Free Scholarships
With a little research, you can find more than 1.5 million free scholarships available, which are granted on the basis of academics, nationality, disability, and more. To find these types of scholarships, the best tool is FastWeb's free scholarship search system.
In order to find out which types of scholarships are available to you, you'll have to set up an account. You'll have to enter information like your GPA (be as accurate as possible), the major or majors in which you're interested in, gender, ethnicity and other bits of information.
Once you complete your profile, can search their database for scholarship and grants as well as view the particular financial aid opportunities FastWeb matches with you.
FastWeb will send you alerts as the deadlines for scholarships you're interested in draw near.
Federal Supplement Educational Opportunity Grant (FSEOG)
FSEOG grants $100 to $4,000 annually to undergraduate students looking for financial aid in order to continue their studies. As the FSEOG website points out, in order to get this grant, you'll need to fill out a Free Application for Federal Student Aid (FAFSA).
From there, the Department of Education will determine your expected family contribution (EFC). If what your family is expected to contribute is less than what it will cost you to go to the schools you listed in your FAFSA, then you may be eligible for the FSEOG.
Other important reminders from the Department of Education is that, in some situations, you'll be required to pay back your FSEOG. Also, while all schools offer Pell Grants, not every school offers the FSEOG.
Pro tip: How much you get from this program depends on various financial factors as well as where you intend to go to college, the FSEOG website says.
Federal Pell Grant
At the time of publishing, the maximum amount of money you could get from this grant was $6,095 for the 2018-2019 year.
The Department of Education's Pell Grant page notes that how much money you receive through this program depends on these following four criteria:
Your EFC
How much it costs for the degree program and school you want
You're enrolled full-time or part-time
You will attend for a full year or less
If you don't want to wait to find out your EFC, the Department of Education provides a table that shows you how much Pell Grant money you can get based on your EFC.
Teacher Education Assistance College and Higher Education Grant – TEACH
This program provides up to $4,000 a year and is intended for students who go into the education field and is only available to you if you can meet certain requirements for classes you take during school and jobs you take after school.
Here are the requirements, per the Department of Education's TEACH page, for the types of jobs you need to get when you graduate:
in a high-need field;
at an elementary school, secondary school, or educational service agency that serves students from low-income families; and
for at least four complete academic years within eight years after completing (or ceasing enrollment in) the course of study for which you received the grant
If you don't follow the guidelines for classes and jobs, your grant could turn into a loan, the Department of Education says.
Also, even though the max amount you can get is $4,000, a certain percentage of that (6.6% and 6.2% at the time of publishing) will be taken off the top for the government.
Loans
Anytime your expected family contribution, grants, and scholarships don't cover the cost of your education, there's a really good chance you'll have to take out federal or private loans in order to cover the gap in your financial aid package.
You have multiple choices within the federal and private loan spaces.
Private Student Loans
As we mentioned earlier, the Department of Education will send you an EFC after you submit your FAFSA. This EFC tells you how much the government expects your family to contribute to your education.
Ideally, federal grants, scholarships, and federal student loans would make up any difference between the cost of your education and your financial aid package.
However, not every situation is ideal. If you still need to come up with money to pay for college, private student loans could be an option for you.
Private, not federal, lenders offer these loans to you at interest rates often higher than federal student loans and with shorter repayment periods.
Another aspect that makes these loans unique compared to federal loans is that the lender will calculate your interest rates largely based on your credit scores. In most cases, if you've got bad credit, your interest rate will be higher than what you'd get from a federal student loan.
The following is a list of lenders we've reviewed who provide private student loans, along with their top strength:
If you want to learn more about private loans and how they differ from federal loans, read through our guide to private vs. federal loans.
Direct Subsidized and Direct Unsubsidized Loans
There's a good chance that, if you're getting federal student loans to help pay for school, you'll be taking out subsidized and unsubsidized loans.
The difference between these loans is interest. While you're in school, the government won't charge you interest on your subsidized loans but they will with unsubsidized loans.
There are also differences in how much you can borrow. Here's a quick chart to help you understand the max you can borrow for each loan type:
| | Subsidized | Unsubsidized |
| --- | --- | --- |
| Freshman | $3,500 | $5,500 |
| Sophomore | $4,500 | $6,500 |
| Junior | $5,500 | $7,500 |
| Senior | $5,500 | $7,500 |
Typically, you'll get subsidized loans first and, if you still have a financial need, you'll get unsubsidized.
An important point is that, if your parents don't claim you on your taxes, then your max loan amounts for unsubsidized loans go up to $9,500, $10,500 and $12,500, respectively.
Pro tip: Loan rates, at the time of publishing, were 5.05% for subsidized and unsubsidized undergrad loans and 6.6% for unsubsidized graduate loans.
Direct Consolidation Loans
Consolidating your federal student loans is a way for you to bring them all under one loan servicer through whom you can make one payment. It simplifies your student loan repayment.
The Department of Education calculates your interest rate for the consolidation loan by doing a weighted average of the interest rates on all your various loans.
Aside from having one payment for all your loans, the other advantage to the federal loan consolidation program is that you can be eligible for five income-driven repayment plans. These plans calculate your monthly payment based on your family size, income and other factors.
This option, in most cases, allows you to lower your monthly payments and spread them out over 25-30 years.
Pro tip: Certain repayment plans for consolidated loans can provide loan forgiveness after 20 or 25 years.
Federal Parent Loan for Undergraduate Students (PLUS)
These loans are for parents who want to take out a federal student loan to help pay for their child's college expenses.
Unlike the other federal loan programs we've covered in this guide, the PLUS program may reject you if you have an adverse credit history.
According to information the Department of Education provides, here are a few situations that qualify as "adverse":
You have an account with a balance higher than $2,085 that is more than 90 days delinquent
You have a foreclosure in the past five years
You have a tax lien in the past five years
You have debts discharged through bankruptcy in the past five years
The Department of Education says that, in the event that your credit history is considered "adverse," you can bring a co-signer onto the loan. However, your co-signer will become responsible for the loan. Also, there are no guarantees that, even with a co-signer, you'll get a PLUS loan.
According to the Department of Education, your PLUS loan amount will be the difference between the cost of your child's education and the financial aid they've already received.
Bottom Line About Online Financial Aid Resources
Your financial aid search is going to be intimidating at first but, using the research we've done in this article, you have the tools you need to find the right financial fit for your education.
The time that you spend searching scholarships and applying to grant programs will be well worth the effort, not only because you'll pay for your education, but, Ellis pointed out, the more scholarships and grants you can get, the fewer loans you have to take out to get your diploma.
"It would be awesome that people could have a college experience where they can learn themselves and grow without having to worry about debt," she said. "But, due to the state we're in with the student loan crisis, you have to do what you have to do to avoid going into debt for years and years down the road."
As you start or continue your search for financial aid, be wary of scholarship scams. Crooks know that high school seniors and their parents/guardians are searching for ways to pay for college, so they try to leverage your need in order to get you caught up in scams.
Our guide to scholarship scams will help you understand how these ruses work and what you can do to avoid them.
We've also done a lot of research about back-to-school scams in general, which covers scholarship, grant, employment and other scams targeted at students like you who are looking for ways to pay for college or earn money while you're in college.