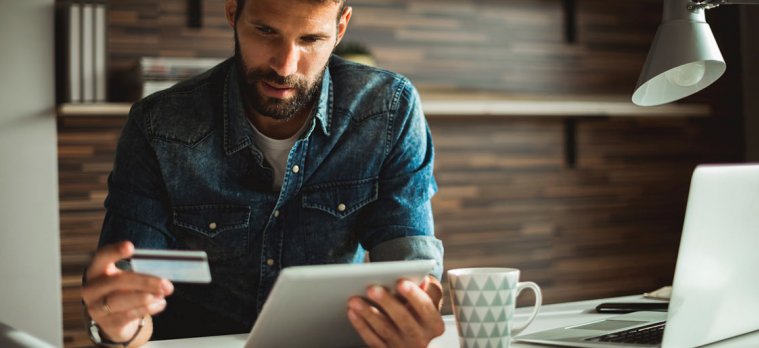 By the way, debit cards still exist.
More an artifact from the era before travel bloggers and points experts hyped rewards credit cards, debit cards are like a stripped down version of their more beloved line-of-credit cousins.
However, you might be surprised to know that, in 2012, Americans used their debit cards to pay for $47 billion of goods, services, and other transactions. What may lie behind all this spending is the fact that debit cards use real money to pay for things, while credit cards are essentially borrowing money.
A recent survey from CreditCards.com confirms this, pointing out the majority of consumers like that debit cards deduct cash from your checking account.
"What makes a debit card attractive," the site's Tamara E. Holmes asked. "Sixty-six percent of consumers surveyed in 2014 about the features they most value in their preferred debit card said having funds deducted immediately from their accounts was the best feature."
When it comes to payment cards, we spend all of our time focusing on credit cards, but a recent article from NextAdvisor Content Manager Jessa Barron got us thinking about what the advantages and disadvantages of a debit card and how it compares to your typical credit card.
So, we talked with Jessa about her research and asked her plenty of questions about the credit card vs. debit card debate. What we found was pretty interesting, and we're going to lay it out in the next few sections of this article.
Credit Card vs. Debit Card: Fraud Protection
Our extensive research of credit cards reveals that almost every card you get will have some sort of fraud protection with it. For instance, the Discover it a lets you "freeze" your card through their app if you suspect your card has been stolen.
More importantly, most of the popular credit cards you'll see have something called $0 liability, which means that you aren't responsible for fraudulent charges on your account. Not responsible, that is, as long as the credit card company concludes that you didn't make the charges.
That conclusion usually doesn't take long to arrive at. For example, four years ago someone used my Visa card to make charges in Atlanta, Georgia, while my wife and I were in San Diego, California.
The representative with whom we spoke could see we'd just used the card at a San Diego In-n-Out, so it was pretty easy to tell there was fraud going on. We weren't liable for any of the charges and were sent a new card. This type of service is pretty common in the credit card industry.
"Chase, Capital One, Citi, American Express and Discover offer $0 fraud liability," Jessa said, "and they won't hold you responsible for any credit charges if they were made by you."
Related: Chase Sapphire Reserve Card Review
Life gets a little harder when someone uses your debit card to make fraudulent purchases, though. Jessa shared a story from her own life to illustrate this. She was at a music festival and her debit card fell out of her purse at some point.
She went to her bank to get the fraudulent charges refunded, but it wasn't that easy. The bank printed out her transactions for the past seven days and they went line by line, asking for explanations for each debit.
"It took three weeks to get the issue resolved," she said, "so I was out of my money for three weeks."
In our opinion, that's the greatest drawback of a debit card's fraud protection and liability. A close second is an amount for which you're liable, which can change depending on how quickly you notify your bank of a lost card or fraudulent charges.
Jessa's post linked to a great article from the FTC called, "Lost or Stolen Credit, ATM and Debit Card". The article explains your liability for fraudulent debit purchases:
$0 liability when you report the lost card before unauthorized charges show up
$50 liability if you report the charges or lost card within 48 hours
$500 liability you report the lost/stolen card more than 48 hours after, and within 60 days of getting your bank statement indicating fraudulent charges
Full liability (100%) if you report the theft or lost card more than 60 days after your statement
There is one saving grace amid all this, though.
"If someone makes unauthorized transactions with your debit card number, but your card is not lost," the FTC's site says, "you are not liable for those transactions if you report them within 60 days of your statement being sent to you."
Why the big difference between debit card policies and credit card policies? Jessa said it's a matter of money – debit card transactions are taking money directly from your checking account, while charges to your credit card aren't actually paid for yet.
It's also an issue of laws, she pointed out. When you make a credit card transaction, you're protected by the Electronic Funds Transfer Act and the Fair Credit Billing Act. The same rules don't apply to your bank, though, and that's why fraudulent charges on a debit card are a headache.
Overall, it's pretty clear that credit cards have the decisive advantage over debit cards when it comes to fraud protection.
Credit Card vs. Debit Card: Rewards
There was a time when using your debit card got you rewards in the same way you get rewards from credit card usage. However, those types of perks started to die out after serious reform came in the years after the Great Recession.
According to The Points Guy's Richard Kerr, the reason for this decline in benefits stemmed from the Dodd-Frank Wall Street Reform and Consumer Protection Act. The post-recession bill included a clause that capped the amount of money banks could charge a business for processing transactions from customers using the bank's debit card.
That fee cap led to a loss income, and, Richard said, banks weren't too interested in offering free stuff like travel rewards. So, they axed rewards programs, as well as free checking and other customer-focused perks.
"The bank has no reason to incentivize you to use your debit card, and no reason to pay the cost of sustaining a rewards program," Richard wrote. "Cue the end of free checking, the beginning of increased checking account fees and the slow death of debit cards that earn points and miles."
Credit cards, on the other hand, are in the glory days of rewards. The Chase Sapphire Reserve has reached cult status for its 100,000 intro-miles offer and yearly $300 cash back on travel purchases.
The Capital One Venture card offers 40,000 intro points as well as double points on all purchases, a bonus that could easily net the average family 50,000 points each year.
In my own personal experience with the Hyatt Visa card, my wife and I have been able to rack up enough points and anniversary nights to get three to four nights a year at our favorite luxury hotel, which is, according to my research, worth anywhere from $680 to $1,000.
Just like fraud protection, credit cards have much more rewards to offer to the average consumer than debit cards.
Credit Card vs. Debit Card: Credit History
Another big advantage credit cards have over debit cards is that you can use them to build your credit. Every time you make an on-time payment, your credit card company reports the payment to Equifax, TransUnion and Experian. Those credit bureaus then report the information to companies who determine your credit score.
Debit cards, on the other hand, don't offer you that important advantage. Why? The principle behind credit is that a company gives you money to make purchases on the promise that you'll pay that money back. There is no borrowing or trust needed with debit cards; the money is taken from your checking account within minutes of making your purchase.
There is a huge drawback to your payment history being forwarded to credit bureaus, though. Your payment history accounts for 35% of your credit scores, so just one payment 30-days past due can have a serious impact on your score.
This downside is one of the reasons why Jessa says consumers should be very intentional and methodical about which credit cards they choose. If you don't think you have the discipline to pay your bills on time, she said, you should think about holding off on a credit card until you feel like you're ready for the responsibility.
See Also: 7 Credit Card Hacks You Can Use to Raise Your Credit Scores & Reap Rewards
A Few Final Tips About Credit and Debit Cards
Deciding whether you want to use a credit card or debit really comes down to self-awareness. As Jessa said, you should know if you have the level of discipline it takes to pay your balance in full, every month. If you don't have that discipline, stay away from credit cards – you'll end up paying hundreds of dollars in interest fees over the course of one year.
See Also: Americans Are Bad at Budgeting and Great at Making Excuses
Also, if you aren't good at budgeting but you want to get better, consider putting your credit cards on the shelf and using your debit card until you've got your finances straightened out.
Credit cards bill you for purchases you made one month in the past, so it can be hard to keep track of your bottom line in real-time. Apps like Mint or YNAB can help, but only so much when you lose track of your credit card charges and statements.
Finally, Jessa said, be sure you know exactly what fees you can expect from your bank account or credit account. Reading the fine print is the best way to understand what these fees are. Banks are notorious for piling on overdraft fees if you use your debit card when you don't actually have money in the bank.
If you're convinced you want a credit card, we encourage you to stop by our credit card reviews page. Our reviews cover what the card is offering, its fees and terms, what other people are saying about it as well as its long-term benefits.
Read Next: The Top 7 Money Mistakes People Make