How to Save Money with Your Student ID: Guide to Student Discounts
Are you a college student who's strapped for cash? We compiled a list of over 30 brands that offer discounts on purchases made with a student ID.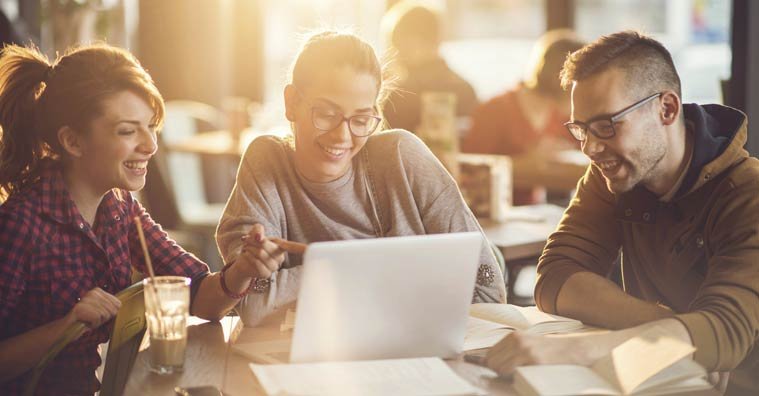 Did you know that you can save money just for being a student?
Retailers and venues offer a number of student discounts to help offset the cost of everything from supplies and tech to clothing and entertainment.
Keep this list of companies that offer student discounts bookmarked to save money on purchases throughout the year:
Get Discounts on Computers with Your Student ID
Having a reliable computer is a necessary (and brutally expensive) aspect of attending college. Thankfully, there are a few tech companies that honor your student ID for some substantial discounts.
Save on MacBooks, iPhones, and iPads for College
Apple offers college students up to $100 off qualifying Mac computers (iMac, MacBook Pro, MacBook Air, and Mac Pro), and $50 off of both a qualifying iPhone and iPad.
Education pricing is available to college students, students accepted into college, parents buying for college students, teachers, lecturers and staff at all levels.
However, these discounts apply only to the current generation of products, not refurbished models. Additionally, only one of each product may be purchased per year for a combined savings of $200.
Best Buy Offers Savings Up to $150 on Multiple Models
Taking advantage of this deal involves heading into your local Best Buy and browsing computers. Since their student discount isn't available on every model, you'll have to ask a sales associate to check, once you've decided on a specific computer.
They'll ask for your .edu email, then send you a discount code within minutes—just show the email to an associate when purchasing for instant savings.
Lenovo, Dell, and Hewlett-Packard All Offer Students Employee-Level Discounts
Lenovo Academic Purchase Program offers weekly sales on PCs and varying discounts on other available models. Additionally, students who order a Lenovo online are given free shipping.
Through Notebooks For Students, Dell offers students a limited range of laptops at discounted prices—some models starting as low as $225.
The HP Academy Program offers student-exclusive discounts of up to 20% off HP products, free shipping on all orders, and personalized PC recommendation to help you find the right computer.
Additional Student Discounts on Software and Tech
JourneyEd specializes in saving students money on software. Programs like Microsoft Office and Adobe Photoshop are available at significantly reduced prices. Similarly, the Academic Superstore offers a variety of discounts for students on software from Adobe, Microsoft, Corel and more.
» Related: How to Get Free Anti-Virus Software
Your Student ID Can Get You Discounts on Movie Tickets and Museums
Do you love catching a movie in the theater, but don't want to splurge on ticket prices? Thankfully, theaters often offer student discounts. Though, some are too paltry to even cover the cost of popcorn:
For example, AMC Theaters offers a student discount of $1 off the adult price on Thursdays. Cinemark offers steeper discounts, but discount days and times vary with locations, so you'll need to call ahead to check.
If you're interested in viewing something other than the newest blockbusters, know that many museums, concert halls, and even aquariums offer student discounts.
Dan Nainan, a student at Manhattan-based comedy school UCBT, says that he's even used his student ID for discounted entrance costs when sightseeing abroad, including the Eiffel Tower in Paris and a Monet exhibit in Australia.
"The best discount I've ever found was last year in Singapore at the Singapore Botanical Gardens. There was an admission fee to a special area which was $10, but with my student ID somehow I got in for free!"
Dan's advice? "If there isn't a discount advertising a student ID, I always ask."
Use Your Student Email to Save on Shipping, Music, and Movies Online
You probably haven't thought too much about your college-assigned email address. But, using a '.edu' email can lead to savings.
Student Savings on Amazon Prime
Students who sign up for Amazon Prime Student with their .edu email address get a six-month trial period that includes:
Free two-day shipping on millions of eligible items
Unlimited streaming of thousands of movies and TV shows through Prime Video
Access to unlimited photo storage through Prime Photos
Offers for student-exclusive deals and discounts
The free trial is a great deal for students who just want to take advantage of all the exclusive back-to-school deals that Prime members receive by email and also the free two-day shipping for last-minute items.
After the six-month free trial ends, students can continue their Amazon Prime membership at 50% off the regular price—that's $49 a year for access to all of Prime's benefits. Additionally, if you refer another Prime Student, you each receive $5.
This discount can only be used for four years, or until you're no longer a student. Note that, unless you cancel your Prime membership at the four-year mark, it will automatically renew as a full-price subscription.
Student Savings on Apple Music
Students enrolled in colleges in Australia, Denmark, Germany, Ireland, New Zealand, United Kingdom, and the United States can also save on music and entertainment costs through Apple Music.
The Apply Music Student Membership gives students with an .edu email address access to all the regular benefits of Apple Music, including:
Unlimited listening from the Apple Music Library
Unlimited access to Beats 1 radio station
The ability to follow artists on Apple Connect
Storage of up to 100,000 songs in your iCloud Music Library
Downloads for offline listening
Expert music suggestions
For a discounted price of $4.99 a month—that's a 50% discount off the price of an individual plan.
Students can use the discount for four years or 48 months. Even better, the time doesn't have to be continuous! Meaning that you can stop and start your Apple Music Student Membership when needed.
Student Savings on Spotify
If you stream music to your smartphone, chances are that you prefer Spotify for its easy-to-use interface and can't-be-beat selection of music. Lucky for students, Spotify also offers 50% off the regular price of a premium membership, which includes:
Ad-free listening
Access to Spotify's complete library
The ability to download individual songs or playlists to your phone
Higher sound quality than standard membership
The cost of Spotify Premium for students is $4.99 a month. However, unlike Amazon Prime and Apply Music, Spotify only extends their offer for a twelve month period. Additionally, the discount is only available to US-based students.
Use Your Student ID for Cheaper Transportation and Insurance
In the market to buy a new vehicle? Chevrolet offers college students and recent graduates to below-MSRP prices on eligible, new Chevrolet vehicles. To take advantage of Chevy's discounts, you must first create an online account to receive your discount code authorization, which you then present at your local dealership.
You'll need insurance to cover that new set of wheels (or the ones that you already own). Luckily, plenty of companies offer student discounts to help make the cost a little easier to swallow:
Additionally, Jiffy Lube offers students $10 or 10% off your total bill when you present a valid student ID.
If a long-distance bus is closer to your budget, Coach USA Shortline offers 15% off tickets originating in or going to the city shown on your student ID. Alternately, Greyhound offers 10% to thousands of locations with the Student Advantage Discount Card.
For those traveling long distances in Europe, Eurail offers students a 35% discount off of regular adult fares.
Clothing Brands That Give Student Discounts
Because eventually, you'll want to wear more than sweats emblazoned with your college's motto, check out these brands that offer discounts when you flash a student ID:
Banana Republic: Save 15% off your full-priced order
Goodwill: Certain local Goodwill locations will give you 10% - 20% off with ID
H&M: Save 20% off your entire in-store purchase
J.Crew: In-store only, save 15% off when you present your student ID at checkout
ModCloth: Receive up to 30% student discount with registration
Toms: Save 10% off with your student ID
Another money-saver for students is UNiDAYS. The website aggregates a wide variety of student discounts, including offers from big brands such as Bed, Bath and Beyond, Forever 21, Apple and Microsoft. Signing up is free, and all discounts are available after a single verification process.
No Student Discount Advertised? It Never Hurts to Ask
Not all retailers publicly advertise their student discounts. Your best bet? Carry your student ID with you wherever you go to a checkout counter and be prepared to ask if a discount is offered.
Also, don't forget that while student IDs can facilitate some great savings, just remember not to count your chickens until they're hatched.
Discounts are subject to change, and each can vary depending on your location and the amount of your purchase. Be sure to check with a specific retailer regarding any discount before making a purchase.
» Recommended Reading: Seven Tips for Better Back-to-School Shopping