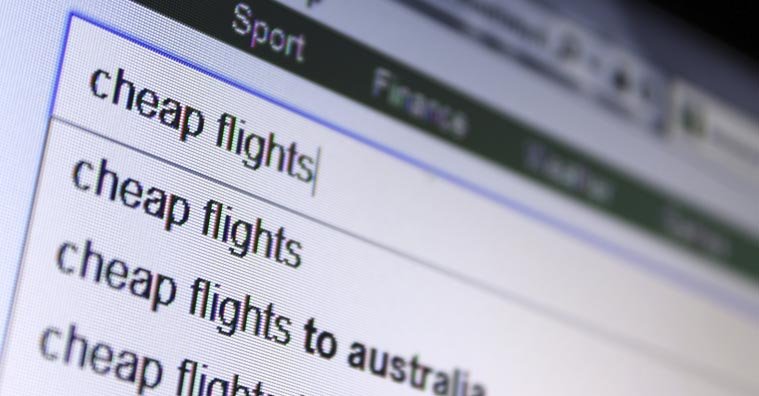 Can't decide whether to stay home or fly to visit family this holiday season? If the price of airfare is influencing your decision, this might be the perfect year to take a trip.
Thanks to the dropping cost of jet fuel, flights in 2016 have been an average of 20% cheaper than they were just two years ago—and are at the lowest point in almost a decade.
While you could just log onto your favorite flight booking website and shoot from the hip, knowing the exact dates that are best for booking holiday travel can help you save a bit.
We share our tried and true steps for finding the best airline ticket prices, along with exact dates that are projected to offer the greatest savings when shopping for Thanksgiving, Christmas, and New Year's Eve travel.
When Is the Best Time to Book Thanksgiving Flights?
Buying your Thanksgiving travel tickets on October 31st is projected to yield the largest discount, saving you an average of 7.73%.
Can't wait that long? Buying your Thanksgiving airfare on October 17th is expected to save you 5.10%. Finally, waiting until November 21st is projected to save you 1.98% on the cost of flights over Thanksgiving.
These potential savings are based on dates of travel set to arrive between November 20th and 26th, and returning between the 27th and 29th. You'll likely see even cheaper airfare if you travel a day or two outside of the projected range.
Cheapest days to book your Thanksgiving flight:
October 31st (save 7.73%)
October 17th (save 5.10%)
November 21st (save 1.98%)
What's the Best Date to Book Christmas Flights?
Flying home for Christmas is notoriously pricey. However, if you book your Christmas travel on November 21st, you can save up to 6.41% on the cost of airfare.
Waiting until December 5th has a projected savings of 4.93% while booking your ticket on November 28th offers the chance to save 2.17%.
These dates are assuming that you're traveling to a destination sometime between December 19th to 25th, and returning December 26th or 27th. Again, you might find even better deals by shifting your travel outside of popular dates.
Cheapest days to book your Christmas flight:
November 21st (save 6.41%)
December 5th (save 4.93%)
November 28th (save 2.17%)
What's the Best Date to Book Flights for New Year's Travel?
Traveling for New Year's Eve is tricky since you're bound to pay more due to the holiday's proximity to Christmas. Nonetheless, waiting to book your New Year's Eve travel until December 5th can result in a savings of 10.57%.
The next best time to book New Year's Eve tickets is apparently December 26th, offering a potential savings of 6.72%.
However, that might be cutting it a little too close, considering that these dates are analyzed on a projected departure on December 26th or 27th, and a return between January 1st and 3rd.
The third-best savings, projected at 6.67%, can be had by booking on December 19th. Finally, travelers who book their New Year's Eve tickets on November 21st can save 4.14% on airfare.
How did we get this data? The dates with the highest potential savings when booking holiday flights are courtesy of Skyscanner—which also happens to be one of my favorite flight booking websites, due to the option to search flight prices for the best deals over a week, month, or even a year.
Cheapest days to book your New Year's Eve flight:
December 5th (save 10.57%)
December 26th (save 6.72%)
December 19th (save 6.67%)
November 21st (save 4.14%)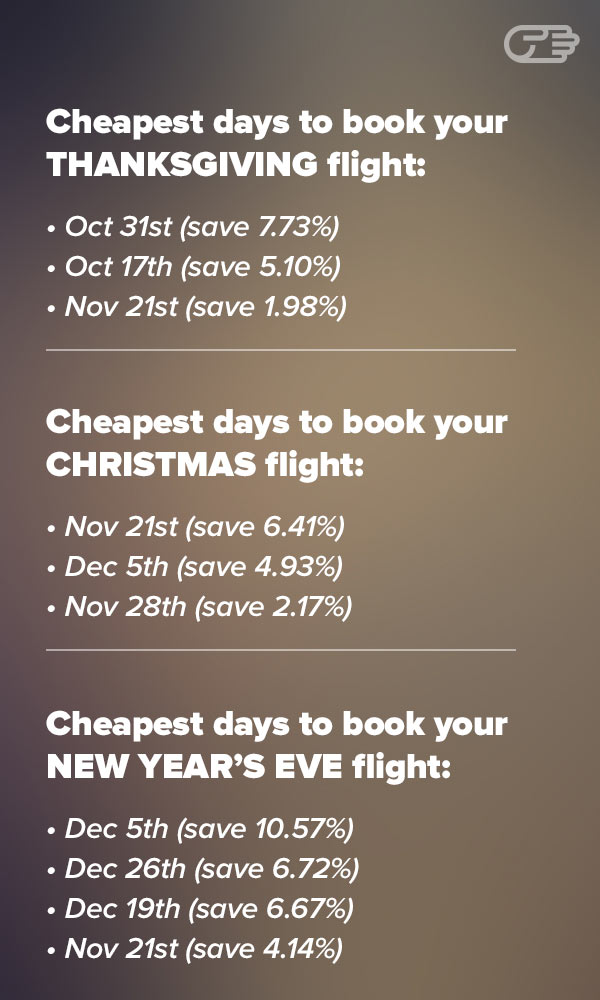 Flying Internationally? You've Barely Enough Time to Book Christmas Travel
Note that these predictions are based on domestic travel. Those hoping to hop over the pond and holiday in the UK, Europe, or beyond can still hope to see some savings as international flight prices have dropped an average of 13%.
However, the best time to book your international flight remains between 54 to 57 days before your trip.
Now that you know the best days to shop, here's our 4 step strategy to help you find the lowest ticket prices:
1. Search for Flights on Two or More Sites to Compare Costs
Travel + Leisure reports that the average person visits 15 websites does seven research sessions and takes three weeks to book a single flight.
Our advice? Search smarter, not harder, by knowing which booking sites are best to aid in different aspects of your search. Here are my favorites:
Kayak.com: All around best for cheap airfares, multiple destinations, and flexible dates.

Skyscanner.com: Still unsure if you want to travel over Thanksgiving, Christmas, or both? Skyscanner is best for super-flexible searches including "whole month," "whole year," and even "everywhere" for those who are open to any destination.

Google Flights: Are you torn between two or more destinations, but have set dates of travel? Google Flights is best for discovering where you want to go by using the site's map function. It shows prices for multiple destinations on the same date.

Expedia.com – If you're looking to make the most out of your holiday time off by fitting in some sun, sand, and sea or a far-flung destination, check Expedia for the best deals on vacation packages.
Pro Tip: We'd previously reported that the best time to shop for flights was Tuesday mornings, and recently had that tip confirmed by Cheryl Rosner, frequent flyer, CEO of Stayful.com, and former President of Expedia Corporate Travel.
This is because airlines often release their sales on Monday. These sales are matched by other carriers on Tuesday and are often gone by Wednesday.
Additional Tips for Finding the Cheapest Holiday Flights
When shopping for flights, use the flexible search option when possible, which allows you to compare the price of surrounding dates.
In general, the best days to fly are usually Monday, Tuesday, and Saturday. On the flip side, Thursday and Friday are the most expensive days to fly.
If you're comparing prices on more than one booking website, be sure to delete your browser's cookies (or shop using an incognito tab).
That's because some airfare booking sites have been known to track user activity.
When a website recognizes that you came back to compare the same trip multiple times, it's possible that it'll raise the price of the ticket on your specific dates.
Finished your research? Take note of the best prices, routes, and flights. If they're good fares, go ahead buy them and forget about the rest of this post.
However, if you want to keep searching then go to the next step.
2. Check These Two Additional Booking Sites for Sales
The above websites should return all current sales, but sometimes they miss a seat sale put on by a particular airline for a short window of dates.
The following websites work best when you have a destination in mind but are flexible on the dates you travel.
Go to Airfarewatchdog.com and Travelzoo.com to look for flights cheaper than what you found in step one.
Know That these booking sites tend to have more general listings than searches for exact dates and destinations, but they're still worth a look.
3. Check the Official Airline Website Before You Buy
Once you've decided on the best flight based on price, route, and dates, be sure to visit the website of the actual airline (e.g. United.com). They'll sometimes be selling the same ticket you found on Travelocity or Google Flights for a lower price.
While you're on their site, check for upcoming sales. There's little worse than spending for a ticket the last day of October, only to learn that an airline's flights go on sale November first.
4. Finally, Know What You Want to Pay for a Flight
The risks of holding out too much time while hoping for the best deal, which is especially risky when your family is hoping for you to show up for the holidays.
Start your holiday airfare shopping with a realistic price you're willing to pay already in mind: What's the flight worth to you and how much are you prepared to pay?
When you find airfare that's close to the ticket price you're ready to pay, hop on it—lest you be forced to channel Steve Martin in a montage of cross-country misery in an attempt to make Christmas dinner.
Do You Come Bearing Gifts? How to Fly With Extra Baggage Over Christmas
If you're celebrating the holidays away from home, you may be wrestling with how to get gifts to your destination and back again.
In determining whether to pack, ship, check, or carry on, each of us has a different set of costs and inconveniences to weigh, depending on:
Your airline's fees for additional or oversized checked luggage.
Your exemption from such fees (thanks to the right credit card or elite frequent-flier status).
The size and weight of the gifts, and whether it would be more or less expensive to ship them.
Since everyone's luggage situation is slightly different, we can't give you hard and fast rules. Instead, we try to answer common questions to guide your decision:
1. Can I Bring Wrapped Gifts on a Flight?
You can—but TSA might need to unwrap them during a security check. If you can wait until you arrive at your destination to wrap them, you'll save yourself the potential disappointment.
Not an option? Wrapped gifts in checked luggage are much less likely to be unwrapped than those in carry-on bags. Just be sure not to check anything that's irreplaceable.
2. Is It Cheaper to Pack Gifts in Luggage or Ship Them in Advance?
First, you'll need to check your airline's luggage fees. Most major domestic airlines have fees that are:
About $50 for the first checked bag that weighs 50 lbs or less.
About $70 for the second checked bag that weighs 50 lbs or less.
About $200 – $400 for oversized/ overweight bags.
Say you've got 50 pounds worth of gifts—the cost to take them as checked luggage will likely by $50 – $70.
Alternately, shipping them ahead of time via FedEx Ground will probably cost a similar amount, about $70. That's if you send them early enough (before December 15th) to avoid the high cost of shipping by air.
Is it a draw? Not quite. If your gift-laden bag is over 50 lbs, then it'll have to be checked. In that case, shipping saves you the nuisance of dragging an extra bag around the airport.
FedEx is also less likely to lose your luggage and offers better insurance and compensation if something does go awry.
What if the gift is particularly large or heavy? Checking an oversized bag can cost you $200 to $400 roundtrip.
Our best advice is if your gift is oversized—say, a bicycle for your child—and you're having Christmas at Grandma's, leave the gift at home.
On Christmas morning let your kid unwrap a photo of the bicycle and tell him he'll get the real thing as soon as he gets home.
3. Where's the Best Place for Valuable Gifts?
Do not put it in your larger carry-on, since you might be forced to gate-check that larger carry-on if the overhead bins are full.
Either carry it onto the plane in the small carry-on that you will place beneath the seat in front of you or ship it via a shipping service that includes insurance and tracking.
The only way to ensure your items are not damaged, stolen, or lost is to carry them yourself so that it's you who is in control of them at all times.
Final Tip: Protect Yourself Against Flight Delays
Passengers who've booked themselves a connecting flight often forget to leave enough time in between, should their first flight leave late.
Protect yourself from potential delays and get on the very first flight of the day.
Not only is 5 am to 7 am the cheapest time to fly, but airline delays have a ripple effect that gets harder to recover from as the day goes on.
If there is a snag in your scheduled flight, you'll have more options while everyone else is just getting to the airport.