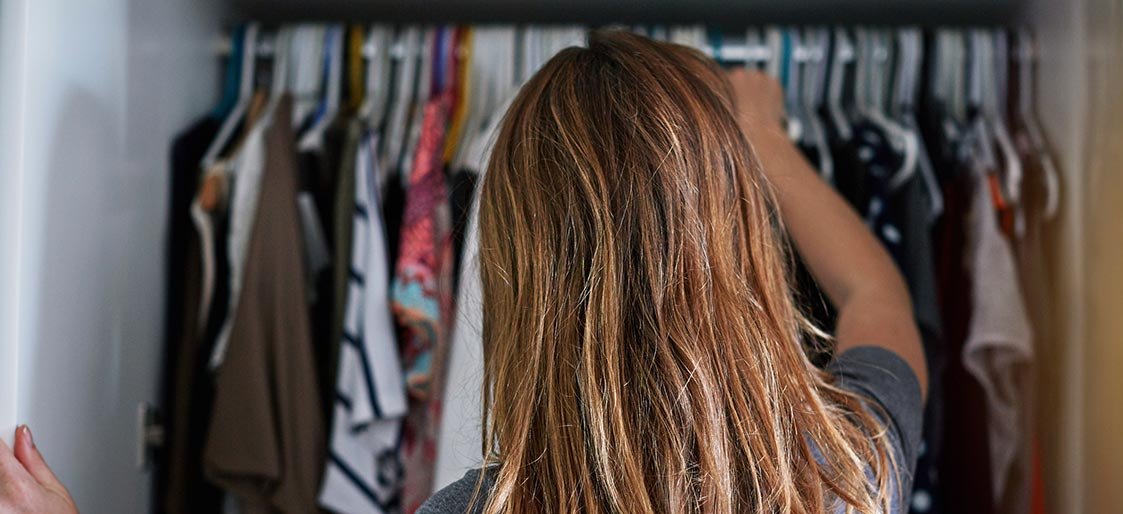 Are you in dire need of some new clothes, but don't have the budget to rehaul your wardrobe with full-priced, name-brand picks?
Shopping for gently-used items, which was once considered the shame of any kid who grew up in a thrifty household, is now considered chic thanks to multiple new online retailers that solely sell pre-owned items.
If you're willing to shop gently-used garments, there are plenty of options (all with thousands of items) that sell some of your favorite brands at steep discounts. However, while the prices can be appealing, taking the time to search through hundreds or thousands of items often isn't.
Here are our top tips to help you save time and money while sorting through pre-owned clothing retailers:
1. Know Which Second-Hand Retailer Is Your Best Fit
We polled Reddit's Frugal Female Fashion forum to ask savvy shoppers which second-hand clothing site was best for what items.
Pre-Owned Option #1: ThredUp
ThredUp is a huge online consignment store that offers clothing, shoes, and accessories for women, as well as clothing and shoes for babies and kids.
Who likes ThredUp? User sugarstarlet says ThredUp is her go-to for basics—especially if you take advantage of their promo coupons. Other users gave ThredUp brownie points for catering to shoppers of all sizes, noting that plus-size, petite, and maternity clothing can all be found in ample numbers.
However, it's worth noting that multiple Redditors dislike this retailer due to the lack of information that is provided about each garment. (After giving ThredUp a gander, we have to agree that they fall short in providing a satisfactory amount of details for any given item.)
ThredUp Pros: Offers a huge inventory and low prices. Additionally, ThredUp offers items from budget brands, like Target, as well as luxury labels, such as Kate Spade.
ThredUp Cons: Limited info about each item leaves you guessing. Additionally, some users report that descriptions and photos were completely off from the item they received.
Pre-Owned Option #2: Schoola
Paintedpalms pointed us towards Schoola, which has an additional philanthropic angle. "They send a bag asking for clothing donations which I thought was pretty cool." According to Schoola's How It Works, 40% of their proceeds go towards benefiting kids.
Redditor megnolia84 adds, I love Schoola, because it's for charity." However, states that "it's great if you're not necessarily looking for something specific, but know what brands you like."
Schoola Pros: The aforementioned philanthropic slant allows you to give back while getting discounted clothing items.
Schoola Cons: Although the difference in stock makes it hard to compare exact items, prices on Schoola seem just a smidge (we're talking $3-5 per item) higher than on alternate sites.
Pre-Owned Option #3: Vinted
Another Redditor, fankeh, says "My favorite place to buy second-hand clothing isn't a website, but it's an app called Vinted." Vinted allows users to both buy and sell. User who sell are given a "store" and earn trust ratings after positive customer reviews.
Vinted Pros: fankeh says she prefers the app because "it only sells women's clothing, and it's easy to search for a specific article of clothing." We also like the large images and additional info available by hovering over an item, which makes it easy to quickly assess if you want to learn more or continue scrolling.
Vinted Cons: Since items are sold by individuals instead of an intermediary, there aren't any across-the-board quality controls. Instead, you have to rely on user ratings of each seller.
Pre-Owned Option #4: The RealReal
If it's designer threads that you desire, user idislikekittens swears by The RealReal, which is part flash-sale retailer (selling new, but deeply discounted items), and part consignment store.
TheRealReal sells high-end designer clothing, shoes, and accessories from brands like Gucci, Oscar de la Renta, and Jimmy Choo at incredibly discounted prices. "Once I got two Valentino skirts and a tee by Alexander Wang dress for $110 total from TheRealReal!" says idislikekittens.
Even better, this retailer allows you to stack coupons and promo codes for deeper discounts.
The RealReal Pros: By combining their frequent 20-40% off coupons with already-low prices, you can find luxury brands at rock-bottom prices.
The RealReal Cons: Even deeply discounted, these are still designer goods—at designer (ish) prices. For example, searching for denim brought up a range of items priced from $75-$425. That might be cheaper than buying those brands off the rack, but they're still not suited to every budget.
Pre-Owned Option #5: Poshmark
Poshmark receives the most accolades from the bargain-hunting Redditors on this thread, which asks "How do you find good stuff at Thredup & other online secondhand stores?"
The retailer is similar to Vinted, since there is no middle-man. Instead, anyone can go on the site and list the items they wish to sell for free. Unlike Vinted, once the item sells, Poshmark takes a small cut or percentage of the profits.
While nobody is screening the items before they're listed for sale, that isn't to say that Poshmark purchases are unprotected. Instead, purchases are guaranteed by Posh Protect. Should an item arrive that is different than described, or if it never arrives, the buyer will receive a refund.
Poshmark Pros: Since there's no middle man, you can offer sellers lower prices or items for trade.
Poshmark Cons: Because there's no middle man that controls the listings, some Redditors complain that Poshmark sellers list items at too high of prices to start. While some are happy to haggle, other users would prefer to swipe and purchase without the hassle.
Pre-Owned Option #6: eBay
My personal favorite (for reasons listed below), you can't beat the selection of pre-owned items on this go-to giant. On the upside, the selection of second-hand clothing is so vast, that you can lose weeks of productivity just getting lost in searches for desired items.
However, there are some caveats: Because items aren't screened by a middle man, you run the risk of buying damaged goods. Additionally, if you're looking for designer labels, eBay is known to be rife with fakes.
» Related: Don't Fall for a Designer Knock Off Prom or Wedding Dress Scam
Another downside? Unless you're buying from a single seller, multiple purchases mean multiple shipping charges, which can quickly add up.
eBay Pros: Unbeatable selection, impressive search filters and email notifications (more below), and great deals on hard-to-find items.
eBay Cons: Inconsistent quality due to independent sellers. Shipping costs on multiple purchases quickly add up.
2. Figure Out Which Website Search Function Suits Your Shopping Style
More than just the items that they offer, every website has different search and filtering capabilities designed to help you find your favorite brands, sizes, or styles. Depending on what's important to your search, you'll find that some are better suited to your needs than others.
Why are search functions even more important when shopping second-hand?
Consignment retailers often list thousands of items—each totally unique and difficult to categorize. This means that, even if they have hundreds of items that you love, finding them could take hours of scrolling through ones that you don't.
Even though it's not technically a consignment site like Thredup or Poshmark, my personal favorite filtering option is offered by eBay.
That's because all the filtering options are grouped together for easy tweaking, unlike, say Thredup, where each filter is in a separate drop-down menu, which requires extra clicks to finesse your search. Additionally, eBay offers the most extensive search filters, including material type and item condition.
The downside? Ebay doesn't offer any blanket buyer protections, and return options are generally nonexistent.
3. Take Advantage of Email Notifications
Another reason that I stick to eBay is the ability to set up what's called a followed search. To do so:
Enter your desired search term—anything from "Silk J.Crew Dress" to "Skinny Jeans."
Filter down to your range of sizes using the left bar menu.
Select other important factors, such as shipping region, item condition, and buying options.
Click 'Follow this search' under the search bar.
Selecting this option means that you'll receive an email notification when any items matching your preferences are listed.
In my experience, creating a followed search not only saves you time, since you don't need to go back through already-viewed items to see new listings, it also cuts down on purchases I end up regretting. That's because you're only being notified of items that fit your preferences, instead of sorting through 100's of tempting "maybe's" on the way to finding a perfect purchase.
4. Always Ask for Measurements Before Buying Pre-Owned Items
What's considered a size 8 in one brand might be a size 12 in another. That's not such a big deal if you're buying new, since most clothing retailers allow you to make returns. However, when you're shopping on eBay or a consignment site, like Thredup, return policies are often non-existent or only for store credit.
That's why you should never commit to buying second-hand items online without first asking for measurements—even if it's a brand you're familiar with. Why?
Because brands change their sizing over time. Additionally, second-hand items have been subjected to potential shrinking and stretching that could affect your expected fit.
Bottom line, ask for measurements to avoid any surprises.
Pro Tip: Shopping for a bra? Four out of five women aren't even searching for the right size. Learn how to measure yours in Are You Wearing The Wrong Size Bra?
5. Keep Quality in Mind to Calculate Any Items Approximate Cost Per Wear
Given the rock-bottom prices offered by fast-fashion retailers such as Target and Forever21, you might be wondering why bother with pre-owned items at all?
It comes down to an idea called "cost per wear," which considers how long any given garment will last along with its price.
For example, a cheap pair of jeans with 50% spandex might cost you less than $20 new. However, they're likely to sag or rip after a season. If you wear those jeans 20-times in a three month period, they'll end up costing roughly $1 per wear.
Compare that with higher-quality denim, which generally holds its shape longer thanks to having only 2-3% spandex. A pair can easily run upwards of $60 (or upwards of $100 for designer brands). However, you're more likely to get two years (maybe 120 wears or more) out of a sturdier pair of jeans—which calculates to half the cost ($.50) per wear as a cheaper pair.
Basically, if a cheap garment becomes misshapen and pulled after just a few washes and needs to be replaced, then you're not really saving money on the initial purchase.
How does this relate to shopping for secondhand clothing? Because buying gently pre-owned items allows you to purchase higher quality garments for a fraction of the cost, you can pay less initially, and lower the item's long-term cost per wear.
6. Easily Overwhelmed? When Shopping Second-Hand Retailers, Remember to Stick to a Strategy
If you're open to shopping pre-owned clothing, sticking to a strategy can mean the difference between burning out fast and sticking around to find your new favorite item. Remember to:
Choose the retailer that suits your shopping style.
Have a specific garment or brand in mind so you don't get overwhelmed.
Make full use of search filter and email notification functions.
Knowing your measurements and sizing is key for finding pieces that you'll love.
Try to only check back once a week or so—any more frequently and you'll just be hashing through the same stock.
The pre-owned clothing websites we've listed have been selected after reading positive experiences. There are plenty of other online consignment retailers aside from the ones shared above, but it's important to use caution by searching out customer reviews before shopping.
Bottom Line on Choosing Online Second-Hand Retailers?
Even though shopping second-hand offers you the chance to buy items at a discount, it's still preferable to avoid risking disappointment (and shipping fees) by buying something that doesn't fit the description or, worse, can't be returned at all.
Do your research and stick to websites that offer consumer protection when possible or at least reassurance in the form of seller ratings.
» More on the topic: