Comparison of 6 Popular Used Car Websites: A Comprehensive Guide
It's easier than ever to buy a used car online. Our guide walks you through six sites where you can buy a used car, noting their strengths and weaknesses.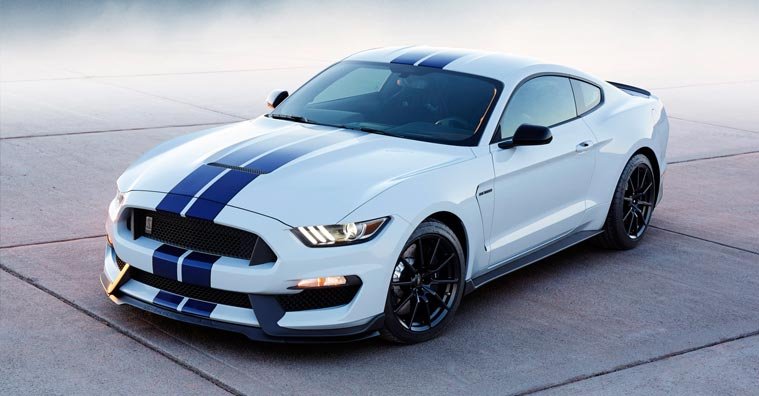 Buying a used car can be stressful and overwhelming.
Websites that list used cars claim to make your purchase easier because they help narrow down your choices without having to drive to multiple dealerships. However, there are so many online used car sites that your search for the right site is a challenge in itself.
To help you figure out which used car site is best for you, we did some in-depth research and compared six used car buying websites. We analyzed them according to how thorough their listings are and what their website experience is like. The websites we chose to use were:
Carvana
Kelley Blue Book
Edmunds
Autotrader
Cars.com
Craigslist
To make our comparisons and reviews as fair as possible, we searched the same car on each website, a 2015 Honda Accord. We've done our best to find matching colors and trim packages across all six websites.
Carvana
Carvana is one of the leading buy-online used car websites. It functions as an online dealership without any of the dealership fees.
The hallmarks of their service are that nearly every listing they feature on their site includes 360-degree, high-definition photographs of the outside and inside of the car. Furthermore, listings include damage markers you can click on that will show close-ups of cosmetic nicks and dents.
Another important thing to note is that the cars come certified, which means they've passed an in-house inspection for safety, much in the same way you could buy a certified car from a dealership. Also, all cars on Carvana's site are accident-free.
Buying a car through their site requires that you choose a car, obtain financing from your own financial institution or through Carvana, then choose whether you want the car delivered to your home or picked up at a Carvana location in your city (if there is one).
Each Carvana location has a "vending machine" from which you get your car to begin your seven-day test drive.
At the time of publishing, there were Carvana locations in 18 different cities, including Houston, Austin, San Antonino, Jacksonville, Tampa, Orlando, Philadelphia, and Indianapolis.
You have seven days to test drive the car and return it without paying anything, as long as you keep your total mileage at 400 miles or less. If you choose to keep the car, Carvana finalizes everything and sends you your license plate.
The cars underground a thorough inspection and come with a 100-day/4,189-mile warranty.
Our search produced a black 2015 Honda Accord EX-L with 29,998 miles for $18,500: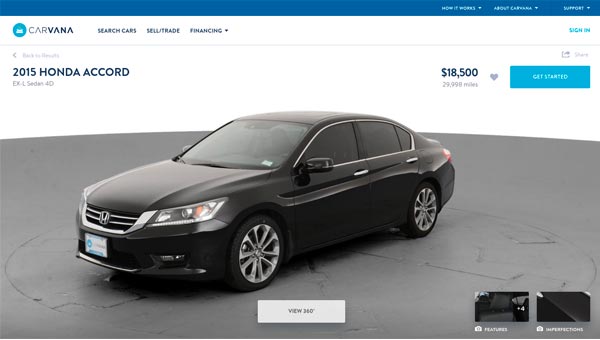 Screenshot of carvana.com
Pros and Cons of Carvana
I bought a car from Carvana in November 2017, an experience we describe in our review of the used car site. Based on our experience, we believe the site is an excellent fit for someone who either doesn't have the time to search for a car in-person, dreads having to go to a dealership and negotiate with a salesperson or just wants the convenience of being able to buy a car online in just a couple of hours.
The site isn't a good fit for someone who wants to negotiate the price. Carvana's pricing is set, which means you can't bargain them down. For those who are skilled negotiators, then you'll be better off heading to a dealership and haggling with a salesperson.
Also, unlike the other site listed here, Carvana only sells the cars they have; you can't search for cars from other dealerships or private sellers. This limits inventory and may not make the site a good fit if you're shopping on a limited budget, as most of their cars are at least 10,000.
Kelley Blue Book (KBB)
Kelley Blue Book is often known as the company who provides estimates of the value of your car. In fact, when you go to a dealership to buy a used car, they'll often post the "Blue Book Value" on the price sheet attached to the car's window.
KBB has now added used car listings to their service. For each listing they have on their site, they give you what's known as "Fair Market Value" price for each car, a number based on the condition and type of car as well as the zip code you're searching.
You'll also get a list of any awards the car has won, a rating from KBB experts, a rating from KBB readers as well as the car's National Highway and Traffic Safety Association's rating.
When we did a search for a 2015 Accord, we found a black EX-L sedan with 28,385 miles for $18,791. Keep in mind, however, that you'll have to pay a dealership fee on top of the standard taxes and fees, which pushes this car's price past Carvana's: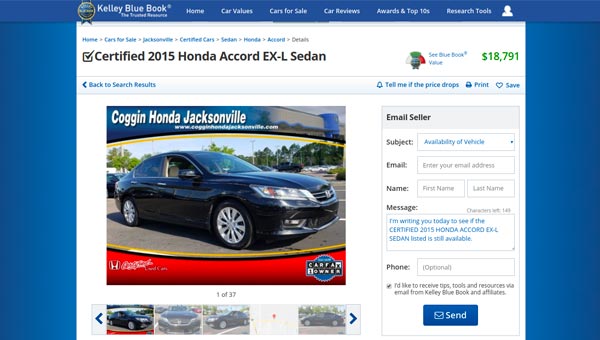 Screenshot of kbb.com
We clicked on the car and landed on a page with all the basic information as well as photos. The pictures we saw were solid, but were provided by the dealerships and didn't include the same resolution and scope of Carvana's photos. That's understandable because KBB is at the mercy of the dealership to provide top-quality photos.
One thing we liked about the page was that you could click on a "Get Blue Book Value" link underneath the asking price, which would take you to a page that gave you the value of the car. Also, awards and ratings details are really helpful if you want a quick snapshot of how well-liked and safe the car is.
In this case, the car was valued at $18,842, which was slightly above what the car was listed at.
Pros and Cons of Kelley Blue Book
We found KBB.com's search features to be pretty standard when compared to the other non-Carvana sites in this article.
If you want a good overall impression of the used car, KBB gives that to you. And we think it's an added bonus that the site lets you compare the asking price of the car you're interested in, to the actual value of the car based on Kelley's estimation.
However, the drawback is that you have to go to the dealership to buy the car, which means you'll either walk out the door with a car that's more expensive than what Carvana offers, or you'll have to negotiate your way to a lower price.
Also, the car's listing did not come with a vehicle history report, which was a bit frustrating because the page indicated there were issues with the car's title. However, to see the vehicle report and the aforementioned issues, we would've had to pay $24.99.
Also, we think the site's photos are sub-standard, as you can't magnify them or zoom in like you can with Carvana. This drawback isn't too detrimental though, as you'll have to go in and see the car for yourself before you buy it.
Edmunds
Like Kelley Blue book, Edmunds started out as a publication intended to give consumers an idea of how much a car was worth. As a result, it became a popular guide for both buyers and sellers.
Edmunds has the distinction of being the first "automotive information website," the company says about the 1995 launch of their website.
When we used the site for our Accord search, we found a black 2015 Honda Accord EX-L with 26,981 miles for $19,392.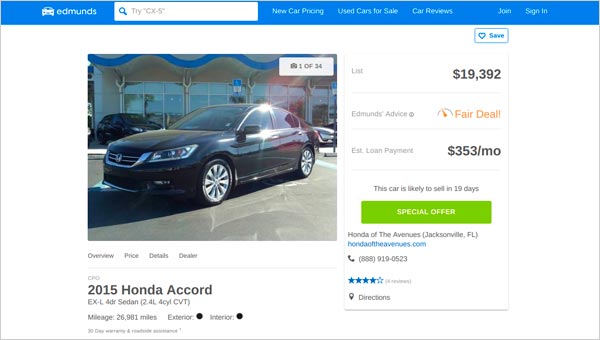 Screenshot of edmunds.com
When we clicked on the "Get Special Offer" button, a window popped up telling us we had to give our name, email address and phone number to get the special price.
Just to see what would happen, we entered our information and sent it. We were then taken to a page that said we had access to two perks: a 30-day warranty and one year of roadside assistance.
With these perks in mind, we dug a little further by looking at cars on the dealership's website and found the car listed on Edmunds. The car's listing indicated that it came with a seven-year, 100,000-mile Honda Certified Warranty. This tells us that the 30-day warranty "perk" wasn't really necessary.
On the plus side, the listing included an "Edmunds Advice" metric that tells you if you're getting a good deal or not. This metric is the result of Edmunds researching thousands of sale prices to calculate the real value of the price listed.
In this particular case, Edmunds gave the listing a "Fair" rating, noting that the price was within the lowest 30 percent of cards in the region.
Pros and Cons of Edmunds
In general, we found that Edmunds offered the same photo quality as what you'd find with Kelley Blue Book. We weren't able to zoom in on a car and see details, dents or scratches. So, if you see the car in person, make sure you do a quick walk around to make sure you spot any cosmetic damage.
We like that the site provides an Edmunds Advice rating because it lets you know how the car's sale price relates to other similar sales. Rather than telling you how much the car is worth (KBB), it tells you how much it's actually selling for in your area.
One last detail we thought was helpful is that Edmunds listings include users ratings of the dealership. These reviews include service and sales ratings, so you can get an idea of what it's like to buy a car from them and, if needed, take a car to them for repairs.
Autotrader
Like the last two websites we talked about, Autotrader started out as a publication. Unlike Kelley Blue Book and Edmunds, however, Autotrader was a classifieds-style monthly magazine that sold cars, trucks and other vehicles.
Like its two competitors, Autotrader went online with their classifieds service and are now one of the leading places to find used cars online.
We did a search for the 2015 Honda Accord and found the same car listed on Kelley Blue Book for the same price: $18,691.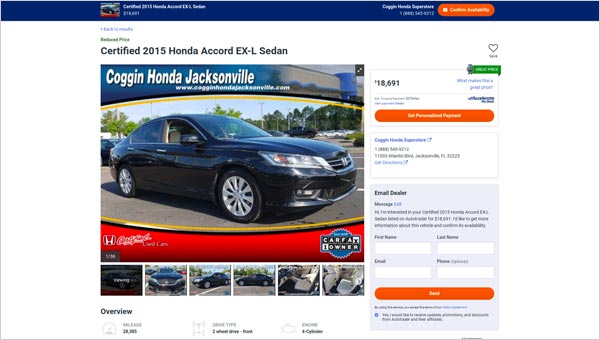 Screenshot of autotrader.com
What we noticed about the Autotrader ad is that, while it had the same photos as KBB, it lacked helpful metrics, ratings and data about the car. Whereas KBB has the car's safety rating, expert and customer ratings, awards won and the car's KBB value, Autotrader's page has only the estimated car payments for the vehicle as well as a KBB rating for the car's price.
In this price, KBB gave the car a "Great Price" ribbon, which means, "the dealer's listed price for this vehicle is at or below the Kelley Blue Book Fair Purchase Price.
Of note is the fact that this ad included a Carfax report. What's odd about this, in our opinion, is that it's the same car you see on KBB but this one comes with a Carfax. Furthermore, while the KBB site said the car had title problems, we viewed the Autotrader vehicle history report and found no such problems.
Perhaps the only issue was that the car was leased, but, considering leased cars have to undergo routine maintenance and care, we didn't see this as a "problem."
Pros and Cons of Autotrader
We believe that Autotrader is an above-average choice in certain areas if you're looking for a used car site.
We like that they're a reliable, well-known company, but so are KBB and Edmunds. The listings include limited information compared to what you can get from KBB. If you're someone who loves knowing what other people are saying about the car you like, KBB is a great choice.
However, the make-or-break for many car shoppers is whether or not an ad has a vehicle history report. This is the main reason we'd say that Autotrader has an advantage over KBB and Edmunds.
As we pointed out earlier, Autotrader and KBB had the same exact same car listing but Autotrader's listing had a Carfax report and KBB's didn't.
Also, the Autotrader listing had bigger photos than KBB's listing.
Cars.com
Of the four other car sites we've talked about up to this point, Cars.com is most similar to Autotrader.
The listing we'll talk about in a few seconds included a vehicle history report, as well as a pricing indicator, tell you if you're getting a good deal.
The car we found in our search was the same car we saw on Autotrader and KBB: a black 2015 Honda Accord EX-L sedan with 28,385 miles for $18, 691.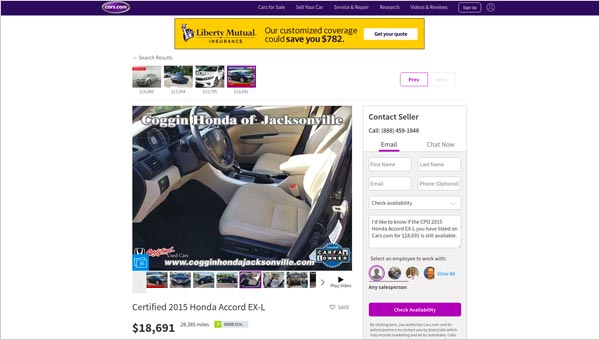 Screenshot of cars.com
As far as the individual ad itself, Cars.com is most similar to Autotrader. The ad included a free Carfax report as well as an estimate of how much monthly payments would be.
What's interesting is that Cars.com said the estimated monthly payment would be $357 a month, whereas Autotrader estimated $274. The difference between the two estimates is what they factor into that monthly payment.
Autotrader's prices were based on a 5.45-percent APR on a six-year loan with $1,869 down. Cars.com based their quote on a 4.81-percent APR for a five-year loan with no down payment.
Pros and Cons of Cars.com
Based on our experience with Cars.com, we think it's a suitable site to do your used car search. Their ads provide all the basic information, including estimated payments and, in the case of our example car, a vehicle history report.
One thing we didn't mention earlier is that Cars.com listings include user reviews of the dealership, as well. What we like about this, coupled with the vehicle history report pertaining to the car we viewed, is that you get a good read on the history of the car and the dealership, two crucial aspects of buying a vehicle.
The downside of the ads is that you don't get the helpful metrics KBB provides related to safety and expert/user reviews of the car itself.
Craigslist
Craigslist is the premier online classifieds website whose used car listings tend to be more varied than what you'll see on sites like KBB.com and Cars.com.
The user experience for car searches isn't any different from any of the other classified sections they have. Pages are stripped down to photos and a description.
In our search for a 2015 Honda Accord, we noticed that, while KBB and Autotrader let you look for private sellers, Craigslist was the only site of the three that actually had ads from private sellers.
The main reason the site tends to have more private sellers is that Craigslist auto ads are free, whereas Autotrader, for example, requires payment to post an ad.
Now, as for the ads themselves, you aren't going to get any of the helpful metrics you get on the other sites. There is no estimated monthly payment, vehicle history report (although it's possible for the seller to link to one in their ad), dealership rating, car-safety rating or anything else we've already mentioned in other sections.
As for the car we found, it was a 2015 Honda Accord EX-L with 54,893 miles for $16,999. Unlike the other sites we've listed, the car we found – black, like the others – was available at a used car lot and not a dealership.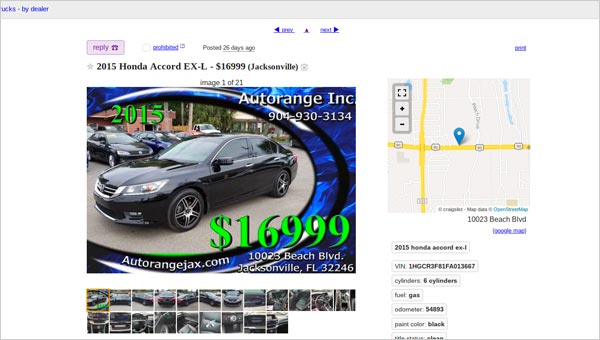 Screenshot of craigslist.com
As we mentioned before, Craigslist doesn't put any emphasis on a visually appealing site. So, the ad we saw for the Honda was as basic as any other ad: a big photo slideshow accompanied by plain black text listing features of the car and contact information for the dealership.
Craigslist, however, offers the advantage of being able to zoom in on pictures, which differentiates the site from KBB and Edmunds.
Pros and Cons of Craigslist
Craigslist is the bare-bones way to buy a car. Ads are simple and straightforward. We like how there are plenty of results, but that can be a little overwhelming if you're looking for a specific year, model and make of a car.
However, if you want to find a used car for sale by a private owner, we think Craigslist is a great resource. Since the site's listings are free, and there tend to be more used cars for sale by private owners than the other sites mentioned above.
Summary: What You Need to Know About Shopping Online for a Used Car
The sites we listed in this article all have their unique advantages and quirks:
Carvana: Well-designed website with car-buying perks and excellent photos, but a little more like a dealership and less like a classifieds site.

Kelley Blue Book: Excellent collection of ratings and price evaluation but you can't zoom the site's photos.

Edmunds: Some nice data about how the car's price compares to similar sales in the area, but the special offer didn't provide any additional value.

Autotrader: We liked how the ads included the Carfax report and zoomable photos.

Cars.com: Similar to Autotrader and Edmunds, but we liked how there were suggestions for other cars at the dealership.

Craigslist: A bare-bones approach to buying a car, but definitely more private-seller options than what we found on the other sites.
We think one of the most important things to keep in mind is that these car sites (aside from Carvana) serve as a way for you to narrow down choices of cars you want to look at. These aren't intended to be the end-all way of finding a car.
As you're doing your used car search, it's important to understand which type of car you want and, if you narrow it down to one manufacturer and model, go to a local dealership to do a test drive, said Paul Maloney, owner of Car Leasing Concierge.
Once you confirm that you like how the car drives and the features it has, continue your search online. Maloney cautions against any cars that don't have a vehicle history report available online or in-person.
"If they can't produce a vehicle history report, then don't buy the vehicle. Walk away no matter what it is," Maloney said.
Finally, once, you've picked a car from the used car website you chose, then set up an appointment for a trusted mechanic to inspect the car. Doing so will give you a good read on the car's condition and any mechanical or safety issues.
"Pay a professional mechanic to look at it and put it on the left. Spend money beforehand to know for sure before you put pen to paper and sign for it," Maloney said.
His final tip for your online used car search? Remember that the average car sold at a dealership is marked up around $4,000.
More on Buying a Used Car: 8 Sneaky Car Dealer Tricks to Watch For