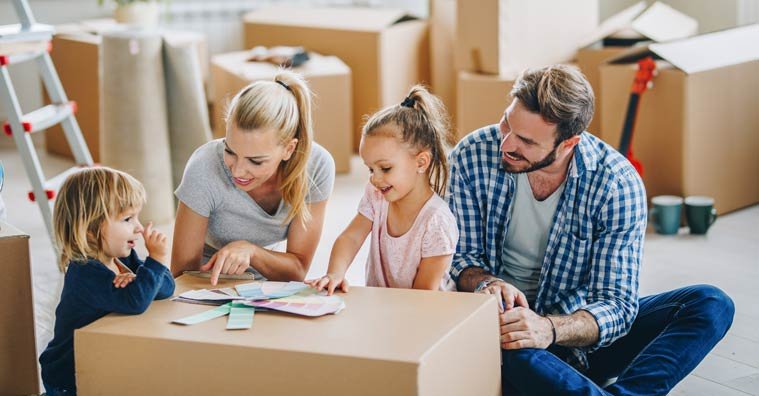 Buying your first home is incredible...and overwhelming.
The main source of your stress as a first-time homebuyer is your mortgage – it will be the most significant and in-depth financial transaction you'll probably ever make.
As such, you should understand what you're getting yourself into. Lenders across the country will try to earn your business by touting first-time homebuyer mortgages with special benefits specifically created for your situation – lower down payments, cheaper closing costs and mortgage insurance discounts.
As someone who recently bought my first home, I can tell you that working through all the complexities of a mortgage is tough, but you can do it.
To help you understand how home loans for first-time buyers work, we reached out to a network expert of lenders and mortgage brokers to gather up expert tips and insight into the world of mortgages.
Best Mortgages for First-Time Homebuyers
One of the easiest mistakes you can make as a first-time buyer is to assume that all mortgages are the same; that's just not true.
There are hundreds of mortgage options out there from hundreds of different lenders. Exactly which mortgage you get is something your lender decides according to the underwriting standards they have. "Underwriting" refers to the department that looks at your financial situation and decides which mortgage is going to be the best fit.
That being said, there are certain programs designed to make it easier for you to qualify for a home.
We did an email interview with a team of experts from Ally Bank's mortgage department and they noted that, while the mortgage process can be overwhelming for first-time homebuyers, at a federal level, they're rooting for you.
"The U.S government remains a huge fan of home ownership, and they've set up mortgage programs to assist buyers," Ally said.
Before we talk about those mortgages, we need to explain some terminology:
Fannie Mae and Freddie Mac: Two government agencies who buy mortgages from lenders to reduce the risk for lenders
FHA – Federal Housing Association
FHA Loans
These mortgages are provided by the Federal Housing Association. Their trademark characteristics are a low down-payment – usually 3.5% – and leeway for first-time homebuyers whose credit isn't great, said Jeremy Schachter, branch manager at Fairway Independent Mortgage Corporation in Phoenix.
"Depending on credit, there are several options for first-time homebuyers. FHA loans first come to mind because they are known to be a great program for first-time homebuyers," he said.
Schachter went on to say that these loans are best for someone whose credit scores are 660 or lower. You'll pay a price, though. The FHA works a 1.75% fee into your mortgage, a rate that would cost you $4,375 on a $250,000 home.
Also, FHA loans have specific requirements about your credit history – you can't have a bankruptcy in the past two years and foreclosures aren't allowed in the past three years.
There are exceptions to these and other rules within the FHA requirements. For example, if derogatory marks in the past 24 months on your credit report are the result of identity theft, you won't be held to the same standard as someone who made 30-, 60-, or 90-day late payments.
Other things you should keep in mind about FHA loans are that you'll have mortgage insurance for the life of the loan. Mortgage insurance is something you pay for that protects the lender in the event that you don't make your payments.
Non-FHA mortgages tend to relieve you of your mortgage insurance responsibility when the amount of your loan drops to 80% or less of your home's value.
Your mortgage insurance premiums will depend on the value of your home.
HomeReady Mortgage
The HomeReady mortgage is a program alternative to the FHA loan and presents some distinct advantages over FHA mortgages, including a lower down payment, Ally told us.
"Consumer-friendly features of the HomeReady loan include expanded eligibility for underwriting home loans, as well as the following benefits: a low down payment, flexible sources of funds, affordable and cancellable monthly mortgage insurance and a homeownership course," they said.
Low Down Payment
You'll be required, in most cases, to make a 3% down payment for the HomeReady as opposed to the FHA's 3.5% down payment. That 0.5% difference results in a down-payment savings of $1,250.
Flexible Sources of Funds
For most mortgages, the lender wants you to make your down payment and pay for your closing costs via your own funds and, in some cases, state or federal bond/grant programs. What this means is that they want to know that the $10,000 you make as a down payment, for example, comes from your existing assets.
If someone covers that cost for you – say, a relative – it may indicate to the lender that you aren't able to meet the financial requirements of the loan in the short term and long term.
For the HomeReady loan, the rules are different, Ally points out.
"Money from outside sources can be used for the down payment and closing costs with no minimum contribution required from the borrower's own funds," they told us.
Affordable and Cancellable Mortgage Insurance
Lenders use mortgage insurance as a way to protect themselves in the event that you default on your payments. The monthly premiums you pay are incorporated into your mortgage payments.
With most conventional mortgages, you can get rid of your mortgage insurance once your loan amount drops to 80% or less of your home's value.
FHA loans are different, though, because they require mortgage insurance payments for the life of the loan.
Fannie Mae's HomeReady loan offers lower monthly mortgage insurance payments than you'd get with a conventional or FHA mortgage.
Also, this mortgage offers a distinct advantage over the FHA loan. Once your loan amount hits 80% or less of your home's value, you can cancel the mortgage insurance.
An FHA loan, on the other hand, usually requires mortgage insurance premiums for the life of the loan.
Framework Homeownership Course
The HomeReady mortgage requires that you take a $75 online course called "Framework" that gives you an easy-to-understand breakdown of what a mortgage is and the long-term implications of buying a home.
Because homeownership is such a huge investment, it benefits you to learn as much as you can about the purchasing process. Courses like this ensure that you've seen all the pertinent information you need to understand in order to make a smart decision.
State Programs
The previous two first-time homebuyer mortgages we talked about are backed by federally directed or overseen programs.
They don't include state programs, though; first-timers should always explore state-level options with their loan officer.
Jeff Smith and Lisa Mish of Freedom Credit Union in Massachusetts emphasized these state mortgage programs as a viable option for those who are buying a home for the first time. Their credit union offers two of these state-specific mortgages: one from the Massachusetts Housing Partnership's One Mortgage Loan Program and one from MassHousing.
"We participate in two state loan programs that greatly assist the first-time home buyers," the duo told us. "They have multiple loan programs (including rehab loans, veteran loans, 100% financing loans, etc.) at low fixed rates and also assist first-time home buyers in purchasing their first home."
These state programs are key because they can provide you some with perspective on the mainstream loans most people tend to focus on: VA and FHA loans.
VA loans are backed by the Department of Veteran Affairs and, in most cases, don't require a down payment or a credit score.
While these loans are popular, state programs geared toward veterans may offer better terms. For this reason, first-time homebuyers should always study up on state programs to find out if they offer better value and lower rates than federal programs.
Is There a Best Mortgage Lender for First-Time Homebuyers?
As you're searching for your first mortgage, it's important to understand that you have options to choose from. Don't limit yourself to one lender.
Why? Because every lender has their own mix of mortgages that are tailored to certain types of homebuyers.
From a customer service perspective, there are big differences, too. You see, when you're finalizing the details of a mortgage, you want a lender who will keep in constant contact with you, giving you updates about the process and asking for documents as soon as they're required.
Our favorite resource for rating mortgage lenders is J.D. Power, the independent consumer rating agency who collects opinions from mortgage customers and creates ratings and rankings based on those opinions.
According to their 2017 U.S. Primary Mortgage Origination Satisfaction Study, the top-five lenders in the United States for customer service are:
Guild Mortgage Company
Quicken Loans
PrimeLending
Regions Mortgage
Fairway Independent Mortgage
Guild Mortgage Company provides mortgages in 30 states. Quicken Loans' mortgage site, Rocket Mortgage, provides mortgages in all 50 states, as does PrimeLending and Fairway. Regions serves states in the South: Alabama, Georgia, Tennessee, Florida, South Carolina and Arkansas.
While customer service is a big part of choosing a mortgage lender for your first home, rates are important, too, because they determine how much interest you'll pay over the life of your loan and each month.
To put yourself in the best position possible, considering getting quotes from each of the top-five lenders from the J.D. Power study.
What First-Time Homebuyers Can Do to Help Understand and Expedite Their Mortgage
When you're searching for your first home, everything is new. Open houses, real estate agents, lenders and loan officers; all phases are exciting and stressful at the same time.
In this midst of this dizzying flurry of homes, mortgages and decisions, it's important to be deliberate in your efforts to understand the mortgage process.
One thing you can do, Schachter said, is to sit down with your loan officer if you decide to use a brick-and-mortar lender. Your loan officer is the person who puts together your loan application and processes it.
"I always recommend first-time homebuyers to meet in person with the Loan Officer," he said. "Sitting in front of a first-time home buyer and explaining the process from beginning to end seems to be easier with meeting face to face."
If you choose to go with an online lender, make sure you're clear on the money you have to pay up front.
"Make sure you get an accurate quote on the payment, cash needed at close and down payment," Schachter said. "Many times, even with proper information the buyer might be surprised on the cash needed on top of the down payment or the payment."
Another tip for first-time homebuyers, says Herndon Davis, a mortgage broker based in Houston, is to gather up ahead of time all the information you'll need for your mortgage application:
One month of pay stubs
Two months of bank statements
Two years of tax returns
Two years of W-2's and 1099's
"New borrowers must be quick and super responsive to all of these lender requests and requirements," Davis said, "or else you might lose out on the home you want to buy or a lower interest rate … all because you moved too slowly in submitting their paperwork and responses to the lender."
Mortgage interest rates change often, which is why it's important for you to provide everything your lender asks for so they can lock in your interest rate. The longer you delay in providing the required paperwork, the greater the chances your rates could go up.
A Quick Word About Using Mortgage Calculators for Your First Mortgage
There's a good chance that, as you're starting the homebuying process, you'll go online and use a mortgage calculator to figure out what your monthly payments will be for your home.
These calculators let you adjust multiple factors including mortgage amount, interest rate and more.
However, a mortgage calculator doesn't have the final say in how much money you can get or if you're even approved.
I made this mistake when my wife and I were starting our housing search. I did some quick math regarding our budget and our income and assumed that, according to those numbers and what several mortgage calculators said, we could afford about $20,000 more than what our lender approved for us.
"Many online mortgage calculators out there really don't include all the necessary info like mortgage insurance, proper taxes or any HOA fees if they are looking at a planned unit development such as a condo," Schachter said.
Final Thoughts
Finding the right mortgage for your first home is going to take work. Your lender will take a look at your credit history and credit profile, your income and your debt and determine how big (or small) of a mortgage they'll give you.
In today's world, lenders know that buying your first home can be pretty tough because many borrowers don't have a lot of money saved up. Therefore, various lenders offer mortgages that have low down payments and forgiving credit and income requirements.
FHA and HomeReady mortgages are two programs designed to help you get into your first home. In addition to these products, your state may have mortgage programs that may offer terms more favorable than what you'd find from the FHA or Fannie Mae.
Based on our research, we think that the HomeReady mortgage from Fannie Mae offers a pretty well-rounded set of benefits. But, again, every borrower is different and every lender has different standards. Just because the HomeReady mortgage may seem like a good fit for you doesn't mean your lender offers it or will match you with it.
You can help yourself immensely during the mortgage process if you choose a lender with a good reputation – Quicken Loans and Guild Mortgage Company are J.D. Power's top-rated lenders.
Also, keep in mind that you'll need to be responsive to your loan officer in order to make your application expedient.
Our final bit of advice: Everyone makes mistakes. However, you can cut down on the likelihood of those mistakes by knowing what they are ahead of time.
In our article titled, "First Time Homebuyer Tips that Will Help You Avoid Costly Mistakes," we provide three reliable tips you can use as you prepare to buy your first home.
Also, if your credit score is below 640, take a few minutes to read through our guide to mortgages for bad credit. You'll learn a lot about how mortgages for bad credit differ from other mortgages. While your options are limited you definitely have some choices to fund your home purchase.