A Complete Guide to Buying Multi-Cookers (Plus Tips, Tricks & Recipes)
Trying to decide which appliance is right for your kitchen? Providing you with a little bit of everything, multi-cookers promise to make all your meals.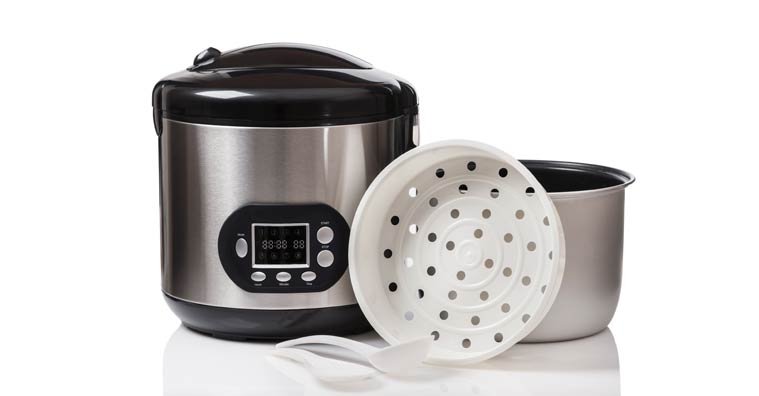 Can't decide between a slow-cooker and a pressure-cooker? Multi-cookers promise to do the work of both, helping to deliver a last-minute meal or cooking low and slow for a large pre-planned dinner.
Are these all-in-one kitchen appliances really the best of both worlds or are multi-cookers a case of "jack of all trades, master of none"? In our complete guide to buying multi-cookers, we'll explore what it can do, top models, and tips to help you decide if one might be your perfect cooking companion.
What Is a Multi-Cooker and What Does It Do?
The multi-cooker is exactly what its name implies: one device that can replace several kitchen appliances. While no two multi-cookers are built the same, common settings include:
Bake: Allows you to make biscuits, casseroles, cakes, and pastries.

Cook: Whether you're cooking anything from soup to grains, this mode will maintain a specific boiling temperature for a pre-set time.

Fry: For breaded foods like mozzarella sticks and hot wings.

Pasta: Similar to Cook, Pasta mode maintains a boiling temp for a certain period of time. However, it will pause when it's time to add the ingredients.

Pilaf: First, brings broth to a boil. Then, the temperature is raised and baked for a few minutes.

Plain Rice/ Grains: Heats to a boil and then maintains until all liquid is gone.

Stew: Brings food to a boil and then continues at a slightly lower temperature for a pre-set time. Ideal for stew, steamed veggies, meat, and seafood.

Steam: Great to whip up veggie sides or delicate cuts of fish.
Premium multi-cooker models sometimes include yogurt making, bread baking, and pressure cooking settings as well.
Despite all those settings, using a multi-cooker is meant to be very easy. Just place your ingredients inside and select the corresponding setting, and then leave the multi-cooker to complete its program—typically without any need for further user intervention.
Choosing a Multi-Cooker
Much like slow cookers and pressure cookers, one of the most important aspects to consider when choosing a multi-cooker is its size. Generally, between four to six-quarts of capacity is enough for a four-person family.
Smaller and larger options are available, but be aware that larger size multi-cookers will require extra time to heat foods to their necessary cooking temperatures.
Important Aspects to Consider When Choosing a Multi-Cooker:
Power Capacity: Multi-cookers today have wattages ranging from 450 to 1400 watts. Like most electric appliances, multi-cookers can be compared based on their wattage. The power will determine how fast food can be cooked and, to an extent, the life-span of the appliance. If you're planning on using your multi-cooker on a daily basis, choose one with 900 watts or more. If you're considering a multi-cooker for occasional use, lower wattages will get the job done.

Pressure Settings: Changing pressure will alter the amount of time it takes to cook different dishes (higher the pressure = faster cooking time). Note that if you're choosing a multi-cooker with pressure-cooking capabilities, it's important to check that the model has a locking lid and a steam release valve.

Internal Coating: The interior of the pan is the main contact area, so its coverage plays an important role. Most multi-cookers have a non-stick pan coating. However, the quality of non-stick coatings vary greatly. Look for a coating that appears thicker, often characterized by a 'marbled' appearance, to indicate better resistance.
Some multi-cooker models include additional features to make life in the kitchen easier. Timers can be used to delay the start of your cooking program—a nice option if you're prepping dinner before work.
Another extra feature is the ability to heat ready meals—something slow cookers can't safely do without keeping food temperatures in the 'danger zone' for too long.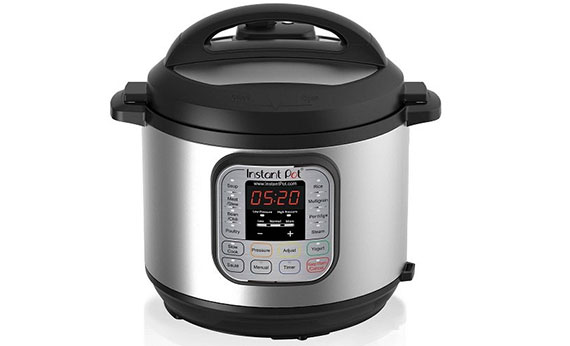 Instant Pot's 7-in-1 Multi-Functional Cooker. Image: Instant Pot
What Else to Look for When Choosing a Multi-Cooker?
Before purchasing, take a look at each appliance to see how easy it might be to clean. Touch-panels are preferred to buttons, and the fewer cracks and crevices for food to get trapped in, the better.
Additionally, parts should be easy to disassemble, clean, and then reassemble. This is particularly important for pressure cooker-style lids, which require extra cleaning effort to ensure they remain free of debris that could trap steam inside.
Top Multi-Cooker Models
Due to an overwhelming response from their readers, the culinary experts at The Kitchn rate the Instant Pot as the best multi-pot on the market. The Instant Pot 7-in-1 Multi-Functional Cooker is available for about $117 on Amazon.
Here's how they describe it: "The Instant Pot is a pressure cooker, slow cooker, rice cooker, yogurt maker, steamer, warmer, and sauté/browner all in one. And with a whopping 4.6 stars out of 5 from 40,916 reviews on Amazon, the Instant Pot clearly has many enthusiastic supporters."
Related: Power Pressure Cooker XL Reviews
Another frequent top contender is Fagor's 670040230 Stainless-Steel 3-in-1 6-Quart Multi-Cooker ($89.95 on Amazon). It comes in at 4.1 out of 5-stars from 621 reviewers and includes over-heat protection and stay-cool handles.
Finally, Cuisinart's MSC-600 3-In-1 Cook Central 6-Quart Multi-Cooker ($127 on Amazon) receives a similar 4.1 out of 5-stars from over 2,215 reviewers. We've placed this one last because it appears to be the most difficult to keep clean, with a multitude of push-buttons and areas for food to gather. On the other hand, the listing promises this product ships in "Certified Frustration-Free Packaging"—which is almost curious enough to justify ordering.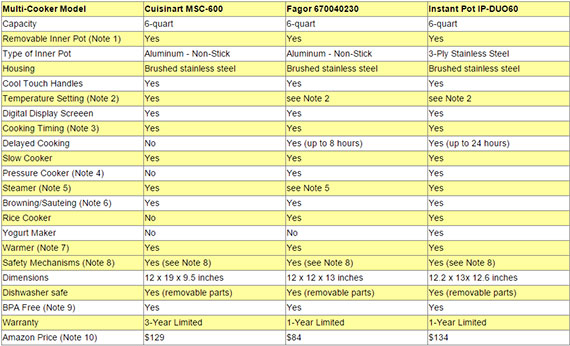 Click on the image to enlarge. Source: topproductcomparisons.com.
Multi-Cooker Tips & Tricks
Depending on which setting you'll be using, don't forget to prep your multi-cooker. Particularly for slow-cook settings, vegetable oil spray or aluminum foil can be used to protect ingredients in recipes where sticking and burning are problematic, such as casseroles.
Essential Tips for General Multi-Cooker Use:
Make sure the pressure valve free from food residue.
Regularly remove and clean the silicon rubber seal.
When storing, leave the lid upturned, or you could risk deforming the gasket.
Using a towel to open the pressure release valve and remove the lid can help prevent burns on your hands.
Only use wooden or plastic utensils, so as not to damage the non-stick coating inside.
Tips for Using Your Multi-Cooker to Sear or Saute:
Using a paper towel, pat meat dry beforehand.
Be careful not to overcrowd the cooking pot when browning meat for a recipe.
If using oil or butter for sautéing, add it after preheating.
To drain grease, make sure the lid is in place on the cooking pot and that it's in the drain position. Hold with hot pads and pour grease into a heat safe container.
When sautéing veggies, add your ingredients with larger cuts first. Allow them to cook for several minutes and then add smaller foods. This will help ensure everything is cooked evenly, without burning.
Tips for Using Your Multi-Cooker to Steam:
When steaming foods, you don't have to preheat. Instead, just add water and set the multi-cooker to 'steam'.
Foods will steam faster if cooked in a single layer.
Foods that have been cut or trimmed into pieces approximately the same size will cook more evenly.
Don't forget to remove the lid slowly after steaming.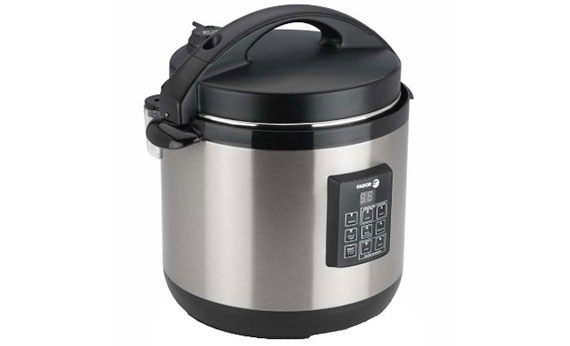 Fagor's Stainless-Steel 3-in-1 6-Quart Multi-Cooker. Image: Fagor
Tips for Using Your Multi-Cooker on a Slow-Cook Setting:
Increase the amounts of herbs and seasonings in standard recipes to offset the effect of longer cooking times.
Always thaw meats before slow cooking, otherwise they might not cook thoroughly.
Chop up denser vegetables, such as potatoes and carrots, into smaller chunks than more delicate veggies.
Multi-Cooker Recipes & Resources
Because multi-cooker models and features vary widely, your appliance's manual is the best place to turn for product-specific cooking tips and recipes.
However, once you've gotten to know the quirks and cooking differences of your specific multi-cooker, Youtube is always a great resource for meal inspiration. We found a collection of 200 multi-cooker videos—many of which list the specific model used, so you can search for your own when starting off.
Finally, the Food Network offers an abundance of multi-cooker recipes, from slow-cooked sausage stuffing to pressure-cooked chili. For convenience, each recipe lists cooking time, difficulty, and how many mouths it serves right up front.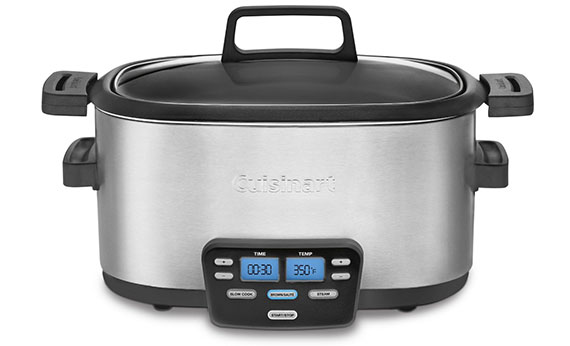 Cuisinart's 3-In-1 Cook Central 6-Quart Multi-Cooker. Image: Cuisinart
Final Thoughts on Multi-Cooker's Many Functions
Often times, we find that X-in-1 devices don't perform as well (or offer all the same bells and whistles) as those they're intended to replace. Are multi-cookers really able to perform the functions of a slow cooker, pressure cooker, rice cooker, and more without sacrificing quality?
On Reddit's /r/Cooking forum, the answer appears to be a resounding yes. Here are a few answers to a forum question of whether or not multi-cookers are worth purchasing:
"I have an Instant Pot and love it. I use the sautée, pressure cook, rice cook, and slow cook options. It has an easy to clean stainless steel insert. I recommend it." –northernspy
"I use it as a pressure cooker and sautéer about three times a week, and as a slow cooker occasionally. I haven't tried the rice cooker function because it's so large and I never need that much rice. We chose this because I wanted a pressure cooker and a slow cooker and our kitchen is very small, so I didn't want to take up storage with two devices. I am very satisfied and highly recommend it." –NerdWithoutACause
"My only complaint about my Instant Pot is that I wish I had 2 of them...one to cook my main in and another to make a rice side at the same time." –Trent_Boyett
Another reader pointed out that you can purchase a spare insert. Since multi-cookers make everything so quickly, it's almost as effective as having two.
"I highly recommend getting a multi-cooker! I use it almost every day. It does amazing rice, especially good brown basmati rice, pulses and cheap cuts of meat on the pressure cook setting. I've got the Breville Fast-Slow Cook. I'm in Australia so I'm not sure if they have those where you are, but I honestly think it's the best thing in my kitchen." –8_of_my_dollars
As one Reddit user pointed out, the only downside compared to a slow cooker (which, it was pointed out, can be purchased second-hand for under $20) is the price. However, if you're willing to invest in one kitchen appliance that does it all, it appears the multi-cooker really does come out on top.
Do you use a multi-cooker? If so, please share your tips and experiences with us in the comments below.