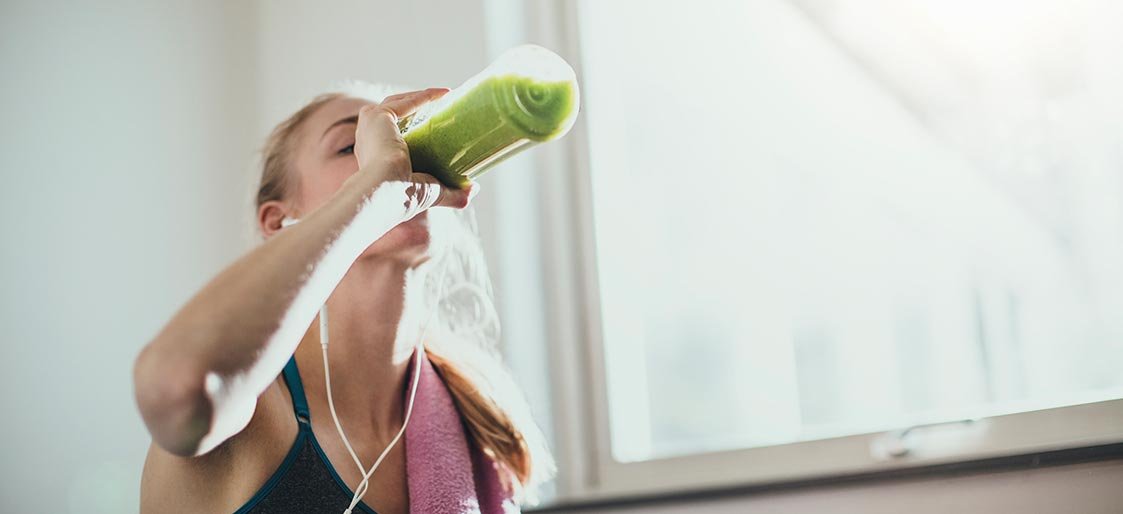 You've just burned through a solid 45-minute workout on the elliptical or the treadmill. You're thirsty. What's your drink of choice?
If you're like most people, your answer will probably include water, Gatorade or Powerade. And you'd be like most of your fellow Americans.
According to a 2015 article from Forbes, bottled water takes a 35 percent share of the liquid refreshment beverage market (includes soda, water, sports drinks, etc.), and in the sports drink market, Gatorade takes a whopping 77 percent share while Powerade has a 20 percent share.
It's no wonder that water, Gatorade and Powerade have become synonymous with hydration over the years. Sports drinks, in general, have become increasingly popular as well. You'd have a hard time walking into a local grocery store and not be overwhelmed with the rainbow assortment of hydration drinks designed for workouts.
Heck, even Gatorade has branched out to multiple types of drinks designed for before, during and after your workout.
With all this diversity of sports drinks, and the fact that a bottle of colored sodium and sugar has become a de facto choice for hydration for sports teams of all ages, we became really curious how the sports drink craze started:
What was the first official sports drink?
When did they become popular in the United States?
How has the sports-drink market changed over the years?
As we work through each of these questions, you'll start to see how a few experiments in the early 1900's resulted in the huge boom of sports drinks across the world.
When Was the First Official Sports Drink Created?
We're pretty sure that cultures have been drinking energy-giving beverages for thousands of years. However, we don't necessarily classify drinks like coffee or Red Bull as sports drinks.
When we say "sports drinks", we mean drinks created specifically to hydrate people before, during or after a workout and/or provide sodium and carbohydrates to aid recovery.
To find the first real sports drink, we have to cross the Atlantic Ocean and head to England, where a chemist named William Owen created in 1927 a glucose-and-water drink called Glucozade. A few years later the drink was renamed Lucozade.
Owen's original intent was to create a beverage that sick people could drink to help them recover from their illness. The drink wasn't marketed to athletes or weekend warriors at that time; it was a remedy for the sick.
But, over time, the company's owners realized the drink had the potential to be a hit as a recovery drink and marketed it as such. Lucozade is now owned by drug giant GlaxoSmithKline and is available in four different varieties, one of which is "Sport."
When Did Sports Drinks Become a Big Deal in the United States?
It took about 40 years for the American market to embrace the idea of sports drinks. The first product? Gatorade, a drink originally designed for the University of Florida football team in 1965.
At the time, Florida football players were having a hard time dealing with the humid heat of the South. Many of them were falling ill and crumbling under the high temperatures.
A quartet of doctors decided to look into the problem and found that players were losing two key components that were essential to hydration and to the energy stored in their muscles: electrolytes and carbohydrates.
So, they designed a drink that would help them replenish their electrolytes and carbs through sodium and sugar. They named the drink "Gatorade" as a nod to the school's mascot: Gators. There was a big problem, though. The drink tasted like saltwater, so the research team added a spritz lemon to the drink. Players loved it.
The University of Florida football went 16-6 over the next two seasons. Soon, other colleges were asking UF for batches of Gatorade.
But the drink's popularity didn't stop at the college level. As Gatorade tells it, UF head football coach Ray Graves told the NFL's Kansas City Chiefs that Gatorade might help their players make it through their blistering-hot training camps.
That season, the Chiefs went to the Super Bowl and defeated the Minnesota Vikings in what was considered a huge upset.
Gatorade got serious about their wildly popular drink. They opened the Gatorade Sports Science Institute in Illinois in the 80's and have been researching athlete hydration and performance ever since. (This video from a 2015 Fortune article is a great summary of Gatorade's history.)
How Has the Sports-Drink Market Changed Over the Years?
We'd say that the first major leap in the history of sports drinks in the United States took place in the 60's when Gatorade was developed. From there, the next big leap came in 1983 when Gatorade became the official drink of the National Football League.
1988: Powerade is Born
But the market made an interesting turn in 1988 when a new sports drink named Powerade came onto the scene. Soda giant Coca-Cola wanted a drink that could compete with Gatorade, so they created their own sports beverage.
But having so launched Powerade more than two decades after Gatorade first came onto the scene – and especially since Gatorade was the NFL's official drink – Coke was at a serious disadvantage. They needed a big win that could vault Powerade into people's minds ahead of Gatorade.
1991: The Bidding War for MJ
NBA mega-star and international legend Michael Jordan was the answer to that marketing problem. So, Powerade came alongside Gatorade and put their bid in to sign Jordan as their spokesperson. However, the chase for arguably the greatest player in NBA history wasn't much of a chase.
Gatorade offered Jordan about $15 million for 10 years while Powerade came up with a paltry 5-year, $750,000 contract. The Chicago Bulls legend chose Gatorade, of course, and launched the brand even higher into the beverage world while Powerade was trying to play an exhausting game of catch-up.
2000: PepsiCo Buys Gatorade
While Powerade lost out on the MJ sweepstakes, they did gain something: a rival. The bidding war made it clear that Gatorade and Powerade were the heavy hitters in the sports drink world.
About 10 years later, the rivalry became even more intense when Coke's arch-rival Pepsi (PepsiCo) bought out Quaker Oats, the company who owned Gatorade.
But here's the amazing thing about this Quaker Oats deal: Coke almost bought Quaker Oats, which would've brought Gatorade under the same roof as Powerade.
However, Coke and one other company backed out and PepsiCo snuck in with a $13.4 billion buyout.
Industry expert John Sicher told ABC News the move was huge for Gatorade for one big reason: marketing.
"Gatorade would do even better under PepsiCo than it has under Quaker Oats because of better marketing and distribution," Sicher said.
2003: Powerade Strikes Back, Signs King James
Does the history of sports drinks sound like a boxing match between two heavyweights? Well, it pretty much is. As we pointed out earlier, Gatorade and PowerAde account for about 97 percent of all sports drink sales in the United States.
And that heavyweight battle got real heated in 2003 when Powerade signed a prodigious small forward from the Cleveland Cavaliers, LeBron James. Whereas Michael Jordan signed with Gatorade on the back end of his storied tenure in the league, James inked a deal with Powerade at the beginning of a career that has turned out to be one of the best in the history of the NBA.
"I've been drinking Sprite and Powerade for a long time," James said in a statement about the deal. "I have always admired the way Sprite and Powerade spoke to young people and athletes, and I can't wait to be a part of it."
Why the Emphasis on Marketing?
At this point, you may be thinking, "What do all these deals have to do with the sports drink industry?" That's a great question.
Based on our research about sports drink history past and present, the popularity of the drinks among average people is largely based not on what the drinks actually do (some scientists even say the benefit for the normal non-athlete is almost non-existent), but on who is selling the drink.
So, we include those big marketing moments because they have given the sports drink industry the star power and momentum they need to be loved, bought and enjoyed by average consumers like you and us.
See Also: Why Celebrity Endorsements Can Hurt You & How You Can Resist Them
2007 to Present: Vitaminwater, Protein Drinks come on the Scene
You can probably tell from this history that, for about 45 years, Gatorade has stayed at the top of the sports-drink heap. Powerade came along and stole some of the thunder from the NFL's official drink. But for many years, it was just those two drinks dominating the market.
Remember that Forbes article we mentioned early on, the one that showed that Gatorade and Powerade make up about 97 percent of the sports-drink market? Well, just because these two products hold a pretty tight grip on overall sales, that doesn't mean that other companies haven't popped up along the way.
Vitaminwater, a product of Canada-based company Glaceau, that sold vitamin-infused water, started in 1996, but it wasn't until the company's sale to Coca-Cola in 2007 (for $4.2 billion, no less) that the drink really started to make waves in the world of thirsty athletes.
Though not nearly as big as Gatorade or Powerade, Vitaminwater's focus in joining Coke was the same as Gatorade's when it joined PepsiCo, Coke CEO E. Neville Isdell told The New York Times in 2007.
"Glaceau has built a great business with high-quality growth, as well as a strong pipeline of innovative products and brands," Isdell said. "We envision even faster growth for Glaceau as part of Coca-Cola's enhanced range of brands for North American customers and consumers."
Like Gatorade and Powerade, Vitaminwater needed endorsements from celebrity athletes. Once they joined Coca-Cola, the big names rolled in, including NBA stars Ray Allen, Kobe Bryant, Tony Parker and LeBron James.
While Vitaminwater signaled a new player in the world of water-based workout drinks, it wasn't exactly a disruptor. Most sports drinks were still primarily made out of water.
That began to change, however, as protein drinks started to come on the market. While big tins of protein powder have been around for a while, prepackaged cartons of protein- and carbohydrate-packed drinks became increasingly popular.
One of the best examples of the rise of protein drinks is BodyArmor, a shake-style drink created by Vitaminwater co-founder Mike Repole.
Repole told Fortune he wasn't really interested in creating another drink, a testament to how cutthroat the $8 billion sports-drink industry can be.
However, there's one thing that struck him as really odd.
"I think Gatorade is an iconic brand," Repole told Fortune. "(But) to me, it sounds weird that a brand I grew up with 35 years ago is the same brand that my kids grow up with. It doesn't make sense."
In other words, with all the technology and ingenuity and creativity in today's world, how is it possible that one company is holding a virtual monopoly on a market that should be totally wide open?
Repole is challenging Gatorade and, to a lesser extent, Powerade's standing as a healthy, viable drink. Part of their message is that those two drinks are old fashioned and the times call for something new.
This clip from a BodyArmor commerical sums it up well: "We only drank what they gave us … We didn't have a nutrition plan. That was then, this is now. Athletes have evolved."
Did you notice not-so-subtle references to old-school sexism, poor nutrition and voodoo? While it's obvious that Gatorade and Powerade aren't related in any way to these themes, BodyArmor is trying to get people to see that as athletes and society have evolved, so have sports drinks.
And that leads us to the conclusion of this article…but it also raises an interesting discussion we'll cover in the next article of this series.
Good to the Last Drop? Our Final Thoughts on Sports Drink History
Minus one random drink created in England during the era of Lou Gehrig and Babe Ruth, sports drinks first appeared and became popular in the 60's when some University of Florida scientists created an electrolyte-heavy drink with a lot of carbohydrates.
From there, average people and professional sports organizations like the NFL realized that sports drinks could have a positive impact on performance. That realization was the foundation for the modern sports-drink industry.
Along the way, clever marketing and huge athlete endorsements have kept Gatorade in the forefront of our minds when it comes to hydration, but Powerade has managed to carve out a little extra space for itself in our collective conscious.
From the 90's through the 2000's, the two "Ades" were the big players in the market. However, Coke's acquisition of Vitaminwater in 2007 signaled a change in the market, and that change is perfectly portrayed in BodyArmor's branding message: "Athletes evolve; so should their drinks and nutrition."
Now, remember how we said that the emergence of BodyArmor's anti-tradition campaign brings up an interesting discussion? We mentioned that because we want to bring up something that's probably eluded most sports-drink guzzlers' minds: effectiveness.
BodyArmor and other new drink companies say they're different, but if sports drinks don't actually work the way we think they do, new versions of the old philosophy are useless, right?
As we did research for this series of articles, we discovered a growing body of evidence that suggests sports drinks are great for elite athletes but, for the most part, unnecessary for the person who goes to the gym five times a week for cardio and some weightlifting.
Has clever marketing got you believing that you need to drink some Gatorade after 30 minutes on the treadmill? If so, you aren't alone. Consumers like you (and us) are spending billions every year on sports drinks.
In our next article, we'll take a look at the common ingredients in the most popular sports drinks and tackle the all-important question: Do sports drinks actually work?
---
More on Fitness: