Angel Shave Club vs. 99 Cent Razor vs. ShaveMOB: Which Women's Shave Club Is Best?
Women's shave clubs promise regular delivery of quality razor cartridges at substantial savings. We review six different blades to learn which is best.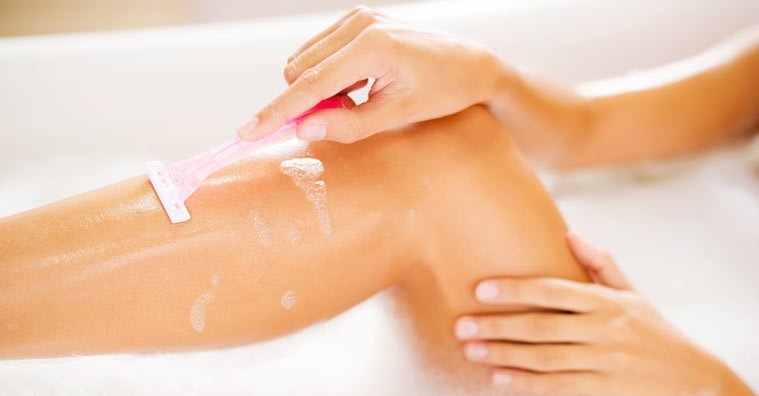 The not-so-secret trick to a smooth shave is using a fresh razor. So, why are women still suffering through dull (and unsanitary) blades instead of swapping out cartridges after every five to seven uses?
The answer falls neatly at the cross-section of expense and convenience. And, while men's shave clubs have been springing up to deliver fresh cartridges at a lower cost for several years, the women's market is finally catching up.
In this guide, we'll help you understand how three popular shave clubs compare to each other, what they offer, as well as some supplemental sections on razors and, in general, shave club value
Comparing Women's Shave Clubs: Angel Shave Club vs. 99 Cent Razor vs. ShaveMOB
These three companies each claim that their lady-specific razors are a cut above the rest, offering the convenience of home delivery, plus savings on cartridge refills.
The following chart provides a comparison of three brands: Angel Shave Club, 99 Cent Razor and ShaveMOB. After the chart, we'll talk more about each brand.
| | Blades Per Cartridge | Cartridges Per Shipment | Price with Shipping | Prices per Cartridge |
| --- | --- | --- | --- | --- |
| Angle Shave Club Razor | 5 | 8 | $4.50 per month (billed bi-monthly or quarterly) | $2.25 |
| 99 Cent Angel Razor | 3 | 4 (disposable razors) | $7.96 per month | $1.99 |
| 99 Cent Champion Razor | 5 | 4 | $9.96 | $2.49 |
| ShaveMOB The Practical (2, 6, 12-Month) | 3 | 4, 12, 24 | $9.99 (2-month); $14.99 (6-month); $24.99 (12-month) | $2.50; $1.25; $1.04 |
| ShaveMOB The Purist (2, 6, 12-Month) | 4 | 4, 12, 24 | $10.99 (2-month); $17.99 (6-month); $29.99 (12-month) | $2.75; $1.50; $1.25 |
| ShaveMOB The Perfectionist (2, 6, 12-Month) | 6 | 4, 12, 24 | $12.99 (2-month); $22.99 (6-month); $39.99 (12-month) | $3.25; $1.92; $1.67 |
Angel Shave Club
Angel Shave Club brands itself as a boutique shave club for women and claims to offer a fully customizable razor subscription membership.
At the time of writing, the Club offered a single type of razor handle that was offered in three colors: rose bud, California Kiss Blue, and La La Love Pink. Each razor comes equipped with quality metal and TPE rubber grid to ensure it fits well in the hand for a smoother shaving experience.
It's possible to sign up for an Angel Shave subscription for $9 per order, which comes with one Angel Shave Club Handle and two 5-blade razors.
Depending on how often you shave, you can change the shipping frequency of your razors to every other month (4 - 7 times per week) or every four months (1 - 3 times per week). Each scheduled blade refill of eight razor heads is priced at $4.50 per month, so $18 or $32 per order.
In our comparison of men's shaving clubs, we learned that blades work in pairs—a blunt blade will lift up a hair so that the second, sharper blade can slice it close to the skin.
Since learning how blades work together and the supposed differences between men's and women's razors, we couldn't help but wonder why a three-blade razor with a plastic handle costs the same as a four-blade razor made with hefty metal.
There's nothing wrong with spending extra on a razor handle that appeals to your aesthetic. After all, Harry's offers men the same spin. However, we're disappointed that Angel Shave Club didn't mention any of the differentiating features that justify the higher cost of their women's razors.
99 Cent Razor
99 Cent Razor promises great razors at a great price, and offers two different women's models to choose from, both of which are available with or without a subscription:
Angel Razor: This bright pink disposable razor comes in packs of four each month to provide you with a close and smooth shave. The price starts at $.99 for the first month and is $7.96 for each subsequent delivery.

Champion Razor: This five-blade razor comes with two replacement cartridges for $.99 your first month, and you'll receive four high-quality blades each month after for $9.96 per delivery.
Considering the environmental impact of having disposable razors shipped to you, we think it's difficult to get behind the Angel. Although, at $1.99 per razor, it's definitely your cheapest women's option. (Dollar Shave Club's Humble Twin is priced at a paltry $0.60 per cartridge, maintaining its position as the cheapest overall choice.)
ShaveMOB Shave Club
ShaveMOB sells men's and women's razor cartridges in bulk, offering a bigger discount the more you buy.
Note that ShaveMOB claims their blades are made better, and only require swapping out half as often. Meaning, two cartridges are supposed to last one month, 12 cartridges six months, and 24 cartridges are considered a one-year supply.
The company offers three different women's razors, including:
The Practical: This three-bladed replaceable razor features a lubricating strip, flow-through design, pivoting head, and non-slip handle. A two-month supply ($9.99) includes one handle and four cartridges; six-month ($14.99) includes one handle and 12 cartridges; 12-month supply ($24.99) includes one handle and 24 cartridges.

The Purist: A four-blade razor that otherwise matches the Practical in every way. Two-month supply ($10.99) includes handle and four cartridges; six-month ($17.99) includes handle and 12 cartridges; 12-month supply ($29.99) includes handle and 24 cartridges.

The Perfectionist: Features six blades, a lubricating strip, pivoting head, flow-through design—essentially the same as the previous two with more blades. Optional flexible head cartridges claim to provide a better shave around curves. A two-month supply of the Flex head costs ($12.99) includes handle and four cartridges; six-month ($22.99) includes handle and 12 cartridges; 12-month supply ($39.99) includes handle and 24 cartridges. Note that you can select cartridges without the optional flexible head for slightly less per piece.
Aside from the optional flexible head on the highest-priced product, we didn't see any indication on the company's website that their lady-specific razors are designed any differently from the men's versions.
On the upside, at least ShaveMOB doesn't charge more for women's razors just because they're pink.
What's the Difference Between Men's and Women's Razors?
According to these Quora answers, men's and women's models are designed differently so that they maximize efficiency and provide the best results for the areas that each gender shaves.
For example, men use razors to shave their face, a relatively small area with lots of contours and thick, dense hair growth. For this reason, most men's razors have a narrow cartridge head for maneuvering tight spaces, and it's preferred to have thinner, harder razor blades spaced in smaller increments.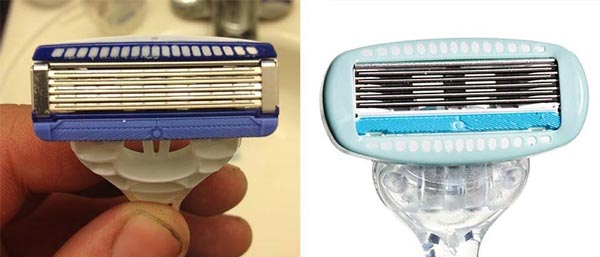 The largest area most women shave is their legs, so female-marketed razors are designed to cover large, broad, and relatively flat (at least compared to a face) areas efficiently. And, because your leg hair is likely finer than a man's facial hair, women's razor cartridges are equipped with thicker, softer steel blades that can hold a fine edge for longer.
Even when featuring a similar blade count, women's razors offer approximately triple the shielding power of a men's razor, which is meant to decrease the risk of cuts and nicks.
Additionally, the blades on women's razors are spaced farther apart and are set at a slightly less aggressive angle.
Finally, most women's razors feature a larger moisture strip, which provides additional slip and helps the blades glide across the skin without pulling and tugging.
In short, we're told that it's important to look for the following features when shopping for a women's razor:
A wider cartridge head to cover a larger area
Wide-spaced blades that allow shaving gel to rinse through
Larger moisturizing strips to provide slip
With these details in mind, it's worth noting that—based on these answers—the sources we used who claimed there's a difference between men's and women's razors also sold and manufactured them.
Women's Razors Are Specially Designed to Trim Fine, Sparse Hairs
According to those who state there are differences between razor models for males and females, men have the greatest risk of suffering skin irritation if they try to use a woman's razor on their face since the soft steel blades would ding on the first pass. Any additional attempts would tug on the skin and rip hairs out at the root.
Since legs aren't quite so sensitive, women can get away with using a man's razor. However, their hard, thin blades are designed for brute force cutting, and it will likely take multiple passes to trim sparser, softer hairs, which potentially leaves your skin chafed and irritated.
Does this mean that women have little choice besides buying $8 hot pink, fruit-scented razors forever? Not quite. Next, we'll compare women's shaving clubs to learn which one offers the best price for your shaving needs.
Do Women's Shave Clubs Save You Money?
In researching women's shave clubs, we couldn't help but notice a few things: Ladies are presented with significantly fewer shave club options, and they are offered fewer blades per order compared to similarly-priced men's products.
Even then, do women's shave clubs save you any money? To learn the answer, here's how much popular cartridges cost on Amazon:
Gillette Daisy (two blades): $13.89 for 13 disposable razors. That's $1.07 per razor.

Gillette Venus (three blades): $9.89 for the razor with two refills, then $20.49 for 8 cartridges. That's $2.56 each when it's time to refill.
Based on these numbers, when compared to the cost of buying cartridge refills in the store, women's shave clubs offer substantial savings.
But, you know what's even cheaper? Men's shave clubs.
And after reviewing the three women's shave clubs listed above, we didn't find a lick of evidence that those ubiquitous, pink-handled plastic razors featured any sort of special design that would warrant their increased cost.
We're not the first to notice this, either. A number of popular websites with a primarily female audience have been making a note of the unjustified price difference, and have consequently been switching to men's shave clubs.
If you're interested in giving up the girly razors for a savings of roughly a dollar a week, check out our review of men's shave clubs to find the razor that best suits your shaving needs.