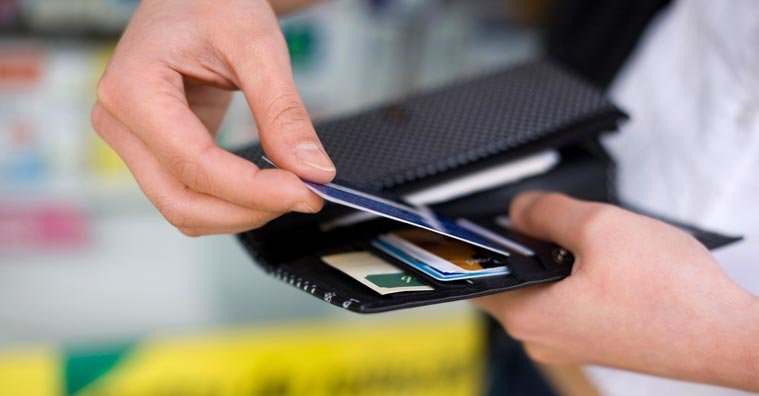 It's hard to say no to free money.
Store credit cards promise that in the sneakiest of ways, the most popular of which is pitching you their card to get instant savings at the cash register. You're there with all those Christmas presents waiting to be scanned and bagged and the cashier tells you that you can save 20% if you sign up for the store's credit card.
Or, in another common scenario, they tell you they can get you six months of zero-interest financing on your purchase.
It's hard to pass up those offers, right? Hard, that is, until you read over the card's terms and conditions. Unfavorable APRs and deferred interest lead the way in aspects of store credit cards that can hurt consumers.
Despite the facts, millions of consumers sign up for store credit cards around the holidays so they can cash in on one-time savings or long-term financing.
We wanted to know if store cards are really worth it, so we did some research of our own and reached out to experts to find our answers.
The Pros to Owning a Store Credit Card
As we mentioned in the introduction, store credit cards have the appealing benefit of instant savings. You can sign up for the card at the cash register and apply the corresponding discount in a matter of minutes.
For example, here's a list of store card discounts offered at the time of publishing:
Walmart: $35 off a $75 purchase the day you're approved for the card
Kohl's: 30% off the first time you use your card
Home Depot: Limited-time zero-interest financing
Another benefit of owning a store card is that cardholders often get exclusive offers in the mail for discounts that other shoppers can't get.
Kohl's and Gap are two stores that often send out these discounts.
The final benefit of store cards, in our opinion, is that certain ones can get you excellent rewards rates on important spending categories like groceries and clothes.
For example, Target gives you a 5% discount at the register if you use your Target REDcard. Considering that some Targets offer an entire grocery store, that 5% discount ends up being the best grocery rewards rate among store and non-store credit cards.
The same goes for purchases made with the Walmart store credit card. You get 3% back on purchases you make at Walmart stores and their website. Since Walmarts often include a grocery section, the 3% rewards rate is still among the best in the store and non-store credit card genres.
The Cons of Owning a Store Credit Card
Based on our research of 10 of the best store credit cards, we noticed some really stark differences between them and cards that aren't linked to the specific store.
Poor Transparency
It's much harder to find a store credit card's APR or late fees online. In several cases, we had to call the store's credit-line number in order to get specifics.
This isn't the case with regular credit cards, as companies like Chase, Discover, American Express and Barclays make all the necessary information available with just one click.
High APRs
More than half of the store cards we've researched have APRs higher than 23%. The Target REDcard is a good example of this. No matter what your credit scores are, your APR will be 23.90%. As a contrast, the Chase Freedom Unlimited has a low APR of 15.99%.
If you carry a balance of, say, $2,000 for a year, that nearly 8% difference in APR could cost you an extra $158 in interest payments.
Deferred Interest
Many store cards use something called "deferred interest" when they make zero-interest offers. What this means is that they'll give you 0% on your purchases for, say, six months.
But, if you don't have your purchases paid off by the end of that six months, then you get hit with interest charges on the original purchase amount instead of the remaining balance.
Non-store credit cards don't do this. If you've got a balance left at the end of a promotional 0% period, you only pay interest on what's left.
Poor Perks
Most of the cards we researched had poor perks programs that made you choose between up-front rewards or long-term rewards.
This is in stark contrast to the rewards options you have with regular credit cards. Hotel rewards credit cards like the Hyatt Visa, for example, not only give you rewards on every purchase you make, but they usually upgrade you to a better status in the hotel's loyalty program and you get yearly perks like a free night or extra points.
Points and Cash Back Are Limited to Store
Several cards had cash-back bonuses or discounts, but those cash perks had to be used in the store and nowhere else.
The positive side to this is that you get to use your discounts at stores at which you already shop, especially if those stores are grocery stores – we spend more on groceries than every other variable spending category.
The downside, though, is that the rewards don't have much flexibility to them, nor does the card. For example, the Home Depot Consumer Credit Card can only be used at Home Depot locations or on their website. And, the only promos they ran at the time of publishing were zero-interest financing deals.
While those perks are great if you can spend at least $299 at Home Depot, they have no value at other stores. A cash back credit card like the Citi Double Cash could earn you 2% back on your purchase and it gives you the liberty to comparison shop that refrigerator you were thinking about buying at Home Depot.
No Added Benefits
The final drawback to store cards is that they don't offer the same level of benefits that regular credit cards do.
For example, the Chase Freedom Unlimited is part of the Visa Signature benefits program, which means you get car rental insurance, extended warranties, purchase protection, a concierge service and travel accident insurance for free.
Store credit cards don't offer these benefits. You'll get extended merchandise return time frames and early access to Black Friday deals, but that's usually the extent of it.
Examples of How Non-Store Credit Cards Can Be Better Than Store Credit Cards
Earlier we mentioned that credit cards have shopping portals through which you can purchase merchandise and get discounts at stores like Gap. Sometimes the Discover discounts you get at Gap are better than the discounts you get by using the Gap card.
For example, Discover cardholders shopping at major retailers through the Discover Deals portal can save 20% on purchases at Claire's, 10% at Gap, 40% at Men's Warehouse, and 20% off appliances at Best Buy.
Let's take a second to compare the rewards you get at Gap. Owners of the Gap Card will get a $10 cash bonus for every 1,000 points ($200 spent in Gap stores) and that bonus cash has to be used at Gap stores.
On the other hand, Discover cardmembers' 10% discount means they get $20 off if they spend $200 at Gap, doubling the rewards you'd get with the actual Gap card.
Another example of how non-store credit cards can get you better rewards rate is the concept of rotating rewards, which means that every quarter there are certain purchases that can earn you 5% cash back via a Discover credit card or the Chase Freedom.
Here's a list of the holiday bonus categories in two popular cash back credit cards:
Discover it Cash: Amazon.com and Target
Chase Freedom: Walmart
This is a great example because, in the case of the Chase Freedom card, your Walmart bonus (5%) is better than the actual Walmart card (3%).
The Discover it Cash's 5% bonus at Amazon and Target is equal to what the Amazon Prime store card and the REDcard offer, plus the benefits that come with owning the card (car rental insurance, purchase protection, etc.).
Our Conclusion: Very Few Store Cards Are Worth It
Based on all the research we've done on store credit cards, we believe that you'd most likely benefit from using a non-store credit card. There are very specific reasons why we've come to that conclusion.
According to FICO's 2017 stats, more than 50% of consumers have FICO scores above 700, which pretty much means you'll be able to score a credit card with an interest rate below 16%.
With such low-interest rates available to a large chunk of the population, it just doesn't make sense to sign up for a store credit card with an APR around 24%.
It would be a wise choice to apply for a regular credit card if your FICO score is at 700 or above, as you can take advantage of low APRs that will make every purchase a bargain compared to store credit cards.
Other factors to consider are the lack of benefits that store credit cards offer as well as deferred interest and limitations on perks.
Based on our research, there are only a few situations in which we believe that a store card is worth it.
If you do your grocery shopping at a store offering between 3% and 5% rewards, consider using their store card. Those rewards rates are in the top-tier of rewards credit cards, store or otherwise.
Another situation in which store cards could be worth it is clothing. Certain stores like Target may have clothes that fit you well or exactly the kind of shirts, shorts, and accessories that you like buying your kids.
If you're going to shop at one store – Target, let's say – regardless of whether you have the store's credit card, then that's a good sign that getting a store card will be worth it for you. Target is a great example because they take 5% off at the register when you use your REDcard.
We also see gas cards being helpful even though we didn't mention them earlier. The Shell Drive for Five card, for example, gives you $0.25 off every gallon for the first two months, then $0.05 off every gallon after that.
The Chevron Visa card will give you $0.20 off per gallon if you spend at least $1,000 a month on the card, with a rewards cap of $300 per year. In many cases, that discount amounts to more than 10% each gallon. If you spend $150 a month on gas, then your savings are $15 a month, or 1.5% of the $1,000 you were required to spend to get the discount.
That 1.5% rewards rate is equal to what you'd get with the Chase Freedom Unlimited or Quicksilver Capital One. Not only that, but Chevron is part of the Top Tier program, a qualification that indicates a company's gas prolongs the life of your engine through the use of specific detergents.
Here's our conclusion as we consider the pros and cons of store credit cards: Use the cards that maximize every purchase you make.
So, if you spend, say, $700 a month at Walmart because you buy groceries and household items them, their store card's 3% rate is the best you can do.
If you spend another $200 a month at Target for various things, then the store card's 5% discount is worth it.
For all other purchases that aren't consistent at specific stores, try a general cash back card if you like getting money back and a travel rewards card if you want to use your credit card rewards for travel purchases.