A Beginner's Guide to Dermaplaning: What It Is, How It Works and Overall Benefits
Dermaplaning, a facial treatment that involves a surgical scalpel, promises to help you achieve brighter, smoother skin. Experts discuss how it works, ideal candidates, costs, and how to make results last.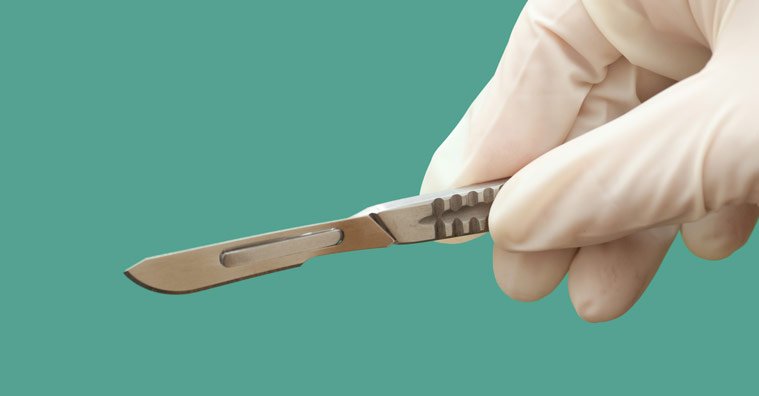 Dermaplaning is an aesthetic treatment for the face that involves the use of a surgical scalpel to remove the top layer of skin as well as the peach fuzz.
The benefits of dermaplaning, which involves virtually no downtime, include a brighter, smoother appearance, especially for those looking to improve the appearance of dry or rough skin, or those who want to improve their skin texture.
This beginner's guide takes an in-depth look at dermaplaning, including how it works, what it costs, ideal candidates for this treatment, and how it compares to other modalities like shaving or waxing.
Keep in mind that this guide is not intended as medical advice. Before you undergo a dermaplaning treatment, it's important to talk to a professionally-trained technician, your medical provider, or an expert in this field, first.
What Is Dermaplaning and How Does It Work?
Simply put, dermaplaning is a type of exfoliating that gently takes off the top layer of skin and "peach fuzz" hair with a sharp blade, according to Kirstie Reese, an esthetician at Sugarface Skincare in Southern California who's worked in the aesthetic field for seven years.
Dermaplaning is known as a "physical exfoliation procedure" that requires the use of a surgical scalpel to gently "shave" the skin's surface, further explained Dr. Michael Somenek, a Facial Plastic Surgeon and member of the American Academy of Facial Plastic and Reconstructive Surgery.
"This removes the top-most layer of dead skin along with fine hairs, otherwise known as peach fuzz," Dr. Somenek said. "Dermaplaning works by providing a physical exfoliation of the skin which starts the cell regeneration process, allowing topical cosmeceuticals to better penetrate the skin."
Dermaplaning is a way to eliminate the top dead cells by scraping the skin, added Lynne Girard, a Medical Esthetician for 27 years who works at the Center for Plastic Surgery in Highlands, North Carolina.
"It can be done as an add-on to any service, such as a facial, a peel or microdermabrasion, or it can be a stand-alone treatment," Girard said.
Dermaplaning Benefits and Ideal Candidates
People typically seek out this treatment if they want to remove the fine hair and peach fuzz from their face for improved appearance, noted Reese, adding that dermaplaning is great for all skin types – with some exceptions.
For instance, those who should avoid dermaplaning are individuals with active acne pustules, or someone who cannot stay still, Reese advised.
"The benefits of dermaplaning are a brighter, smoother appearance," Reese added. Also, "makeup goes on better without the peach fuzz."
Those looking to improve the appearance of dry or rough skin, or those looking to improve skin texture, can reap benefits, noted Dr. Somenek, adding that acne scarring can also improve with multiple treatments and a good skincare regimen.
"Benefits include providing physical exfoliation to trigger the cell regeneration process," Dr. Somenek said. "Also, it can rid the face of excess fine hairs that can accumulate excess dirt and oil. Consistent exfoliation of these dead cells and fine hairs can lead to healthier and brighter skin. It can also reduce the appearance of fine lines."
However, if you have skin that is sensitive or that is acne prone, this procedure may exacerbate the condition and become irritated, Dr. Somenek warned.
"Very oily skin in addition to those with excessive facial hair may get razor burn and ingrown hairs," Dr. Somenek said. "Even though this is safe for all skin types, those that are prone to hyperpigmentation should be treated with caution to not cause irritation that could potentially lead to post procedure pigmentation."
Potential Risks of Dermaplaning
One of the biggest risks of dermaplaning is scratching or being nicked from the very sharp blade that's used during the dermaplaning process, Reese said.
Using a sterile surgical scalpel is essential to avoid post-procedure infection/inflammation, said Dr. Somenek, adding that "people should be seeking a qualified technician to perform this procedure."
Girard added that it's important for the patient to listen to the esthetician, "and not talk during the treatment as they can risk the possibility of getting cut or nicked."
Dermaplaning Pain Factor, Downtime and Frequency
As far as pain and downtime are concerned with dermaplaning, for the most part, neither exists, according to our experts.
According to Reese, there's "no downtime at all," and Dr. Somenek noted that "other than mild redness immediately post-procedure, there is no downtime with dermaplaning."
Girard agreed, "There is no discomfort in the treatment and no downtime. If done properly, the patient should only feel the esthetician pulling or stretching the skin in the area that the dermaplaning is being done."
Reese noted that for the best benefits, dermaplaning should be done every three to four weeks, because the vellus hair grows back.
Dr. Somenek typically recommends this treatment every six weeks to reap the best overall benefit for the skin.
Is Dermaplaning the Same as Shaving or Waxing?
In Girard's experience, she is often asked if dermaplaning is the same as shaving the face with a razor, or removing the hair through waxing.
The main difference between the two, she said, is the way the hair is being removed.
"Waxing and shaving with a conventional razor is pulling the hair by the root. This can change the way the hair returns," Girard explained. "When we dermaplane, we are simply scraping the surface of the skin and not touching the root of the hair. Therefore, the hair will grow back soft and smooth like it was originally."
The main benefit with dermaplaning is hair removal, Reese said, and there is no other treatment that removes vellus hair other than waxing.
"Waxing can cause a histamine reaction which is the body's reaction to hair being pulled out with bumps," Reese warned. "Dermaplaning does not cause any reaction because it's not pulling any hair out from the root."
Dermaplaning vs. Microdermabrasion
Microdermabrasion involves the use of a minimally abrasive instrument to gently sand your skin, removing the thicker, uneven outer layer. This type of skin rejuvenation is used to treat light scarring, discoloration, sun damage and stretch marks.
As far as comparing dermaplaning to microdermabrasion is concerned, Dr. Somenek said the effects are slightly different between the two.
"Microdermabrasion creates abrasion and suction during the treatment which can leave slight redness," he explained. "It is considered a slightly more aggressive form to exfoliate the skin."
Dermaplaning and microdermabrasion are different modalities of removing dead cells; however, microdermabrasion is going in deeper and stimulating the collagen production, Girard said.
"Dermaplaining, while not stimulating collagen, is also removing fine facial hair," Girard added. "This is why, if done by a qualified technician, they could be done at the same time."
Office Dermaplaning vs. At-Home Dermaplaning
Professional services are always best because estheticians are trained and licensed to work with skin, Reese advised.
"Over-the-counter devices can be misused because the clients don't always follow directions which can cause damage to their skin," Reese warned.
Dr. Somenek does not recommend performing this procedure at home.
"Dermaplaning involves a surgical scalpel and requires a specific technique to not injure the deeper skin layers," Dr. Somenek explained. "If done incorrectly, a person can predispose themselves to potential skin infections and prolonged irritation."
Girard added: "There is a lesser chance of injury in an office than at home."
Dermaplaning Cost
At the Center for Plastic Surgery, as a stand-alone treatment, the charge is $65. If it is added to a treatment, the charge is $35.
According to Dr. Somenek, "this always varies depending on the region that dermaplaning is being performed," and range typically will vary from $150 to $300 per treatment.
Reese added that in Los Angeles, the cost can range between $100 and $250.
How to Get the Most Out of Dermaplaning
It's important to see a professional because your hair grows at an angle, and it needs to be removed in the correct direction to avoid irritation and ingrown hairs, Reese advised.
Additionally, "they should follow the skincare regime that their aesthetician has put them on," Reese noted.
Having a comprehensive skincare regimen that is tailored to your skin is the best way to get the most out of your dermaplaning procedure, Dr. Somenek recommended.
"Starting this skincare regimen after the skin is treated will ensure the best absorption of products to achieve the optimal results," Dr. Somenek said. "Of course, SPF is always recommended post-procedure."
Finding a Dermaplaning Provider
Girard recommends calling your local dermatologist or plastic surgeon's office for referrals.
Dr. Somenek advises checking local reviews and ensuring that the location that is providing the service is a registered facility with certified technicians.
Reese said providers can be found through positive reviews on Yelp or through word-of-mouth, as well as doing research on someone who has been trained, certified and has experience in dermaplaning.
» For Further Reading: How to Find the Best Plastic Surgeon: Expert Tips & Warning Signs
Bottom Line
Before a person decides to undergo a dermaplaning treatment, Reese said it's important to keep the following in mind:
"Can they stay completely still? Can the client refrain from moving or talking during the dermaplaning procedure?"
Staying still is a must during the treatment because the professional has a very sharp blade against their skin at an angle, she warned.
"One wrong move can cause a problem," Reese said.
Girard recommended to avoid Retin A for a few days prior to the procedure if this is your first treatment, and let your esthetician know what products you are currently using.
It's also essential to ensure that you find a qualified technician to perform the dermaplaning, Dr. Somenek added.
"This includes using sterile surgical scalpels," he said.
» Was this guide helpful? Read more we've written on related topics: