Best Anti-Aging Creams for Hands Buying Guide
Creams can improve the look of aging hands such as brown spots and thinning skin. Our detailed buying guide will help you find the best creams and preventative measures that can offset the look of aging hands.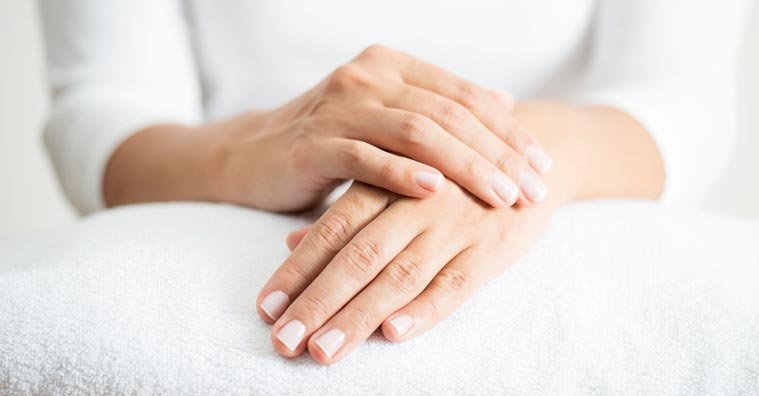 The hands have been classically known as parts of the body that show a person's age, making many self-conscious about one of the most visible parts of their physicality.
While aging hands is a normal part of life, it has received negative attention with major celebrities like Madonna, who's been hit with comments about the appearance of her aging hands in the media.
Fortunately, there are products on the market today – as well as preventative measures – that can help offset the appearance of aging hands.
This buying guide takes a look at creams and other products that can help the hands appear more youthful. We've gathered input from experts including two board-certified dermatologists who offer their take on some of the best options on the market today.
Let's begin by discussing some of the visible indicators of aging hands, as well as causes and preventative measures. Later on, we'll provide you with several products on the market today that have been recommended by our experts, as well as options that have won awards due to their effectiveness.
Visible Indicators of Aging Hands
Many people are self-conscious of their hands because the hands have been classically known to show a person's age, according to Dr. Kally Papantoniou, a board-certified dermatologist specializing in cosmetic, laser and surgical dermatology in New York City, Queens and Eastern Long Island.
"We look at hands as an insight into a person's age and the kind of life they lead," Dr. Papantoniou said.
Typically, aging hands appear in women before men, and often in their 30s, said Dr. Ted Lain, a board-certified dermatologist and Chief Medical Officer at Sanova Dermatology in Austin, Texas.
"Of course this is dependent on the skin type and amount of sun exposure, but in Austin, I commonly see early signs of aging as soon as the low to mid-30s," Dr. Lain said.
In Dr. Papantoniou's experience, the signs of aging hands usually occur earlier in women compared to men, beginning in their early 40s usually with a few age spots.
Some of the earliest signs of aging will be the development of liver spots or age spots on the backs of the hands, she said.
"After this, usually crepey changes will occur, which appears as thinned out skin from loss of collagen, elastin and fat," Dr. Papantoniou explained. "The veins on the backs of hands can become more prominent and appear distended, this will happen from a loss of fat and thinning of skin. Changes in joint appearance can also age our hands, and will be seen in both rheumatoid and osteoarthritis."
Related: What Causes Crepey Skin and How It's Different From Wrinkles
Usually, the first sign of aging is the appearance of brown spots on the tops of the hands, Dr. Lain agreed.
"This indicates photo-aging, just like on the face, and predates the loss of collagen that leads to wrinkling," Dr. Lain explained. "In addition, age and sun-related fat loss cause increased visibility of blood vessels – another sign of aging."
Now that we've discussed the visible indicators of aging hands, let's explore some of the causes, according to our experts.
Causes of Aging Hands
Cumulative photo-damage will result in age spots, as well as the loss of collagen and elastin fibers, Dr. Papantoniou said.
Additionally, especially for women, perimenopausal hormonal changes can accelerate the loss of fat, leading to the appearance of veins and underlying bones, giving a bony look, she noted.
"Hard manual work can also take a toll on the appearance of hands, and can cause the hands to outpace the rest of the body in aging," Dr. Papantoniou said.
According to Dr. Lain, the "first and foremost" reason for aging in the hands is unprotected sun exposure.
"This causes damage at the DNA level to skin cells, leading brown spot production, loss of collagen and wrinkling," Dr. Lain explained.
The second reason, he said, is lack of moisturization.
"Because of hand washing, and the effects of daily use and environmental exposure, hands tend to get drier more easily than other areas of the body," Dr. Lain said. "Without protecting the skin with a quality moisturizer, hands tend to dehydrate, leading to a rough texture, uneven tone, and inflammation."
With all that said, can creams improve the look of aging hands? The good news is yes, which we discuss next.
Do Creams Really Work to Make Hands Look Younger?
Yes, according to Dr. Papantoniou.
"Creams and sunscreens can certainly help make the hands look younger," she said.
The key is to be consistent.
"For real benefit to be noted, the creams should be used for two to three months for results to start to be noticeable," Dr. Papantoniou noted.
Dr. Lain added that the skin on the hands is not much different from that on your face, "so we can use similar products and treatments to achieve rejuvenation."
The effectiveness of the product used on the hands depends largely upon the ingredients it contains, which we explore in the following section.
Best Ingredients in Anti-Aging Hand Creams
Dr. Papantoniou recommends selecting creams which contain retinol, vitamin C, green tea polyphenols, resveratrol, alpha hydroxyl acids and hyaluronic acid.
These ingredients "will help to brighten the skin, reduce age spots and provide rich antioxidants which can help restore skin," she said, "and the hyaluronic acid will help to hydrate and reduce the appearance of crepeyness and wrinkles."
Dr. Lain said to look for products that contain collagen building ingredients such as retinol and growth factors, as well as moisturizing factors such as ceramides, petrolatum, and glycerin.
Additionally, "cell renewal products such as stem cell activators and DNA repair enzymes, and skin lightening with hydroquinone or more natural alternatives are all important," Dr Lain advised. "Of course a broad spectrum sunscreen with at least SPF 30 rating is of upmost importance."
In further advice, Dr. Lain also suggests to "mix and match the list of ingredients listed above for your particular issues, and then find a product, or products, containing these."
There are many products on the market today that can help offset the appearance of aging hands, which we cover next.
7 Best Anti-Aging Creams for Hands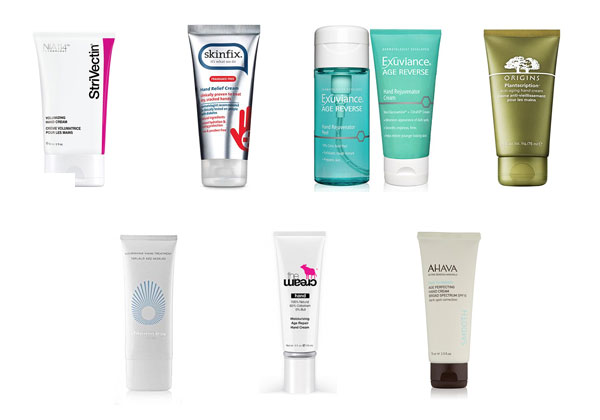 Two of the following seven products have been recommended by our experts due to their overall effectiveness. The other products have won awards, shown proven results from scientific studies, contain ingredients with healing properties, or received top reviews from customers.
1. Strivectin Volumizing Hand Treatment
This product, recommended by Dr. Papantoniou, contains Dimethicone to maintain moisture levels, Vitamin C for brightening, and Resveratrol to reverse and prevent oxidative stress.
This "age-fighting" moisturizer softens and hydrates the hands for a healthier, younger-looking appearance, according to the manufacturer's website. Hyaluronic Acid is combined with patented NIA-114™ technology to help nourish skin and support its natural elasticity. It also contains a brightening complex that helps minimize discolorations, as well as Vitamin E and Shea Butter, which leave the skin smooth and supple.
Out of 58 reviews published on the Strivectin website, this product received a rating of 4.8 out of 5 for overall effectiveness.
A 2-ounce tube can be purchased online for $29 on the Strivectin website and costs the same at Ulta, Amazon, and Dermstore.
2. Skinfix Hand Relief Cream
Dr. Lain noted that this product contains natural oils and extracts that are known to have anti-inflammatory and soothing properties – in a cream without chemical preservatives.
Skinfix Hand Relief Cream can soothe extremely dry hands and protect cracked fingertips, according to the manufacturer's website. This cream is considered non-irritating, and contains natural healing botanicals, coconut oil and allantoin to protect chapped, split skin.
In a clinical study, 74% showed an immediate increase in skin hydration. For people living with diabetes – which cases dry skin – 97% felt their hands and fingertips were relieved and protected after applying this product; 90% felt their dry, cracked hands and fingertips were soothed after just one application; and 90% felt this product healed their chronic dry, cracked hands.
A 3-ounce tube costs $15.99 on the Skinfix website.
3. Exuviance Age Reverse Hand Rejuvenator
The Exuviance Age Reverse Hand Rejuvenator – featured in American Spa magazine – is a two-step treatment that restores smoother, firmer and younger looking hands, according to the manufacturer.
This product was named a 2017 Total Beauty Award Winner.
The process involves two products that complement each other: the Age Reverse Hand Rejuvenator Peel, and the Age Reverse Hand Rejuvenator Cream. The manufacturer noted a sunburn alert because this product contains an Alpha Hydroxy Acid that might increase sun sensitivity.
The Hand Rejuvenator Peel is applied before bedtime to the back of clean hands with a cotton ball. After absorption, this step is followed by a generous application of the Hand Rejuvenator Cream. For day use, apply the Hand Rejuvenator Cream to the back of hands in the morning and allow at least one hour before washing.
The Hand Rejuvenator Peel and Hand Rejuvenator Cream are usually sold together for $65 and can be purchased at Ulta and other popular online retailers.
4. Origins Plantscription™ Anti-Aging Hand Cream
If you're looking for a natural option, Origins Plantscription™ Anti-Aging Hand Cream might be a good fit.
This "ultra-rich" cream contains Anogeissus, as well as Crithmum, Bamboo and Pea Extract, to deliver a dose of age-correcting moisture to visibly help reduce fine, dry lines, according to the manufacturer's website.
The Anogeissus ingredient, in particular, is known to have healing properties. Anogeissus comes from the rare bark of a tree that's considered sacred to African culture and has been harvested by tribes to be used as a natural wound healer. The makers of this product studied Anogeissus for more than five years and learned that it helps stimulate the natural production of fibrillin, which is the protein that gives the skin youthful firmness.
A 2.5-ounce tube costs $31 on the Origins website and costs the same at Macys and Nordstrom.
5. Omorovicza Nourishing Hand Treatment
Out of 52 reviews published on the Omorovicza website, 46 individuals gave this product an overall 5-star rating out of five stars. One customer wrote that "it has taken years off my hands and has had a positive effect on age spots too." Another customer noted that this product "absorbs quickly and you can feel the effects by the next day, with visible improvement in the texture of the hands."
This non-greasy hand cream strengthens and firms the skin, and its Vitamin C content helps reduce the appearance of age spots, according to the manufacturer's website. This product is also said to instantly hydrate and plump and is considered great for dry skin and pigmentation.
Other ingredients include Palmitoyl Oligopeptide, which plumps fine lines and wrinkles; dermo-proteins such as elastin and collagen with caprooyl tetrapeptide for renewed elasticity and vitality; and apricot and virgin ente plum oil for long-lasting hydration and restored suppleness.
Additionally, it contains shea butter, which helps the skin maintain its natural moisture level and fight free radical damage, as well as a special Healing Concentrate™ that leaves the skin firmer, more supple, and younger-looking.
Omorovicza Cosmetics worked with a Hungarian Nobel prize winning laboratory to develop and patent the Healing Concentrate™, which delivers potent minerals that occur naturally in the Omorovicza healing waters deep into the skin.
A 3.4-ounce tube costs $70 on the manufacturer's website or through other online retailers such as Neiman Marcus.
6. New Zealand Colostrum Hand Cream
The New Zealand Colostrum Hand Cream, manufactured by theCream, won the Delicious Living Beauty & Body Award in 2015.
Registered organic, this product contains zero parabens, preservatives or chemicals. A signature ingredient is New Zealand Colostrum, which comes from grass-fed cows. Colostrum is produced by female mammals for approximately 72 hours after birthing, and only the oversupply of Colostrum is collected from the mother.
The biologically active components of Colostrum have been shown to limit the deterioration of cells associated with the aging process, assist with cell growth and reproduction, and regenerate various types of tissue, including skin, according to the manufacturer's website.
Other ingredients include Vitamins A, C, D, E, B1, B2, B6, B12, folic acid, 22 amino acids and trace minerals.
A 3.4-ounce bottle costs $54 on the manufacturer's website.
7. AHAVA Age Perfecting Hand Cream Broad Spectrum SPF15
This product is said to visibly counteract the five signs of aging by reducing the appearance of dark spots, evening the skin tone, smoothing lines and rough texture, protecting the hands from harmful UV rays, and the overall restoration of radiance and elasticity in the hands.
In a clinical study performed over eight weeks with 40 female volunteers, 88% of women had a significant reduction in the appearance of dark spots. Other results included significant brightening in hand skin color. Overall, this product was rated 4.4 out of 5, according to customer ratings, which also indicated that this cream is "excellent" for effectiveness and quality.
Ingredients include mineral spring water, hydrogenated olive oil cetyl esters, Dead Sea water, aloe barbadensis leaf juice, sunflower seed oil, tangerine peel extract and sunflower sprout extract.
A 2.5-ounce tube costs $32 at the manufacturer's website and can also be purchased for around $27 at Walmart.
Effective Use: How to Get the Most out of Your Anti-Aging Hand Cream
Once you decide on which anti-aging hand cream to purchase, you can get the biggest bang for your buck by using the product effectively.
Most hand creams are meant to be applied twice a day, Dr. Lain advised. He also recommends avoiding the washing hands for 3 to 4 hours after applying the cream in order to allow for penetration and absorption.
"Some advocate application immediately after washing or bathing in order to lock in the moisture from the water or humidity, but I am not convinced that the data supports this," Dr. Lain said. "However, make sure your hands are clean and free of debris or soap residue prior to applying in order to ensure best results."
As far as the most effective use is concerned, Dr. Lain recommends alternating growth factor and retinol containing products at night with a moisturizer and applying a lightening cream in the morning with SPF 30 sunscreen.
"It is a good idea to moisturize several times throughout the day, with the goal of reapplying after every wash," Dr. Papantoniou added. "Another tip is to apply before bed for deep overnight treatment."
Be Realistic With Results
As with the vast majority of creams and other topical treatments, change or improvement occurs on the order of weeks to months – not hours to days, Dr. Lain said.
"We all want improvement right now, but this is not realistic," he said.
In addition, if you don't support the treatment with excellent sun protection, a healthy diet, and avoiding smoking, results may be even further delayed.
"Finally, expect reduction but not resolution," Dr. Lain said. "Brown spots will lighten but likely not completely disappear, and the same goes for wrinkles and crepey skin."
What to Avoid When Shopping for an Anti-Aging Hand Cream
When it comes to selecting the best product to address aging hands, it's also important to know what to avoid.
Dr. Papantoniou always recommends reading the ingredients carefully before buying any product that claims to offset the appearance of aging hands.
"Make sure you can identify the active ingredients in the product, do not be swayed merely by claims or packaging," she advised.
She further warned consumers to look out for anti-aging creams that claim to improve your hands that have no active ingredients and are merely a moisturizer.
Dr. Lain added that because most people have issues with dryness, "it would be best to avoid exfoliating products, those with abrasive texture, or containing alpha hydroxy or beta hydroxy acids."
Final Thoughts
Hands are among the first areas of our body to display the signs of aging, yet the last to be addressed when rejuvenation becomes important, according to Dr. Lain.
"I think this is changing, however, as people realize that hands can give away your age just as much as the face, neck, or décolletage," he said.
Incorporating daily lifestyle habits can also help offset or delay the appearance of aging hands, Dr. Papantoniou noted.
"Wear sunscreen every day, and if you have to stay outside for prolonged periods – biking, gardening – consider wearing photo-protective gloves for your hands," she said. "To prevent drying out of skin wear gloves for washing dishes and when cleaning with household chemicals."
Was this article helpful? Read more we've written on this topic: