Best Cellulite Creams That Can Potentially Diminish Dimpling Appearance
In general, experts say that cellulite creams don't work. But if you're still considering buying a cream or lotion, learn more about a few products that might help.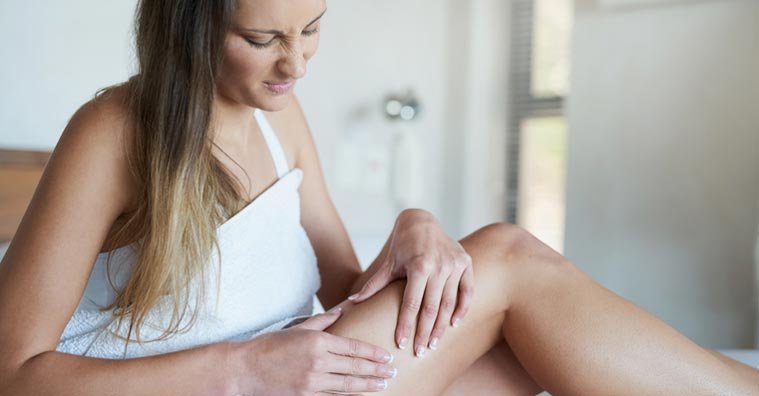 Cellulite, or the dimpling of the skin's surface, is an aesthetic issue that can affect the way a person feels about showing their arms, legs or any part of the body that reveals this irregular skin appearance.
While Americans spend millions a year on lotions, creams and other products that claim to help diminish cellulite, the big question is: Do cellulite creams really work? According to several experts we've interviewed on this topic, the general answer is no, but there might be a few products on the market that can potentially help.
This article takes a look at cellulite and its causes, with a handful of product recommendations provided by our experts. But overall, our experts say that consumers would be better off spending money on procedures that are performed in the office of a board certified plastic surgeon or board certified dermatologist.
What Causes Cellulite?
Simply put, cellulite is caused by several factors related to genetics, hormones, and aging effects, said Dr. Kally Papantoniou, a Board-Certified Dermatologist specializing in cosmetic, laser and surgical dermatology in New York City.
"Cellulite appears with skin laxity, especially on the anterior thighs, and is a component of aging and sun damage," she explained. "Dimpling and irregular surface of the skin is a feature of cellulite from fat lobules and fibrotic bands under the skin that can increase the appearance of dimples."
Do Cellulite Creams Work?
According to Dr. Papantoniou, cellulite creams will have limited action in terms of actually reversing or treating cellulite.
"Cellulite creams can help temporarily reduce the appearance of cellulite by hydrating the skin which helps to smooth out the texture and increase the tone," she said. "Cellulite creams that include ingredients to trigger new collagen formation may help with the tone of skin as well, but the results are limited."
Dr. Papantoniou noted that there have been some studies displaying improvement using creams that contain ingredients such as caffeine, xanthenes, retinol and the antioxidant, DMAE (dimethylaminoethanol).
Cellulite is caused by bands of tissue anchoring the skin to the lower tissue layers, causing the dimpling, said Dr. Ted Lain, a board certified dermatologist and Chief Medical Officer at Sanova Dermatology in Austin, Texas.
"Creams or lotions cannot permanently make a difference primarily because they cannot reach the bands through a superficial application," Dr. Lain said.
Newer, but more invasive, methods to improve cellulite are available, including using precise cutting or lasering the offending bands that are pulling down on the skin, he noted.
"An injectable medication is also under development to treat cellulite," Dr. Lain said. "Therefore, while creams are appealing due to their ease of use and cost, other treatments promise much more, and lasting, benefit."
As far as concrete scientific studies are concerned, nothing has been shown yet to prove that creams reduce cellulite according to one of our experts, which we discuss in the next section.
What Science Says About Cellulite Creams
Unfortunately, there are no creams that are scientifically proven to permanently reduce cellulite, according to Dr. Matthew J. Elias, a board certified dermatologist and owner of Elias Dermatology in Florida.
He explained that cellulite typically comes in two forms, wavy and dimple. Some creams can temporarily improve the appearance of wavy cellulite by causing swelling of surrounding tissue, removing moisture from the skin, or potentially stimulate the muscles in and around the skin to contract to give an appearance of smoothing of the cellulite.
"This improvement is very temporary and does not afford long-lasting solutions," Dr. Elias said.
To achieve long-lasting effects, he said that combining prescription strength Retin-A (Tretinoin) in an emollient base such as Cetaphil, will increase collagen production and potentially afford the long-term smoothing of cellulite.
"Unfortunately there are no studies to prove this is the most effective topical solution for cellulite but most expert board certified dermatologists believe in the benefits Retin-A has on the skin," Dr. Elias said.
If you're still considering spending money on a cream to diminish cellulite, select products with certain ingredients that might be effective, which we cover next.
Effective Ingredients in Cellulite Creams
Dr. Papantoniou recommends selecting products with ingredients such as caffeine, DMAE, carnitine or retinol.
The U.S. National Library of Medicine published information about a double-blind, randomized, placebo-controlled study, which was conducted with 46 healthy females to test an anti-cellulite product containing ingredients including retinol and caffeine.
An evaluation of different parameters related to cellulite appearance was assessed using several non-invasive methods.
This combination resulted in "significant activity" of the anti-cellulite product versus the baseline and showed its superiority versus the placebo in skin macrorelief – a decrease of the "orange peel" effect – and an increase in the skin's microcirculation.
Before you invest money in a cellulite cream, it's important to understand the most realistic expectations, which we discuss next.
» SEE ALSO: Top 5 Causes of Premature Aging, What to Avoid & Treatments That Work
Realistic Expectations for Cellulite Creams
As far as any hype is concerned, watch out for creams that have no active ingredients as mentioned above, otherwise, you will be buying a glorified moisturizer, Dr. Papantoniou advised.
"Look for the core ingredients which have been shown to be helpful," she re-emphasized.
You should also expect to use creams for at least six weeks before seeing results, she said, further adding that: "There are no major adverse side effects, other than possible itchy or irritated skin for those who are sensitized or allergic."
According to the American Board of Plastic Surgery, most patients concerned about cellulite have tried a cream or lotion that promises improvement, and noted the following:
"While certain medical grade products can help gradually improve collagen production for firmer skin, even high-quality products are rarely effective on cellulite, which requires more extensive remodeling of fat, connective tissue and collagen than a cream can provide. Cellulite creams are rarely a worthwhile investment."
Some people might think that using a cellulite massager along with a topical cream or lotion can have beneficial results, but Dr. Papantoniou warns to proceed with caution.
"Use a cellulite massager with caution; they can be helpful, but if used too aggressively they can actually damage skin and weaken the connective tissues," she said. "I have several patients that have worsened their skin laxity and cellulite with overuse of such devices."
The Best Cellulite Creams
Now that you're aware of what to expect from cellulite creams – including the fact that they provide a temporary solution or might not work at all – the following is a list of recommendations if you'd still like to give it a try.
Keep in mind that this information is not intended as medical advice. Before you try any cream, talk to your medical provider or dermatologist, first.
Dr. Papantoniou recommends StriVectin® Body Tightening Cream, Nivea® Firming Good-bye Cellulite Gel-Cream, and Soap & Glory® Sit Tight 4D Firming & Smoothing Body Serum.
Additionally, Dr. Sandy Johnson, who is certified by the American Board of Dermatology and works at the Johnson Dermatology Clinic in Fort Smith, Arkansas, recommends AmLactin Alpha-Hydroxy Therapy or CeraVe SA to help diminish the look of cellulite.
Best for Entire Body: StriVectin® Tightening Body Cream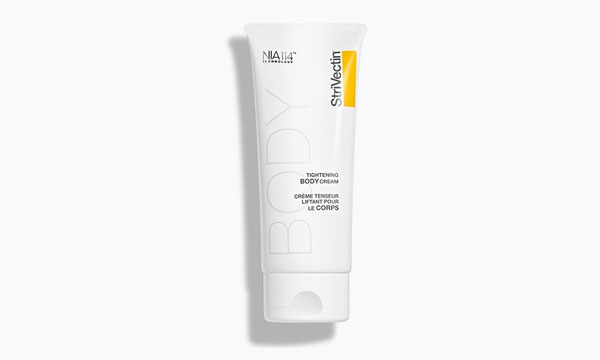 StriVectin is a good product that has been around for many years, Dr. Papantoniou said, and as a cream, it is very helpful – as much as a topical therapy could be. This product can be used on the thighs and buttocks, where cellulite can be apparent, as well as the arms.
Highlights: This rich, nourishing body moisturizer hydrates and softens for tighter, smoother feeling skin, according to the manufacturer's website. A combination of caffeine and peptides helps enhance definition and promote firmness; and patented NIA-114™ technology strengthens the skin barrier to retain vital moisture. Over time, skin elasticity and resiliency are improved, leaving skin visibly toned and revitalized. For the best results, this product should be used in the morning and at night.
Cost: A 6.7-ounce bottle costs $59 on the StriVectin website or at Nordstrom. It can also be purchased for around $53 at Walmart and around $48 on eBay.
Customer Ratings: Out of 87 customer reviews on the manufacturer's website, this product received 4.6 out of 5 stars overall. One customer, a mother of two babies, said this product helped her gain back confidence after having loose skin on her belly button region; and another stated that it tightened her arms and legs "to a noticeable difference." On Ulta, it received four out of five stars, with customers saying it makes their skin tone firmer, smoother and much more even. It also received 4.5 out of 5 stars out of 38 reviews at Nordstrom.
Best for Entire Body: AmLactin Alpha-Hydroxy Therapy Daily Moisturizing Body Lotion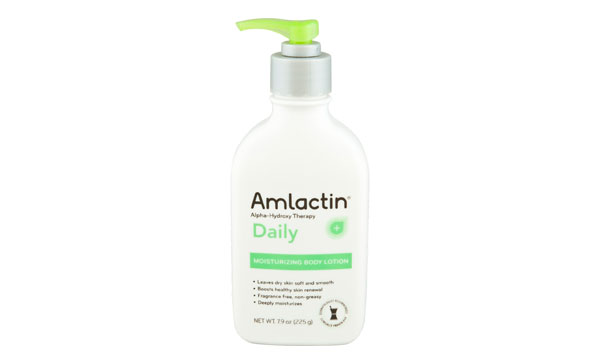 Highlights: This fragrance-free product is claimed to relieve rough, dry skin as it gently exfoliates and intensely hydrates. It provides long-lasting moisture and is considered ideal for broad body application.
Cost: The price for a 7.9-ounce bottle is $15.45 on Amazon; $12.99 at Target; and $14.49 at Walgreens.
Customer Ratings: Out of 1,213 customer reviews, this product received 4.1 out of 5 stars on Amazon, where one customer stated: "the benefits of this product are incredible: increased cell turnover, younger, firmer and smoother skin." Another customer who gave it 4 stars said that the lotion can cause redness, but it goes away after 10 minutes. It also received 4.7 out of 5 stars out of 22 reviews on Walgreens, with one customer saying: "This lotion is wonderful for dry, aging skin. Gets rid of crepiness and it has no scent, which is a plus for me."
Best for Stomach, Bottom and Thighs: Nivea® Q10 Plus Firming Good-bye Cellulite Gel-Cream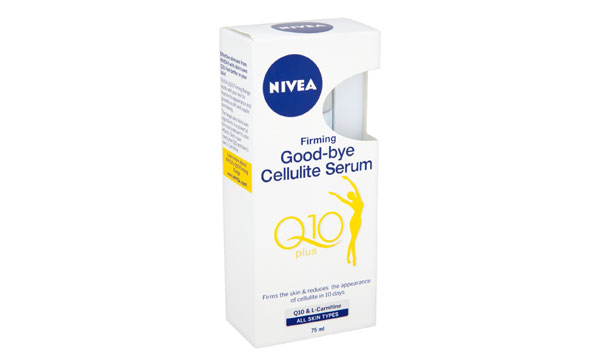 Highlights: Manufacturers of this product say it can reduce the appearance of cellulite in three weeks. It contains natural lotus extract and L-Carnitine to help visibly reduce the appearance of cellulite. It also has L-Carnitine, a substance naturally present in the skin, is known to be involved in fat metabolism – more specifically it supports the conversion of fat components into energy. Additionally, this formula has a cooling effect which leads to an activation of blood circulation.
Cost: A 6.7-ounce tube of this product costs $10.79 at Google Express and Bed Bath & Beyond; and $12.99 on eBay.
Customer Ratings: This fairly new product received 4.7 out of 5 stars on eBay out of 14 customer reviews, with one customer stating, "I used it for 5 days now and it works like a miracle."
Best for Lower Body: Soap & Glory® Sit Tight 4D Firming & Smoothing Body Serum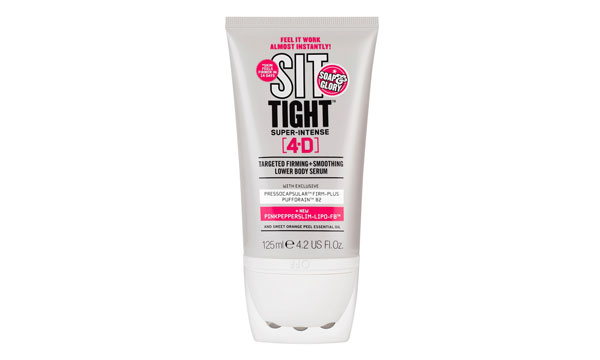 Highlights: Soap & Glory® Sit Tight 4D, a firming and smoothing lower body serum, features CIRCU-360™ tri-ball application technology to help stimulate circulation and promote body smoothing, and slow-release microencapsulated ingredients that optimize while you sit. In an independent user trial on 54 people, results showed firmer skin in 14 days.
Cost: This product costs $24 at Soap & Glory, Walgreens and Ulta; and $16.80 at Target.
Customer Ratings: On Ulta Beauty, this product received 4 out of 5 stars based on 77 reviews, with satisfied customers saying it firms and tightens skin, reduces cellulite and creates a slimming effect. On the flipside, three customers said it irritated their skin, and 7 indicated no visible results.
Best for Arms & Legs: CeraVe® SA Lotion for Rough & Bumpy Skin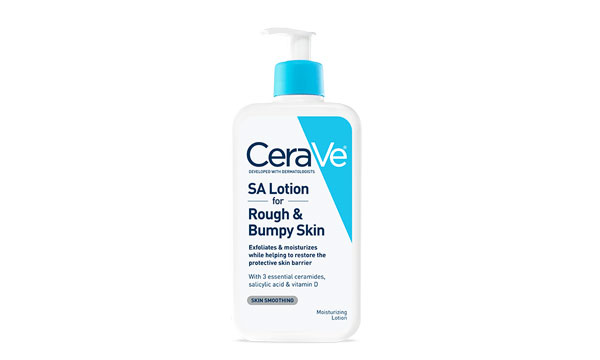 Highlights: CeraVe SA Lotion is designed to help restore and repair skin with a combination of ingredients that help ensure penetration. This product contains ceramides to help restore, repair and maintain the skin barrier, salicylic acid, and ammonium lactate to help loosen and exfoliate dead skin cells, and Vitamin D to help keep skin looking smooth and hydrated.
Cost: This product costs $12.43 at Amazon; $13.08 at Walmart; and $13.49 at Target and Walgreens.
Customer ratings: This product received 4.4 out of 5 stars out of 699 customer reviews on Amazon, with one customer stating that "I couldn't be happier with the utter smoothness and incredibly vibrant, healthy look of areas of my body I presumed dead long ago." The cream version of this product received 4.7 out of 5 stars based on 41 reviews on Ulta, with one customer noting that "This absorbs so well I can apply anywhere. My legs are so smooth and not at all oily. Left my skin velvety."
Final Thoughts
Dr. Elias said that there are minimally invasive procedures offered by Board Certified Dermatologists that can dramatically improve cellulite. These include Cellfina, Sculptra, Bellafil, or PRP injections combined with subcision and/or microneedling.
"Cellfina is FDA approved, clinically studied and is proven amazingly effective for dimple cellulite where you have discreet dimples in the skin," Dr. Elias said.
The injectable techniques, like Sculptra with subcision or microneedling with Sculptra or PRP, are off-label, but many cosmetic dermatologists are seeing improvements in both wavy and dimple cellulite using these techniques, Dr. Elias noted.
"Lastly, Ultherapy can be used off-label to improve the appearance of wavy cellulite," he added. "While no topical has been clinically proven to be effective for cellulite, fortunately, there are wonderful minimally invasive techniques that are proven to dramatically improve cellulite available at your Board Certified Dermatologist's office."
If you're looking for a cream or lotion, do not base its effectiveness on price – but rather, on ingredients and reviews, Dr. Papantoniou added.
"Remember, to see results, you really have to use it every day and for at least 6 weeks," she said.
Was this article helpful? Read more we've written on related topics: