Best Online Dating Sites: An Expert Guide for All Ages
With so many online dating sites promising to make connections, how can a single determine what's best for them? This article explores the best online dating sites for young adults to seniors.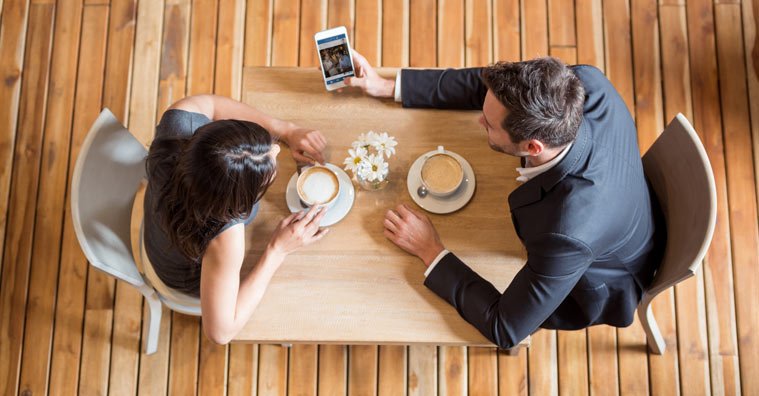 The internet age has opened the floodgates for singles to meet virtually, with numerous online sites that can potentially connect people with their perfect soul mate. But with so many apps and internet sites to choose from, which is the best for each individual's needs?
This guide takes a comprehensive look at the best online dating sites. We've included several sub-topics, including the best free sites, as well as the best sites for young adults, people over 40, individuals over 50 and seniors.
We offer advice on the best online sites for serious relationships, ways to determine the right online dating site for you, as well as tips for successful dating online. We also include what to avoid with internet dating to protect your safety.
This article offers advice from two top experts on this topic, including Dr. Jenny Taitz, a board-certified clinical psychologist who specializes in evidence-based approaches.
Dr. Taitz is a clinical instructor at UCLA in the department of psychiatry and the author of How to be Single and Happy: Science-Based Strategies for Keeping Your Sanity While Looking for a Soul Mate, which earned a Seal of Merit from the Association of Cognitive Behavior Therapy.
After spending years searching for an empowering book in the dating genre to recommend clients, Dr. Taitz couldn't find a title she could endorse; so she wrote this book to offer a dose of compassion and science to people feel frustrated while looking for love.
We've also gathered input from Julie Spira, CEO of CyberDatingExpert.com, and winner of the 2017 Best Dating Coach Award. Spira has appeared in the media more than 1,500 times on the subjects of online dating and mobile dating, and her dating advice appears in many of the top online dating sites, including JDate, eHarmony, Match, Plenty of Fish, and Zoosk.
Spira has been coaching singles on finding love online for over two decades, from dial-up to mobile, with her signature Irresistible Profiles programs. As dating and matchmaking moved online, Spira became the Digital Matchmaker, and has coached thousands of singles, ranging from millennials to baby boomers, who are looking for a second chance at love.
How Has Dating Changed Since the Internet Age?
A huge way dating has changed is by virtue of the fact that people are more anonymous, Dr. Taitz said.
"You may not know the person's last name and can easily go on several dates in a week, which can make it hard to focus and commit," Dr. Taitz noted.
Plus, with online dating, your mutual friend didn't set you up, and with less accountability, people run the risk of falling into bad behaviors, like ghosting, she said.
"Don't get me wrong, there are positives, technology allows people to connect with people they'd likely never encounter and quickly access a huge number of prospective dates, and modern love often starts through apps," said Dr. Taitz.
She added that it's important to remember to treat a person you meet online as respectfully as you would if you met through a friend, "since life is hard and no one deserves less than compassion and common courtesy."
In the early days of online dating, there certainly was a stigma, said Spira, whose Los Angeles-based business has reached singles across America, as well as on several continents.
"Most people believed those who were dating online were either desperate or socially challenged," Spira said.
Besides having fewer people on dating sites and slow dial-up internet with per-minute fees, "we also didn't have smartphones, Facebook, or mobile dating apps," she noted.
Once the technology improved to include high-speed internet, free dating sites, singles on social media, and iPhones and SmartPhones, the landscape made it a natural for online dating to flourish and become widely accepted, Spira said.
"Since singles are using their mobile phones and the internet to research vacations, make dinner and hotel reservations, order flowers and reserve expertise and beauty appointments, there was no reason not to look for love online as well," she noted.
Also singles have the ability to find a date 24/7.
"Because they are swiping left and right on mobile dating apps, it has shortened the cycle by creating an environment where dating is on the fly, in real time," Spira said. "You can be sitting at a Starbuck's drinking a latte one moment and be matched with someone who's sipping on an espresso and start the conversation almost immediately."
How Popular Is Online Dating?
A third of relationships start through technology, according to Dr. Taitz.
"We are transfixed by our iPhones and have come to rely on our devices for ease and convenience, sending emails rather than calling and ordering items online rather than scouring our local malls," Dr. Taitz said.
While she appreciates that practicality of meeting on dating sites, she hopes that "users pick up their eyes and strike up the courage required to approach people in person, too, since meeting someone who you stumble upon in real life can tell you a lot more than a two-dimensional snapshot."
Online dating is the most popular way to find a date today, said Spira, who noted that research shows one out of three relationships started online.
"With the improvements in technology and the cultural acceptance of online dating, the online dating business has grown rapidly and continues to do so," Spira said. "There are many more options with niche dating sites and apps, as well as a larger number of people joining dating sites in all age ranges."
Additionally, those who were not part of the online dating process have recently found themselves single due to divorce or the death of a partner.
"Many new boomers are trying online dating for the first time, with the support of their children and grandchildren, making it a multi-generational platform for love," Spira said.
If you're considering joining a free online dating site, the next section offers advice on the best sites to choose from.
Best Free Online Dating Sites
According to Dr. Taitz, there is no universal best.
"This has everything to do with who you are and what you value," she said.
For example, "if you prioritize your faith, a site catering to your religion might be most pragmatic," Dr. Taitz advised. "Many people are on several wonderful sites, Match, OkCupid…however, try not to overwhelm yourself with too many choices that prevent you from focusing."
Most dating sites allow you to sign up for free, with many offering premium options to appear more frequently in a search, or to hide your profile while browsing, Spira said.
"For this reason, every site is free, and every site has a paid element," she explained. "I usually recommend a site with a large membership base such as OkCupid, PlentyofFish, or Zoosk. Free popular apps include Tinder, Bumble, and Hinge."
Spira is also a fan of the thought-provoking questions on OkCupid, "as it forces someone to really think about their position about important issues in life and what they're looking for in a partner. They will result in receiving a better match percentage."
Best Online Dating Sites for Young Adults
Again, this really depends on the person, Dr. Taitz re-emphasized.
"For women who want to initiate and have a say in who is able to contact them, Bumble is fabulous," she recommended.
If you are selective and value education, "The League's filters may help you find people who have achieved professional success," Dr. Taitz said.
If you are really busy, apps that connect you to people who live near, like Happn, may feel easiest, she advised.
For those who prefer to meet a friend of a friend, "Coffee Meets Bagel introduces to you to people related to your social network," Dr. Taitz said.
» For Further Reading: Our Coffee Meets Bagel Review
In further advice, she said rather than getting consumed with finding the perfect site, "build a perfect life that feels meaningful and full and explore a couple of sites with curiosity and courage."
Most dating apps have a large number of young adults on them, as it's their preferred way of finding love online, Spira said.
"You'll find many millennials on Bumble, Tinder, POF, Coffee Meets Bagel, and Match," she said. "Some sites send you matches, others allow you to browse for matches while recommending profiles of singles they think you'd be interested in based on how you created your profile."
Match, the largest dating site launched in 1995 has a wide range of members, with some looking for serious relationships and others looking for something more casual.
"They have kept up with the technology changes, including having a robust mobile app, Match stories, and a missed connections feature," Spira said.
Additionally, "their profile allows you to narrow down the type of person you're looking for based on physical attributes of body style, hair and eye color, weight, and height," Spira said. "They dig deeper by allowing you to state your political preferences, drinking and smoking preferences, and religious preferences."
Best Online Dating Sites for People Over 40
"A lot of people worry that their options narrow as they age and that's simply not true," said Dr. Taitz, adding that sites like Eharmony and EliteSingles target adults over 40.
» For Further Reading: Our Review of Elite Singles
Spira recommends Match and eHarmony for singles over 40 who are looking for a serious relationship.
"Both sites are free to join, but to communicate with other members, singles are required to pay a monthly membership fee," Spira explained. "Because they've been around for many years and have a large number of members, singles over 40 have been very successful on these sites."
Best Online Dating Sites for People Over 50
Some people like sites like SilverSingles that cater to certain ages if you want to meet someone in your age range, Dr. Taitz advised.
"And again, there is no best, you only need to connect with one person," she said.
For singles over 50, Our Time is a great fit, as well as Match, OkCupid, and eHarmony, Spira recommended.
"Our Time, originally called Senior People Meet, caters to the 50+ marketplace, so members will feel comfortable being on a site with likeminded singles," she said. "Match has a wide range of ages of their members, and eHarmony caters to the serious crowd."
Best Online Dating Sites for Seniors
Our Time/Senior People Meet is one of the best sites for seniors, "as they'll feel comfortable with their matches, as they require the member to be at least 50 years of age," Spira said. "Most other dating sites allow you to list your age, or suggested age range."
For all age groups, beyond only focusing on apps that specialize in your demographic, think a lot about what you cherish, such as tennis, church or volunteering, Dr. Taitz said.
"Showing up in person to somewhere you mind meaningful can help you feel fulfilled and connect you with like-minded others," she said.
Best Online Dating Sites for Serious Relationships
eHarmony is known for having members who are looking for marriage or as serious relationships, and Spira has often called eHarmony a matrimonial site instead of a dating site for that reason.
Members can fill out a long questionnaire about themselves and their dating goals to show their level of commitment to the process, she said.
"Match is known for having a large number of serious relationships and marriages, and they feature many of them on social media in their #MatchMade campaign of success couples," Spira said.
Some people notice that sites that charge a fee attract people who are invested in a searching for a relationship, Dr. Taitz said, "though so many relationships arise from free sites, too."
Rather than get stuck in thinking of best and worst, remember from the New York Times wedding pages and the Instagram feed, @thewaywemet, that people meet in so many ways, she said.
"The key to finding a serious relationship is skipping wasting time with someone who isn't interested in that, and a site can spare you, though some sites do a better job allowing users to furnish information such as what someone is looking for rather than just a photo to swipe on," Dr. Taitz advised.
How Can You Determine the Right Online Dating Site for You?
With so many sites to choose from, how do you know which site is best for your specific online dating needs?
Think about what you value, what sites connect you to those with similar intentions, and where people in your friend group have met others, Dr. Taitz recommended.
"There are lots of apps and sites popping up, so if you tried an app and didn't like it, know there are so many others, don't give up," she said.
Spira believes there's more than one right dating site for a person, and that dating goals do change over time.
"There are thousands of sites to pick from, so I suggest you start with one site that has a large member base, one that is niche site based on religion, sports activities, or even food preferences," Spira advised.
Then, include a mobile dating app, such as Tinder, Bumble, or Hinge.
"Remember to be specific about what you're looking for so you don't get discouraged," Spira said.
"A Pew research study showed that 30% of females actually enlist the help of someone to create their dating profiles, showing singles realize they might not be doing it right and are serious about the process," Spira added. "This is why a business such as mine has been highly successful for the last decade."
Tips for Successful Online Dating Experience
Dr. Taitz recommends that once you log on, don't just join, but be proactive, reach out to people who whet your interest, and find a middle path where dating doesn't become a full-time job or a project you're entirely avoiding.
"Think about a reasonable goal, say, reaching out to four people a week and carving out time to meet people in real life," Dr. Taitz said. "Dating through technology is like visiting a store with a constantly evolving inventory. Just because you didn't meet anyone on JDate last year, doesn't mean someone didn't join today who may grow to love."
Spira always says that patience is a virtue, and with online dating, "the squeaky wheel gets the digital love deal."
"With that in mind, I treat finding love online and the process of finding your dream date no different than finding your dream job," Spira said.
If you're looking for a new job, you'll have a resume that's perfect in punctuation and specific about what you're looking for and who you are, Spira hypothesized. You'll go on several job interviews, research the company before meeting them, and won't stop until you find a job.
"With online dating, your profile is your love resume," Spira said. "The photos need to show the best version of you, as you're only as good as your worst picture."
With that in mind, she recommends not using selfies, party shots, group photos, or blurry photos in your profile.
"We have a photo shoot for most new clients and not only are the photos great for a dating profile, there's a sense of new confidence once the profile goes up," Spira said. "We make sure the word count is perfect and don't include clichés such as, 'I work hard and play hard,' or 'I love watching sunsets on the beach.' They are overused and make all profiles look the same."
Spira also encourages singles to commit to one year of being on a dating site.
"If they meet someone on the first date, then they won't be unhappy to cancel their membership early," Spira said. "The more people you meet, the better dater you become."
But before you start to date online, it's important to consider safety factors, which we cover next.
Online Dating Safety Factors and What to Avoid
Avoiding red flags is something that Spira's been known to preach about.
"If you see a profile without a photo, most likely they're not serious," Spira said. "If you see a profile where the bio isn't filled out, I believe the same. If someone contacts you from overseas and says they're in love with you before meeting you, run."
Often someone's profile will include a negative tone.
"I call this the Debbie or Donnie Downer syndrome," Spira noted. "If someone is complaining about their ex, or listing what they don't want in a partner, it raises an eyebrow. We all want to be with someone happy that brings out the best in us. Leave the drama at home."
In further advice, Dr. Taitz said to meet a person in a public place that you can easily leave, if need be.
"And if someone is making you feel uncomfortable, you don't need to sit around for hours," Dr. Taitz advised. "Your time is precious, go to spots that are convenient for a quick conversation."
It takes time to get to know someone and many people feel awkward asking personal questions, "but remember, your self-respect matters more than avoiding what seems like a faux pas, with an ease-manner and warmth, you can ask anyone almost anything," Dr. Taitz said.
Remember that all of us in the dating business take online dating safety seriously, said Spira, noting that's why she wrote the book, "The Perils of Cyber-Dating."
"Most sites make it easy for someone to report a suspicious profile, or someone who is harassing them," Spira said.
For instance, Bumble bans users who display aggressive or bad behavior towards their members.
"I always say never open your heart or your wallet to someone you've never met, and meet in a public place for a first date," Spira advised. "This way if something feels off, just kindly let your date know you need to leave."
» For Further Reading: How to Spot a Romance Scam When Using Dating Sites
Factors to Keep in Mind Before Dating Online
Dr. Taitz recommends thinking about what sort of relationship you want, such as casual or committed, and what you want your life to be about.
"What sorts of qualities do you appreciate in someone, easy going? Kind? Attentive?" she said.
When you feel attracted to someone or experience a strong emotional pull, it can be tough to remember what you know reasonably, Dr. Taitz noted.
"By using both your head and heart as you move towards meeting someone, especially if you are looking for a long-term relationship, you will find yourself making decisions that feel wise," she said.
Online dating is a great way to meet someone, Spira said.
"Being organized is important as it can become overwhelming when you start to receive a lot of messages," she advised.
Spira recommends giving the process the time and make sure you're ready to date. Know that there are millions of success stories and don't give up hope if you haven't met someone right away. Be specific on what type of relationship you're looking for, whether it's casual dating or something more serious.
"I believe in truth-in-advertising, so have a heart-to-heart talk with yourself and be open to the possibilities that you will be the next success story," Spira said.
Final Thoughts
Happiness and a strong sense of meaning in life are attractive and charismatic and so many of us tend to assume that love leads to happiness, yet that's not what social science says, according to Dr. Taitz.
"As tempting as it may be to spend hours glued to dating apps and on dates, invest in your life as a whole," she said. "Savor your career, appreciate this moment, spend time with friends, commit to your exercise routine, contribute to your community.
You are wonderful and worthy – and a person is simply a plus 1, Dr. Taitz further emphasized.
"It breaks my heart to see people feel like they can't live well without a partner," Dr. Taitz added. "Remember, with all of the people on apps, you are not alone. If you feel like your life will be much better with a partner, consider how your life will actually change and start making changes to experience some of your ultimate hopes, right now."
At the end of the digital day, "I believe in casting a wide net," Spira said.
"Go on a date with someone you'd find interesting enough to be a friend," she added. "You might expand your social circle, find a business contact, or better yet, actually find someone to fall in love with."
Was this article helpful? Read more we've written on related topics: