Best Pregnancy Safe Sunscreens to Keep You and Your Baby Safe
Sunscreen is crucial for pregnant women who expose themselves to the sun. Learn what ingredients to avoid, and which sunscreens the experts consider safe for pregnant women and their unborn babies.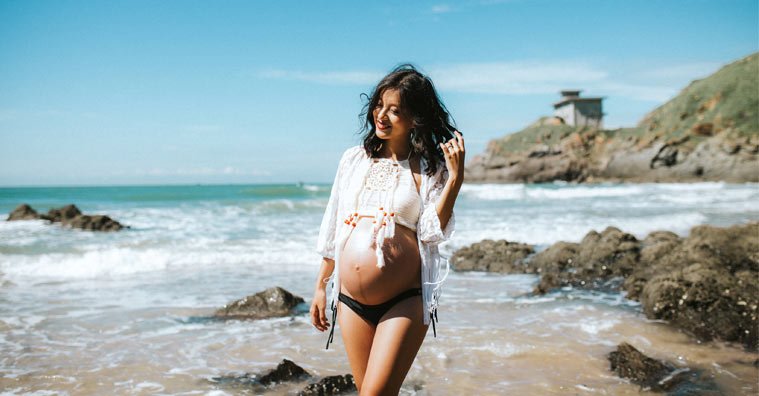 Pregnant women who spend time in the sun must be mindful of the sunscreen they put on their skin, because the skin is the body's largest organ, and any topical applied goes directly into the bloodstream. That means ingredients in sunscreen could potentially affect their unborn babies.
This article takes a look at the best sunscreens that can help keep pregnant women and their baby safe as they enjoy time outdoors in the sun's harmful rays. We've gathered input from two board certified dermatologists, as well as other sources, to provide you with as much information as possible so you can decide which sunscreen is right for you during pregnancy. We've also included several subtopics, including which ingredients in sunscreens pregnant women should completely avoid, and the safety of skincare products during pregnancy.
Keep in mind that this article is not intended as medical advice. If you are pregnant and have concerns about ingredients in sunscreen that you're using, contact your health care provider.
Should Pregnant Women Avoid the Sun?
Even though the warmth of the sun feels good on your skin and you enjoy having that tanned look, the American Academy of Dermatology does not advocate leisurely exposure to the sun, said Dr. Paul Yamauchi, Ph.D., who's in private practice at the Dermatology Institute & Skin Care Center in Santa Monica, California and is an Adjunct Associate Professor at the John Wayne Cancer Institute.
The ultraviolet rays from the sun actually cause DNA mutations in your skin, he said, and the effects from these mutations won't be apparent right away.
"However, with cumulative sun exposure and the effects of these mutations, harmful skin changes become apparent years and decades later," Dr. Yamauchi warned, adding that the following can develop as a result:
Unwanted sunspots
Precancerous lesions called actinic keratosis
Common skin cancers such as basal cell carcinoma and squamous cell carcinoma
The same safety measures should be taken in the sun whether you are pregnant or not, said Dr. Deanne Mraz Robinson, a board certified dermatologist and Assistant Clinical Professor at Yale School of Medicine. Additionally, she advises the following measures should be taken if you're out in the sun:
Drink plenty of water
Use a sunscreen with SPF 30 or more
Wear a hat
Potential Side Effects for Pregnant Women in the Sun
Pregnancy makes your skin more sensitive, especially to pigmentation, Dr. Robinson said, adding that during pregnancy, your skin is more susceptible to burning and melasma, which are the dark splotches that appear on the face and body during pregnancy. It also may cause hives, heat rash or worsened melasma, she noted, adding that staying in the shade should prevent hives or heat rash.
"When you're pregnant the volume of blood in your body soars, and blood vessels dilate, which can make you more susceptible to sunburn, dehydration, and heat stroke," Dr. Robinson added.
According to Dr. Yamauchi, there are no differences between the skin on bellies of pregnant versus non-pregnant women, and the potential risks from sun exposure in pregnant women are no different than non-pregnant women. "However, if the woman is taking medications for their pregnancy, make sure that they don't make them more sensitive to the sun," he advised. For pregnant women wondering if the sun can hurt their unborn baby, "sun exposure will have no adverse events on the fetus."
Some pregnant women develop a dark vertical line on their belly during pregnancy, Dr. Robinson said. This is called linea nigra, and it can extend from the top of the belly to the pubic area, running through the center of the belly button. Increased hormones present during pregnancy stimulate increased pigment production, causing this area to darken. Sun exposure can intensify the darkness of the line, which may lengthen the time after delivery that it takes for the line to fade.
Is Clothing Enough Protection from the Sun for Pregnant Women?
Wearing some sort of clothing or cover is better than not wearing anything at all, Dr. Yamauchi said, adding that wearing clothing that is designed to protect you from ultraviolet radiation is even better.
According to Dr. Robinson, wearing a t-shirt or other wrap to cover the tummy "is generally not enough," noting that unless the fabric is UPF 50 or greater, "it will likely not afford enough sun protection." As an example, she said a loosely woven white shirt will only give an SPF of 4, while a dark blue t-shirt will give an SPF of 8. "Thus, SPF of 30 or above is needed with reapplication every 2 hours for adequate photo-protection."
She noted a good rule of thumb is: "if you can see through it, so can the sun," adding that UPF clothing "is a great option" for protected coverage, "and there are even some really cute UPF cooling towels that are great options."
How Sunscreen Can Affect Pregnant Women
There will be some degree of absorption into the skin, and even the bloodstream, of anything topical you put on your skin, Dr. Yamauchi said. However, if applied to a small area of the skin, the degree of absorption is minuscule.
For instance, if you have an itchy rash on your arm, applying a little of hydrocortisone cream is okay. However, "there are products that have a pregnancy warning that are not recommended to apply during pregnancy," Dr. Yamauchi warned. "There is a product called Tazorac, which is a Retin-A like product, where the molecule itself causes birth defects. Check with your obstetrician to see what products are okay to put on your skin during pregnancy."
The skin is a barrier to the outside that protects us from chemicals, environmental stresses and other toxins, Dr. Robinson said, adding that pregnancy does not change the skin's barrier function ability, and thus, "our skin keeps protecting us."
"Certain chemicals are absorbed by the skin and may enter the bloodstream," she added. "This is why the chemical Oxybenzone must be avoided when choosing a sunscreen while pregnant because this can be absorbed into the bloodstream and affect the health of the developing fetus."
Avoid Sunscreens with Parabens, Formaldehyde, and Phthalates
In other advice, Dr. Robinson said pregnant women should also avoid using sunscreens that contain the following ingredients: parabens, formaldehyde, and phthalates. Here's why:
Parabens
Parabens are a widespread group of endocrine disrupting compounds, with confirmed transplacental passage, according to a study, "Exposure to bisphenols and parabens during pregnancy and relations to steroid changes," published by the National Institutes of Health.
The study noted that the usage of many products during the pregnancy that may contain parabens "has led to the need for investigation," and concluded that "the negative association of cord blood parabens and testosterone levels points to possible risks with respect to importance of testosterone for prenatal male development."
Formaldehyde
Pregnant women are particularly vulnerable when it comes to exposure to formaldehyde, which is linked to spontaneous abortion, congenital malformations, and premature birth, according to the study, "Formaldehyde exposure during pregnancy," published by the National Institutes of Health.
The study further noted that formaldehyde "is of particular concern" during pregnancy because of perinatal risk to the exposed fetus.
Phthalates
Some phthalates may disrupt proper differentiation and formation of male sex organs during critical windows of development, including during the first trimester of pregnancy in humans, according to the study, "Dietary Phthalate Exposure in Pregnant Women and the Impact of Consumer Practices," published by the National Institutes of Health.
In the conclusion of this study, it was noted that the results "support the need for further discernment" of the role of particular consumer practices in reducing phthalate exposures, particularly during pregnancy.
Best Pregnancy Safe Sunscreens
According to Dr. Yamauchi, there are two types of sunscreens: chemical and physical blockers:
Chemical sunscreens contain ingredients such as oxybenzone, octinoxate, octisalate and avobenzone, which absorb the ultraviolet radiation.

Physical blockers contain active mineral ingredients, like titanium dioxide or zinc oxide, which deflect and scatter the damaging ultraviolet rays.
"Physical blockers are safer to use in pregnancy because there is absorption of chemical sunscreens into the blood such as oxybenzone," Dr. Yamauchi advised.
"We always recommend a physical blocker, such as EltaMD, that contains transparent titanium dioxide." The sunscreen in your regular moisturizer is not adequate enough, Dr Yamauchi added.
Therefore, make sure that the sunscreen you wear is broad spectrum, meaning it protects you against UVA and UVB, and make sure the SPF is at least 30.
EltaMD
This company makes several products, including a body and facial sunscreen for all skin types. The EltaMD UV Sport Broad-Spectrum SPF 50, for instance, is recommended by the Skin Cancer Foundation "as an effective broad spectrum sunscreen." It is fragrance-free, oil-free, paraben-free, sensitivity-free and noncomedogenic; it is also water-resistant for up to 80 minutes, so it's designed to not rinse off in water or drip into the eyes.
Another product recommended by the Skin Cancer Foundation is the EltaMD UV Shield Broad-Spectrum SPF 45, which is made for oily to normal skin types and is considered great for oily or acne-prone skin.
According to the company, all EltaMD sunscreens are formulated with zinc oxide, a natural, mineral compound that blocks the widest spectrum of UVA and UVB rays, protecting skin against burning and the premature appearance of aging and risk of skin cancer.
Supergoop 100% Mineral Sunscreen Mist with SPF 30
For pregnant women, and all women with sensitive skin, Dr. Robinson recommends physical blockers, because "these sit on top of the skin and will not be absorbed." Some of her favorites include Supergoop's 100% Mineral Sunscreen Mist with SPF 30, Glow Stick Sunscreen with SPF 50, and Unseen Sunscreen with SPF 40.
Supergoop's 100% Mineral Sunscreen Mist with SPF 30 is a non-aerosol, water-resistant, mineral mist with a dry-touch finish that's considered perfect for all skin tones, according to the company.
It's made with a lightweight, zinc formula that sprays on white, then turns sheer once smoothed into the skin. It offers 80-minutes of physical UV protection, and its ingredients include marigold extract, sunflower seed oil, and chamomile extract.
Supergoop Glow Stick Sunscreen with SPF 50
Glow Stick Sunscreen with SPF 50 is an invisible dry oil stick designed for the face, chest, and shoulders, and according to the company, it's super hydrating.
Ingredients infused in this product include buriti, and pracaxi and tamanu oils. While it's not water-resistant, the company claims it's great for everyday use or any outdoor activity in which you're not sweating or swimming.
Supergoop Unseen Sunscreen with SPF 40
According to the company, this award-winning formula of Unseen Sunscreen with SPF 40 is weightless and scentless and is infused with ingredients including red algae, frankincense, and a complex derived from meadowfoam seed.
This product is designed to be put on before makeup, or as a face-finisher. It's also considered a great primer.
Alastin HydraTint Pro Mineral Broad Spectrum Sunscreen SPF 36
Dr. Robinson also recommends Alastin HydraTint Pro Mineral Broad Spectrum Sunscreen with SPF 36. According to the company, this product – which is a moisturizer, foundation and broad spectrum sun protector – provides daily protection from damaging UVA/UVB rays, and is rich in antioxidants that shield against pollution induced damage.
ISDIN's Eryfotona Actinica
In other recommendations, Dr. Robinson suggests ISDIN's Eryfotona Actinica Ultralight Emulsion. Formulated with DNA repairsomes and vitamin E, this product is a 100% mineral-based sunscreen designed to have a lightweight consistency with broad spectrum UVA/UVB protection that won't leave your skin feeling greasy.
Safety of Sunscreen and Skincare Products Ingredients During Pregnancy
Ingredients in topical products used on the skin include avobenzone, octinoxate, and oxybenxone, which are found in sunscreens; as well as dihydroxyacetone, which is found in self-tanning products, according to a study about the safety of skin care products during pregnancy published by the National Institutes of Health, which noted the following findings:
Sunscreens are often applied to protect the skin from harmful rays caused by the sun, have very limited dermal or systemic absorption. For pregnant women, such products have been used to treat or prevent melasma, without any adverse events reported.
Some pregnant women apply self-tanning products to create an artificial tan, and many of these products contain a color additive called dihydroxyacetone. Products like these contain this ingredient in concentrations ranging from 1% to 15%, and when applied topically, systemic levels are minimal; therefore, using such products during pregnancy would not be of concern.
Acne, unwanted hair growth, and other skin problems can develop when a woman becomes pregnant, and many use topical products to help with these benign conditions. This often leads to them questioning if such products are safe to use during pregnancy. These products act locally, "and therefore produce minimal systemic levels," according to a study published by the National Institutes of Health about the safety of skin care products during pregnancy.
That means in most cases, "women can deal with these cosmetically unappealing skin conditions without compromising the safety of their unborn children."
The exceptions include the following:
Hydroquinone, an ingredient used to lighten dark patches of skin that has a relatively high systemic absorption rate. According to the FDA, the safety of topical hydroquinone use during pregnancy has not been established.

Tretinoin (also known as Retin-A) which is used to treat acne, smooth rough facial skin, and reduce the appearance of fine wrinkles. The evidence of tretinoin is controversial because it's been claimed as both safe and unsafe. Retin-A is derived from Vitamin A, and high amounts of oral Vitamin A have been shown to cause birth defects.
For pregnant women experiencing acne, topical treatment options include retinoids, anti-bacterials, and agents such as benzoyl peroxide and salicylic acid.
For pregnant women who want to remove or reduce the appearance, topical ingredients include salts of thioglycolic acid and sodium, calcium, and potassium hydroxide, which are found in depilatory creams; or hydrogen peroxide, which is found in hair-bleaching creams.
Below is a breakdown about how these ingredients can affect pregnant women, according to the study published by the National Institutes of Health:
Topical retinoids. The amount of drug absorbed from the skin when using this product is very low. However, there are four published case reports of birth defects associated with topical tretinoin use, which are consistent with retinoid embryopathy, a developmental defect in an embryo or fetus. According to the study, the role of the topical retinoids in these cases "remains controversial," and until more data is collected, "women should not be encouraged to use topical retinoids during pregnancy."

Benzoyl peroxide. When benzoyl peroxide is applied topically, only 5% is absorbed through the skin; it is then completely metabolized to benzoic acid within the skin and excreted in the urine. No studies on the use of this preparation in pregnant patients have been published; however, systemic effects on a pregnant woman and her child would not be expected, "and therefore use of this product during pregnancy would not be of concern."

Salicylic acid. No studies have been conducted in pregnancy on topical use. However, as such a relatively small proportion is absorbed through the skin, "it is unlikely to pose any risk to a developing baby."

Glycolic acid. Studies examining the use of glycolic acid in human pregnancy have not been conducted. However, using topical glycolic acid during pregnancy "should not be of concern," as only a minimal amount is expected to be absorbed systemically.

Skin-lightening agents. A single study has been published involving the use of hydroquinone during pregnancy with no increase in adverse events. However, the sample size of pregnant women was small. Based on available data, hydroquinone use during pregnancy "does not appear to be associated with increased risk of major malformations or other adverse effects." However, "because of substantial absorption compared with other products, it is best to minimize exposure until further studies can confirm safety."

Topical hair removal and bleaching agents. Sodium, calcium, and potassium hydroxide, which are found in depilatory creams, disassociate into sodium, calcium, potassium, and hydroxide ions. The systemic absorption of these ions is minimal, and therefore, "they do not increase serum levels and would not be considered a problem for use during pregnancy." Cosmetic products, such as hair-bleaching creams, contain low concentrations of hydrogen peroxide; once absorbed, hydrogen peroxide is rapidly metabolized, and therefore, "use of these products during pregnancy is not expected to be a concern when done in moderation."
The Bottom Line
No amount of time of unprotected sun exposure is recommended, regardless if you are pregnant or not, Dr. Yamauchi said.
He noted that there is a condition called melasma, or pregnancy mask, that can occur during pregnancy, in which hyperpigmented patches develop on your forehead, cheeks and upper lip. "To minimize this chance of occurring or if it does occur, wear a physical sunblock," Dr. Yamauchi advised. "After the baby is delivered and you stop nursing, then you can apply topical bleaching products or do chemical peels to help reverse the melasma."
We know the sun causes cancer, and that sunscreen, while used properly, protects against cancer, Dr. Robinson said, adding that a tan is a sign of DNA damage, and is our body's response to dealing with the damage of UV radiation.
Just like non-pregnant women, pregnant women should wear a broad spectrum SPF of at least 30, "and I always advise a wide-brimmed hat to shield the face to avoid Melasma, a hormonally-triggered – and stubborn to treat – skin condition resulting in areas of hyperpigmentation," she said.
There's no reason to completely avoid the sun, however avoiding it during peak hours of strength – 10 a.m. to 2 p.m. – is advised not only for the health of your skin, but also because those are some of the hottest hours, and the risk of dehydration is greater and something you want to definitely avoid while pregnant, Dr. Robinson added.
"When we're pregnant, there are plenty of things that we cannot enjoy – sun exposure doesn't have to be one of them as long as it's enjoyed safely," she said. "Stay hydrated, avoid prime hours of sun strength, use a broad spectrum sunscreen with at least SPF 30, wear a wide brimmed hat and use UPF clothing."
» For Further Reading: