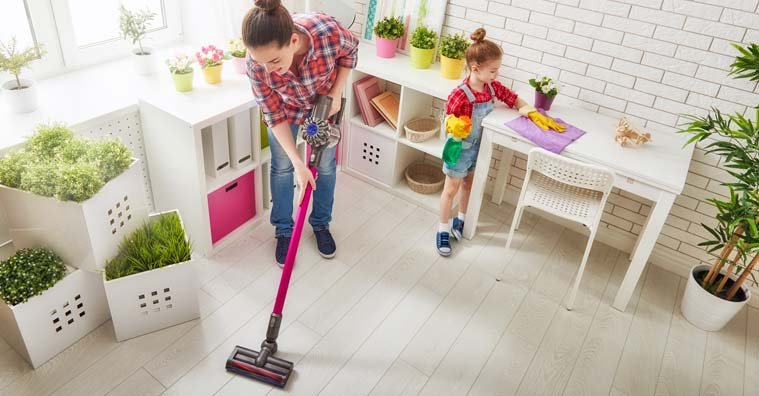 Between their light weight, maneuverability, and multi-functionality stick vacuums—also frequently called electric brooms—occupy a unique niche within the cleaning tools industry.
This uniqueness can be a double-edged sword, though. On the one hand, they can be especially useful within a narrow set of parameters. Outside of this, and they could represent a waste of money.
Here, we'll help you decide which stick vacuum—if any—is right for you, before spending more time than necessary investigating, or handing over your money for the wrong model.
In This Guide:
Feature Fundamentals: How Do Stick Vacuums Work?
Compared to traditional upright vacuums that can tip the scale at 20+ pounds, nearly all stick models come in at less than half this weight. In fact, the majority of top models we discuss below fall somewhere between five and seven pounds.
Outside of their compactness and lower weight, though, stick vacuums tend to have the same basic form and function as full-size upright models.
This means they have similarly tall bodies (between 42" and 49" in height), with a handle at one end and a cleaning head at the other, which may or may not contain a powered brush roll (sometimes also referred to as a powerhead). In all but the rarest of instances, these heads and brush rolls feature narrower cleaning paths than full-size uprights; typically between 9.5" and 11".
Along the vacuum's arm, located not too far above the powerhead, is the motor, which is often battery powered, although you'll undoubtedly find many corded models that might better meet your needs and preferences (more soon).
The Hoover LiNX Cordless comes with many core features indicative of stick vacuums in general, including a rechargeable battery, smaller dustbin that should be emptied after each use, pivoting technology for maneuverability, and a narrow cleaning head with a powered brush roll.
If you choose a cordless model, especially one with a Lithium-ion (Li-Ion) battery, the runtime can vary between less than 15 minutes and close to an hour, with a full recharge taking anywhere between a few hours and almost an entire day.
Like uprights, a stick vacuum suctions dirt and other debris into a canister (almost never a bag), which will need to be emptied regularly. On its way there, the debris will almost always pass through at least one prefilter, while models with dual-stage or HEPA filtration might catch smaller debris, making them ideal for homes with pets or those with allergies.
Some stick models convert into handheld vacuums, often with the click of one or two buttons, which can make it easier to transition from cleaning floors to areas like stairs, ceiling fans, drapery, and so forth.
Handheld or otherwise, several models also include attachments that can make it easier to dust in smaller areas or clean crevices.
Stick Vacuum Cleaner Pros and Cons: Who Should Buy One?
Pros
Because of their slimmed-down design and cordless functionality, stick vacuums are often lightweight, highly maneuverable (including lower clearance) and portable, easily stored, feature solid edge cleaning ability, and—especially if they come with attachments or transition to handheld vacuums—offer a great deal of versatility.
Since stick vacuums are bagless, there's no need to continually buy and install bags, which also makes emptying debris easy.
Stick models are also meaningfully less expensive than most upright or canister vacuums. In fact, you'll find perhaps some of the most significant price differences between them compared to other vacuum types, with some under $20 and others exceeding $500.
Together, Marissa Barrett, Brand Manager at Hoover points out that stick vacuums feature a solid price-to-effectiveness ratio and are "ideal for quick response cleaning and the "in-between" cleans throughout your day. The ease of quickly grabbing the unit and moving room to room makes the task of cleaning effortless."
In some instances, Greg Shepard, owner of Dallas Maids, adds that stick vacuums might be all you need for small homes and apartments.
Cons
However, Greg indicates they're "less ideal for maintaining larger, trafficked homes and areas," since some models feature less than five minutes of runtime at full power.
"In these instances," he says, "you'll want more of a workhorse vacuum."
In addition, if you're used to a full-size model, there are some features you'll have to give up with a stick vacuum. And depending on where you fall on the spectrum, this lack of features could significantly impact its overall value. We'll explore this concept more in a moment.
For now, one of the most apparent stick vacuum downsides compared to full-size versions is decreased suction power (what Greg Shepard calls 'oomph'), which translates into reduced performance on carpet, even if yours features a powered brush roll. Specifically, whereas standard upright models deliver 200+ air watts of suction, even the most powerful stick vacuums feature about half this amount.
There are also two sides of the coin when it comes to their rechargeable batteries, when applicable. On the one hand, this makes them lightweight and more portable, but on the other, it means you'll always need to make sure yours is powered and ready to work at a moment's notice.
Additional potential considerations include:
The loss of attachments, which could help make specific tasks easier and more convenient

Batteries will likely last a couple of years before needing replacement

Narrower cleaning paths, which translates into more passes than a full-size upright

Smaller dirt bin, so you'll have to empty them more often (ideally, after every use)

Less filtration due to limited interior space

Despite their smaller size and less powerful motors, some models are relatively noisy and can be just as loud—or even louder than, in some instances—as full-size uprights
How to Determine If a Stick Vacuum Will Meet Your Needs
Pulling all of these criteria together, sites like Consumer Reports, Lowes, and Best Buy point out that stick vacuums are lightweight, versatile options primarily suited for convenient surface cleaning, as well as for giving high-traffic areas a daily once-over.
Additional uses include quickly picking up spills, getting rid of kitty litter, and cleaning upholstery (for those with attachments), as but a few examples.
They're also great in multi-level homes if you want to avoid worrying about carrying a full-size vacuum up and down flights of stairs.
And if you're averse to the heft and weight of a full-size vacuum, a quality stick model can work well as a standalone option in small houses, apartments, or dorms. Outside of these circumstances, however, they're not designed to operate as replacements for conventional vacuums.
Next, while stick vacuums are typically best at cleaning hard floors (they're not a good choice if you have a lot of carpet in your home), they do not clean hard flooring or carpeting as well as a full size upright or canister vacuums.
Does all (or at least most) of this align with your needs? Have you maintained realistic expectations about what you can achieve with one of these models? Next, we'll take a look at how to buy a stick vacuum cleaner.
What to Consider When Shopping for a Stick Vacuum Cleaner
While most stick vacuums are priced meaningfully lower than full-size upright or canister models, is it worth paying more for one?
According to Hoover Brand Manager Marissa Barrett, "Although a lot of work has gone into the cordless marketplace, there is still a lot of work that needs to be done to get these products to an even better spot. So, there's currently no need to spend more on a unit that will only be old news in a year or so."
Dallas Maids owner Greg Shepard takes a slightly different view when indicating that it might be worth paying a higher price. However, he points out that you should "do your research first because the price is not always indicative of being better."
Specifically, he recommends using "sites such as Amazon for ratings and customer feedback, which can help discern quality. Surprisingly," he emphasizes, "some of the most useful vacuums I've owned were also the cheapest."
With these details in mind, let's explore different common features and see how they might add meaningful value in the real world, depending on your needs.
Corded vs. Cordless
We briefly touched on several benefits and drawbacks of cordless stick vacuums earlier, including portability and maneuverability, but also their limited runtime and time spent waiting for a battery to recharge.
Pro tip: Companies won't always list runtime for their cordless stick vacs, although you can gain a rough idea by converting its voltage. BobVila.com's Amy Lynch explains:
"Higher voltage translates into longer running time. Stick vacs range anywhere from 12 to even 40 volts; for reference, a model with 20 volts can typically run for about 15 minutes on one charge, which is usually long enough to cover a space smaller than 1000 square feet.
"Also be aware that the best stick vacuums without cords use a highly efficient lithium-ion battery, which will charge faster and last longer than NiCD and NiMH batteries."
Along these same lines, Marissa Barrett emphasizes that a lithium-ion battery is a must-have for any stick vacuum, since not "only is it powerful, but the fade-free technology ensures that when your unit is running, it is running at maximum power and will not fade out. It simply shuts off when it needs to be recharged." And if it's removable, it gives you the opportunity to clean using one, while simultaneously recharging another.
On the other hand, corded stick vacuums can run indefinitely, assuming there's a power source nearby. How close should you be?
Many of the models we encountered during our research featured cord lengths between 20 and 30 feet, which should be enough to accommodate most situations. In larger rooms, however, this 10-foot difference (for example) could meaningfully impact functionality.
HEPA Filtration
Stick vacuums almost always collect dirt and debris inside a plastic bin, which should be emptied after each use. If someone in your home suffers from allergies, be sure to do so carefully, so particles aren't redistributed into the air.
Allergy sufferers might also appreciate the HEPA filtration found in some models, which is certified to trap 99.7% of particles 0.3 microns or larger, before being deposited into the dustbin during vacuuming.
Pets in the Household
According to the Asthma and Allergy Foundation of America, the otherwise harmless dander (dead skin cells) and other materials present on pet hair are one of the leading allergy triggers. Here's where HEPA filtration might be especially useful.
Stick vacuums with powered brush rolls can also come in especially handy when picking up pet fur around the home, especially from low-pile carpeting and rugs. Specialized attachments can help you get in all the nooks and crannies where hair and other pet-related debris can hide.
Flooring Types
Agitation + Suction = Maximally Effective Cleaning
In other words, suction alone is typically less effective at removing dirt and debris than when combined with the manual agitation created by a brush roll. This is obviously the case on denser flooring material like low-pile carpeting, but also on hard flooring like wood and tile.
However, if specific flooring areas in your home require particular attention (recently refinished wood floors, for example), a non-powered brush roll might be a better option.
Pro tip: Alternately, you could focus on stick vacuum models that provide the ability to turn the brush roll on and off with the flip of a switch, such as the Hoover LiNX pictured above (as but one example).
Number of Attachments
Not having attachments is one of the main reasons stick vacuums retain such a slim form factor, but there could be instances where the right ones could make all the difference from a functionality perspective. This is especially relevant when it comes to models that convert into handhelds.
For example, Marissa Barrett lists:
A stair tool or other type of cleaning wand
A selection of brushes could be useful for removing pet hair from furniture
A crevice tool can help you access very small areas
A dusting tool can help you quickly clean shelving and window coverings
A bendable extension can help you reach around corners and other inaccessible areas
On the flip side of this, it's a good idea to avoid paying extra for attachments included with your stick vacuum that you might never use, depending on your needs and preferences.
Real-World Functionality
Here are some final criteria to consider, in no particular order:
Weight – As mentioned earlier, nearly all stick vacuums fall under 10 lbs, so they're not exactly heavy. Just keep in mind that when you're carrying one around for 15 or 20 minutes, even a difference of just a couple of pounds can quickly add up. In fact, Greg Shepard advises that he "specifically looks for light weight when considering vacuums" for his business.

Maneuverability – Several stick models feature swiveling or pivoting technology that helps them more easily make sharp turns. This assistance can also help reduce fatigue while vacuuming.

Canister emptying – Do you simply hold it over the trashcan and press a button, or is it more involved? Do you have mobility or dexterity concerns that might further complicate the process? Marissa Barrett recommends that you also ensure "the dirt cup is large enough to handle a bigger task, without having to dump it in the middle of cleaning."

Self-standing ability – Many models can stand by themselves in the middle of the room, which could add convenience. Some also include fold-down handles for quick and easy storage.

Noise level – After testing more than two-dozen cordless stick vacuums, Wirecutter found that most models generated about 70 decibels of noise (somewhere between normal conversation and a noisy restaurant). However, some models were meaningfully louder than full-size uprights. So, while Greg points out that stick vacuums can be "great for quick spot checks, such as you're your adorable toddler topples over bowl of fish chips onto the living room carpet.," their noise volume could present an issue if they are trying to sleep, or if you have an especially timid pet in the household.

Clearance – Do you have low-slung furniture or need to frequently clean in other tight areas? If so, you might want to focus on slimmer models with narrower cleaning paths.

Durability – Most stick vacuum manufacturers offer warranties lasting between six months and five years, depending on the part (e.g., motor, battery, etc.).
Best Stick Vacuums: HighYa's Top Overall Picks
Pulling together frequent appearances on top sites like Consumer Reports, CNET, Good Housekeeping, NerdWallet, and Wirecutter, along with customer feedback on popular online retailers such as Amazon, Walmart, Best Buy, and Target, as well as sifting through each model using own methodology based on the criteria discussed so far, here are HighYa's top stick vacuum picks:
| Rank | Model | Price | Average Amazon Customer Rating | Standout Features |
| --- | --- | --- | --- | --- |
| 1 | Dyson V8 | $400+ | 4.4 (1,700+ reviews) | 150% more brush bar power than the V6, up to 40 minutes of runtime, converts to a handheld, whole machine HEPA filtration, promises to deliver twice the suction of any other cordless vacuum |
| 2 | Hoover LiNX Cordless | $99.99 | 4.0 (9,300+ reviews) | Fade-free battery for no power loss, edge cleaning bristles, powered front brush roll that can be turned on/off, wide 11" cleaning path, 15-20 minute battery life |
| 3 | Dyson V6 | $219 | 4.0 (1,300+ reviews) | Motorized cleaning head w/carbon fiber filaments, wide cleaning path, up to 20 minutes of runtime, converts to a handheld |
| 4 | Shark Rocket | $200 | 4.4 (2,500+ reviews) | Swivel steering, dustbin can be secured using a wall mount, hard floor attachment w/microfiber pad |
| 5 | Electrolux Ergorapido | $130 | 3.7 (1,000+ reviews) | 2 speeds, 180° swivel nozzle, detachable hand vacuum, LED headlight, designed to clean hard flooring and upholstery only, takes 15-20 hours to fully recharge |
Keep in mind, however, that because your needs are the most critical component when choosing a stick vacuum, this doesn't necessarily mean they'll be your best option in all instances.
Best Stick Vacuums: HighYa's Top Picks Based on Specific Needs
Here are our top models after zooming in and taking a closer look at different specializations:
Best Stick Vacuum Overall: Dyson V8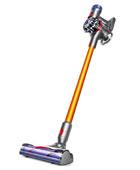 Highlights: Yes, you'll pay more for the Dyson V8 than any other stick vacuum currently on the market. For the price, though, you'll get top-of-the-line features like an industry-leading 40 minutes of runtime, the ability to transform into a handheld in one click (which also boasts a motorized head), whole-machine HEPA filtration, Dyson's patented radial cyclonic action, and a handy docking station. And after registering your V8, they'll also ship you three free tools of your choice.

Cost: $500, Amazon
Best Stick Vacuum for Hard Flooring: Dyson V6 Fluffy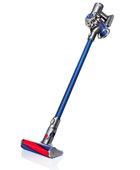 Highlights: At $200 less than the V8, you'll still get up to 20 minutes of runtime with the V6 Fluffy, as well as specialized attachments geared specifically toward cleaning hard flooring, including a brush roll with soft woven nylon and anti-static carbon fiber, along with a combination tool for easily switching between surfaces.

Cost: $300, Dyson
Best Stick Vacuum for Pets: Bissell Bolt Pet XRT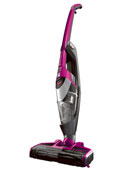 Highlights: The Bissell Bolt Pet comes with a competitive price, along with boosted suction, an extra large dirt bin, edge bristles, 180° swivel steering for easy maneuvering, and a specially designed brush roll and vacuum nozzle to pick up pet hair. Most online customers report it delivers solid results. You can also turn the brush roll off for sensitive flooring surfaces.

Cost: $150, Bissell
Best Stick Vacuum for Attachments: Shark Rocket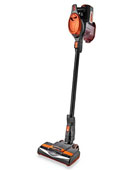 Highlights: By itself, the corded Shark Rocket comes with five different attachments, including a 5" crevice tool, upholstery tool, hard floor hero attachment, home and car detail kit, and dusting brush. However, the company offers many compatible aftermarket attachments depending on your needs, including a deep cleaning motorized tool, a variety of hoses and brushes, along with extension wands other tools.

Cost: $190, Bed Bath and Beyond
Best Budget-Conscious Stick Vacuum: Dirt Devil Simplistik Plus 3-in-1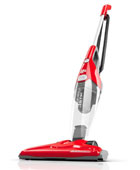 Highlights: The Simplistik Plus 3-in-1 is designed to clean hard and carpeted flooring, weighs in a well under five pounds, and features a removable hand vacuum to clean stairs and other hard-to-reach places. And with its ultra-low price, the Dirt Devil Simplistik also ranks as our top budget model. Just keep in mind that it only features 2 volts of power, so suction isn't one of its strong suits.

Cost: $20, Walmart
The Bottom Line About Buying a Stick Vacuum Cleaner
The right stick vacuum can work as a wonderful complement to your existing full-size upright or canister vacuum, or even as a standalone vacuum if you live in a smaller home and/or have mostly hard flooring. Either way, Dallas Maids owner Greg Shepard recommends that every home should have one.
But, if you purchase the wrong one by spending too much money or not focusing on your specific needs, a stick vacuum can represent a colossal waste of money.
Pro tip: According to Bankrate, most manufacturers release new vacuums in June, so you might be able to pick up soon-to-be previous year models at an exceptionally competitive price during this time.
Based on all of the details we've covered here, though, you're now armed with more than enough information to make the right stick vacuum purchase.
Just keep in mind that since you can't test them before handing over your money, you'll want to focus on retailers who offer customers at least 30-day refund policies and reasonable (or ideally, no) restocking fees, as well as manufacturers who provide at least one-year motor warranties.
Online customer feedback can also go a long way toward uncovering what you might experience, whether here on HighYa or other consumer advocacy sites.
» For Further Reading:
Methodology
Added or subtracted one point for each of the following criteria:
Price less than $100
Battery life of at least 15 minutes (If corded, deducted a point)
Weighs less than 8 lbs (including battery, when applicable)
Dual-stage/HEPA filtration
Presence of a powered brush roll
Additional attachments
Converts to handheld
No louder than 75 dB
At least 4-star average Amazon rating
At least 250 Amazon customer reviews