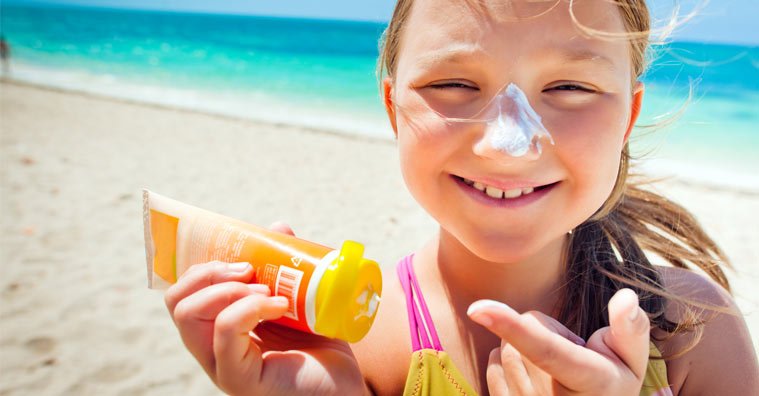 When it comes to sunscreen, there's a big difference between sunscreen for adults versus sunscreen for babies and kids.
It goes without saying that using sunscreen as a regular practice can potentially diminish the harmful effects the sun has on our skin. For babies and children, wearing sunscreen is especially important to help prevent these damaging rays as early as possible.
This article takes a look at sunscreens that are specifically designed for babies and children. Points of discussion include why sunscreen is so important for young ages, the skin differences between youngsters and adults, beneficial ingredients to look for, and product recommendations.
In This Guide:
Importance of Sunscreen for Babies & Kids
Both Ultraviolet A (long-wave) and Ultraviolet B (short-wave) rays penetrate the ozone layer and contribute to several adverse health consequences, including premature aging of the skin, eye damage, and skin cancer, according to Dr. Andrette Ward, a general pediatrician with more than 20 years of clinical experience.
These waves also suppress immune function, thereby increasing the risk for infections and inflammatory conditions, said Dr. Ward, who works at White Memorial Community Health Center in Los Angeles, California.
"UV radiation is the primary factor contributing to skin cancer – both melanoma and non-melanoma skin cancers, including basal cell carcinoma and squamous cell carcinoma," Dr. Ward explained. "Melanoma carcinoma kills more than 8,000 Americans each year."
The application of sunscreen provides protection from the harmful effects of ultraviolet radiation.
"Sunscreen application is especially important for infants and children," Dr. Ward emphasized.
When it comes to sunscreens for babies and children, it's important to understand the SPF factor, which we cover next.
Understanding SPF in Sunscreen for Babies & Kids
SPF (Sun Protection Factor) indirectly measures how long it would take for UVB rays to redden the skin when sunscreen is applied.
"So someone using a sunscreen with SPF 30 would take 30 times longer to redden than without the sunscreen," Dr. Ward explained.
In a further explanation, Dr. Ward noted that sunscreen with SPF 15 screens 93% of the sun's UVB rays; SPF 30 screens 97%; and SPF 50 screens 98%.
"The appropriate use of sunscreen with SPF 30 is sufficient to protect infants and children from harmful UV radiation," Dr. Ward advised. "Sunscreen with SPF greater than 50 will not provide any more protection from UVB radiation and may not provide adequate screening for UVA radiation."
How Early Should Sunscreen Use Start?
Sunscreen should be applied starting at 6 months of age, according to the U.S. Food and Drug Administration and The Skin Cancer Foundation.
The American Academy of Pediatrics suggests applying sunscreen to small areas of exposed skin in infants younger than 6 months if no other form of protection is available, like shade and protective clothing.
According to Dr. Ward, for infants younger than 6 months, parents should focus on limiting sun exposure between 10 a.m. and 4 p.m. when the sun's UV rays are the strongest.
She recommends parents should also use the following:
Protective clothing, including brightly colored lightweight fabrics with a tight weave
Clothing labeled with an ultraviolet protection factor (30 is recommended by The Skin Cancer Foundation)
Hats with an all-around brim of 3 to 4 inches to protect highly sensitive areas, like the face, ears, and back of the neck.
"These practices are actually recommended for everyone," Dr. Ward said.
Additionally, she said that parents should consider investing in UV window film for cars to reduce UVA ray penetration without impairing visibility.
In other tips, "sunglasses with UV ray protection can help reduce the risk of sun damage to the eyes that can contribute to the development of cataracts in adulthood," Dr. Ward noted. "Infants can use sunglasses with straps to keep them secured in place."
It's important to understand that adult skin is different from skin on babies and children, which we explore next.
Sunscreen for Babies and Kids vs. Sunscreen for Adults
An infant's skin out layer is thinner, thereby providing less protection against outside agents, Dr. Ward explained.
"This lack of protection may increase the risk for deeper penetration of chemicals found in some sunscreens," she said. "As a result, infants have a greater chance of developing a localized reaction, including rash and/or inflammation."
Infant skin has less melanin, which also provides some protection from the harmful effects of UV rays. Also, infants have a higher surface area ratio to body weight ratio, with a greater risk of absorption of damaging chemicals.
"Therefore, infants should use sunscreen products that provide a physical barrier, rather than a chemical barrier," Dr. Ward recommended. "Look for products that contain zinc oxide or titanium oxide."
Babies that are under 6 months of age need physical protection, such as sunscreen hats and clothing, because they have much lower body surface to volume, agreed Dr. Matthew J. Elias, a Board Certified Dermatologist and owner of Elias Dermatology in Florida.
"This means anything applied to their skin has a much greater chance of penetrating and potentially affecting the baby," Dr. Elias said.
He further emphasized that babies up to 6 months of age shouldn't wear sunscreen and should avoid the sun altogether.
"After 6 months of age babies should use physical protectors such as zinc or titanium as they are much safer for the sensitive skin of young children," Dr. Elias advised.
Youthful skin is much different than adult skin, in that it is much more sensitive, Dr. Elias added.
"Because of this, chemical sunscreens like Avobenzone, Oxybenzone, should be avoided," he advised. "Chemical blockers such as the aforementioned Avobenzone and Oxybenzone can elicit allergic reactions in young kids due to the delicate nature of their skin. Thus, once above 6 months of age, we recommend physical blockers such as zinc or titanium."
There are a few myths surrounding sunscreen for babies and children, which we discuss in the next section.
A Few Myths Surrounding Sunscreen for Babies & Children
Dr. Elias said the following five myths can surround the topic of sunscreen for babies and young children.
1. My Child Is Allergic to Sunscreen
This is likely due to the type of sunscreen you are using; it is best to try different types of sunscreen in very small amounts on a different area of the child's body to see if they have a reaction again. Typically when using appropriate physical blockers like zinc or titanium there is an extraordinarily low risk of an allergic reaction.
2. Sunscreen Doesn't Work
If your child is getting a tan, you aren't applying enough sunscreen and not reapplying frequently enough. Sunscreen should be applied before your child goes outside and reapplied frequently.
3. My Kids Can Stay Out All Day in the Sun Since They Use Sunscreen
Not true! You must be mindful of the fact that if your children are going to be out all day, they must use appropriate sun protection methods and good sun safety, which includes more than sunscreen; it should include the use of rash guards, wide brimmed-hats, sunglasses, and trying to limit exposure during the peak UV hours of 10 a.m. to 4 p.m. And, of course, don't forget constant reapplication of a broad spectrum sunscreen.
4. My Kids Need Vitamin D
If your child is Vitamin D deficient (they likely are not) the safest way for them to get the Vitamin D they need is through supplementation with Vitamin D fortified foods like milk, orange juice, tuna fish, etc. Additionally, they can always supplement via vitamins.
5. My Kids Are Dark So They Don't Need Sunscreen
Everyone regardless of age, sex, race or ethnicity should be protecting themselves from harmful UV rays, and that protection starts with good sunscreen use and excellent sun safety, Dr. Elias advised.
Dr. Ward added that "infants and toddlers of color have less melanin than they will have as adults, and therefore less skin protection. People of color are also at risk of developing skin cancer. Skin cancer has a lower incidence in people of color. However, it tends to be diagnosed later and with worse outcomes."
Dr. Ward added one more myth to the list:
6. Increased Early Sun Exposure Desensitizes Children from Sun Damage When They're Older
"In fact, the opposite is true," Dr. Ward said. "Increased early sun exposure increases sun-related skin damage, as well as a person's risk for cancer."
Recommended Ingredients in Sunscreen for Babies & Kids
Dr. Ward said there are two basic types of sunscreen: those that provide a chemical barrier, and those that provide a physical barrier.
"Chemical barriers form a thin protective film on the skin's surface, absorbing UV radiation before it penetrates the skin," she explained. "Examples are aminobenzoic acid (paba), as well as dioxybenzone and ecamsule."
Examples of physical barriers – which are insoluble particles that reflect UV rays away from the skin – include titanium dioxide and zinc oxide.
"For babies, using a sunscreen with physical filters, such as zinc oxide and titanium dioxide, are recommended," Dr. Ward said.
As the child ages greater than one year, sunscreens that use a combination of physical and chemical filters may be applied.
"However, broad spectrum is recommended to ensure protection from both UVA and UVB radiation," Dr. Ward advised.
She added that it's important to avoid sunscreens that have oxybenzone, which is reported to have mild hormonal properties; and paba, which has been associated with skin reactions.
"The biggest risk is a skin reaction to the product, which is why it should be tested first on the inside of an infant's wrist," Dr. Ward said. "Infants may also ingest some of the cream if it is not fully applied."
Best Sunscreens for Babies & Kids
While Dr. Ward does not endorse any particular brand of sunscreen, she said the key factors for infants are products that have broad spectrum coverage with both UVA and UVB protection; at least an SPF of 15 or 30 with no added fragrances; and a physical barrier – meaning it contains zinc oxide or titanium dioxide.
The following products all contain zinc oxide, and some of them have won awards. A few have earned top scores by the Environmental Working Group, non-profit, non-partisan organization dedicated to protecting human health and the environment.
Loving Naturals Adorable Baby Sunscreen SPF 30+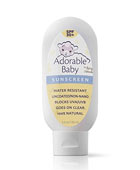 Highlights: This product was named among the "Best Scoring" kid's sunscreens by the Environmental Working Group in 2017. Made with 100% natural ingredients, Adorable Baby Sunscreen offers SPF 30+ coverage through a combination of non-nano zinc oxide and organic oils. Although it's designed especially for babies, it's also considered a great choice for all ages.

Cost: This 4.3-ounce product costs $18.75 on the Loving Naturals website. Comparatively, a two-pack costs $37.99 on Amazon.
Badger Baby Broad Spectrum SPF 30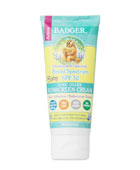 Highlights: For many years, Badger sunscreens have remained at the top of the Environmental Working Group's list for safety and efficacy. Badger sunscreens have also been recommended by Consumer Reports and The Today Show. The Badger Baby Sunscreen with SPF 30 offers broad-spectrum protection from UVA and UVB rays with safe ingredients, including zinc oxide. It also contains a certified organic base of sunflower oil, beeswax, and Vitamin E.

Cost: A 2.9-ounce tube costs $15.99 on Badger's website. It can also be purchased for around $13.60 at Thrive Market and Amazon and for $10.99 at buybuy Baby.
BurnOut Kids Physical Sunscreen SPF 35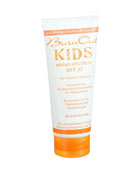 Highlights: Recommended by pediatricians and dermatologists, BurnOut Kids Physical Sunscreen is made with non-nano zinc oxide; it also contains pomegranate extract, plantain leaf extract and Vitamin C. Scientists at the Environmental Working Group reviewed the BurnOut Kids Physical Sunscreen 2016 formulation for safety, according to the methodology outlined in their Skin Deep Cosmetics Database. EWG's rating is 1 for this product, meaning, it is "low hazard." On the flipside, a rating of 7 to 10 is determined a "high hazard."

Cost: This product costs $17.99 on the BurnOut website. It can also be purchased for $18.99 at Amazon and $12.59 at CVS Pharmacy.
Trukid Sunny Days Daily SPF 30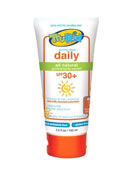 Highlights: Pediatrician and dermatologist tested, this lotion received the best rating by scientists at the Environmental Working Group. It also won the national Red Tricycle Award for "Most Awesome Sunscreen." Active ingredients include zinc oxide; as well as aloe barbadensis leaf juice, sunflower seed oil, jojoba seed oil, cucumber fruit extract, green tea oil, Vitamin E and pomegranate juice.

Cost: The cost for a 3.5-ounce tube is $17.49 at the TruKid website, as well as online at Target and Pharmaca. It also comes in two ounces for $13.99 at Target.
Goddess Garden Organics Baby Natural Sunscreen SPF 30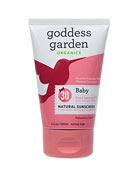 Highlights: This "most gentle" formula is made with non-nano zinc for sun protection. Certified organic, it also contains aloe barbadensis leaf juice, safflower seed oil, sunflower seed oil, and Vitamin E. According to the manufacturer's website, this sunscreen is "reef safe" and biodegradable - meaning it's as gentle on the environment as it is on your baby.

Cost: On the Goddess Garden Organics website, this product costs between $3.99 and $12.99, depending on the size you buy, which ranges from 1 ounce to 3.4 ounces. The cost on Amazon starts at $12.98 for the 3.4-ounce tube and costs a few cents less at Target.
Alba Botanica® Kids Mineral Sunscreen SPF 30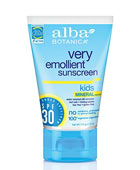 Highlights: This broad spectrum product is free of sunscreen active ingredients that may harm coral reefs. It contains zinc oxide, sunflower seed oil, jojoba seed oil and aloe vera, as well as grape seed oil and Vitamin E. It is also tear-free, according to the manufacturer's website.

Cost: A four-ounce tube costs $7.30 at Jet. It also comes in a "very emollient" version recommended by the Skin Cancer Foundation that costs around $7.50 at Lucky Vitamin and Amazon.
Final Thoughts
Besides reducing the risk of complications of long-term sun exposure – like aging and skin cancers – establishing early routines of regular sunscreen application increases the likelihood of maintaining the practice as children age, Dr. Ward said.
"Sunscreen should be applied daily, 15 to 30 minutes before going outdoors, and reapplied every two hours, regarding of the presence of direct sunlight," she added. "Up to 80% of the sun's UV rays penetrate clouds."
In the event of a sunburn, especially for children under 1 year of age, contact the child's primary caregiver.
"Newborn skin lacks a functioning acid mantle on their skin surface that protects them from excess water loss and skin infections," Dr. Ward explained.
Furthermore, babies have limited ability to regulate their body temperature.
"So, sunburns in infants can lead to medical emergencies, including dehydration, high fever, infection and heat stroke," she said.
For toddlers who are less passive during the application process, consider using a broad spectrum spray-on sunscreen, Dr. Ward further advised.
"However, avoid direct contact with the face," she said. "Instead, mist the spray in your hands and then apply."
» For Further Reading: