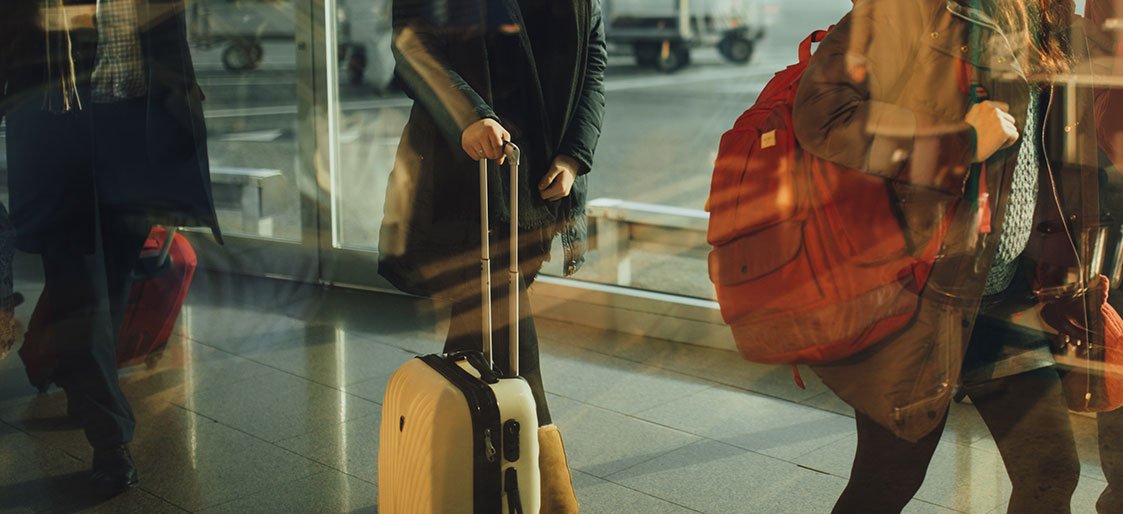 Whether limiting your luggage to only a trusted carry-on or estimating the weight of the soon-to-be-checked bag, you probably already pack for a flight with baggage fees in mind. But, what you don't know about baggage fees can cost you, and some airlines have found a new way to tack on to the final price of your flight.
The new fee applies to baggage transfers when connecting flights are booked separately—a method many passengers use to save on their total ticket cost.
Why Book Separate Flights?
Flying on separate tickets is a desirable option more frequently than you might think. Here are the main reasons you might end up considering booking separate tickets for each leg of your trip:
Your points or awards can only secure you a space on one segment of your trip, with a separate ticket needed as a positioning flight, i.e., to get you to the airport that your desired flight departs from.

The rules of your awards program either prevent the entire itinerary being booked as a single ticket or make it substantially more expensive.

Purchasing two separate paid tickets will result in substantial savings.
For example, last year I had been searching for flights from Cork, Ireland to Cancun, Mexico. One way, the cost of this flight averaged $900 at the time of year I was traveling. However, Thomas Cook Airlines was offering deeply discounted flights from Manchester, England to Cancun—at $210 for a one-way ticket.
To take advantage of the sale, I booked a flight from Cork to Manchester for about $80, then separately booked the Thomas Cook Flight. My total cost for traveling was a little over $300—a potential $600 savings. However, baggage fees cost an extra $100 for the second flight.
There was a time when navigating your own transfers still meant that you could buy a single fee to check your bag for a two-part trip. This routine industry convenience was called "through check-in." Not anymore.
Many Airlines Are Putting a Stop to Complimentary Baggage Transfers
Time magazine reports that, in June 2016, British Airways, American Airlines, and their alliance partners have started to limit your option to pay a single bag-transfer fee when you've booked each leg of your trip separately.
The new rules? When you change planes, you must collect your checked bags, go through security again, and pay a second time for the next leg of your trip—costing you extra money and time.
Note that this policy change doesn't apply if you booked both flights on the same ticket. However, if, like me, you found a better fare on another airline, or intend to use frequent flyer miles to reduce the cost of your trip, you might have to pay double the baggage fees.
What Factors Affect Your Baggage Fees?
Baggage fees aren't just different from airline to airline but can change depending on your flight. Aside from size and weight restrictions, here are three factors that affect how much it costs to bring a bag:
Route and destination: Airlines are subjected to strict load and balance restrictions that limit how much each aircraft can carry. This means you'll see higher baggage fees for transatlantic or long-haul flights than on a domestic hop between states or European countries.

The type of cabin: Business Class and Premium seating generally have higher baggage allowances than economy tickets.

The type of airline: Budget airlines, such as Spirit and Ryanair, unbundle fees to offer a lower base fare on the premise that passengers who aren't checking bags don't have to pay for a service that they're not using.
While it's unlikely that baggage fees will inspire you to pick a new destination, not every airline subjects their economy passengers to the a la carte pricing model, leaving passengers to ask...
How Much Will It Cost to Transfer Luggage When Flying This Airline?
To keep things simple, we won't list baggage fees and restrictions per airline. Instead, you can check a comprehensive, up-to-date list of both domestic and international baggage fees at TripAdvisor.
To help you navigate transfers, here's an airline-by-airline list of what U.S. carriers charge for checked baggage through to a connecting flight:
Alaska Airlines Connecting Flight Baggage Transfer Policy
There's no fee to check through your baggage on Alaska Airlines if:
Both flights are on Alaska Airlines or a listed partner airline and
There are fewer than 12 hours between flights.
You may be subjected to fees if:
You will be in a connecting city for 12 hours or longer.
Your travel includes multiple tickets and/or travel on more than one airline.
What if an Alaska Airlines customer purchases multple tickets with the airline or a partner airline that were all within 12 hours? In theory, your bags would transfer for free. However, we suggest calling Alaska Airlines Reservations at 1-800-252-7522 to help determine which airline rules and fees apply to your journey. View Alaska Airlines' complete baggage policy here.
Allegiant Air Connecting Flight Baggage Transfer Policy
Allegiant Air charges for all services a-la-carte, per person, per leg, even if you're flying multiple legs with their airline. Meaning that you will be charged for checked baggage for each leg of your flight. View Allegiant Air's complete baggage policy here.
American Airlines Connecting Flight Baggage Transfer Policies
American Airlines passengers traveling on separate tickets will only be able to through check bags when the ticket is for travel on:
American Airlines and American Eagle
US Airways and US Express
Oneworld partner airlines
For all other carriers ticketed separately, your bag will only be checked for the American Airlines, US Airways, or Oneworld partner flight. Note that the restrictions exclude AA partners that don't belong to Oneworld, including Air Tahiti Nui, Alaska, Etihad, etc.
Meaning that, after your leg with AA, you'll need to collect your bags from the carousel and recheck them with your next carrier for the continuing travel. View American Airlines' complete baggage policy here.
Delta Airlines Connecting Flight Baggage Transfer Policy
Even stricter than American Airlines, Delta leaves no wiggle room to avoid baggage transfer fees by choosing a partner airline—even other SkyTeam members.
While passengers flying both legs with Delta Airlines will still enjoy complimentary through baggage, those who have two tickets will have to collect and recheck before their second flight. View Delta's complete baggage policy here.
Jetblue Connecting Flight Baggage Transfer Policy
One of the few gems in the bunch, Jetblue continues to honor interline baggage policies with 37 partner airlines, including Aer Lingus, British Airways, Lufthansa, and TAM Airlines. View the complete list of Jetblue partners here.
United Airlines Connecting Flight Baggage Transfer Policy
By far the most generous domestic airline when it comes to transferring your baggage in between legs, United Airlines honors agreements with most Star Alliance, Oneworld, and Skyteam carriers as well as major non-alliance carriers.
The only caveat is that you'll have to pay United's fees for baggage for the trip regardless of the class of your second ticket. View United Airlines' complete contract of carriage and their baggage policy.
These Budget Airlines Will Charge You A Baggage Transfer Fee
Low-cost airlines such as US Airways, Frontier Airlines, Hawaiian, Spirit, and Southwest have never honored an interline baggage agreement and will not check your baggage through when you travel on separate tickets. You will need to pay any checked bag fees due them and collect your baggage before rechecking it with your onward carrier.
Also, note that these carriers are not required to recognize exemptions to other airline's baggage policies, including promises of first bags free due to your status as a frequent flyer or loyalty program membership.
Pay Careful Attention to the Cost of Booking Your Own Transfers
To minimize the problems rechecking your bags can cause—including potentially missing your next flight due to the extra time needed to claim bags and transport them to another ticket counter—it's more important than before to understand your airline's baggage transfer policy.
What if you're stuck paying for baggage each leg of your trip? Do the math before you book your ticket and be sure to add the costs of luggage fees per leg to see if there's still potential for savings. Don't forget the potential cost of time spent sitting in airports, where boredom often inspires unnecessary spending—even snacks can cost an arm and a leg.
Finally, to lessen your baggage fees, take steps to lighten your load by always packing the following items in your carry-on luggage:
Electronics
Yes, it's a pain to remove your laptop when going through TSA. But, even compact electronics often take up much of your weight allowance. Additionally, it's better to keep an eye on your expensive equipment than to trust that items will arrive safe and sound after being checked.
Liquid toiletries
Despite the TSA's liquid restrictions, there are a couple of great reasons to pack toiletries in your carry-on. First, you eliminate the chance that your shampoo will pop open and empty all over your belongings. You also reduce the weight of your bag because, let's face it, bottles and jars full of liquid aren't light!

Packing your toiletries also means that you still have important products and medication, should your bags get lost. Finally, it's important to remember that, wherever you're going, people there wash their faces and hair just like you, and you can purchase extra items upon arrival—meaning several fewer items you have to pack for your journey in either direction.
A change of clothes
Even worse than having no toothbrush is being forced to wear the same clothing for more than a day after getting off a long flight. Further lessen the weight of your checked bags—and be super prepared should bags get lost—by packing a change of clothing in your carry-on.
Documents, jewelry, and anything else that's irreplaceable
In the case of items that can't be replaced, saving on baggage fees is secondary. You should always leave room for any hard-to-replace items in your carry-on. And if they don't fit? Leave them at home.
» See Also: The Best Airline Rewards Credit Cards
Bottom Line? Don't Count on Complimentary Baggage Transfers
Considering upgrading to save? Even passengers holding business and first class tickets can't count on their baggage being transferred for free. Remember that airlines aren't required to honor the baggage agreements of your previous flight.
To ensure that you aren't surprised by baggage fees for your second flight, remember to:
Look at your ticket and note how many airline's services you will use. Contact each by phone to verify that all the airlines you plan to use have an interline agreement.

When you arrive at the airport, show each airline a copy of your itinerary. Ask the staff to verify that no additional baggage fees will be charged. Also, compare the baggage limits for each airline.

Visit the baggage terminal after every flight. Check the suitcase tag, and replace the tag if it is missing or torn. If your layover is more than four hours long, keep your bags with you.

Assume that you need to check your own bags through when flying internationally. Also, pay the checked bag fees with the largest or most prominent airline. Note that you shouldn't ever have to pay baggage fees twice on an international flight.

Finally, when booking separate legs, leave yourself extra time to sort out any baggage issues, including an extra trip through security.
Can't stand to pay the extra baggage fees? Some experts recommend that you look into another way to ship their items. Depending on the size and weight of your bags, ground shipping, while slower, maybe more cost-efficient.