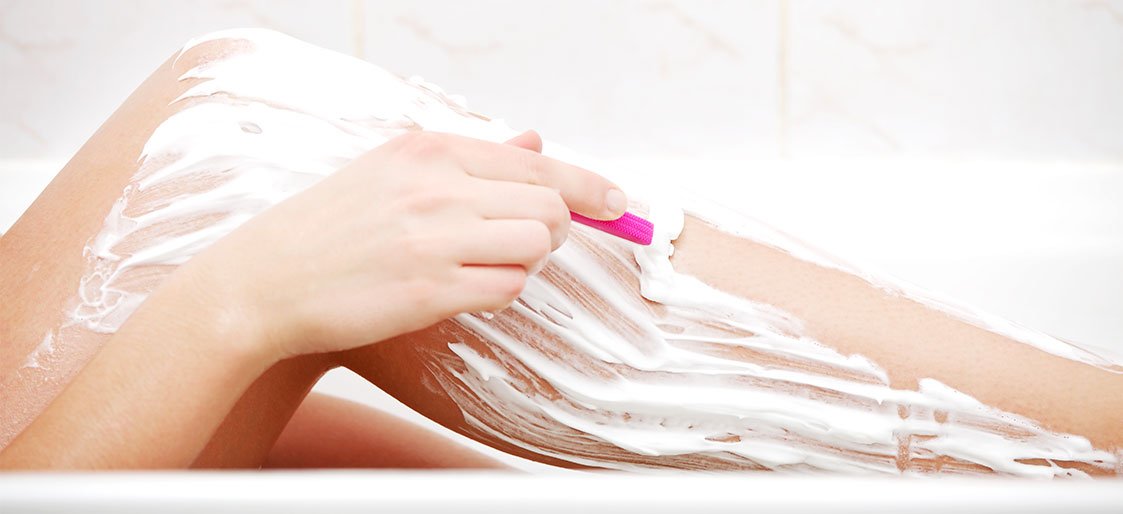 Waxing, tweezing, lasering or shaving; each can be torture or a godsend, depending on your personal preference. With so many choices, what's the best method to de-fuzz your skin? We'll take a look at new products and old standbys to help you decide the best strategy for getting summer-ready.
Shaving
Simple and straightforward, shaving works by cutting the hair follicles close to your skin's surface. Choose from either manual razors, which offer a closer shave but are best used on wet skin, or wet/dry use electric razors that are best for those prone to irritation and razor bumps.
Great for those who hate going to the salon, shaving is an inexpensive and quick hair removal option. However, shaving only gets rid of hair for a few days. Those with coarse or curly hair might find they're more susceptible to ingrown hairs and suffer less-than-smooth results.
Best For: Shaving works on every skin tone but is best for those with light or fine hair.

How Often: Shaving isn't permanent, but "how often" depends on how quickly your hair grows back. For most people, keeping skin smooth requires maintenance every 1-3 days.

The Cost: Manual razors come in all shapes and sizes, from three-blade disposables that may get the job done, to expensive multi-bladed options, neither of which should cost you more than $10 per month. Electric trimmers are a heftier investment upfront, but quality options can be found for as little as $30.
Popular Shaving Products:
These days, razors come with all sorts of extra features such as built-in gel, moisturizing strips, and even water-proof trimmers. Much like finding a personalized beauty routine, a particular razor may work better for you than others. Experiment with different razors to see which one works best for your needs:
Good Housekeeping votes Gillette's Venus Embrace as the best refillable razor, for its close shave and extra-comfortable hold. The product is $12 and comes with two cartridges.

Gillette Venus Embrace Disposable also wins the "Best Throwaway Option," thanks to its five-bladed head that's identical to their refillable version.

Consumer Search votes Panasonic Close Curves the best electric razor for its light weight, maneuverability, and relatively close shave.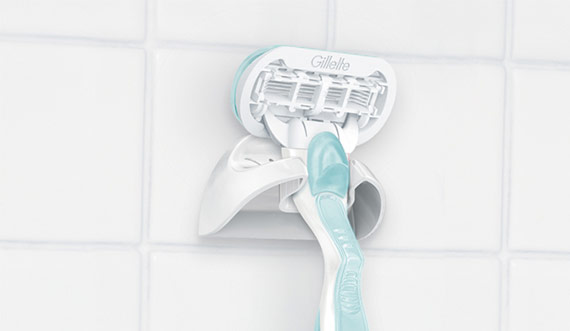 Gillette Venus Embrace Refillable Razor. Image credit: www.gillettevenus.com
Tips for Shaving:
Make sure your skin is wet before shaving and rinse your blade after each swipe. It's also important to moisturize immediately after. Want the smoothest skin? Here are a few extra tips:
Shave in various angles: It's recommended that men shave the hair on their face in the direction of hair growth. However, if you're shaving a body area, such as your legs, you will get a cleaner shave if you try various angles (in this case, from your ankles up). The skin on your body is different to the skin on your face and won't necessarily get razor burn if you use a good blade.

Be sure to scrub: Many people assume that shaving is a form of exfoliating your skin, but it's not. Regularly exfoliating the skin on your body with a scrub can help prevent ingrown hairs (when your hair grows in a direction toward your skin). An added benefit: exfoliating the skin on your body will also keep your skin soft!

Change your cartridges: Make sure to change out your cartridge when your razor gets dull, usually after 3-5 shaves, but this also depends on your personal hair texture. Also, be sure never to share razors with someone else.
Waxing
An age-old method of hair removal, waxing entails putting a warm, sticky substance (generally wax, though sugar strips are also used) over the area of unwanted hair, then using a cloth or paper strip to rip fuzz out by the follicle.
On the upside, hair removed by waxing appears to grow back more slowly because you're removing it down to the root. However, if you have a low pain tolerance or hate trips into the salon, waxing might not be for you.
Best For: Waxing works particularly well for those with dark or coarse hair.

How Often: You'll typically be hair-free for about two to eight weeks, depending on the texture of your hair and your personal hair growth cycle.

The Cost: The cost of waxing varies with each body area, with legs generally running about $50. Waxing can be relatively inexpensive, depending on whether you choose to go to a professional or attempt it at home (which is best left to the very brave!), but those heading into a salon shouldn't forget to factor in a tip.
Popular Waxing Products:
While it's nice to get a professional wax at a salon, time and budget constraints might mean the indulgence isn't always possible. For those who crave the smooth results of waxing and are brave enough to try it at home, over-the-counter waxes are a great option. Here are some highly reviewed products that promise easy at-home hair removal:
In a LiveAbout review, writer and "hair removal expert" Naomi Torres found Parissa wax strips to be the best option for sensitive skin. At $10 per pack, these strips won't break the bank. Don't fancy a messy cleanup? Pre-coated wax strips are also popular for those who don't want to risk over-applying hot wax or just need a quick touch up.

WebMD suggests that those with sensitive skin look for water-soluble sugar waxes that allow users to wash off any excess bits without further irritating freshly waxed skin. Self.com found Nair's Brazilian Spa Clay Roll-On Wax at the head of the pack. The product bottle has a nifty roller that allows for easy application. And at $11, you won't feel too bad if you decide to rinse some off instead.

For those that are intent on a bikini wax, MakeupAlley reviewers praise Ardell's Surgi Brazilian Wax for adhering onto every little hair. The microwaveable jar comes with a tiny spatula and easy step-by-step instructions. Available on Amazon for under $20, Ardell products can also be commonly found at your local drugstore.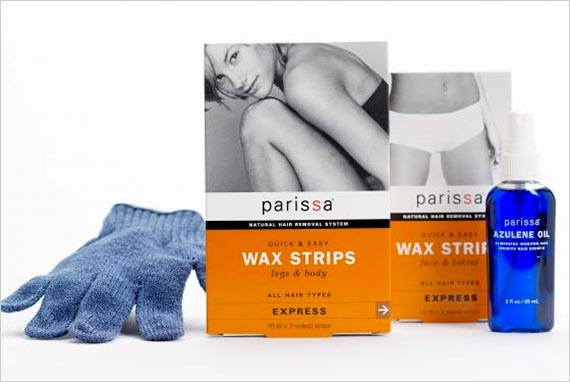 Parissa Wax Strips. Image credit: www.parissa.com
Tips for Waxing:
If you're heading to a salon, be sure to call and ask your esthetician's preference for how skin should be treated beforehand, as it might vary depending on the product they use. In general, hair must have at least ¼ an inch of growth for waxing to be successful.
If you're brave enough to try an at-home kit, be sure to follow the instructions carefully! Also, pay extra attention to exfoliating in the days after in order to keep ingrown hairs at bay.
Laser Hair Removal
The closest thing to permanent hair removal available, lasers aren't for everyone. The method refers to an intense pulse of light that damages each hair follicle, offering sleek and hairless skin with minimal upkeep.
Until recent years, laser hair removal was only available as an in-office treatment performed by trained estheticians or medical personnel. However, the at-home laser hair removal industry is gaining momentum, as are regulations to monitor safety.
Best For: Those with dark hair and light skin will have the best results. Anyone without much contrast between their hair and skin tones might be at risk of irritation or even severe burns.

How Often: Even at-home treatments require commitment at first, with most areas requiring 6-12 treatments to see results.

The Cost: At-home laser hair removal devices are expensive, with models starting at $200 and going up close to $1000.
Popular Laser Hair Removal Products:
Choosing the best hair removal machine is determined by many factors such as safety, effectiveness, settings, price, customer service, cartridge life, machine life and ensuring that the most important questions relevant to your unique hair tone and texture are answered.
The NoNo Pro was an early model of at-home laser hair removal that received a lot of attention for making the process seem easy, while offering professional-quality hair removal. Despite NoNo's big promises, Highya readers have reviewed the product poorly, calling it a waste of money and even talking about difficulty getting a refund.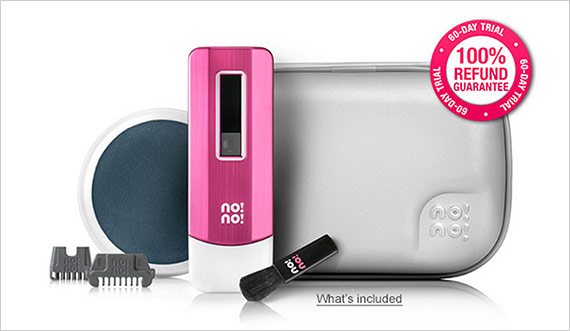 The no!no! PRO
Alternatively, the Tria Laser 4X is another FDA-cleared at-home device. Depending on which model you choose, the Tria Laser 4X costs between $300-500. Despite being almost double the cost of NoNo Pro, the Tria received positive feedback both on Highya and from other beauty bloggers.
Tips for Laser Hair Removal:
Whether at-home or in-office, laser hair removal is a big step that requires an initial commitment before you can enjoy lasting results. Each treatment must be scheduled according to your hair growth cycle and can be time-intensive.
Put in some research to make sure it's the right decision for you, and then make sure to choose your device carefully, weighing the pros and cons of each against the time and cost.
Related: Women's Facial Hair Removal: Expert Guide to Best Options
Smoothing Systems
Buffing it out is a relatively new approach to hair removal. Called "smoothing" or "buffing" pads, these systems are generally inexpensive and promise hair removal minus any chemicals or cuts.
While each product claims to use a unique method, smoothing systems can be recognized by the pad of abrasive material, sometimes called special "crystals," that smooth away hair at the follicle. In reality, these pads are generally reported to be nothing more than a very fine-grain sandpaper.
On the plus side, they really do seem to work! Smoothing systems are inexpensive and, depending on the coarseness of your hair, relatively quick and easy. However, if your skin is easily irritated, scraping it with a rough surface might not yield the glowing results you're hoping for.
Best For: Those looking for a cheap and quick solution for smoother skin. Happy reviewers have found these products are most useful left in a desk drawer for emergency hair removal.

How Often: Much like shaving, buffing away your hair doesn't permanently remove the follicle, so touch ups are required as frequently as your hair grows.

The Cost: These systems are relatively inexpensive, and can be found for under $10. How often they'll need to be replaced depends on your frequency of use.
Popular Smoothing Products:
The general consensus is that smoothing pads might be great for legs, but aren't ideal for underarm, bikini, or facial hair removal due to the likelihood of irritating delicate skin.
Smooth Away Hair Removal Pads were reviewed by beauty blogger The Budget Babe, who found that the pads did take away with hair as promised, but took forever to do so, citing a full twenty minutes for just one leg.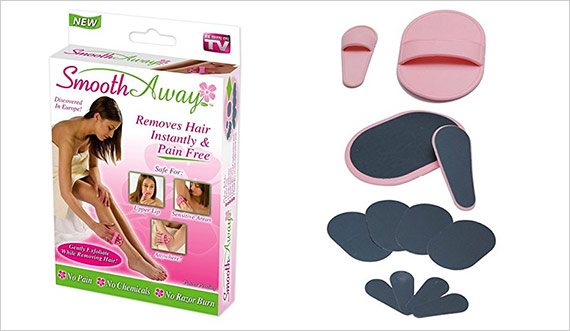 Smooth Away Hair Removal Kit
Additionally, the $10 product (sometimes sold online for as high as $40), promised six weeks of smoothness, and only delivered for about five days.
For those who don't want to burn the extra calories by buffing manually, Highya has reviewed the Samba Hair Remover. This $100 device does the work for you, with a plug-in powered rotating wheel that promises to buff your skin smooth.
While the Samba claims that hair follicles will eventually weaken enough to not grow back, one Highya reviewer couldn't bear to use long enough to try.
Tips for Smoothing Systems:
If it's your first time buffing away hair, be sure to spot-test first, in case your skin reacts poorly to the abrasive materials.
While it's always better to follow the instructions, devices that are acceptable for both wet and dry use might be better tried before dampening your skin, to reduce any possible damage.
Bottom Line About Hair Removal Options
Even though technology has improved significantly over time, it doesn't mean that modern hair removal techniques are any better than ancient ones. In my experience, I don't think there is a single best way to get rid of hair, but through trial and error, you will discover your preference and the best hair removal solution for you.
As the ongoing quest for the best hair removal solution continues, we'd love to hear your thoughts on the matter. What's your preference? Have you tried any of the above products? If you have any success stories, we'd love to read them in the comments!