CBD-Infused Coffee: What It Is, How It Works, and Potential Benefits
There's a lot of buzz these days about CBD-infused products, including coffee. Some even claim that CBD-infused coffee can combat anxiety and alleviate pain. This article explores the potential benefits of this current trend.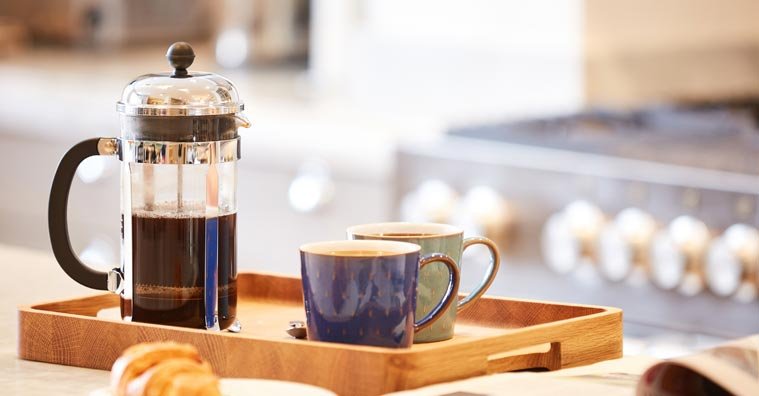 CBD-infused coffee seems like a growing trend these days. Makers of these products claim there are several benefits, including alleviating minor inflammation and pain, and promoting feelings of alertness while remaining calm and focused.
Some say that CBD-infused coffee is a natural therapy that can combat health issues, including anxiety, depression, chronic pain, cancer, diabetes, and heart problems.
This article takes a look at CBD-infused coffee, including explanations of cannabidiol itself, the potential benefits of taking CBD, and what science has to say.
While scientists are still studying CBD-infused coffee, we've provided as much information as possible so you can decide if CBD-infused coffee is right for you.
It's important to keep in mind that this article is not intended as medical advice. Before adding CBD to your diet, consult with your doctor or a healthcare professional.
What Is CBD?
CBD – Cannabidiol – is the sibling chemical of well-known THC.
"For those who don't know, THC is the psychoactive ingredient in cannabis," said Dr. Jean Talleyrand, founder and Chief Medical Officer of MediCann in Oakland, a patient-physician referral service in California, and co-founder and Chief Medical Officer of the Clinical Endocannabinoid System Consortium, a non-profit research organization, in San Diego, California.
The enzymes responsible for the production of THC and CBD come from the same genetic code, Dr. Tallyrand explained.
"Cannabis plants – this includes hemp – are either genetically programmed to produce THC or CBD," he said. "There are some plants that produce both. That's because the code is co-dominant."
CBD is an incredible single-molecule sourced from industrial hemp and packed with vitamins, omegas and essential fatty acids that are known to have beneficial impacts on the skin, hair, and overall body, noted Julie Winter, COO and Co-Founder of CBD For Life, a collection of CBD-infused skincare and pain management products.
"It is being called the new 'super beauty ingredient' and has been proven to synergize naturally with the body's endocannabinoid system creating ideal overall health," Winter said.
What's the Biggest Myth About CBD?
Many people still assume CBD will make you feel "high" and is illegal, Winter noted.
"However CBD is legal in all 50 states," she said. "Our goal is to educate as many consumers as possible so that they are aware of the amazing healing properties of CBD."
Winter added that CBD is derived from the hemp plant, not the marijuana plant, and does not contain THC.
"Therefore, CBD itself does not produce any psychoactive effects," she said. "Both compounds interact with your body's endocannabinoid system but they have very different effects."
Similar to THC, CBD is a phytocannabinoid, the class of active ingredients in cannabis – and unlike THC, CBD does not produce a "high," Dr. Tallyrand agreed.
"It does, however, reduce anxiety and some associate a pleasant feeling with it," he said.
Dr. Tallyrand has heard some patients call CBD the "medical" part of the cannabis plant, and THC the "recreational" part.
"The truth is that both CBD and THC act on the endocannabinoid system, only in different ways," he said. "Thus, they both have medical potential."
How Does CBD Work in the Body?
CBD and THC act on the Endocannabinoid System (ECS) in different ways, Dr. Talleyrand noted.
He explained that THC attaches to CB1 and CB2 receptors and directly activates both receptors.
"I like to describe it as like putting fuel in an engine," Dr. Tallyrand said. "On the other hand, CBD is more like putting oil in an engine. It seems to reduce the friction of an overworked engine – i.e. the ECS."
CBD does not attach to the CB1 receptor. The CB1 receptor activation is what causes the "high."
"CBD acts by attaching to other receptors – the 5HT (serotonin) receptor and the TRPV (pain) receptor among others," Dr. Tallyrand explained. "That is likely why CBD works well on anxiety and pain."
What Science Has to Say About CBD
Cannabis sativa L. preparations have been used in medicine for millennia, according to the study, "Cannabinoids in health and disease," published by the National Institutes of Health.
The therapeutic value of cannabinoids "is too high to be put aside," the study indicated. Numerous diseases are being treated – or have the potential to be treated – by cannabinoid agonists/antagonists/cannabinoid-related compounds, including the following:
Anorexia
Emesis (vomiting)
Pain
Inflammation
Multiple sclerosis
Neurodegenerative disorders (Parkinson's disease, Huntington's disease, Tourette's syndrome, Alzheimer's disease)
Epilepsy
Glaucoma
Osteoporosis
Schizophrenia
Cardiovascular disorders
Cancer
Obesity
Studies on cannabinoid anticonvulsant activity began in 1975, when CBD, and four CBD derivatives, (CBD-aldehyde-diacetate, 6-oxo-CBD-diacetate, 6-hydroxy-CBD-triacetate, and 9-hydroxy-CBD-triacetate) were shown to protect against maximal electroshock convulsions in mice.
Additionally, CBD was found to be an effective anticonvulsant with specificity more comparable to drugs clinically effective in major, but not in minor, seizures.
"Furthermore, it appears that CBD enhances the anticonvulsant effects of drugs in major seizures and reduces their effects in minor seizures," according to the study. "Hence, CBD was suggested as a drug for the treatment of children with pharmacoresistant epilepsy."
In another study, patients suffering from secondary generalized epilepsy with temporal focus treated with CBD remained "almost free of convulsive crises throughout the experiment," while other patients demonstrated partial improvement in their clinical condition.
Additionally, CBD has been shown to elicit antipanic effects through the activation of receptors in the dorsal periaqueductal gray, which is a critical area for the modulation of emotional reactivity to stress, according to the study, "Cannabinoid-related agents in the treatment of anxiety disorders: current knowledge and future perspectives."
Is CBD-Infused Coffee a Growing Trend?
CBD itself is the growing trend, Dr. Tallyrand noted, and it is being considered for everything from water, soft drinks, coffee and health tonics to medical capsules, oil-based tinctures, topical lotions, and shampoo.
"Its popularity makes sense to me," he said. "To continue the metaphor, we all seem to be living with over-worked engines. Inflammation and anxiety have their negative consequences. My hypothesis is that a large number of people have over-worked internal engines (the ECS) that could use oil, CBD oil. The caffeine in coffee may provoke anxiety. CBD seems a natural pairing."
Benefits of CBD-Infused Coffee
There are plenty of health benefits from taking CBD, according to Kickback, which manufactures CBD cold brew coffee and other products. These benefits include, but are not limited to:
Anxiety relief
Anti-seizure
Neuroprotective
Anti-acne
According to makers of Sträva Craft Coffee in Denver, Colorado, batches infused with healthy full-spectrum organic hemp oil provides balance to the coffee's natural caffeine, "and, for many people, alleviates the jitters."
The company explains that hemp oil contains naturally occurring phytocannabinoids, including CBD, and is widely consumed for its wellness properties as a mild analgesic, anti-inflammatory, antioxidant and antiemetic, to name a few.
CBD has been shown anecdotally to help relieve many physical and mental ailments, according to SteepFuze, which was founded in 2014 by Devin Jamroz while he was mending herniating discs from a snowboarding accident.
"People often treat CBD like a daily vitamin in their wellness regimen for homeostasis and balance – or another tool for athletic training or injury recovery," according to the company's website. "As money for research becomes more available…more and more peer-reviewed studies report that CBD acts as an anti-inflammatory, analgesic, anticonvulsant, and antiemetic."
While Dr. Tallyrand has never discussed CBD and coffee with a patient, "I suspect, depending on the potency of both the caffeine and the CBD, they might counteract each other."
Caffeine is a stimulant, he noted, and CBD at higher doses makes some patients drowsy.
"However, they both reduce anxiety through dopamine and serotonin mechanisms," Dr. Tallyrand said. "Knowing the dosage is critical to knowing the effect."
CBD Dose in Coffee
One to two cups of coffee per day seems to be harmless, Dr. Tallyrand said, and CBD doses up to 1000 mg or more per day have been "tolerated without serious adverse effects."
"I usually recommend dosing CBD 2 to 3 times per day," he said. "However, it seems to take at least a week of regular daily dosing to settle into a predictable effect. That means the effect on the first few days may change after a week."
Every manufacturer of CBD-infused coffee has specific instructions about how to use their products, so be sure to read and follow the instructions before consumption.
Is CBD-Infused Coffee Safe?
When asked if there are any possible side effects from drinking coffee infused with CBD, Dr. Tallyrand said yes, "as there are side effects to drinking coffee."
"Caffeine does cause a transient increase in blood pressure," he said. "It also causes palpitations, anxiety, and headaches. Most know the traditional side effects of caffeine. CBD, on the other hand, also causes headaches as well as dizziness and drowsiness in dose-dependent fashion."
To date, "there is no evidence of recreational use of CBD or any public health-related problems associated with the use of pure CBD," according to a CBD Critical Review Report conducted by the Expert Committee on Drug Dependence conducted in the summer of 2018.
The report noted that several countries have modified their national controls to accommodate CBD as a medicinal product; and that CBD exhibits "no effects indicative of any abuse or dependence potential" in humans.
CBD has been demonstrated as an effective treatment of epilepsy in several clinical trials, and "there is also preliminary evidence that CBD may be a useful treatment for a number of other medical conditions."
The report also noted that there is an unsanctioned medical use of CBD based products with oils, supplements, gums, and high concentration extract available online for the treatment of many ailments.
"CBD is generally well-tolerated with a good safety profile," the report indicated. "Reported adverse effects may be as a result of drug-drug interactions between CBD and patients' existing medications."
Realistic Expectations for CBD-Infused Coffee
Expect varying results and side effects, Dr. Tallyrand advised.
"We are uncertain as to the optimum dose of CBD," he said. "Likely that dose will change depending on your goal. Are you trying to reduce anxiety, reduce pain or induce sleep? As well, different formulations of CBD coffee may have different effects."
Finally, one person's metabolism of CBD may be more sensitive than another.
"I suggest starting at a small dose, from 5 to 20 mg and increasing to the desired symptom relief," Dr. Tallyrand recommended. "An effective dose for the average adult might reach up to 200 mg or more."
Where to Buy CBD-Infused Coffee
If you're thinking about buying CBD to add to your coffee, CBD is generally found at medical cannabis dispensaries; however, newer laws may allow it to be sold online or any retail store, Dr. Tallyrand said.
"I recommend purchasing CBD in capsule or tincture form," he advised. "In those forms, a consumer is more likely to get an accurate and predictable dose."
Keep in mind that the following products are not intended to diagnose, treat, cure, or prevent any disease. Online shops sell CBD-infused coffee, including the following:
Green Roads World
Green Roads World sells CBD decaf coffee for $54.99, which equates to 16 servings. The beans are sourced from Villamaría, a small village in the Caldas Mountains of Colombia. After decaffeination, Excelso Colombian Supremo beans are infused with hemp-derived CBD by a licensed compounding pharmacist and then vacuum-sealed.
Green Roads also sells regular CBD coffee for $39.99, which also contains 16 servings. This is an African-based roast, bold coffee soaked in Broad-Spectrum CBD.
Kickback Cold Brew
All Kickback beverages contain 20mg of water-soluble, organically extracted CBD. Their products are vegan, gluten-free and lab tested. One product called "Coffee Date" is a CBD-infused cold brew blended with Mediterranean dates and organic coconut milk. The cost is $99 for a 12 pack of 11 fluid ounce bottles on the company's website.
SteepFuze
SteepFuze makes CBD infused coffee and teas, and its CBD coffee has been featured on ABC News. Located in Colorado, the company partners with specialty coffee roasters and tea importers to craft whole bean coffees and loose leaf teas infused with full-spectrum CBD extract derived from Certified Organic hemp grown outdoors in Colorado.
A 12-ounce bag of coffee that contains 360 mg of CBD costs $48.95 for both regular and decaffeinated. Smaller bags can also be purchased – for instance, a 3-ounce bag with 90 mg of CBD costs $19.95.
Strava Craft Coffee
Located in Denver, Colorado, Sträva Craft Coffee makes CDB infused coffees including a "Restore" blend in a 12-ounce bag containing 120 mg of CBD that costs $34.95. There's also an "Elevate" blend with 240 mg of CBD per 12-ounce bag that costs $54.95.
The cost is less if you purchase coffee with fewer mg of CBD. For instance, a 12-ounce bag containing 30 mg of CBD costs $19.95.
Bottom Line
The Endocannabinoid System is a relatively new discovery, Dr. Tallyrand noted.
"As scientists, we have a lot of work ahead of us in understanding its function and how to best take advantage," he said.
CBD is popular and rightly so, he emphasized, because it has anti-anxiety, anti-inflammatory, analgesic and anti-cancer properties that may aid a significant number of medical conditions.
Currently, it is also being marketed as a dietary supplement or beverage.
"I am as excited about CBD as the next person," Dr. Tallyrand said. "However, I suggest we approach CBD with caution and appropriate surveillance for adverse effects. We want to make sure that we optimize its beneficial effects while avoiding negative outcomes."
» See Also: