CBD Oil for Dogs: Benefits, Potential Side Effects and Research Studies
CBD for dogs can help diminish joint pain, ease anxiety, improve skin issues and vision, and other benefits. Learn more about CBD to determine if it's right for your canine.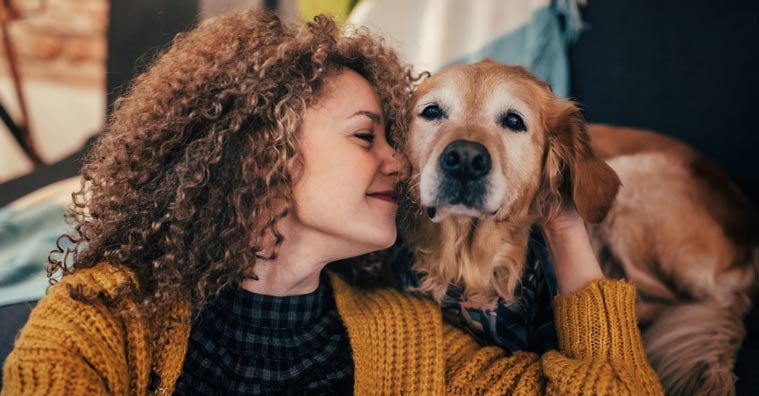 CBD oil products for dogs are a growing trend, with claims that CBD can help relieve arthritis or joint pain, ease anxiety, hyperactivity and destructive behavior – and even improve a dog's coat and vision.
This article takes a comprehensive look at CBD for canines, including what science has to say, how CBD works in products for dogs and potential side effects – as well as whether or not CBD gets a dog "high," which is a common myth.
Keep in mind that this article is not intended as medical advice for your beloved pet. Before you incorporate CBD into your dog's regimen, it's important to talk to your veterinarian, first. It's also critical to make sure you only purchase CBD products from safe sources, and make sure it's tested to state standards, before giving it to your canine.
A Growing Trend of CBD Oil in Products for Dogs
CBD is a growing trend for dogs as a safe alternative to standard chemical-based drugs, according to Harry Rose, who has worked with cannabis cultivation, breeding, and creating best practices and techniques for the past 34 years.
Rose has spent more than 23 years helping humans and animals with cannabis therapies in the Prop. 215 environment. He is also the owner of a California medical cannabis company that has made human and pet medicinal products for the last five-plus years in the 215 market, which is now the adult use/medical market.
"People take extra care with their pets and are looking for safer alternatives for them," said Rose, further noting that different ratios of CBD-THC-CBDA-THCA are required to treat different issues, ranging from anxiety to cancer.
"It's absolutely a growing trend," agreed Linda Walkowich, senior manager of brand marketing and communications for several industry-leading CBD brands, including Hemp Bombs. She is also a pet parent to four rescue animals, including dogs Jack and Donut; and cats Hunter and Myah.
"Just as CBD can offer an array of benefits to human health, it can also have surprising success in targeting dog-specific conditions," Walkowich explained. "CBD can help with separation or situational anxiety – like fear of fireworks, travel or thunderstorms – as well as pain, mobility issues, hyperactivity, and many other conditions that affect dogs."
A wide range of products are on the market – such as soaps, shampoos, tinctures, treats, and topicals – however, "not all are effective or safe because of lack of standardization and testing methods," Rose said.
As the CBD industry continues to experience rapid growth, more and more CBD products for pets are becoming available, Walkowich said.
"CBD is most commonly available in oil form, but it's also seen in biscuits and treats quite often," she said. "Topical products such as shampoo treatments and paw salves are also gaining in popularity."
What Is CBD?
Cannabidiol – CBD – is a compound found in industrial hemp in fractional percentages, and in cannabis sativa and indica plants in higher percentages, Rose explained.
He said CBD has many medical benefits such as:
Anti-inflammatory
Neuroprotective
Anti-anxiety
Anti-seizure
Anti-metastasis
Anti-acne
"It can be used in its acid form CBDA or its neutral form CBD for a range of different effects," Rose noted. "Patient's response can differ depending on their conditions to either acid or neutral form, which typically requires testing both treatments for proper efficacy."
Walkowich added that CBD is known for its medicinal properties, "and it can help provide natural relief from pain, anxiety, sleep complications and more."
» For Further Reading: Do CBD-Infused Creams, Oils and Other Products Really Work?
Reasons Why Dog Owners Seek CBD Products
According to Rose, the following are some of the reasons why a dog owner would seek out CBD products for their canine:
Safety
Efficacy
End-of-life comfort
Anxiety
Cancer
Pain
Hot spots
Infections
Arthritis
Skin conditions
Neurological issues
"The primary reason people seek CBD products for their dogs is because of the potential for effective results," Walkowich said. "There are so many testimonials stating how CBD has transformed their dogs' physical and behavioral health. CBD can also serve as a natural alternative to traditional medications, which are often associated with harsh side effects."
Does CBD Make a Dog High?
The biggest myth about CBD is that it gets you "high" or has psychoactive properties, Walkowich said.
"Unlike its sister cannabinoid, THC or tetrahydrocannabinol, CBD has no mind-altering effects," she noted.
To explain this further, Walkowich said that CBD and THC are both compounds called cannabinoids found in cannabis plants. They both affect the body's Endocannabinoid System, which is responsible for maintaining important functions like sleep, mood and pain response.
"While both cannabinoids can provide therapeutic benefits, THC is the compound associated with getting high," Walkowich said. "THC is often regarded as unsafe for dogs, however, CBD will not cause any psychoactive effects and it's regarded as safe for pets."
Benefits of CBD Products for Dogs
CBD's anti-inflammatory properties can provide relief from pain – especially arthritic or joint pain, according to Walkowich.
"As a result, restored mobility is a huge benefit for dogs who suffer from bone or joint complications," Walkowich said. "CBD can also help tremendously with anxiety, hyperactivity and destructive behavior because it naturally calms the mind and puts the dog at ease. Also, CBD can provide digestive support to dogs with tummy issues and nausea."
If using safe, properly tested products, the benefits are unlimited, Rose said.
"Observational data has shown us in thousands of canines – there is no liver damage like standard chemical-based drugs, and when taken daily can improve many aspects of their lives," Rose noted. "They end up having less issues with their joints, anxiety/social issues, as well as better coats and vision, healthier hearts and much more."
How CBD Works in Pet Products
There are many ways in which CBD can be infused, Rose said. For instance, extracted oils typical are infused into lipids such as olive oil or coconut oils, and then blended into typical recipes for topicals, tinctures, and treats.
In its purest form, Walkowich said that CBD is typically found as an oil.
"CBD itself can also be infused into a recipe, like dog biscuits," Walkowich noted. "In some cases, CBD is sprayed onto products to help achieve an exact dose."
There are many differences in efficacy depending on delivery, Rose said.
"Different dogs react differently, but generally things like tinctures work better/faster than treats; properly made topicals work way better than those made without care," Rose noted.
Most CBD dog products are edibles or topical, according to Walkowich.
"Edible products often incorporate meaty flavors dogs love, and the CBD is ingested upon swallowing," Walkowich said. "Topical products, however, can be applied to the skin, coat or paws – allowing the CBD to target concerns in these specific areas."
What Science Has to Say about CBD Oil for Pets
Scientific research is continuing to advance in the veterinary community, and so far, results look promising, Walkowich said.
"We encourage anyone who is interested to learn more about the science of CBD for dogs to research articles online from veterinary institutions or to talk with a veterinarian," Walkowich advised.
Rose added that the research has just really begun due to legalization in many states of cannabis regarding human and animal studies, and how it works internally in great detail.
How CBD Is Thought to Help Dogs
Researchers are still learning CBD's specific effects on dogs, according to an article published by Trends magazine entitled: High Time for Cannabis Research – Researchers Aim to Determine the Efficacy and Safety of Cannabis in Dogs.
The article noted that here's how the compound is thought to work:
Just like humans, dogs have an endocannabinoid system (ECS) which is a network of cellular activators and receptors in the body that regulate physiological processes, including pain, mood, inflammation, stress, and more.
CBD binds to and activates the vanilloid, adenosine, and serotonin receptors in a dog's ECS and helps to regulate pain perception, inflammation, temperature, and more. It also boosts dopamine levels, helping to reduce anxiety and improve mood. Additionally, CBD blocks GPR55 signaling, which decreases cancer cell reproduction.
The article further noted that CBD can help improve:
Allergies
Anxiety and fear
Appetite loss and digestive problems
Arthritis, joint, and mobility issues
Cancer and tumors
Skin issues
Seizures and epilepsy
Inflammation
Glaucoma
Spasms
Cannabidiol Treatment in Osteoarthritic Dogs
For dogs with osteoarthritis, 2 mg/kg of CBD twice a day can help increase comfort and activity, according to a research article entitled: "Pharmacokinetics, Safety, and Clinical Efficacy of Cannabidiol Treatment in Osteoarthritic Dogs."
The objectives of this study were to determine basic oral pharmacokinetics and assess safety and analgesic efficacy, of a CBD-based oil in dogs with osteoarthritis.
Canines included in the clinical trial were 22 client-owned dogs with clinically and radiographically confirmed evidence of osteoarthritis. Sixteen of these dogs completed the trial and were included in the analyses.
Single-dose pharmacokinetics was performed using two different doses of CBD enriched oil. Thereafter, a randomized placebo-controlled, veterinarian, and owner blinded, cross-over study was conducted. Dogs received each of two treatments: CBD oil (2 mg/kg) or placebo oil every 12 hours. Each treatment lasted for 4 weeks with a 2-week washout period.
Clinically, "canine brief pain inventory…showed a significant decrease in pain…with CBD oil," the study noted. "Veterinary assessment showed decreased pain during CBD treatment. No side effects were reported by owners, however, serum chemistry showed an increase in alkaline phosphatase during CBD treatment."
Is CBD Oil in Pet Products Safe?
According to Rose, scientists are veterinarians are keeping a close eye on the cannabis medicine industry, and many have started their own testing.
"Most modern veterinarians have come to embrace the potentials and safety of this form of medicine," Rose said.
CBD is not associated with any harsh side effects or cases of overdose, making it a safer alternative to many traditional medications, Walkowich said, adding that "CBDs effects on a dog's body are effective, yet gentle and natural."
Potential Side Effects
Not many negative effects have been seen in CBD medicine for dogs, "assuming it has been made properly and tested properly," Rose said. "The most seen side effect, if larger amounts are taken, is drowsiness."
Rose warned that the industry is not fully regulated, "and many tainted/unsafe products are available on the market, especially if not purchased through a known safe source, such as a vetted dispensary. There are many companies looking to cash in on the industry with no regard for safety or knowledge of efficacy."
In Walkowich's experience, "we haven't heard of our customers' dogs having any side effects from our CBD products for dogs. If given a large dose, however, the dog may experience a tummy ache or mild digestive distress."
Ideal Canine Candidates for CBD Products
According to Rose, all ages of canines are suitable for cannabis therapies of all kinds including CBD, as long as it is safely made and tested, the proper dosage has been determined by a professional, and it is properly administered.
Walkowich agreed that dogs of any age can benefit from the therapeutic properties of CBD, and that "it can help target ailments that are prevalent in seniors, like arthritis and mobility issues."
"We recommend talking with a veterinarian before administering CBD products to puppies under six months of age," Walkowich further advised.
What Should You Realistically Expect When You Try a CBD Product for Your Dog
The expectations can range from seeing reactions from immediately to a couple weeks, depending on ailments and severity, Rose noted, adding that "relief of symptoms, comfort for end of life, full remission or recovery can be achieved in many cases."
Most dog owners notice an immediate improvement in their dog's health, Walkowich said; however, results can sometimes take longer – as CBD affects every dog differently.
"The best advice we can give is to be patient, give CBD consistently for best results and monitor your dog's health improvements closely," Walkowich recommended.
Where to Buy CBD Products for Dogs
CBD products for dogs are available in many locations, Walkowich said.
"You may be able to find CBD at your vet's office or local pet store, but if not, we recommend shopping online for CBD products for dogs," Walkowich advised. "Just make sure you're buying from a reputable brand that provides third-party lab test results for CBD products."
Hemp CBD products can be purchased in all 50 states, either in stores specifically for CBD, or many gas stations and drug stores, as well as online, Rose said.
However, "these products tend to be less effective, unregulated, and lack proper testing to assure safety and efficacy," Rose warned.
He noted that proper cannabis CBD medications can only be purchased at a store or dispensary in states that have a cannabis medical or adult use system in place.
"It is not legal currently to ship cannabis products across state lines so it must be legally obtained through properly licensed store made by licensed manufacturers and meeting strict testing guidelines enforced thru regulations," Rose said.
Final Thoughts
For dogs, CBD can provide effective relief from anxiety, skin allergies, mobility issues, chronic pain and more, Walkowich said.
"As a natural alternative to traditional medications, CBD can help your dogs look and feel their best – so they can live their best life with you," she said. "We recommend speaking with your dog's veterinarian for any questions about introducing CBD to your pet's diet and daily routine."
Make sure you only purchase from safe sources and make sure it's tested to state standards minimum, Rose advised.
"Get professional advice and start slow, work dosage up to minimum effective dose," he said. "Less is more."
» Recommended Reading: Dog Supplements 101: A Detailed Beginner's Guide