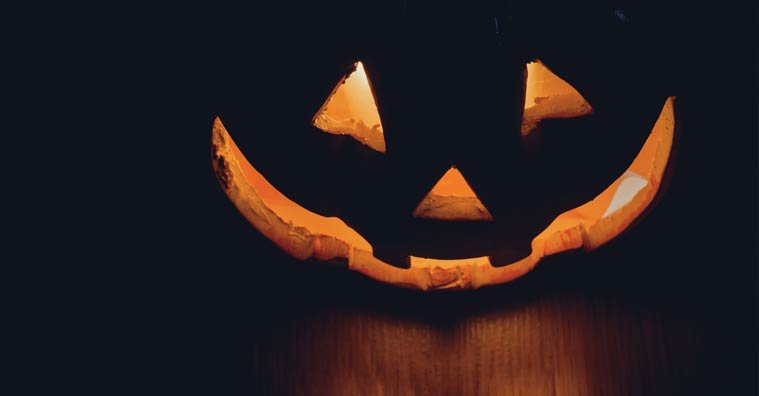 Any holiday that comes along is just another opportunity for scammers to take advantage of innocent victims – and Halloween is no exception.
Common Halloween scams are similar to other holiday scams in that criminals are attempting to obtain your private information, such as credit card details, which scammers ultimately use to make fraudulent charges.
Some of the scams to watch out for this Halloween involve buying tickets to Halloween bashes that don't actually exist and clicking on malicious web links that promise huge discounts on costumes and other goods.
Fortunately, there are ways to detect and avoid these Halloween scams, which we cover in this article. We've obtained valuable information from a fraud detective in Southern California, as well as the Better Business Bureau, to provide you with as many details as possible so you can avoid falling victim to Halloween scams.
Be Mindful of Pop-Ups Promising Huge Discounts
Scams arise every time a major event occurs, whether it's a natural disaster like a hurricane or a big holiday like Halloween, said Detective Tim Lohman, who solves forgery, fraud and financial crimes in Southern California.
"With any major event that comes along, it's just another opportunity for people to get scammed where their personal information could be compromised or their card could be charged fraudulently," Detective Lohman said.
One thing to watch out for this Halloween is the massive number of websites that promise huge discounts or cheap Halloween costumes.
"People may be going online looking for cheap or discounted costumes because Halloween costumes can be pricey," Detective Lohman noted. "People want to save money, and the keywords are 'cheap' and 'discount'. Now, think about how much internet traffic can be drawn to cheap or discount."
Many of these websites "pop-up" on social media platforms like Facebook, which the Facebook user might click on without thinking twice about the possibility that the link is malicious.
See Also: 6 Current Facebook Scams and How to Avoid Them
"Some people will enter their personal information and the next thing they know, their personal information is compromised," Detective Lohman warned. "So you have to be really careful when clicking on links or pop-up websites because they could be taking you to a scammer's website."
Research Pop-Ups Before Clicking
Before you click on any kind of pop-up ad, research the company on your own first.
"I personally avoid clicking on pop-ups altogether," Detective Lohman said. "By all means, I do not click on the pop-up itself."
However, if you're tempted to click – do an independent search of the company name ahead of time through a search engine like Google.
For example, let's say you receive a pop-up ad for a company called Spooky Stores, Detective Lohman hypothesized.
"Go into a search bar like Google and type in Spooky Stores," he explained. "If somebody has been scammed, if they're diligent, what they'll do is post that they've been scammed from this site, which alerts a lot of people."
Related: How to Tell If an Online Store Is Legit: 11 Steps to Check Any Website
Make Sure the Website Is Secure
To determine if a website is secure, check the website address, which should begin with https in the address bar. The most important thing to look for is the "s" itself, which stands for "secure."
"So if you're entering any personal information, that's just another layer of security that you're going to look for when entering your personal information, like a credit card," Detective Lohman said.
However, even if a website is secure with https, only pay with a card that is not tied to your everyday banking account, with a credit card versus a debit card, Detective Lohman advised. That's because, with a credit card, you can dispute the charges if you feel you've been scammed, and request what is called a "chargeback."
The danger of using a debit card attached to your everyday account is that you might not get your money back in a timely manner, which could affect your ability to pay bills and other expenses on time.
"If your debit card gets compromised, you will have to deal with getting that money released," Detective Lohman said.
Research Halloween Parties Before Buying Pre-Tickets
The Halloween party scam is typically committed online, where criminals sell pre-tickets to supposed elaborate bashes that don't actually exist.
"Let's say there's a Halloween party in Los Angeles advertised and you buy tickets online ahead of time – all of sudden you don't hear anything else and the event never surfaces," Detective Lohman hypothesized. "In the end, you've lost money."
Consumers can protect themselves by researching the event before making a purchase to ensure the party is legit. For instance, with big events at venues like the Los Angeles Coliseum, permits must be drawn from the city – meaning there are many moving parts to the event that prove it's real.
"You can call the city and ask if they've heard about this event," Detective Lohman recommended. "You could even call the Coliseum directly to confirm. So a lot of it has to do with you doing your own research on this event."
Avoid Halloween Events With Vague Information
The Better Business Bureau warns to be cautious of events that only advertise online or through social media platforms, or events that fail to provide details about how to connect with the event organizers.
When in doubt, the Bureau advises contacting the venue itself to determine a booking for the date and time of the event listed. In a press release issued by the BBB on October 20, they noted that one company that came to its attention stated a "no refund" policy, which applies even when the event organizers are the ones to cancel the event.
Be Cautious of Seasonal Halloween Stores
The BBB also noted that seasonal Halloween stores can be a way for scammers to rob consumers. If you're shopping at one of these stores, the BBB advises to know the return policy, use a credit card and save your receipts – and make sure the store has a website with contact information in case you need to reach them later.
Additionally, you can search for the store on BBB.org to view any potential past complaints, as well as ratings information.
Final Thoughts on Halloween Scams
Halloween is another holiday that scammers use to rob consumers.
However there are many ways for people to protect themselves – and the number one way is to do your own research before spending any money, especially online.
While it might be tempting to click on a pop-up ad that promises to give you a great discount on your favorite costume, do not click on any ad before doing your research on the company, first. The same goes for Halloween parties that are advertised online.
And if you do determine the website associated with the company is legit, only use a credit card, rather than a debit card, to make purchases. This can help ensure you will get your money back if something goes wrong.
The bottom line is that "it falls back on us just doing our own research, and being diligent with verifying information that's out there," Detective Lohman said.
Was this article helpful? Read more about scams and ways to avoid them: